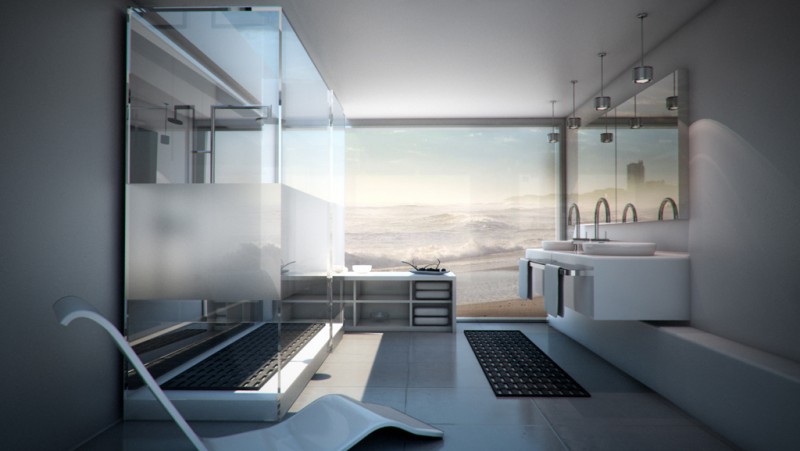 When it comes to modern design, your bathroom probably isn't the first room that pops into your head. After all, for most people, bringing their bathrooms up to date isn't anywhere near the top of the priority list. However, if there's one room that most people couldn't imagine doing without, it's the bathroom. With that being said, modern bathroom design can help spruce up your bathroom, and give it a much brighter and more welcoming feel. Adding a modern touch to the overall design of your bathroom might be just what you need to make your house feel complete. After seeing this bathrooms, you'll definitely be inspired to see what you can do to improve yours. Here are 20 stunning examples of modern bathroom design.
image via mowfrisco.com
This bathroom may be simple, but there's no denying that its modern design gives it a sleek feel. With plenty of earth tones, and a natural vibe, this bathroom mixes the best of two worlds.
image via www.zassoof.tk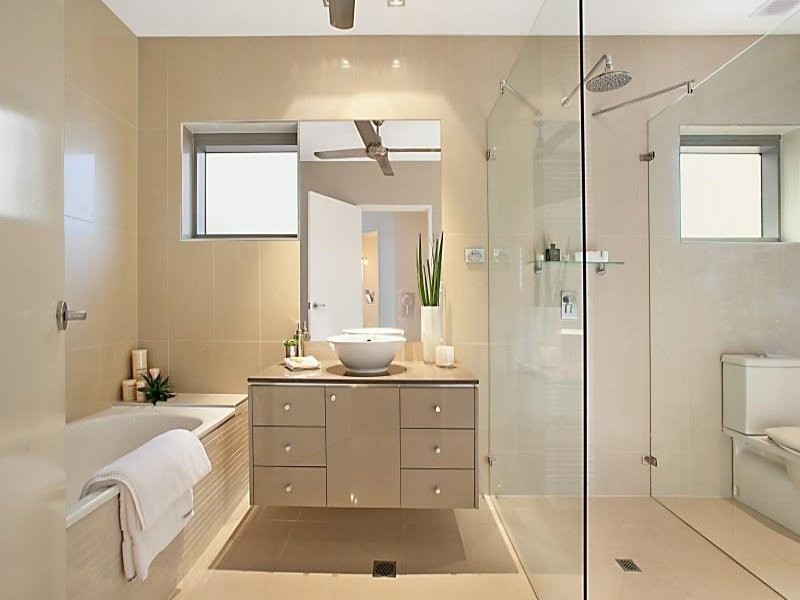 Just because you don't have a lot of space doesn't mean that your bathroom still can't rock a modern design. This bathroom is certainly not the largest, the use of bright colors, glass, and mirrors, definitely helps open the space up.
image via freshome.com
Nothing says modern bathroom design more than lots of curves and smooth lines. Featuring two round rinks and an elevated bathtub, this design has all of the touches it needs to make this bathroom stand out among the crowd.
image via houzz.com
This beautiful bathroom makes great use of black and white ceramic tiles. The use of both colors makes the room seem mature – but not too old. The bathtub also features an extremely modern design, and it's bowl shape will make soaking in the tub a whole new kind of experience.
image via homestratosphere.com
This modern bathroom design features an open floor plan that lays everything out nicely, and makes the space feel large. This bathroom also features both a shower and a bathtub, and a large window that provides plenty of natural lighting.
image via architecturendesign.net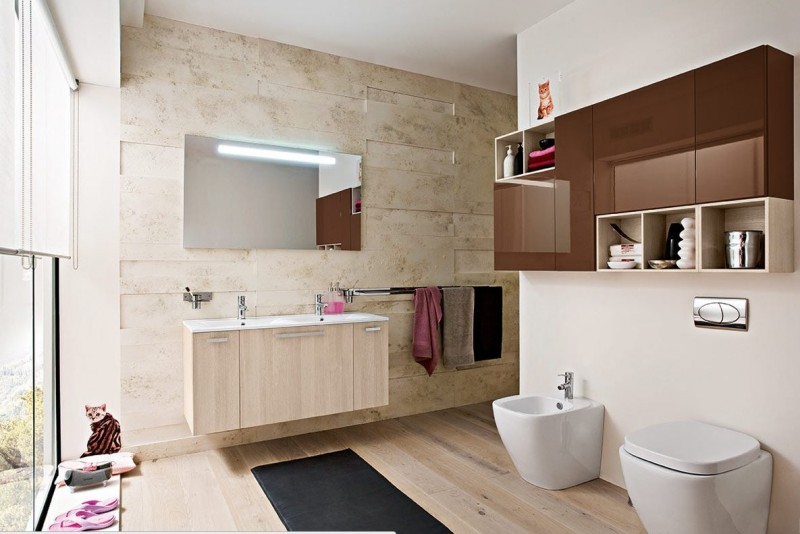 If there's one thing every bathroom needs, it's storage space. While some people are lucky enough to have linen closets right inside the bathroom, others have to find other quick and convenient ways to store items. This bathroom features some unique shelving and cabinetry that allows for ample places to put necessary things. The square toilet is also another feature of modern bathroom design that is sure to grab plenty of attention.
image via home-designing.com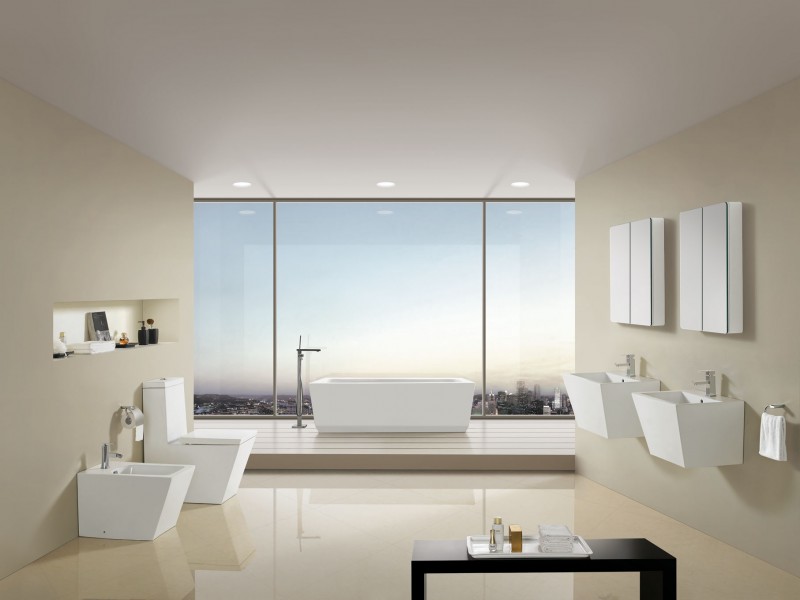 If you're going to take a bath, you might as well do it with a view, right? This modern bathroom features a design that allows for plenty of sunlight and a great view of the surrounding areas. The elevated bathtub area also adds a nice touch to the already smooth look and feel of this room.
image via www.modernbathroomvanities.com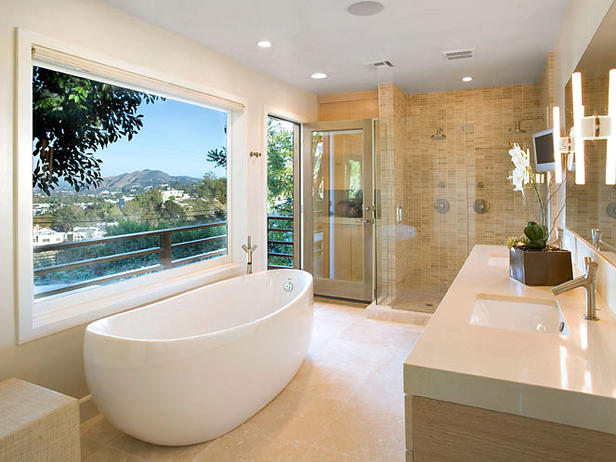 With a bathroom like this, leaving might seem impossible. This incredible design features its very own patio with a beautiful view to match. While most people don't think of their bathrooms as attractive spaces, this room proves that anything is possible with the right design.
image via www.vistaremodeling.com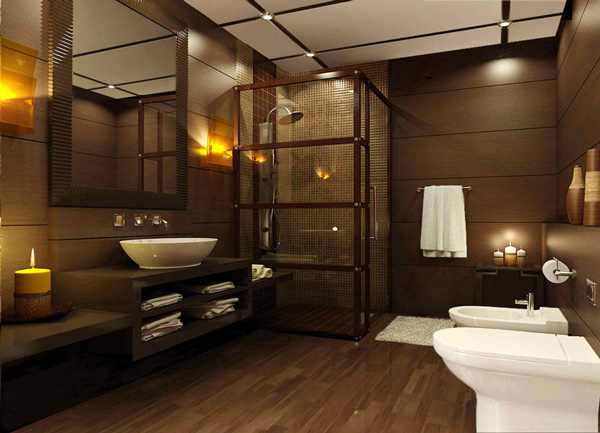 There's something about dark colors that can really make a room stand out. This beautiful brown modern bathroom design keeps it simple, but doesn't miss out on any of the finer points. Coming home to a bathroom like this will definitely give you a little something to look forward to after a long day of work.
image via homedesignlover.com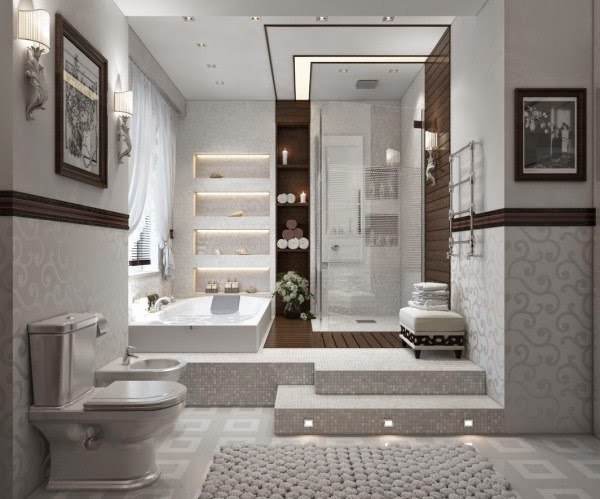 How many people can say that their bathroom technically has two levels? Not many. This modern design shows just how versatile a bathroom can be, and the layout boasts not just two levels, but also plenty of storage space.
image via interldecor.blogspot.com
While lots of modern bathrooms feature a more round design, this one opts for the use of square shapes and sharp edges. The contrast of gray and white help this bathroom feel calm and comfortable, and if you look closely you can also see the use of wood floors.
image via jydesign.co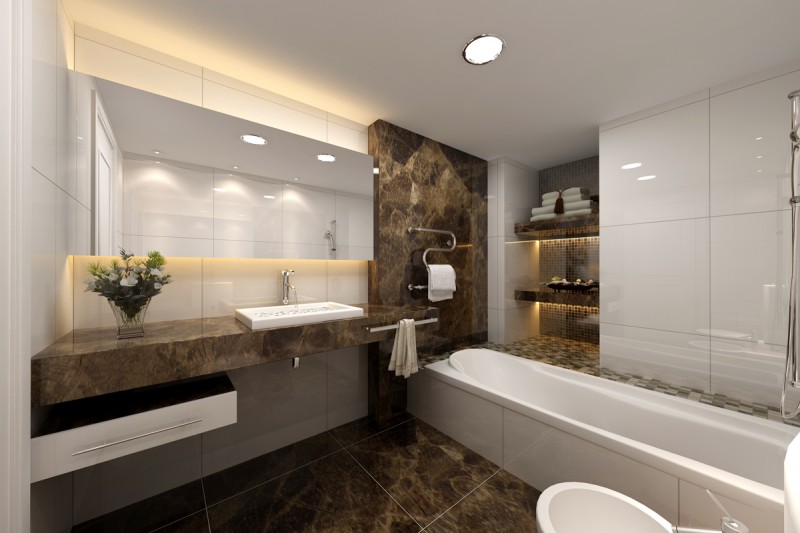 For some people, choosing between marble and ceramic can be an extremely difficult choice. After all, they each have their pros and cons, and they both look great in almost any bathroom. Well, this modern bathroom design shows you what it looks like when you simply can't choose. The combination of marble and ceramic give this room a one of a kind look that is very pleasing to the eye.
image via andrearazzauti.com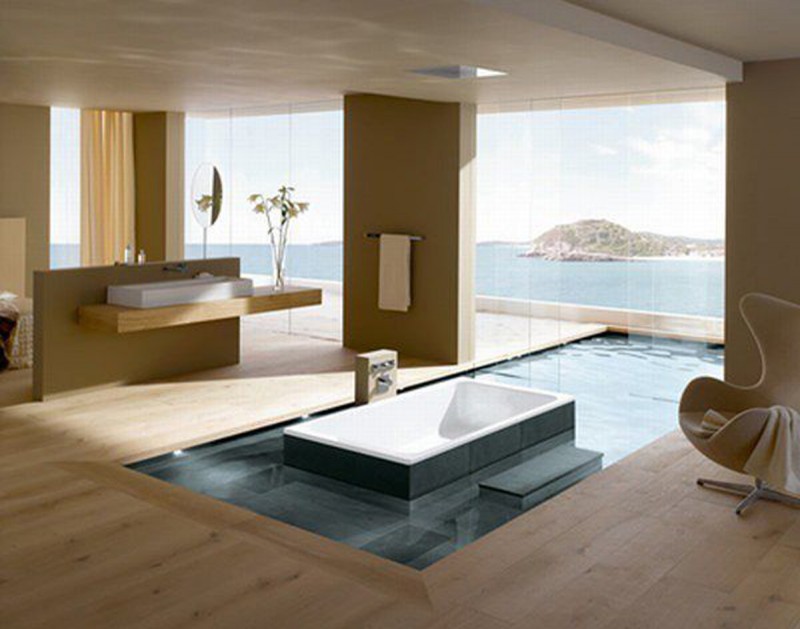 This incredible design is so modern that you've probably never even seen or heard of anything like it. A bathtub surrounded by water is something that most people may have never even been able to imagine, and although it's unclear it if serves any practical purpose, it's pretty amazing to see.
image via iseecubed.com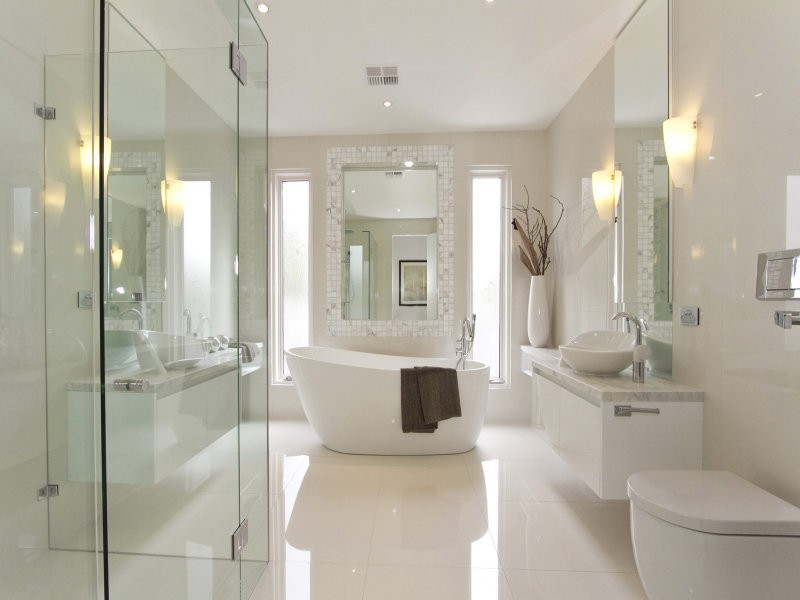 One of the best things about modern bathroom design is that it can also be combined with classic looks. This all white bathroom has a familiar look with all of the modern touches, and the use of gray accents and ceramic tile help give it a little bit of an extra flair.
image via modernmagazin.com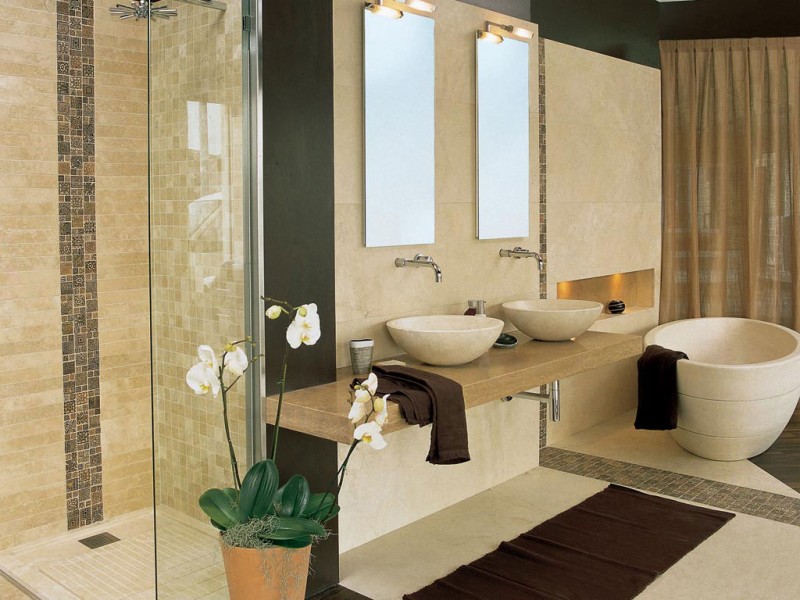 Picking the ride color scheme is important for any bathroom design, modern or otherwise. This bathroom uses a mixture of earth tones to bring to life an incredible design. While the use of a plant isn't necessarily modern, it is a very nice touch, and can help add a fresh feel to any bathroom.
image via www.interiordecodir.com
Lots of people wish they could have a hot tub in their bathrooms, and having one like this would definitely be worth the wishes. Surrounded by what appears to be marble, this hot tub features a look of luxury that would impress almost anyone.
image via indiexhibit.blogspot.com
Lighting is important to any room, and this bathroom features an excellent combination of lighting fixtures and natural light. Although every bathroom doesn't have a window, the use of the right lighting fixtures can illuminate your space and help it feel more inviting. Hey, if you're going to spend a lot of time sitting on your throne, there's no reason why you should have to do so in the dark.
image via bonadak.com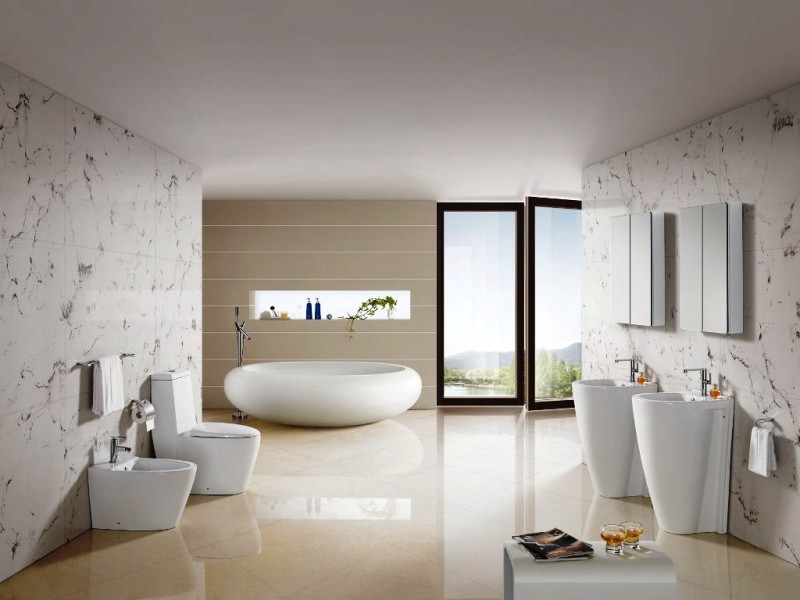 Combining both square and rounded edges, this modern bathroom design has it all. Making use of the space this room has to offer, this design has an open plan and a view that will make getting ready for work in the morning feel like less of a chore.
image via indopic.com
This modern bathroom design features a touch of class that will be appealing to anyone. While some people may not think of their bathrooms as anything more than a place to answer nature's call, this design proves that a bathroom can also be a luxurious space.
image via roohroomist.com
This modern bathroom design takes some pretty interesting chances. However, it manages to pull all of them off. While most people are used to the standard white bathtub, these design features a shiny silver tub that immediately draws attention. The silver sinks at a nice touch, and the bits of purple prove that your bathroom does not have to be boring.
image via homedit.com