Celebrities that do well in their careers like to do a little something on the side, as well. Many of them turn to real estate in hopes that they will make their money make money in a favorable market, and many of them see a great deal of success in doing so. Celebrities, as many assume, are not just people who are good at being famous. Many of them are just as good at business, and they make real estate their hobby. These are celebs who know that their money has to last them a lifetime and that it will not always being coming in as quickly as it is now. Read on to find out 20 celebrities who have done quite well in the real estate market.
Photo by Getty Images
Vanilla Ice
The one-time rap star famous for his hit lyrics has made quite the comeback in recent years since he began working on houses, flipping them and selling them for a substantial profit. He does most of his work in Florida, and he's managed to make a nice career out of it as he was featured on a few of his own reality television shows on several television stations. He's done quite well in the past few years, and it looks as if he's going to continue to do so.
Photo by Getty Images
Oprah Winfrey
If Oprah touches it, chances are good that it will turn to gold. She's not too big into the real estate game, but the many different homes she's bought and sold since becoming famous have been a big profit for her. So by default, she's been a successful woman in the world of real estate. She probably doesn't need to invest more in the business since she's already insanely wealthy, but it doesn't hurt that she keeps her option open.
Photo by Getty Images
Jennifer Aniston
When she was a newly divorced actress who was living her nightmare after Angeline Jolie stole her husband, Jennifer Aniston took $13 million and bought herself a house in California. She then spent 2 years renovating it and then listed the home for sale recently. The house is now worth just a bit more than she paid for it originally. In fact, it's worth approximately $42 million, which happens to be what the actress has it listed for at this moment in time. It's a big, big profit. In fact, it's a killing.
Photo by Getty Images
Kelly Ripa
We aren't certain that Kelly Ripa and her husband Mark Consuelos had any intention of being part of the real estate game, but it's worked out for them. They spent years renovating their home in New York City only to turn around and sell it to the highest bidder. She's made several comments about how much she enjoys the game and how much they enjoy the process of buying and selling.
Photo by Getty Images
Faith Hill and Tim McGraw
They go together because they've been married forever in Hollywood years. The country music superstar couple bought a home in California back in 2003 and turned around and sold it in 2010 for more than $3.3 million over the price in which they paid to purchase the home. This came after a $4 million price cut, too, so it goes to show they were pretty good at what they did in the real estate market.
Photo by Getty Images
Dennis Quaid
He's one of the most famous faces in Hollywood, and that's saying something. He's had quite the longstanding career, and it's made him quite successful. Back in 1999 he purchased a home for just under $2 million in California, and it's for sale for $16,900. If he sells this home at the price he's asking, he's going to make more than $14 million in profit. Even if he drops the price significantly, he's still going to make a profit unheard of for most people in the world.
Photo by Getty Images
Michael Strahan
He's the former NFL player who recently went straight to the Hall of Fame, he works in the sports world, he works on Good Morning America and he is the co-host of Live with Kelly and Michael. It's safe to say that he has a few jobs, and all of them are successful. He's also a fan of buying and selling real estate, and he's made it his business to make money along the way, which just goes to show he's a wise man with a financial mindset.
Photo by Getty Images
Ellen DeGeneres
Ellen DeGeneres and her wife, Portia de Rossi, have made it no big secret that they enjoy the art of flipping homes. They've bought and sold several in the past few years after remodeling them and making them much nicer than they are. The hilarious comedian often jokes that she has to spend a great deal of her time moving and that her wife hates it, but that she loves it.
Photo by Getty Images
David Charvet
The former Baywatch star, now married to Brooke Burke, has made quite the killing in the real estate industry since he left television. He knew he'd have to find a way to make his money work for him after his career was over, and he's managed to do just that in the past and in the present. He's not a developer who creates and builds high-end Malibu homes, many of which house famous faces we see on a regular basis.
Photo by Getty Images
Leonardo DiCaprio
He's been in the real estate game since he became a household name after starring in Titanic, and that bold move right there has made him wealthier than any movie role. He's been making a killing in the real estate market for many years, and his success has just gone on and on. He invests millions every single year and brings home far more than he puts out, which is why he's so successful in this game.
Photo by Getty Images
Uma Thurman
The very talented actress once bought a New York City apartment for one price and then turned around and sold it for $2.5 million more than she paid for it. It was a big profit, but she does admit that she was asking more than $4 million more than she paid for it. The housing market, however, forced her to lower the price a bit and take a hit on her profit. We still say that she sold it for far more than most people even dream of selling a house, so she's doing all right.
Photo by Getty Images
Mauricio Umansky
He's a bit different than some of the others on this list as he's not actually famous himself. He was a real estate agent and business owner for many years before he became famous. However, his wife is Kyle Richards, former child star and current star of the Real Housewives of Beverly Hills, and Umansky has made a name for himself outside of real estate since his wife's show aired. His fame has only helped his real estate business.
Photo by Getty Images
A-Rod
Alex Rodriguez is a baseball player that's done some real estate deals in the past. He's been known to buy and sell homes at a profit and he's shown some interest in the real estate market ever since he was able to make his first successful sale. He's the co-founder of a construction company that he's used to buy and sell and build some real estate deals for himself, all of which he's managed to sell at a profit since getting into the business.
Photo by Getty Images
Winona Ryder
She's not someone who is a big part of the real estate game, but she's made some profitable sales in the past. In fact, she recently sold a home that netted her a win of more than a million dollars, even after she had to drop the price a bit in order to attract buyers. She hasn't entered the game much the same way that other celebrities have done, but she's not too far behind, either.
Photo by Getty Images
Diane Keaton
She's a famous actress who has made many movies, been the headline in many films and has made a lot of money. But unlike some of the other people she's worked with along the way, she doesn't waste her money on frivolities. She likes to spend hers on real estate and things that will make her money in the long run. It's a nice business for her on the side, and she's been quite successful in it over the years.
Photo by Getty Images
Courtney Cox
She's a former friend, but that doesn't mean she doesn't understand what it means to make money in the real estate market. She's managed to make millions on her purchases and her sells, and she's doing well enough to prove it. She started off flipping small homes and has recently managed to work her way up into selling much larger homes, such as the one she sold for nearly $15 million more than she paid for it when she was married to her ex.
Photo by Getty Images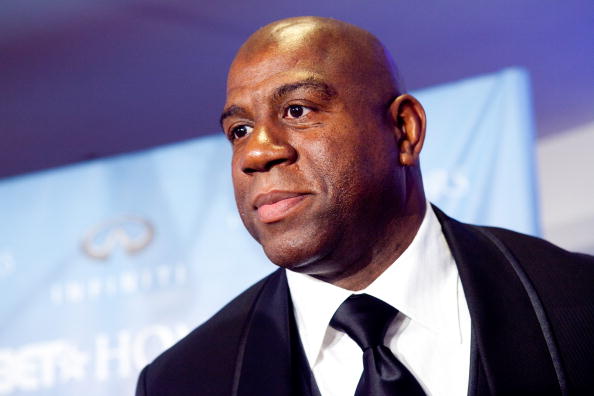 Magic Johnson
He's gone into the real estate business since his pro basketball career is over, and people admit that his name is often what makes their business successful. How so? Well, when his business partner makes calls, he may or may not get through to whomever it is he wishes to speak. When Magic Johnson makes the call, however, people will take the call and make deals with the former basketball player.
Photo by Getty Images
Ashton Kutcher
He bought a bachelor pad back in 2004 that was worth a lot of money, and he spent some time working on it and making it worth a lot more money. He then went ahead and spent some of his time investing in the property, improving it and then listing it for a lot more than it was worth. In fact, he listed it for more than a million and a half dollars more than it was worth, which is an impressive and substantial profit for anyone. We predict he doesn't get out of the game.
Photo by Getty Images
Meryl Streep
When she grew tired of being nominated for Academy Awards and only taking home a handful of them despite her amazing talent and success, she began buying and flipping homes. She's relatively new to the game, and she's doing quite well. In fact, it's yet to surprise anyone in Hollywood that knows the actress, because it seems almost everything she does turns into a profit for the actress and that's all that matters at the end of the day.
Photo by Getty Images
Jeremy Renner
The actor has made some great deals in the real estate market, so much so that he's a millionaire thanks to his good fortune. Of course, he was a millionaire before this, too, but now he's even more of a millionaire, so he's doing all right, all things considered. He and his best friend have taken to buying houses and flipping them, selling them shortly thereafter for a big profit.
Photo by Getty Images