Just as I mentioned yesterday with the city of Los Angeles being known for glitz and glam, New York City has a similar reputation. Known for it's high-end luxury and rich history, there's a reason why people believe that if you can make it there, you can make it anywhere. And with sports being a major part of the Big Apple, the athletes who play for the numerous teams there earn quite the paychecks. That's why I'm giving you the richest athletes living in New York, based off of their 2014-'15 salaries.
Photo by Paul Zimmerman/Getty Images for Cantor Fitzgerald
15. Chase Headley (Yankees) – $13 million
After being acquired by the New York Yankees last season and playing pretty well, the team decided to keep third baseman Chase Headley as he hit the free-agent market this offseason, paying him $13 million this year to do so. Having Headley spells the team from putting Alex Rodriguez at the position—who is working his way back from a year-long suspension in 2014.
Photo by Stephen Dunn/Getty Images
14. Carlos Beltran (Yankees) – $15 million
A borderline Hall of Famer, Carlos Beltran has performed at a high-level for 17 seasons in the major leagues. A former Rookie of the Year and a eight-time All-Star, Beltran has performed his best in the postseason, making him valuable to any franchise with playoff aspirations. Although his numbers were down in 2014 for the Yankees, he is set to earn $15 million this season.
Photo by Robin Marchant/Getty Images for Cantor Fitzgerald
13. Eli Manning (Giants) – $15.2 million
There are plenty of skeptics who don't think that Giants quarterback Eli Manning is worth the hefty, $15.2 million salary he earned in 2014, but Manning has always been more than just stats. A two-time Super Bowl champion, the former No. 1 overall pick has the pedigree and experience to take his team to the Big Game when given a full team of talent.
Photo by Joe Sargent/Getty Images
12. Brook Lopez (Nets) – $15.71 million
A one-time All-Star, Brooklyn Nets center Brook Lopez continues to prove that, when healthy, he can be one of the best big men in the NBA. His biggest problem is staying on the court, though, as he has started just 39 games the past two seasons for a team which had high aspirations when they first moved to Brooklyn from New Jersey. As it stands, he is making $15.71 million in 2015.
Photo by Brad Barket/Getty Images for G-Shock
11. Curtis Granderson (Mets) – $16 million
A three-time All-Star outfielder Curtis Granderson has the distinction of playing for both MLB teams in New York, enjoying four years with the Yanks before signing with the Mets before the 2014 season. Showing some serious pop in his bat during his time with the Yanks, Granderson's home run production dipped to just 20 last year, but hopes to regain some round-trippers in 2015 when he'll be making $16 million.
Photo by Jonathan Daniel/Getty Images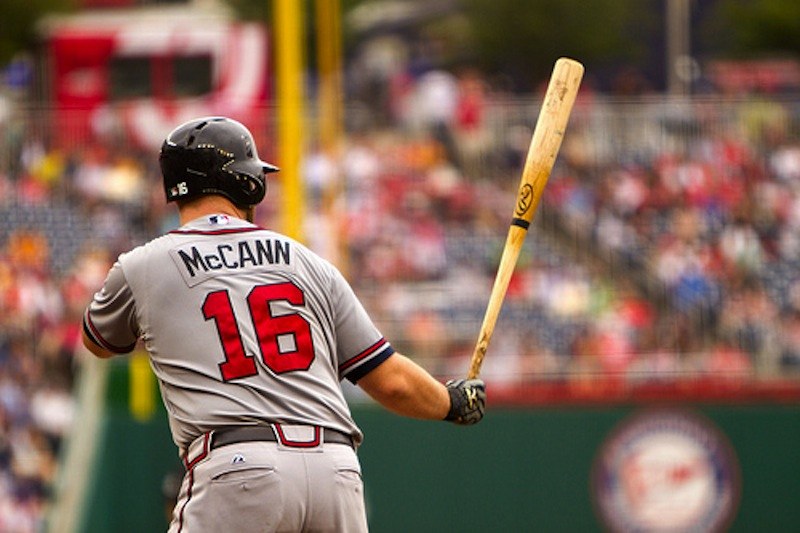 10. Brian McCann (Yankees) – $17 million
Respected as one of the best catchers and leaders in the game right now, the Yankees Brian McCann inked a big deal with the team before the 2014 season that will pay him XX in 2015. Missing out on the All-Star Game for just the third time in his 10-year career last year, McCann can prove his worth with a solid 2015 season in his quest to get the Yanks back to the playoffs.
Photo via Flickr/shockingbird
9. Deron Williams (Nets) – $19.75 million
At one time, Nets point guard Deron Williams was looked at as one of the most talented players at his position in the league, capable of scoring and setting up his teammates with ease. After making five-straight All-Star trips, he hasn't been himself since nagging ankle injuries have slowed him down. While he earns $19.75 million this season, he hasn't proven to be worth that type of money in a few years.
Photo by Robin Marchant/Getty Images
8. David Wright (Mets) – $20 million
For years, Mets third baseman David Wright was one of the best power hitters at his position, routinely hitting 25-plus homers each year and driving in 100 RBI. Since moving into the larger Citi Field, though, Wright's numbers have dipped a little bit, with his last solid power season coming in 2012. More of a contact guy as he has struggled with injuries the past couple years, Wright hopes that good things are on the horizon in 2015, where he'll be making $20 million.
Photo by Robin Marchant/Getty Images
7. Jacoby Ellsbury (Yankees) – $21.14 million
Coming to the Yankees from the rival Red Sox before the 2014 season, outfielder Jacoby Ellsbury never seemed to get comfortable in his first year in the Bronx. Although he batted a respectable .271, stole 39 bases and hit 16 home runs, his on-base percentage was down. Making more than $21 million in 2015, both the Yankees and Ellsbury hope he can return to his norma form to help get them back to the playoffs.
Photo via Flickr/Paul Searing
6. Masahiro Tanaka (Yankees) – $22 million
One of the most anticipated pitchers from Japan in MLB history, when Masahiro Tanaka signed with the Yankees before the 2014 season, many wondered if he could be as dominant in the bigs as he was overseas—where he went undefeated the season before coming to the States. He impressed in his first year, going 13-5 with a 2.77 ERA and making the All-Star Game, though he did spend time on the disabled list. Making $22 million this year, both he and the Yanks hope he can avoid any injury in 2015.
Photo via Flickr/hiro-sensei
5. Alex Rodriguez (Yankees) – $22 million
Coming off of a year-long absence from MLB following a suspension for using PEDs, the Yanks' Alex Rodriguez might be making $22 million thanks to his huge extension signed years ago, but there are few who believe he can produce the way he used to to justify such money. Expected to be nothing more than a designated hitter, A-Rod's comeback in 2015 is one of baseball's biggest storylines.
Photo by Jeff Kravitz/Getty Images for Grey Goose
4. Carmelo Anthony (Knicks) – $22.45 million
One of the best scorers in the NBA since entering the league back in 2003, Knicks superstar Carmelo Anthony recently re-signed with the team this past offseason with a monster contract that will pay hime $22.45 million in 2015, with increases over the length of the deal. Although he has been injured all year and is shutdown for the remainder of it, he hopes to bounce back and take his team to the playoffs in 2015-16.
Photo by Bruce Bennett/Getty Images
3. CC Sabathia (Yankees) – $23 million
Prior to getting injured and fighting inconsistency over the past couple years for the New York Yankees, former Cy Young Award winner CC Sabathia was one of the first big-money free agent pitchers to back up such a hefty salary. Still 33 years old, Sabathia's hopes to win 300 career games might have taken a hit by those two years, but he can still justify his $23 million salary with a typical season—15 wins and mid-three ERA.
Photo by Jemal Countess/Getty Images
2. Mark Teixeira (Yankees) – $23.12 million
Mark Teixeira came to the Yankees before the 2009 season and immediately proved that he was worth the eight-year, $180 million that he inked with the team. Unfortunately, since 2012, Tex hasn't been able to stay healthy, making him seem like more of an overpaid player than a feared one by opposing pitchers. Set to earn $23.12 million in 2015, the Yanks could make a run at the playoffs if he returns to his form from a couple seasons ago.
Photo by Dave Kotinsky/Getty Images for Cantor Fitzgerald
1. Joe Johnson (Nets) – $23.18 million
I have a strange feeling that you didn't see this one coming, did you? Sitting atop the highest-paid athletes in the city of New York right now is Brooklyn Nets forward Joe Johnson. Earning seven All-Star trips over the course of his career, Johnson cashed-in on a big deal back in 2010 while still with the Atlanta Hawks, watching the salary increase each year since. While solid, the forward is generally regarded as being overpaid for what he has produced the past few seasons.
Photo by Frederick M. Brown/Getty Images