When most people think of New York, they tend to forget that it's an entire state – and think only of the five boroughs that comprise the city. Although New York City is one of the most amazing places in the world, there's much more to New York than that. The state of New York is one of the largest in the nation and is home to more than 8 million people. While much of New York is beautiful and green, like every other place, it has its undesirable areas.  Although NYC overshadows the rest of the state – even some other nearby smaller states – and has a reputation for being big and bad, there are also other New York cities that are certainly holding their own. Here are 18 of the most dangerous cities in New York.
(Photo by Spencer Platt/Getty Images)
Gloversville
Gloversville isn't on the list because they have a ridiculously high number of crimes – violent or otherwise, but because their police department is extremely understaffed.  If anything were to happen in the city, it's reasonable to believe that the local authorities might not be able to get everything under control.
(Photo by Spencer Platt/Getty Images)
Johnson City 
Johnson City is a place that many people – even if they're from New York – have probably never heard of.  However, that doesn't change the fact that the city has some issues with crime. Theft and burglary seem to be a very serious problem in Johnson City, and the numbers seem to continue to rise with each passing year.
(Photo by Scott Olson/Getty Images)
Bath Village
You've probably never heard of the city of Bath Village, but with what you're about to find out – you won't forget about it. Although the city has  a population of only 5,820 people, the probability of crime is very likely.  People in bath crime have a one in 21 chance of falling victim to a crime, and both violent and property crimes are prevalent in the city.
 (Photo by Christopher Furlong/Getty Images)
Utica
As the tenth most populous city in New York, Utica has more than 62,000 residents. Unfortunately, the city has a pretty well-known reputation for its struggles with both poverty and crime.  Although homicides are not very common in Utica, other forms of crime have been an issue. Robbery, aggravated assault are serious problems in the city and people living in Utica have about a one in 20 chance of falling victim to crime.
 (Photo by Spencer Platt/Getty Images)
Albany
New York's capital city, Albany, is often overlooked by those who aren't familiar with the area.  In fact, most people don't even realize that the city is the capital, but things in Albany aren't as quiet as they seem.  People in Albany have a one in 19 chance of becoming crime victims which is pretty scary for almost any city.
(Photo by Daniel Barry/Getty Images)
Binghamton
In 2009, Binghamton made news when a mass shooting at the American Civic Association left 14 people dead.  Although many people have not thought about the city since, Binghamton has continued to struggle for quite some time.  The area has become somewhat of a hotbed for crime of all sorts and one resident even stated that the city has "been a cesspool for years."
 (Photo by Spencer Platt/Getty Images)
Troy
Once an industrial powerhouse, the city has struggled since the industrial decline. As in many other cities dealing with poverty, crime has become a major problem in Troy. With a population of slightly more than 50,000 people, residents in Troy are at a pretty high risk (one in 18) to fall victim to both violent and property crimes.  Although many in the community hope to make things better, Troy continues to have difficulty finding its footing.
(Photo by Harry Engels/Getty Images)
New York City
New York City is actually one of the safest big cities in the country.  However, that doesn't change the fact that there are still a lot of crimes that take place in the city that never sleeps. Although the city's crime rate has been dropping since the 90s, robbery and assault continue to be big problems in the Big Apple.
(Photo by Afton Almaraz/Getty Images)
Middletown
Falling within the New York metro area, the city of Middletown has a popular of approximately 28,000. Several years ago, report stated that Middletown was suffering from a serious gang problem as many gangs moved out of the city and headed towards the suburbs. As violent crimes in New York City at the time were on the decline, the numbers in Middletown were rising. Although local law enforcement is working hard to restore the city, crime is still a very serious problem.
(Photo by Jeff J Mitchell/Getty Images)
Schenectady
Sure, Schenectady may be a little hard to pronounce, but things in the city are more difficult than spitting out a name.  According to reports, Schenectady is riddled with crime, and according to locals, the city is in serious decay. Residents in the city stand about a one in 19 chance of becoming a victim to either a violent or property crime, things don't seem to be looking up any time soon.
(Photo by David Calvert/Getty Images)
Syracuse
To many, Syracuse is nothing more than a sleepy college town.  However, as one of the most populous cities in the state, Syracuse faces some very serious struggles with crime. In 2011, local law enforcement began placing surveillance cameras in many public areas throughout the city in hopes of cracking down on crime. However, crime in the city continues to be a problem and motor vehicle theft, robbery, and aggravated assault are at the top of the list.
(Photo by Rob Kim/Getty Images)
Niagara Falls
Niagara Falls may sound like a great place to be, but unfortunately that isn't the case – especially if you're worried about crime. Niagara Falls is another city struggling to keep its head above water with the decline of industry. Although the stats show that crime in Niagara Falls in lower than some other cities in the area, the city does have a higher average crime rate than cities like Buffalo and Rochester. Groups to help put a stop to gun violence have even been brought to the city to try to bring positive change.
(Photo by David Wilson Burnham/Getty Images)
Rochester
Over the last several years, the number of crimes reported in Rochester has been a little ridiculous. The number of both violent and property crimes are well above the national average and the number seems to only be going up.  Residents in the city have an approximately one in 16 chance of becoming the victim of a crime.
 (Photo by Guy Solimano/Getty Images)
Poughkeepsie
Poughkeepsie is definitely not on most people's radar when they think about crime.  In fact, Poughkeepsie is especially interesting because it could make a great place to live, but property crime is also a serious issue. Although the average number for violent crimes is in Poughkeepsie is well below the national average, the number of property crimes is much higher.
 (Photo by Kenneth Gabrielsen/Getty Images for #TackleEbola)
Jamestown
Jamestown may seem like a nice quiet place, but the city of 31,000 definitely has it's fair share of crime.  Robberies and car thefts seem to happen quite frequently in Jamestown although murders in the city seem to be relatively rare in comparison to some of the state's other cities as well as cities throughout the United States.
(Photo by Jeff J Mitchell/Getty Images)
Auburn
Auburn is a very small city in with a population of under 28,000.  However, according to reports, the city has been ranked first in the highest number of registered sex offenders which isn't a good stat for any city, but especially such a small one.
 (Photo by Rob Stothard/Getty Images)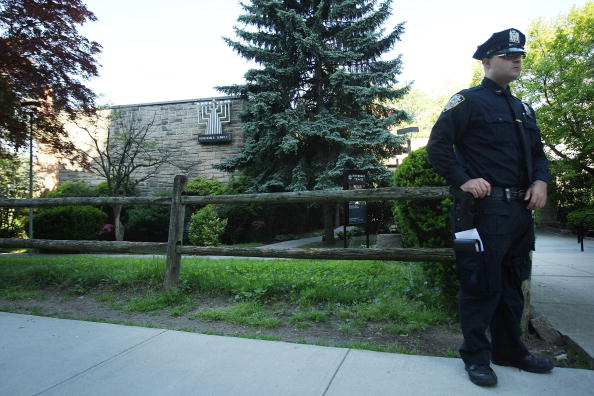 Newburgh
Like Middletown, Newburgh is another city on the outskirts of NYC that has been struggling with gangs and other sorts of crime that have made their way out of the big city. Newburgh is 95% more dangerous than all other cities in the United States and in 2012 it was ranked the 10th most dangerous place to live in the United States.
 (Photo by Spencer Platt/Getty Images)
Buffalo
Buffalo is a pretty popular city, and it has a lot to offer.  But unfortunately, one of the things that it has to offer is plenty of crime.  Buffalo has recently been considered the most dangerous city in all of New York, and one of the most dangerous cities in the United States. Buffalo has a higher crime rate for both property and violent crime than New York City.
(Photo by Dan Kitwood/Getty Images)