If you love to play video games, then you know how important it is to have a comfortable place to play. Video game chairs provide you with just that while also boasting other features that can enhance your gaming experience. From things like built-in speakers to vibrating bases, video game chairs can make hours of gaming even more fun. On top of that, many video game chairs are also stylish. With Christmas right around the corner, now is the perfect time to see if a video game chair could make the perfect gift for you or a fellow gamer. Check out 10 video game chairs every gamer will love.
Two speakers come built-in to this simple gaming chair. This chair can be the perfect item for a young gamer.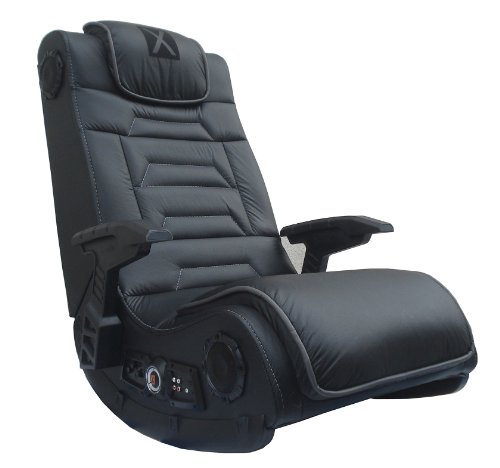 X Rocker is one of the biggest names in video game chairs, but this chair isn't just great for gaming. Thanks to four built-in speakers, this chair can also be perfect for listening to music, watching TV, and simply relaxing.
As video games continue to get more technological advanced, it's important that video game chairs follow suit. This item has wireless audio transmission that makes listening to the sounds of your favorite game(s) more convenient than ever.
Whether you like to play games on a console or prefer to play on a PC, this ergonomic chair was designed to keep you comfortable for hours on end.
Sitting for long periods of time isn't the best thing for your body, so if you're going to do it it's important to have a chair that provides the proper support. This gaming chair has "Ergonomic design with free USB electric massager, headrest pillow & lumbar cushion, wider and thicker armrests with ergonomic shape, larger-size seat cushion, wider chair back, adjustable footrest".
Comfortably, sturdy, and stylish, this chair can connect with other gaming chairs to provide "the ultimate gaming experience". In addition, this chair has four speakers and a subwoofer.
Complete with full back support, this chair is great for playing your favorite video games or for simply sitting and watching TV and hanging out.
Some people may believe that a typical office chair is ideal for people who like to play PC games. However, a gaming chair can provide you with more features and support.
This chair is all about comfort and convenience. Not only does it have a large and soft design, but it also features under the seat storage space.
Not only will this gaming chair turn heads, but it's also a high quality piece of furniture that will bring a new level of fun and comfort to playing games.