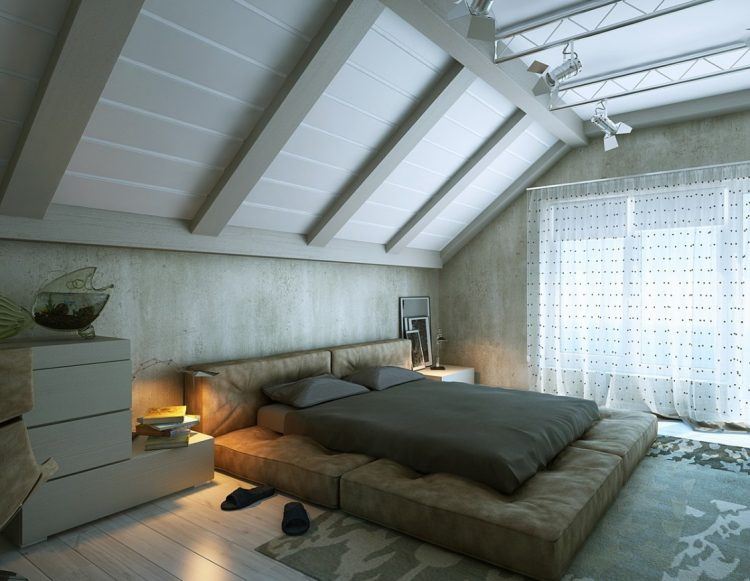 While some people use their attic for storing mementos and never-used objects, you can make better use of the space by turning it into a spare bedroom. Even if you want to use your attic for storing your old photos and such, you can incorporate storage space into the final design to make it good for multiple purposes. Creating a spare bedroom out of an attic is a great idea, especially if you're looking for more space for a growing child, you often host several guests at once, or you want a separate area in your home that can serve as a private retreat. If you can fit a king size bed into your attic, go for it — you'll find it luxurious and quite versatile. Here are ten great attic designs that feature king sized beds.
1. A relaxing space
It can be difficult coming up with attic designs that feel spacious enough to host a king size bed, but this one perfectly pulls off the task. A coat of white paint throughout the room brightens it up while also creating a calming atmosphere and a roomier look. The bed is positioned directly in front of the attic's only windows, and it sits on an area rug that provides textural interest. An assortment of simple yet lovely decor placed throughout the space gives it an inviting vibe.
2. A mix of contemporary and rustic elements
The ceiling of this attic is interesting, and painting it white allows its many notches to blend in with the room's style while also remaining distinctive. Contrasting the contemporary look of the attic's bed and decor is a knotted wood floor and rustic style furniture pieces. The combo gives this attic bedroom character and warmth, but its look is far from outdated.
3. An upscale attic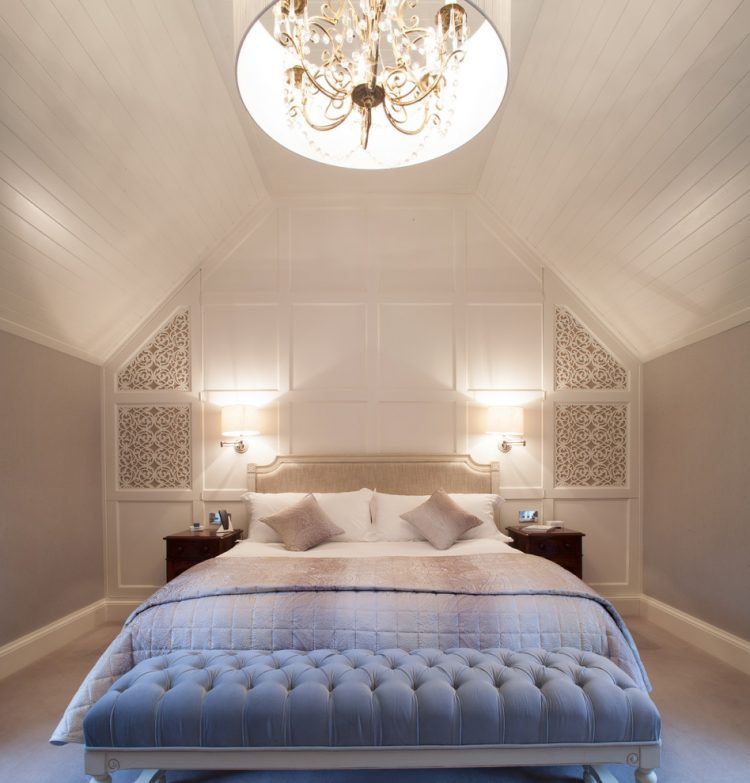 Some attic designs have the goal of making a space look as much unlike an attic as possible. Unless you were standing right in the room, you'd have no idea this was a small attic just by looking at the photo. It holds a king size bed, a small selection of stylish decor, and it has tons of chic style. One of the highlights of the space is a large and luxurious light fixture that hangs above the bed. A beautiful blue tufted ottoman that matches the bedding makes a wonderful complement to the rest of the room's decor.
4. Timeless appeal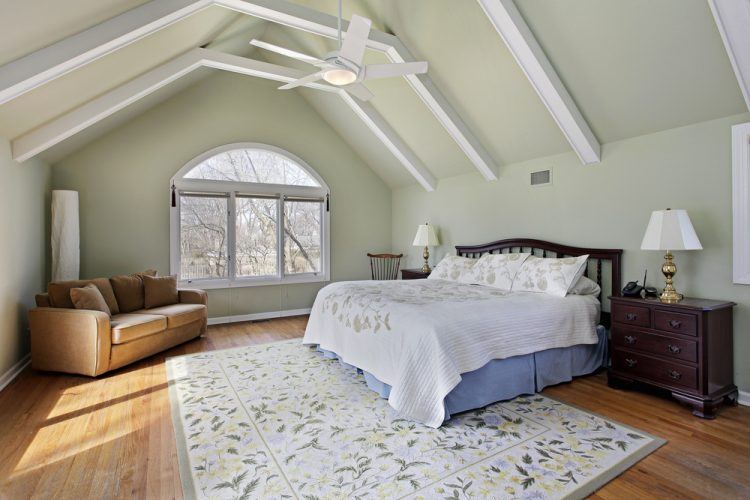 If you have a larger attic, you'll have plenty of options when it comes to configuring the space. This is a nicely sized attic that has enough room for storage, a small sofa, and a king size bed. A traditional rocker sits nearby the bed, and it sits on a large area rug with a lovely floral print. Opting for soft greens, whites, and blues not only make the room look more relaxing, but gives it a very classic look.
5. Beautiful florals
While some attic designs are impressive due to their size or inclusion of decor and furniture, others are captivating because of how simple they are. This space doesn't have much square footage and it's not filled with fancy extras, but it's very attractive because of how well it's put together. The king size bed is clad in floral bedding which complements the wallpaper on the accent wall surrounding a window. A traditional side table and clean window treatments complete this wonderful design.
6. Modern and lavish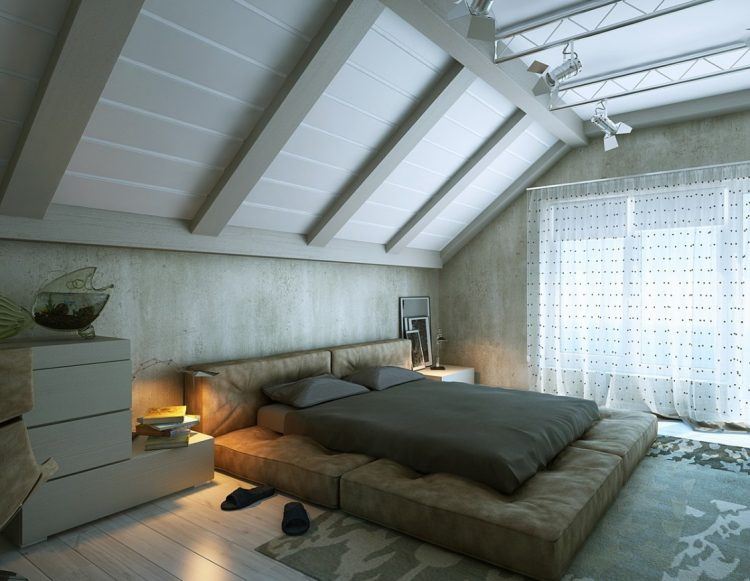 One of the best ways to give your attic a new look and feel is to alter the texture of its walls. You don't have to undergo a huge renovation, but can instead use a faux finish with wall paint or put up a facade. This attic looks like it has stone walls, but it's a painting technique that provides an industrial edge. Combined with the style of overhead lighting and the clean lines of the furniture, the design is decidedly modern. The king size bed in the space is interesting, as it's a custom made tufted mattress set.
7. Eclectic with a bit of glam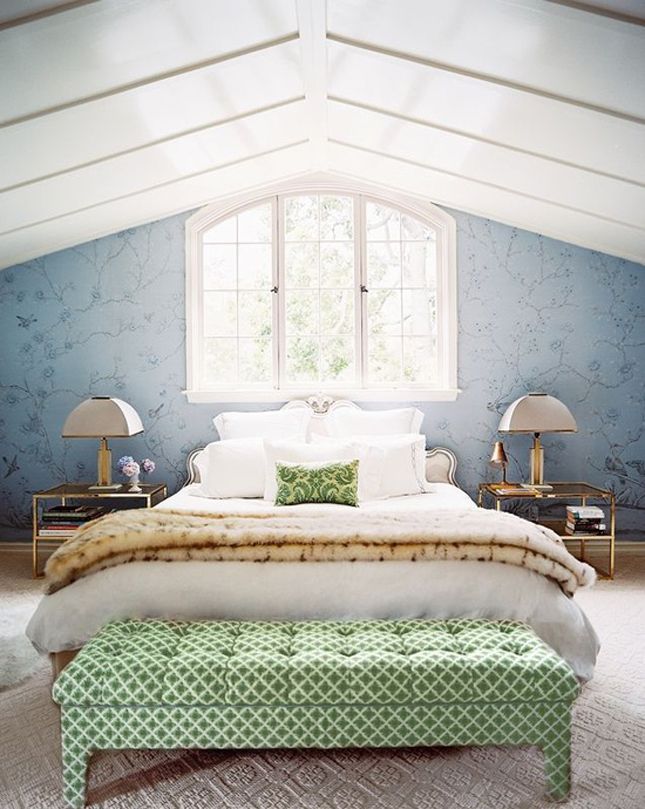 If you tend to prefer eclectic decor, there's no reason why you can't apply the style to your attic. Here's an example of an eclectic attic bedroom that's stunning because of its combination of fashion forward colors, patterns and textures. From the wallpaper and bedding to the furniture and carpet, the room abounds with visually interesting elements. The attic also gets a touch of glam from a luxe fur throw on the king bed and pops of gold.
8. Clean lines and a minimalist design
Minimalist attic designs don't have to look plain or boring, and you can make them look stylish without resorting to adding a ton of clutter and decorations. This attic gets much of its visual interest from its sloped ceiling and walls that look wood paneled. The floors flaunt a beautiful wood tone, and the rest of the walls and furniture are bright white. The room's bedding and even the area rug look crisp and modern, and the clean lines of the space make it appear more high end.
9. Luxury in an attic efficiency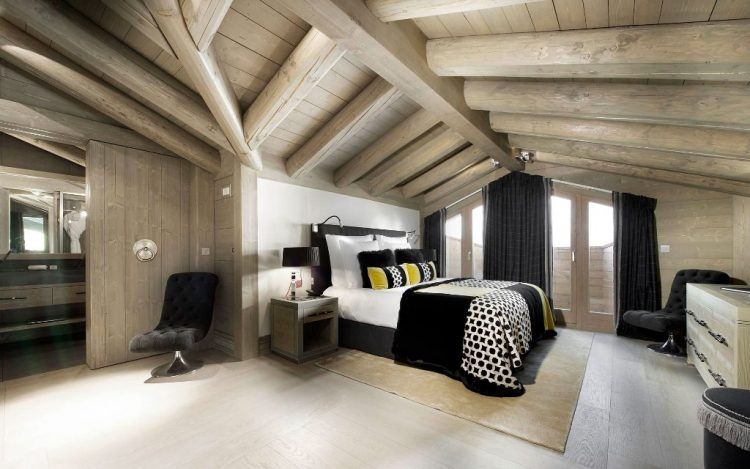 You've got to get creative if you want to fit all of the elements needed for an apartment into an attic. One option is to take inspiration from traditional efficiency apartments, which basically combine everything one needs to live comfortably into a single room. This attic follows that concept, but it's beyond luxurious.
10. Cozy and comfortable
Your king size bed may take up the bulk of the room in your attic, but you can still make it look like a comfy and welcoming space. The stone accent wall in this design is a clever way to house the attic's heating unit, but it also gives the room an elevated style. Painting the paneled ceiling the same color as the wall helps the space feel less closed in.