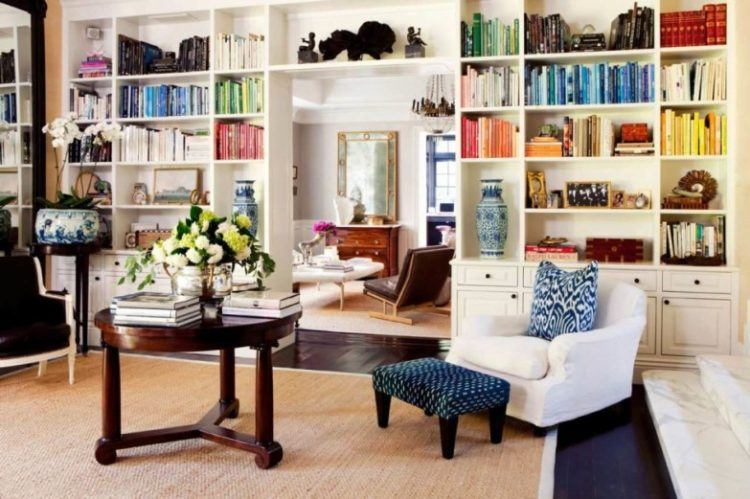 Your home's living room is a gathering place. It's the perfect place for having fun, watching TV, or simply relaxing with a good book after a long day. Thanks to all the roles your living room plays there are no concrete rules regarding furniture, which is why more and more people are opting to include bookcases. After all, they do much more than simply hold books. They are ideal for showing off collections, special trinkets, and photos.
If you are considering adding a bookcase to your living room, the following 10 living rooms with gorgeous bookcases are perfect for getting ideas.
A Living Room with a Masculine Twist
Thanks to recessed lighting, this beautiful cherry floor-to-ceiling bookcase and everything it holds, including old world book sets and picture frame, immediately demands your attention. The painting in the center only makes it stand out more. The dark wood, leather sofa, and suede chairs give off a distinctly old world, masculine vibe that is sure to appeal to male readers.
An Elegant Room for Avid Readers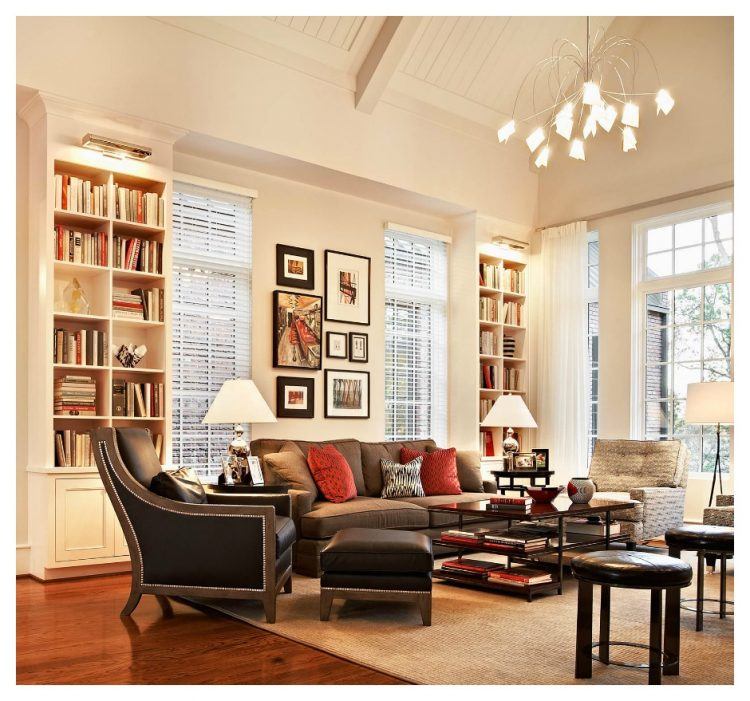 This living room offers plenty of storage space for books, between the two bookcases and the area underneath the coffee table, yet also gives visitors plenty of other gorgeous things to look at. For example, the high ceilings covered in beadboard, the exquisite chandelier, large windows that bring the outside in, and the elegant furniture ensures this room makes an impression.
A Color Coded Masterpiece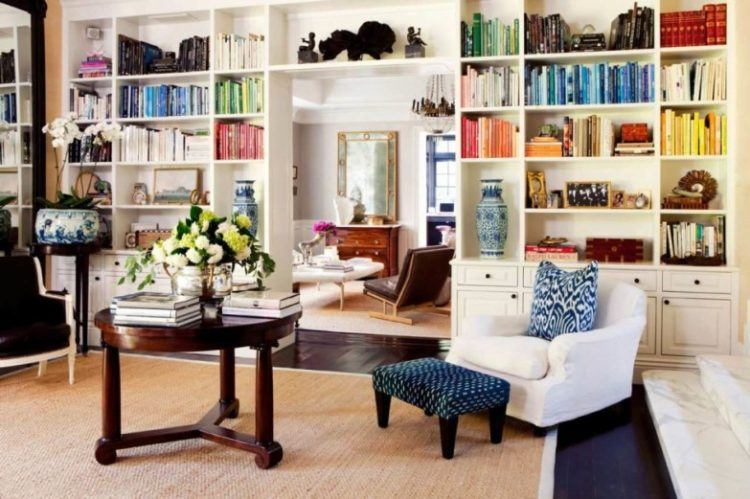 This floor to ceiling bookcase offers an abundance of rooms for books, as well as additional storage in the lower cabinets. However, what makes the room really stand out are the books arranged by color, which immediately catch your eye upon entering the room. This, combined with the cozy chair and stool, along with the floral stunning floral arrangements, makes this a welcoming room for all guests.
A Modern Twist on Wood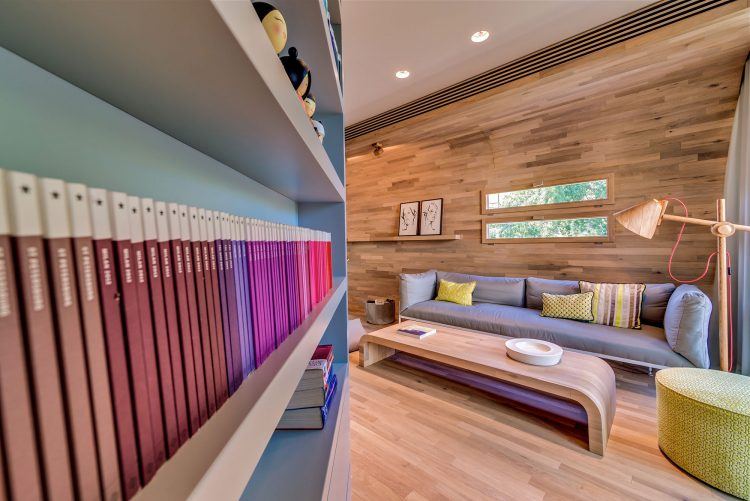 Despite the wooden paneling on the walls, this living room gives off a completely modern vibe, thanks to its clean lines and uncluttered space, which the beautiful blue bookcase is largely responsible for. The bookcase, which holds both knickknacks and books organized by color (which always gives off an elegant look), along with couch, curved coffee table, and ottoman with a fun geometric pattern come together to create a room that is simple, sleek, spacious, and perfect for reading.
A Purple Reading Treat with an Amazing View
By featuring the same stunning plum color as the walls, the dual built-in bookshelves in this living room seamlessly blends into the design, yet still catches your attention.  The room's combination of green with different shades of purple, along with the large floor-to-ceiling window that offers spectacular views of the backyard garden, comfy furniture, and fireplace, give it a calming vibe, which ensures you can use this room to relax after a long day.
A Perfect Example of a Loft Living Room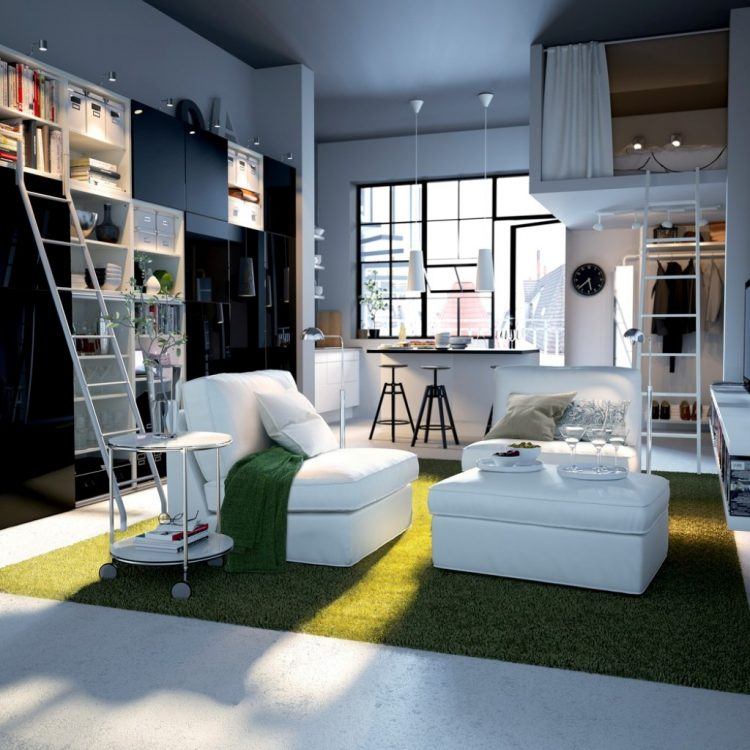 Despite the small living space in this loft-style apartment, the built-in bookcase, which appears to cover an entire wall, offers more than enough space for displaying your favorite books, sentimental pieces, and more. Best of all, the attached ladder ensures you can easily reach anything you are looking for. When combined with the white chair and ottoman, pendant lights hanging over the breakfast bar, stylish stools, and industrial-style windows, the room comes together to create an amazing loft living room.
More Than Just a Bookcase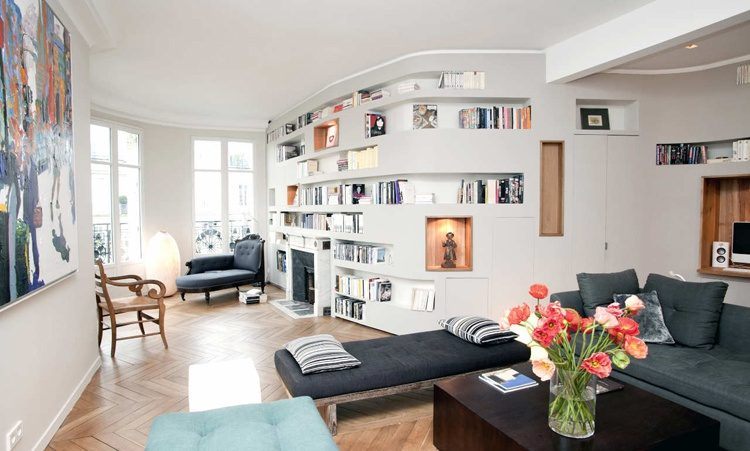 In this living room, the curved built-in bookcase also includes a fireplace and unique shaped ledges for things you really want to show off. In addition, as the room continues on, you'll notice a built-in shelf just large enough for books above the desk area. The room is pulled together by a huge painting directly across from the bookcase, as well as the charcoal coach, wood table, and other accents strategically placed around the room.
The Perfect Way to Divide a Gigantic Room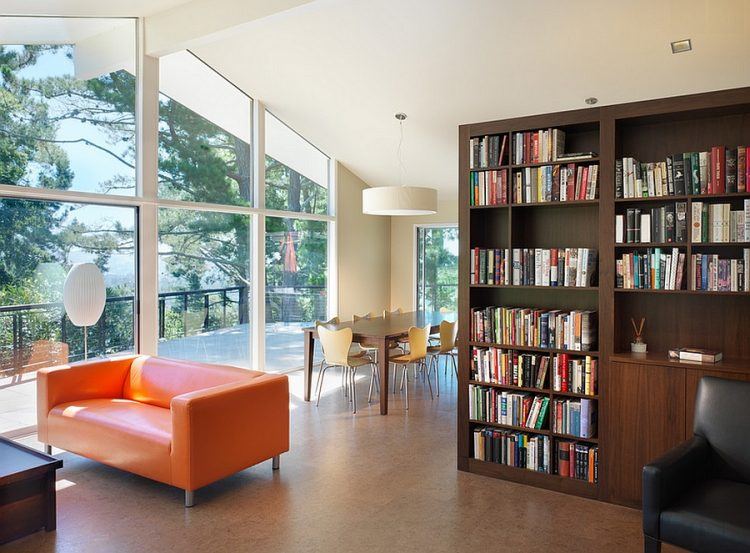 This spacious and gorgeous living room features floor-to-ceiling windows that provide epic views of the mountain landscape below, as well as a beautiful wooden bookcase that perfectly divides the living space from the dining area and kitchen.  The orange couch with chrome legs accompanied by the drum-shaped shade of the dining room chandelier give the room a modern vibe, while the old-school dining room table chairs add a bit of vintage flair. As an added bonus, the bookcase offers closed shelving on the bottom, which is perfect for hiding clutter when guests stop by.
A Modern Living Room That Also Offers a Homey Vibe
This room serves as a perfect example that living rooms can have both a modern and homey, inviting ambiance, starting with the large wooden bookcase on the far wall that is flanked by large glass windows. Unlike a more traditional bookcase, this one incorporates both open and closed shelves in various sizes, along with pullout drawers on the bottom, which makes it perfect for showing off book collections and home décor accents. The sleek lines of the couch and tables, as well as the modern rug and lamp with a drum-shaped shape give it a distinctly modern feel, yet the room is also inviting.
For the Eclectic Bookreader
This stylish bookcase takes up an entire wall in this unique room, ensuring that it not only serves as a focal point, but also offers plenty of space for books and other trinkets. The room, itself, features a unique combination of patterns, including the zebra print rug, geometric design on two chairs, and the floral curtains that come together to create a room that is perfect for readers with an eclectic taste.