Boston is the hub of culture and industry in New England. Boston is graced by stately Beacon Hill, home of The Boston Pops, and the prestigious halls of learning at Boston and Northeastern University. Boston as a whole; however, conjures an erroneous image of a friendly Colonial Historic home town, with a wholesome "Spirit of '76" parade on every corner, and chowder served up on cobblestone streets by friendly locals.
The truth is that Boston, incorporated as a town in 1630, was a rough and ready place, where rebellious Colonists dressed as Native Americans raided a ship and pitched a ton of tea overboard to protest taxes. Tar and feathering, public hangings, and total mayhem are part of its history.
In the late 1800s to early 1920s tons of immigrants flooded Boston, a harbor city. Tenements sprang up to house the families of factory workers and others who came to live the American Dream. Boston reflects that diversity today with a rich South Boston Italian heritage and a Chinatown. Boston was also a center of gangland crime during the 1920s.
Boston also can boast that it was home for one of the most well known serial killers in America,The Boston Strangler, who killed 11 women during a serial murder spree between 1962 and 1964, according to Brittanica.com.
Although some once dangerous Boston neighborhoods are now "up and coming", a few stand out as places you may not want to live, or even linger after dark alone. Here are the names of some of the most crime-ridden areas in Boston.
Roxbury
According to Sperling's Best Places, the Roxbury neighborhood is listed as 99 out of 100 (100 being the most violent) areas. Keep in mind the US average on the whole is 41.4/100. Property crime fares only a little better, with Roxbury at 76.6/100 , compared to a national average of 43.5/100.
The reason for this might be tracked to the Roxbury crack epidemic, which hit this area hard, courtesy of a thug named Darryl Whiting. To read more about Whiting's influence on the Roxbury projects, see Phoenix.com's haunting article, When God Walked Through The Projects.
Roxbury Crossing
Sperling's Best Places rates Roxbury Crossing as a slightly lower area of crime, but still impressive at 93/100 for violent crimes. Property crime stats are is a whopping 87/100. The MBTA station location in that area is a hub for tourists, which makes it fertile ground for thieves, carjacking and vandalism.
Dorchester
Using the same above website rating scale, the neighborhood of Dorchester falls only slightly behind Roxbury with a violent crime score of 74.9, but more than makes up for it in property crimes, a whopping 67 compared to 43.5, the national average.
Hyde Park
This part of Boston has a mix of the good, bad and ugly crime statistics. Sperling's Best Places rated this neighborhood with a score of 57.9 violent crime and property Crime 48.2, both above the national average. Compare that stat to the trendy Chestnut Hill section, where violent crime is rated by Best Places as a lower 28.
Mattapan
Playfully dubbed "Murderpan" by some disgruntled residents, this neighborhood has more than their share of violent crime. By looking at the recent crime reports on Trulia.com, the latest crime reports are full of stabbings, gunshots fired, and armed robberies of local merchants.
It is also interesting to note that the above three neighborhoods, Roxbury, Dorchester and Mattapan, had the worst outbreaks and lowest containment during a flu epidemic, due to low socioeconomic status and lack of medical resources for vaccines, according to The Boston Globe.
Roslindale
Area Vibes gives the Boston neighborhood of Roslindale a "D" for its crime rating. Because of the long arm of the crack epidemic extended all over Boston, it's no wonder this once historic neighborhood known for its natural beauty has been tarnished by crime. This is one neighborhood that fortunately is under revitalization.  Condos, old colonial houses, and apartment buildings are making way for new condos to attract a younger professional population.
Jamaica Plain
Jamaica Plain or "JP" to locals, is a diverse neighborhood that only earned a 'D+" from Area Vibes for crime. Patch.com reports police statistics showing that the first three months of 2016 have outdone 2015 for violent crimes in the Jamaica Plain section of Boston. Overall crime in that neighborhood is up 3%
Fenway Park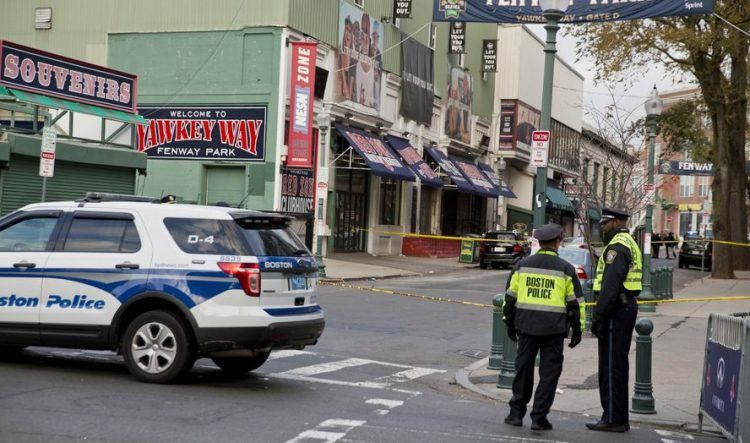 According to Universal Hub.com, the home of the Red Sox can be a scary place indeed. From unaware tourists to college students, on any given day this area is chock full of potential victims. One notable crime took place in May of 2014 when a man beat another man to death with a backpack, left the murder weapon behind, and then had the gall to call police to report it missing.
Like any tourist attraction, unsavory characters can and will take advantage of clueless tourists and area newcomers.  While Fenway isn't technically a neighborhood, it houses more people than most neighborhoods do, so it made our list.
Huntington Avenue in the Back Bay
Virtual Tourist also warns of The Southwest Corridor, a state park located inside the city limits. Due to security funding cutbacks, more crime has been noticed. The poster makes no bones about warning, "Do not enter the Southwest Corridor at night, " for fear of muggings and beatings.
Emerson College Campus
An article published by The Boston Business Journal cites that Emerson College ties with the University of Massachusetts Dartmouth for the highest number of rapes on campuses. Other institutions like UCLA and Arizona State say they are unfairly targeted due their honest reporting of campus crime. This may be responsible for the current social climate at Emerson, where "Rape Culture" talks are bringing awareness to Emerson's reputation for handling rape cases. As with any college campus, don't go out alone at night, and stay in well lit areas after dark