Coat racks are a must for home and office spaces. Although they may seem like a small thing, they can definitely help prevent clutter and they can be good for storing things other than coats. However, with that being said, we all know that coat rats aren't always the most attractive accessory out there. They have a tendency to be bulking, boring, or both – and that's something no one wants to have in their space. The good news, though, is that there are lots of coat racks out there that can give you a place to hang your coat and look good while doing it. Since details are a very important part of interior design, why not make sure that your accessories complement your style in the best way possible. Check out 10 coat racks where you can hang your stuff in style.
Who wants a coat rack that looks like everyone else's? Not you, right? Right. Well, this cool unique coat rack has a unique design that is still fully functional.
Although there are some coat racks out there that are a little on the flashy side, don't feel like you have to get something that is incredibly bold and/or different.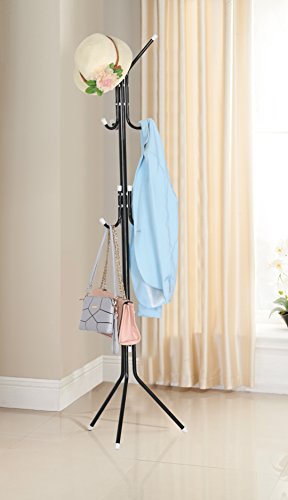 Metal coat racks are great for people who are looking for a little more durability and stability.
Boasting extra storage space, this coat rack strays from the traditional design and even offers three storage racks that can be used for other items.
Are you into the modern minimalist look? If so, this coat rack should be right up your alley thanks to its simple tree-like design.
With a unique design, this coat rack will do much more than just stand in the corner of your home.
Featuring a colorful design, this bright and bold coat rack could be perfect for a classroom or a children's bedroom.
A simple yet elegant design makes this coat rack perfect for an entryway or living room space. The additional umbrella holder definitely makes this item even more desirable.
This item definitely isn't your regular coat rack and it comes with lots of other storage space which can come in handy for things like hats, shoes, and scarves.
If you want a coat rack that will look good without stealing the show, this item is perfect. It has the perfect balance of style and practicality that can give you just what you're looking for.
lead image via bludot.com