Other than holiday meals or other special occasions, most people don't give much thought to their tablecloths. But while the point of a tablecloth may be to protect your table from spills and stains, tablecloths can also be more than that. When creating the perfect table setting, a tablecloth is something you'll definitely want to consider. Even if you're not getting ready to enjoy a special meal, it's nice to have a tablecloth that can not only protect your table, but make its best as well. Your table doesn't have to just be a table, and it's the little details like these that can really bring a room together. Here are 10 beautiful table clothes to keep your table looking good.
If you're looking for a tablecloth that is sure to stand out, this bold and beautiful item will definitely do the trick.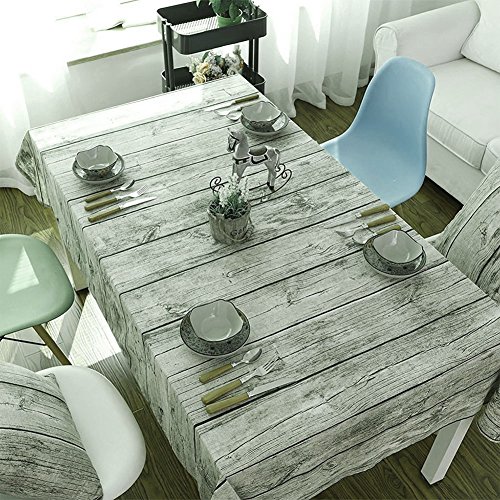 Available in both round and rectangular designs, this tablecloth is perfect for covering your table for daily use.
Tablecloths are available for every occasion. From formal dinners to casual lunches, there's a tablecloth out there that can fit your needs.
Although the point of a tablecloth is to protect your table, you also want to make sure that your tablecloth doesn't get permanently stained either. Fortunately, washable tablecloths like this one make it easy to keep things clean.
This spillproof tablecloth was designed to repel water and other liquids, making it incredibly easy to wipe down and clean.
Sometimes keeping it simple isn't a bad thing – especially when it comes to tablecloths. While some people prefer a tablecloth with lots of designs and patterns, simple tablecloths like this can also be a good choice.
Looking for the perfect tablecloth for your formal dining room space? Nothing says luxury quite like a nice white/cream tablecloth.
Why not bring a little extra color and style into your dining area with a nice patterned tablecloth like this one.
Thanks to an indoor/outdoor design, this tablecloth can be used in your kitchen, dining room, of outdoor entertainment area.
Need a tablecloth for your next picnic or other event? Well, this item was designed to be used on the go and features elastic edges to ensure a snug fit to almost any table.
Lead  (Photo by Peter Macdiarmid/Getty Images)