Those who are looking to dramatically change the look of their floors and walls don't necessarily have to choose bold colors. In fact, simply changing the shape of tile can have a huge impact on any room's design. Hexagonal tiles in particular are able to create distinct visual interest and can even serve as the focal point of a space. The hexagon, also known as nature's perfect shape, is a pattern that's seen in a variety of fixtures, furniture, and decor.
When used for tile and artistically arranged, the hexagon has the potential to create a seemingly endless variety of patterns and designs. Even if you prefer white or neutral colored tile, choosing a hexagon shape can amp up the style of your space and keep it from feeling too ordinary. Here are ten gorgeous rooms that feature hexagonal tiles.
1. Stunning monochrome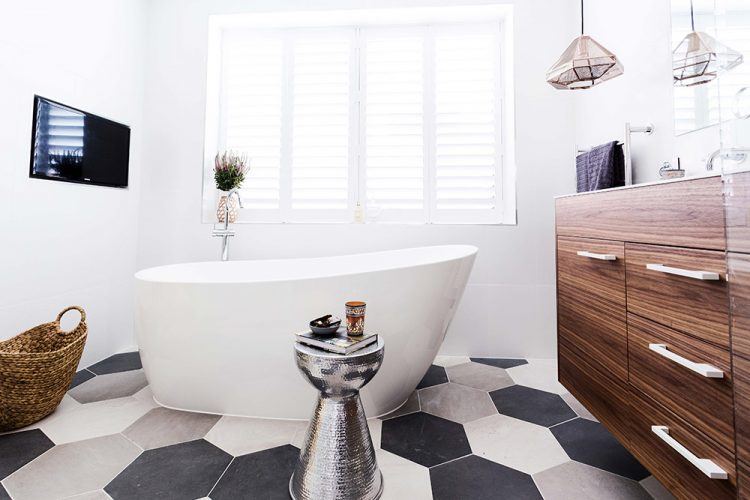 This bathroom is small, but it makes incredible use of over-sized hexagonal tiles. The floor is covered in charcoal, light gray, and white and the pattern of the tiles is random. Opting for this type of arrangement provides a modern and unique look that has more visual interest than a repeating pattern. Another highlight in the bathroom is a sloping freestanding tub, which is perfectly positioned in front of a flat screen display. A small floral arrangement by the window, metallic drum stand, and wood clad vanity are excellent choices for decor.
2. A bright and cheerful design
The black and white hexagonal tiles in this kitchen are small and laid out in a repeating pattern. This is a classic combination and brings a charming feel to the design, which features cabinets painted a gorgeous shade of aqua blue. Stainless steel appliances are an ideal accompaniment, as are marble counters. The colors in this space provide enough impact that a slew of decorative elements aren't needed. Painting the walls of the space bright white opens it up and plays well with the white and black tile floors.
3. Unique industrial style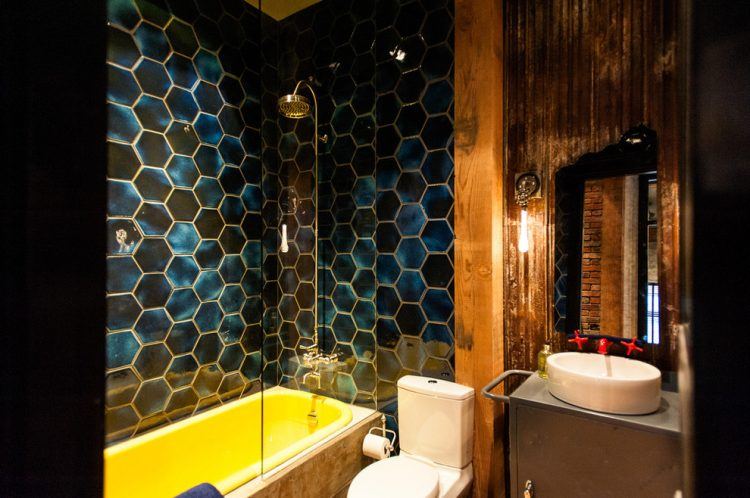 Hexagonal tiles aren't limited to being placed on the floor. Here, a selection of hexagonal tiles in deep blue shades covers the walls surrounding a bright yellow bathtub. The color combo is an interesting mix, especially compared to the other elements in the space. Unfinished wood planks cover a wall behind the sink and vanity, which has an industrial look to it. The entire space is very modern and a bit eclectic.
4. An interesting mix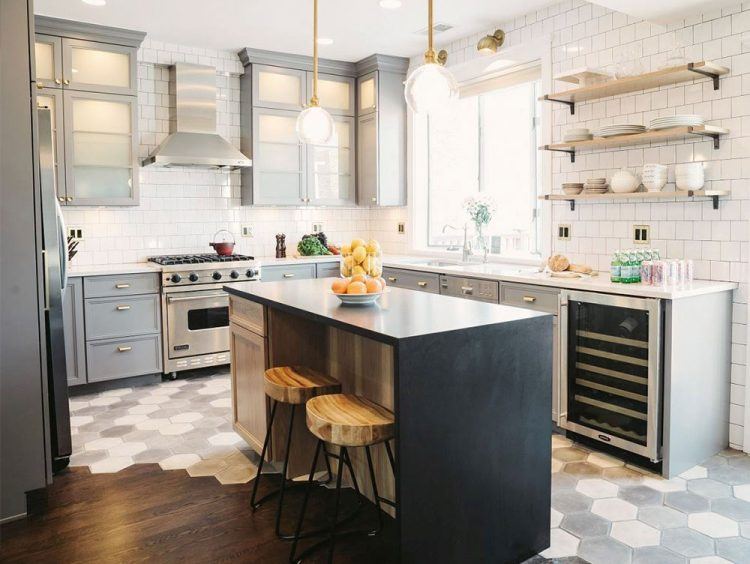 A popular design trend using hexagonal tiles is pairing them with wood flooring and blurring the line between where each meets. The impact of this design trend can be seen in this kitchen and dining space, which has rich wood flooring butting up against hexagonal tiles in shades of white and gray. The pattern of the tiles is seemingly random, and they complement the gray painted cabinetry in the space wonderfully. A counter with a matte black facade helps ground the design, while interesting pendant lights and stainless steel appliances fit in perfectly.
5. Oasis of blue
The shade of blue in this bathroom looks amazing, and the mix of hues seen on an accent wall covered in hexagonal tiles is the most outstanding. Even the bathtub in this bathroom is blue, and to balance it out the design incorporates white flooring and a white vanity. If blue isn't your thing, you can replicate this design using just about any color — simply choose your favorite and then build a color palette around it by including a combo of warm and cool tones.
6. Earthy and sophisticated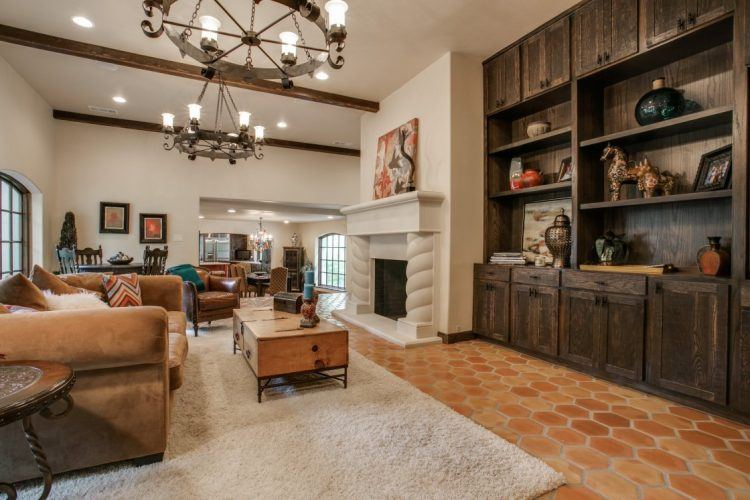 This beautiful transitional living room has many rustic touches that make it feel warm and inviting, including a duo of iron light fixtures and a display cabinet comprised of wood with textural and visual interest. The flooring in the space is made of hexagonal tiles with different shades of terra cotta to create an ombre effect. Leather and wood furniture, rich colored fabrics, and an exposed beam ceiling complete the sophisticated design.
7. Minimalist design with big impact
Some minimalist designs can lean towards being very plain looking, but this bathroom is an exception. It features clean lines, very few accessories, and the only decor in the room is the hexagonal tile lining the floor and wall. The tile starts off white but gradually incorporates different shades of gray and an organic pattern. A bright blue accent wall behind the vanity provides a striking contrast to the pattern created by the tile.
8. Mixing and matching materials
One way to create a space that's full of interest is to mix and match furniture. This is especially easy to do in the dining room, as seen here. Not only are all of the chairs surrounding the long table different, but the flooring is a combo of wood planks and hexagonal tiles in a monochrome color palette. Five large lanterns provide ample lighting and decor, while most of the remainder of the open concept space is clad in bright white.
9. Glamorous in gold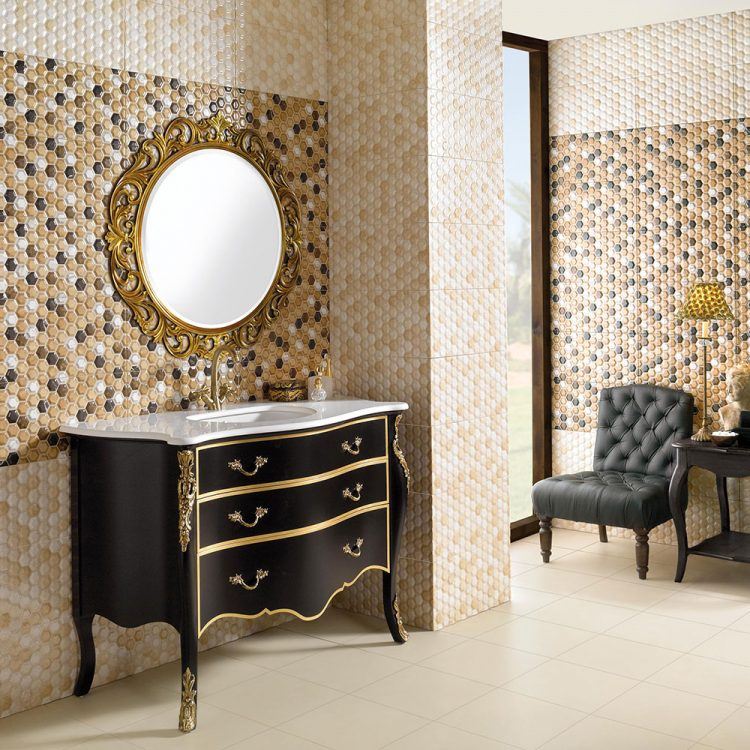 The great thing about opting for hexagonal tiles is the huge variety of patterns that you can create. In this powder room small hex tiles line the walls and contain shades of cream, tan, brown, black, and gold. The mix of colors reflects the colors seen in the room's furniture and decorative accents, including an opulent black chest with gold and a tufted black chair. A large gold mirror hanging above the vanity makes the room look even more luxurious.
10. Chic and elegant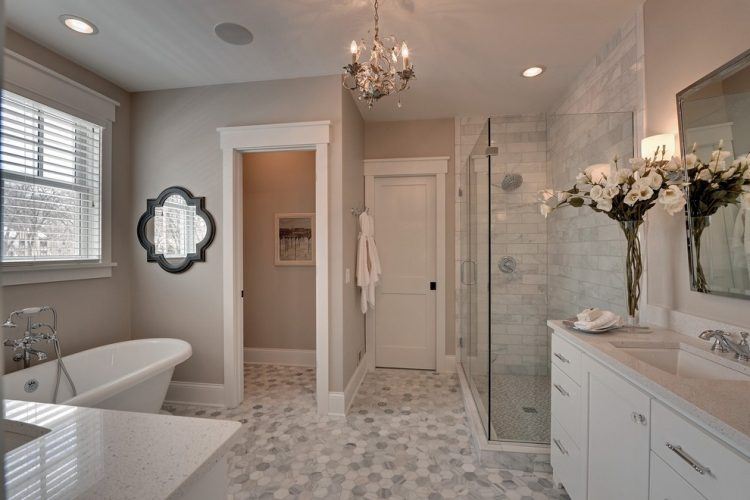 There are solid color hex tiles, and then there are ones with variegated colors such as the ones covering the floor of this exquisite bathroom. The space looks like a relaxing and stylish retreat, thanks to a color palette of soft neutrals and the subtle patterns seen on the tile. Though the tile on the shower wall is in a different shape, it contains complementary colors. A beautiful shade of soft gray wall paint and elegant chandelier look great in the design.