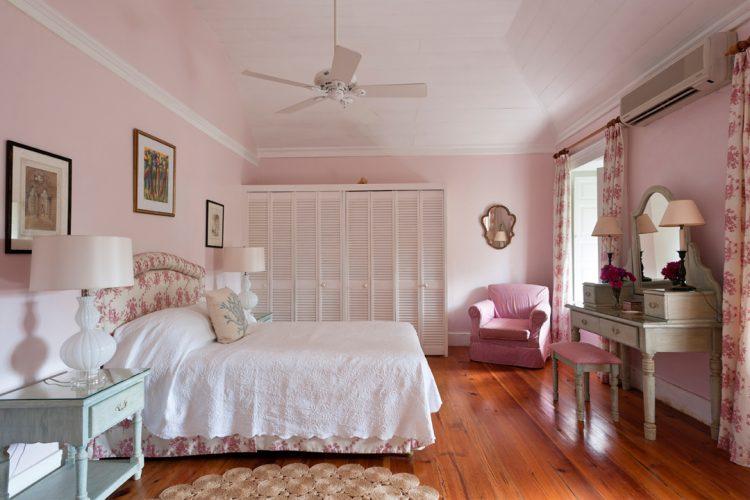 Pink isn't a widely used color for decorating, with the exception of kids' rooms, nurseries, and the occasional eclectic design. Still, pink is such a happy, vibrant, and stimulating color that it really should get more use in the bedroom. It's much more versatile than most people think, and doesn't have to be relegated to the realm of children's decor. It's even possible to put together a room suitable for men using pink as the dominant hue, as you'll see below.
Here are ten fantastic master bedrooms with pink walls.
Warm and relaxing
If you want a bedroom with pink walls that doesn't look girly and has a very grown up feel, this design will give you inspiration to create the look you're after. A deep shade of salmon is on the walls, and it looks wonderful as the backdrop for warm wood furnishings, a collection of monochrome art prints, and several vintage pieces. Knotted wood flooring fits in well, as does the style of the four poster bed.
A bevy of patterns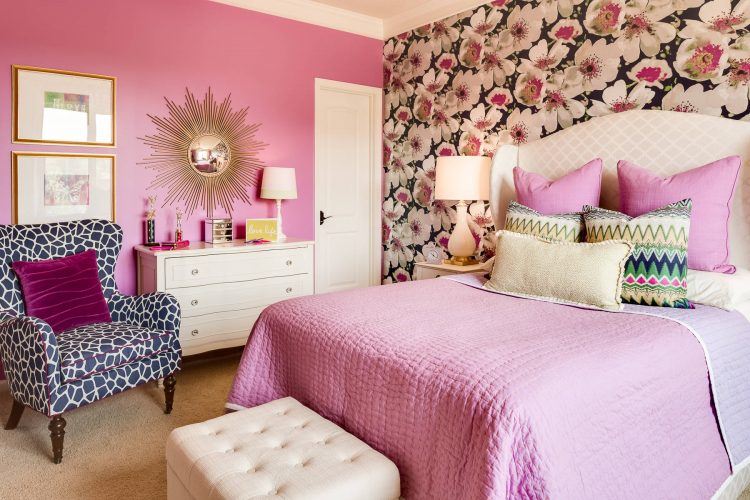 There are many different prints in this bedroom with pretty pink walls, but it all works together to create a look that's trendy, cozy, and inviting at the same time. With so many fabrics in the room, keeping the bedding solid with the exception of a few throw pillows was a smart move, as was opting for a cream colored headboard and dresser. The navy and ivory animal print chair with pink piping adds plenty of flair to the decor, and a feature wall with a floral motif serves as a great focal point.
Fashionable decor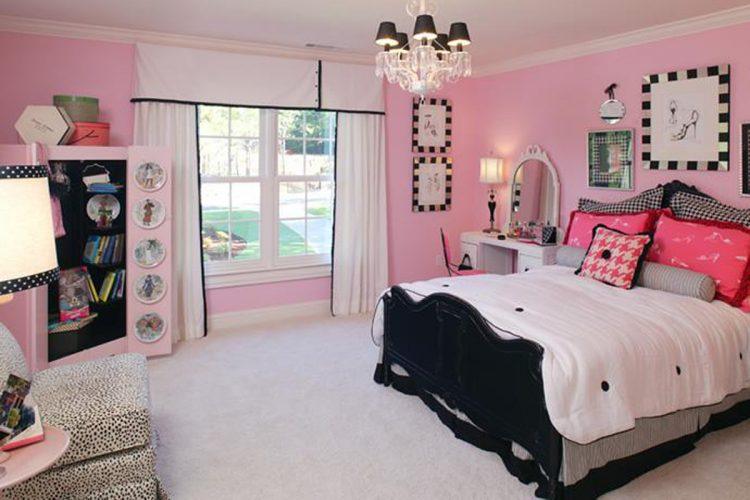 This bedroom exemplifies what most think of when they envision pink spaces, but the decor is fun, girly, and perfect for a tween or young lady. Black furniture and a classy light fixture seem made for the feminine bedding, animal print chair, and shade of blush pink on the walls. Fashion themed art prints and chic window treatments add pretty, neutral decorative elements.
A fresh pairing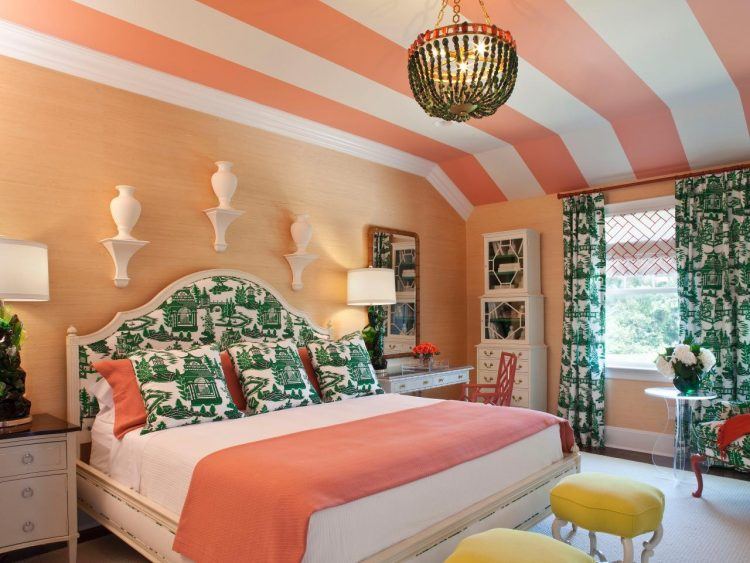 Coral isn't just on the walls in this bedroom, it's also on the ceiling. The unique striped white and pink look is beyond stylish, and incorporating a deep shade of green into the mix was a daring move that paid off well. There are other bits of green mixed into the decor, including a beaded light fixture, window treatments that coordinate with the headboard and bedding, a lamp, and vase. If you want to try an unexpected color palette in a room with pink walls, try adding in citron, cobalt blue, or plum.
Hollywood Regency glam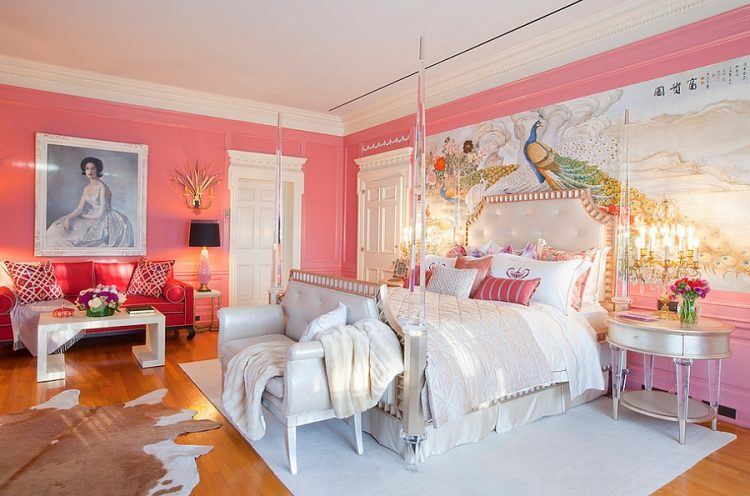 Hollywood Regency is a decor style that exudes luxury, refinement, a touch of eccentricity, and a lot of over the top glamour. Pink is the ideal color to incorporate into a master bedroom with a Hollywood Regency aesthetic, and the pink walls in this design make a beautiful backdrop for the lavish decor and art. The hue of the paint almost leans towards being a neutral complement, but it's warm enough to pair well with all of the gold placed throughout the space.
Pinks and blues
This bedroom's walls are mostly bright white, with the exception of a feature wall that frames the bed. The patterned pink wallpaper looks gorgeous, and it makes a visually interesting addition to a room that's filled with navy, coral, and floral fabrics. You don't need a ton of pink in a room to make a big impact, as this design proves.
Bold transitional style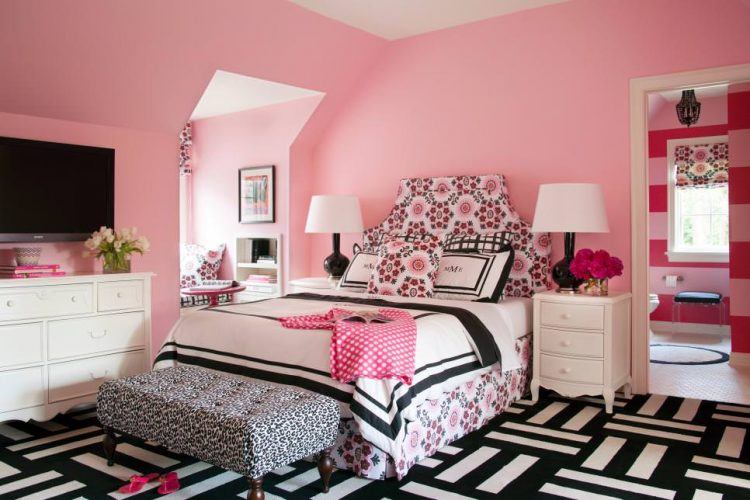 Pink matches well with a wide range of hues, but it looks most dramatic when contrasted with black. The stunning effect of putting the two colors together can be seen in this feminine bedroom with pinks walls and bold patterned flooring. There are a number of different fabrics throughout the room, all containing various shades of pink, but the transitional design comes together due to having coordinating window treatments, bedding, and accent pillows. A simple and attractive pair of lamps and white nightstands and a dresser make nice neutral accents.
Trendy pink accents
This room has a pink accent wall behind the bed as well as a bright pink wall in the entryway to the bathroom. With the exception of a pair of textured pink curtains, a dainty pink chair, and coordinating bedding, the room is clad in neutral cream, tan, and dusty blue. The design is an excellent combination of traditional elements and contemporary updates.
A fabulous modern nursery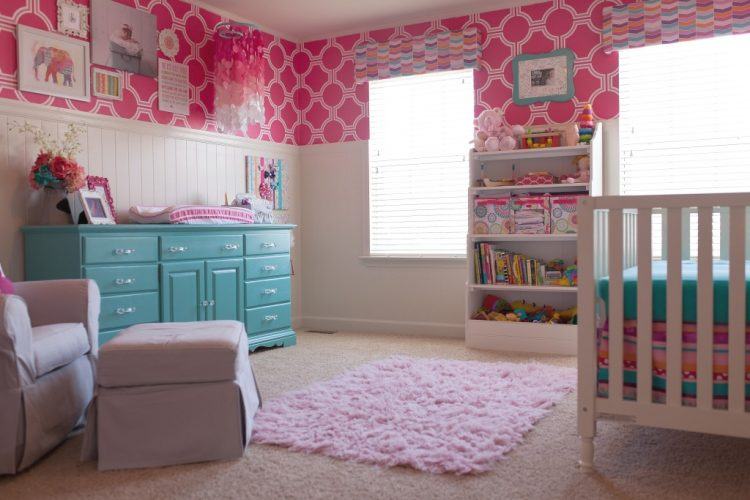 Pink walls are often seen in nurseries for baby girls, but it's usually a pastel or light hue. This modern space features walls with a large stripe of hot pink and white patterned wallpaper. Aqua blue is used prominently in the color palette, and the result is a nursery that's bright, trendy, and will easily be able to grow with the little girl as she gets older. Because shades like hot pink can be overstimulating in large doses, you can take inspiration from this room and use it on a segment of the wall instead of painting it pink from floor to ceiling.
Fit for a couple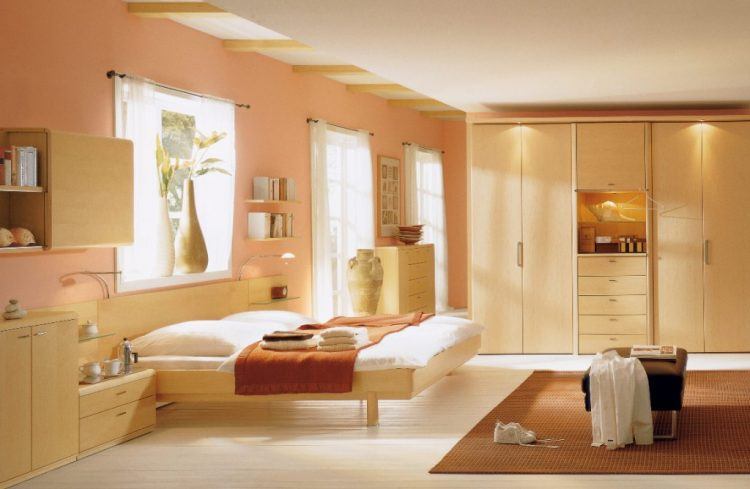 If your aim is to have a bedroom with pink walls that a guy wouldn't mind sharing, the first step is to stay away from decidedly feminine decor. Absent that, just about any shade of pink is game, including this pale and soothing peach. The modern bedroom has furniture with clean lines, a minimalist appeal, and is a great space for a couple. His and hers closets and dressers, a few large vases in the window, and airy window treatments complete the simple, yet attractive design. Salmon, coral, champagne pink, and deep pink hues are good choices to consider if you're decorating a couple's master bedroom.