Whether you work from home, would like a space to enjoy hobbies, or you'd like a multipurpose spot that can double as a reading area or vanity, there's a host of benefits that come along with having a desk setup in the bedroom. Though spacious master bedrooms typically have this arrangement, it's possible for modestly sized rooms to contain work spaces as well. With creative planning and the right decorative touches, it can turn out beautifully. Here are ten gorgeous bedrooms with desks.
1. Coastal cool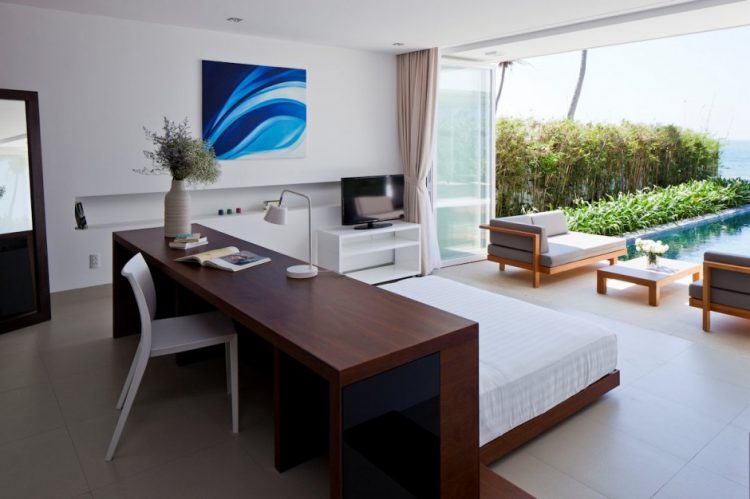 This bedroom is amazing to begin with due to the scenery just outside of it. As if having a seating area that's literally right up against the water isn't wonderful enough, the space includes a desk area that's strategically integrated into the headboard. A chair, desk lamp, and vibrant art print complete the design of this breezy retreat. If you're short on space and want a desk in your bedroom, try going the DIY route to recreate the headboard here.
2. A desk with a view
Bedrooms with desks are often multi-functional, especially in smaller rooms. The work area in this room can double as a place to get ready for the day, read, or work from home. There are few decorations, but it's truly not needed due to the dramatic feature wall that adds plenty of visual and textural interest to the space.
3. Monochrome magic
The monochrome color palette of this room was crafted to a tee, and it's almost surreal to look at. That aside, the room isn't very large. With a chaise, bed, and ottoman occupying much of the space, it was necessary to grab an end of the dresser and turn it into a desk. You can do the same by either extending your dresser with a panel of glass or board, or opting for a long desk that can double as a dresser.
4. Gorgeous and rustic
This room has a warm and welcoming vibe thanks to its wood beams across the walls and ceiling that give it a rustic look. At the same time, the area has an air of elegance to it, and the soft aqua tone of the bed frame, lovely flower arrangements, and light fixtures help to that end. Sitting right under a window is a work space that accommodates a PC, phone, and printer. Nothing looks cramped in and instead the room looks to be the epitome of comfort — who wouldn't want to work in a space like this?
5. Efficiency and minimalist appeal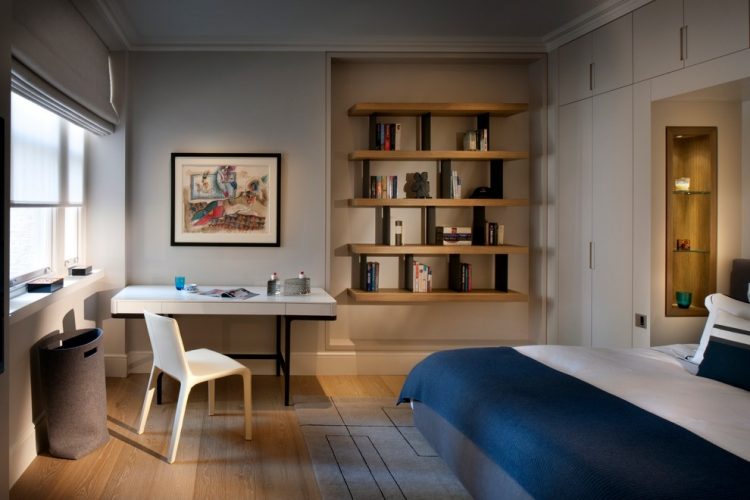 If bedrooms with desks that are super organized appeal to you, you'll find a wealth of design inspiration from this space. The bedroom is on the small size, but it doesn't hurt for space because of how expertly laid out everything is. The bookcase even has every single item in its place, and the desk area fits in naturally by a window. This design could have had the desk placed directly under the window with the back of the chair facing the bed, but the arrangement as it is helps the flow of the room stay open.
6. Style and sophistication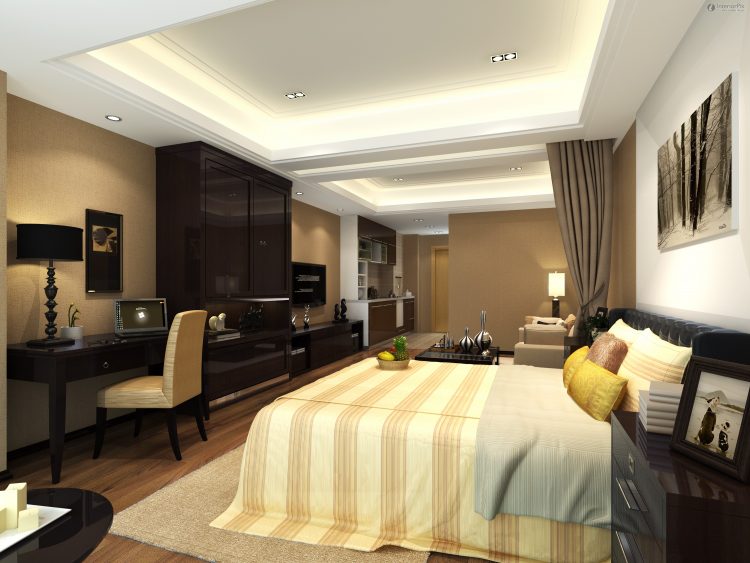 This bedroom definitely has an upscale vibe with plenty of style and sophistication, plus the architectural details of the space are stunning. The tray ceiling is one design highlight, and so is the desk area that's flawlessly integrated along one wall. It perfectly complements the rest of the furniture, and the color palette of the design gives the bedroom a look that's soothing and relaxing. If you want a seamless way to put a desk into your room, have it match the hue and profile of your dresser and other prominent furniture.
7. Stunning textures and rich tones
There's plenty to love about bedrooms with desks, especially ones with interesting design elements such as this one. A fabulous balcony and stone clad accent wall are just the beginning. There's also an array of highly textured finishes, organic pieces, and rich wood throughout. The desk sits underneath the television and would be a nice place to enjoy a cup of tea or get some reading done.
8. An abundance of built ins
Have a bedroom with built in niches or bookcases? Consider turning one of them into a desk setup. That's exactly what was done with this room, which isn't big on space but has plenty of excellent decor and stylish finishes. A color blocked wall has wood trim, and the built in bookcase and desk combo surrounds a large window. Placing task lighting throughout the area helps put illumination where it's needed most, and various pieces of decor add beauty and character to the room.
9. Plush glamour
This bedroom is fabulously feminine, but definitely grown up. The shade of blush pink on the walls is beyond lovely, and a pair of fuzzy ottomans at the foot of the bed look ripe for enjoyment. Two of the most noticeable elements in the room are a unique spherical light fixture hanging in its center and a petite desk set in front of a towering window. The desk fits into the design well and brings much needed functional space to the beautiful bedroom.
10. A calming space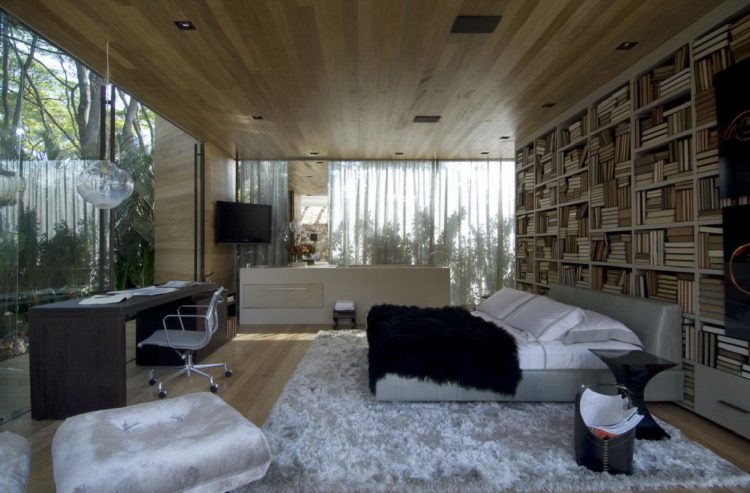 With the sunlight beaming into this bedroom, it has a look that's almost ethereal. The modern space is planked with wood on the ceiling, walls, and floor, and two huge walls are made of glass to truly bring the outside in. An eclectic mix of furniture, fabrics, and seating adds a bit of fun to this room, and the desk area provides an enviable view of lush greenery outside. If you have a bedroom with space for a desk, try to place it as close to your window as possible. Not only will doing so provide optimal natural lighting, it will make your work days much more cheerful.