Yellow is a bright and cheerful color, and no matter what size kitchen you have it will can look gorgeous paired with the right accessories. The color is associated with stimulating appetites, making it all the more appropriate for kitchen and dining areas. Not only is yellow versatile and able to be used for all decor styles, it can either be make features stand out or work as a neutral backdrop. If you want to give your kitchen a revamp and you'd like some design inspiration, here are ten beautiful kitchens with yellow walls.
1. A Tuscan beauty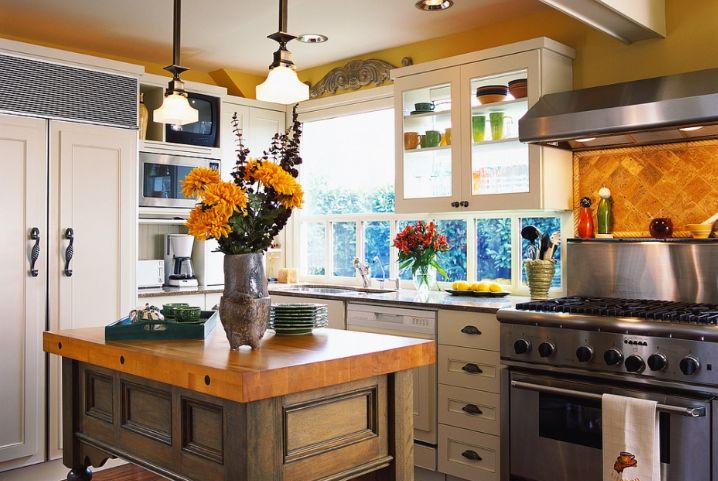 The yellow walls in this space are rich with golden tones, and the color adds warmth to the Tuscan style design. A textured backsplash behind the stove, large vase of deep yellow blooms, and distinctive lighting over the island are all complemented by the choice of paint and cabinets. If your kitchen has a traditional vintage, or country style, darker shades of yellow such as goldenrod will work well.
2. Mellow yellow and aqua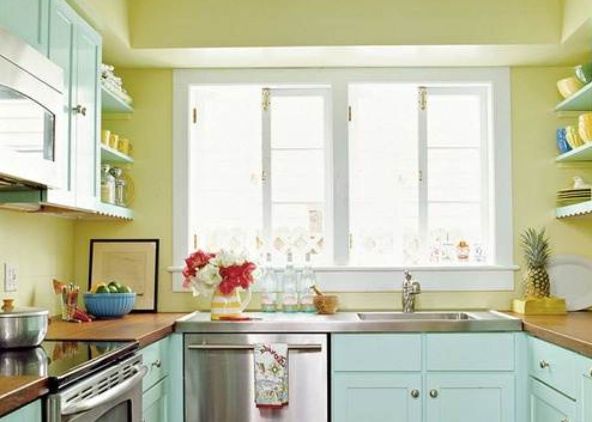 The combo of yellow walls and aqua cabinets in this kitchen is trendy, stylish, and fun all at once. This would be a great color palette for a vintage kitchen, but it also looks nice matched with modern or transitional decor. Though this kitchen is small, it's still loaded with style and the open shelving serves as both a storage and display area. Warm wood flooring looks beautiful in this design, as does the style of the windows above the sink area.
3. Updated country kitchen
The yellow walls in this kitchen really perk up the space and look wonderful contrasted with the bright white ceiling, trim, and cabinetry. Country themed decor in the room gets an update due to the contemporary finishes, and the marble counters and island look amazing — they pick up the shade of yellow on the walls and also reflect other tones seen in the design's color palette. An arching window that provides a great view of the outdoors is perfectly placed by the sink.
4. Patterned tile and bright walls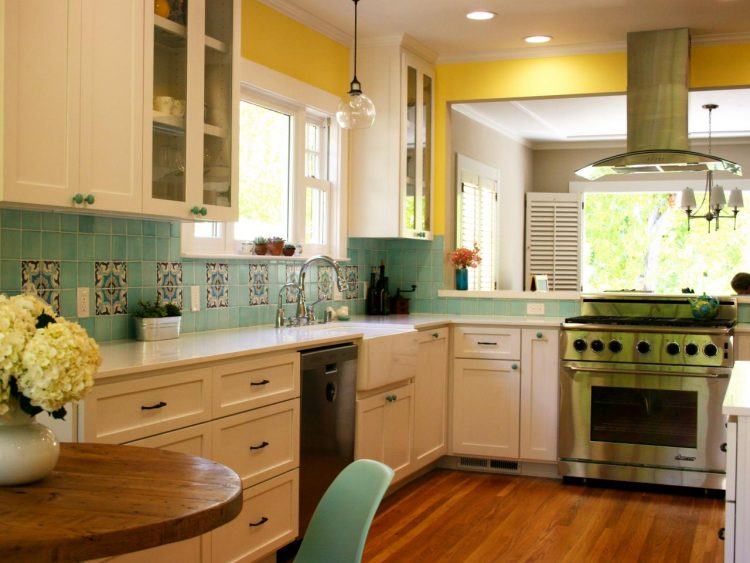 Here's another kitchen with a palette featuring aqua and yellow, but the shades in this design are deeper, which is perfect for the transitional space. Rather than aqua cabinetry, the kitchen has a wide strip of solid and patterned aqua tile. The upper portion of the wall is painted a sunny yellow, and matching knobs on the white cabinets help pull the look together. With so much beautiful color in this space, the only decor needed were a few simple floral arrangements. If you have an eat-in kitchen like this one, yellow is a perfect color option to add bold color without making the room feel closed in.
5. A modern gourmet kitchen
Prefer modern style designs? This kitchen not only has a modern aesthetic and citrus yellow walls, it also sports chic gray cabinetry and sleek lines. Open shelving is the star in this space but the color of yellow on the top half of the wall highlights the beautiful dishware. If you want gray cabinets like these on a budget, paint your existing cabinetry. It's a weekend project that's fairly inexpensive, easy enough for a novice, and you'll be thrilled with the results — just be sure to choose a matte paint finish to mimic the look of this kitchen.
6. Sunny and vibrant
Many think of farmhouse style as only consisting of shades of white, well worn woods, and chalkboard signs, but that couldn't be further from the truth. It's definitely possible to create a farmhouse kitchen that's loaded with color, such as this one with beautifully bright yellow walls. A teal backsplash, sunflowers placed throughout, and a neat hanging display of colorful pots gives this kitchen plenty of charm and character.
7. Effortlessly stylish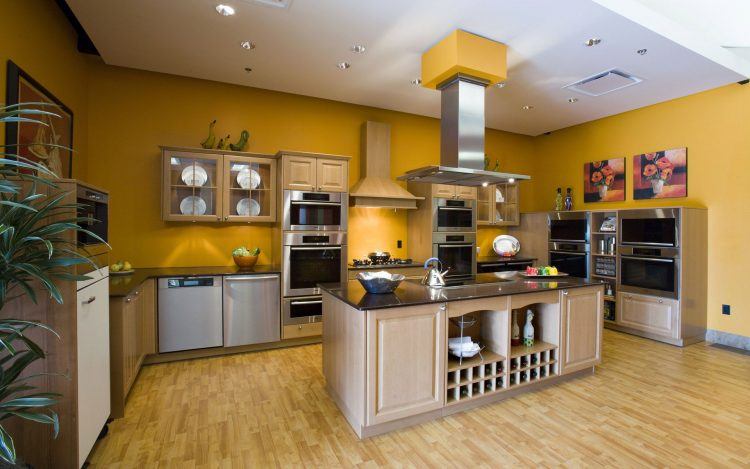 If you're into contemporary decor, this kitchen will give you plenty of design ideas. There are so many incredibly beautiful details in this space that it's difficult to choose a favorite, but the choice of yellow for the walls is one of the room's top features. It's bold, fashion forward, chic, but doesn't clash with the art prints, stainless steel fixtures, and wood cabinets and flooring. The well organized layout of the kitchen allows the space's features to stand out even more.
8. Farmhouse style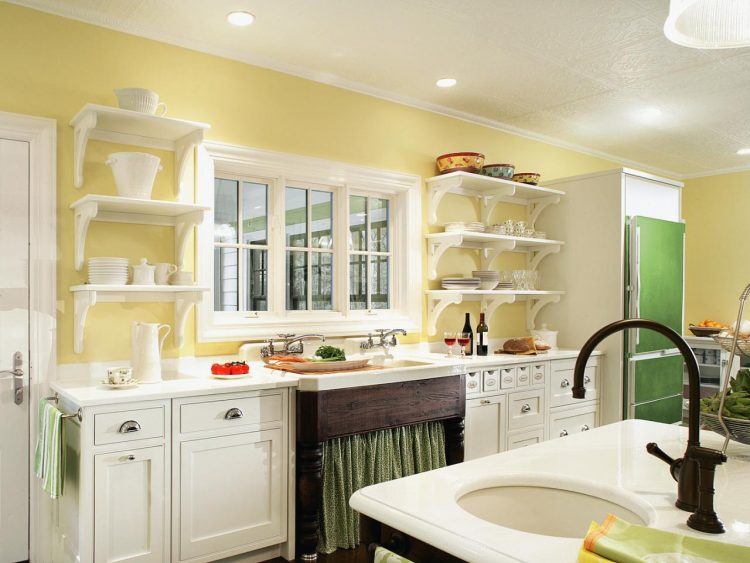 This kitchen has the loveliest shade of buttery yellow on the walls, and it looks beautiful paired with the lush shade of green that covers the fridge and is seen throughout the space. The design definitely has a farmhouse vibe, especially given the style of the cabinets, warm woods and bronze fixtures, and open style shelving with beautiful white china. If you're looking to add a pop of color to your farmhouse kitchen, yellow is the perfect choice. Lighter shades complement the style best because they lean towards being neutral and will allow the architectural and decorative elements in your space to shine.
9. French country charm
Deep blues, such as the shade of cobalt here, and rich yellow are signature shades often used for French country style decor. This kitchen's yellow walls make a huge style statement, and paired with key accessories and furnishings in blue the room takes on a charming look and feel. If you have a kitchen with white cabinets ad stainless steel appliances, such as this one, yellow paint is good for warming things up and and adding visual interest. Few accessories are needed in a room with such fabulous color, but a couple of decorative plates and a custom valance look beautiful in the design.
10. Vintage flair
Mid-century style decor is definitely in, and this vintage style kitchen has a wonderful 50s vibe. Still, it doesn't look outdated thanks to the great cabinets and paint scheme. The lower three-quarters of the walls have pretty yellow tile outlined in black, and the upper portion is painted white. A display cabinet full of colorful dishware and a few select pieces placed on the counters adds just the right amount of decor.