Purple is a color that's calming, stylish, and looks great in every room of the house. Other colors — namely red, orange, yellow, and green — are typically used in the kitchen, but if you want something different consider purple. Imagine your kitchen with plum, lavender, raisin, violet, or heather walls — it would make quite a difference and leave a big impact. If you're ready to take the plunge and need some design inspiration, here are ten beautiful kitchens with purple walls.
1. Contemporary and chic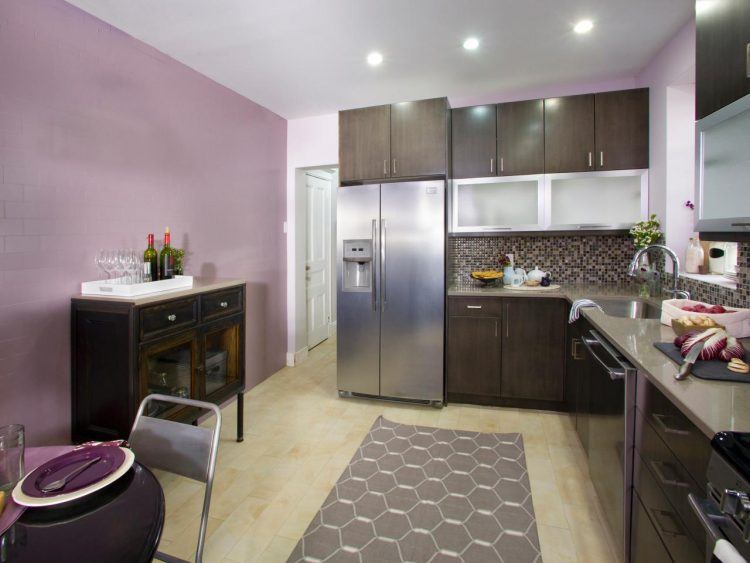 This stylish kitchen features a light shade of amethyst, and it's the perfect hue to camouflage an exposed brick wall. The area is modestly sized and contains a small dining area, which is why smartly arranging the layout of the space was so important. Combined with deep espresso cabinets, stainless steel appliances, and touches of gray, the design looks polished and very well put together. Aside from the painted feature wall, a tile backsplash that contains richer shades of purple looks wonderful in the room and adds even more visual interest and color.
2. Shining subway tiles
Here's a kitchen that looks spectacular with a coat of bold purple along the upper portion of the walls, but the color really comes alive due to subway tiles that line the backsplash. The tiles have a mirrored finish that complements the kitchen's stainless steel appliances, and the colors in the arrangement also work beautifully alongside the walnut cabinetry. This design presents an option for those who would love to use purple tile, but also have a smaller budget: reserve tile for one portion of the wall, and use less expensive paint for the majority of the room.
3. A daring combination
This open concept space and kitchen with purple walls is full of contrasts. On one hand, the kitchen itself has a minimalist and modern aesthetic, with high gloss white cabinets and clean lines. However, right in front of the kitchen is an eclectic dining space with plush seating, two dramatic light fixtures, and a marble table. All of this is contained in a home with an industrial vibe and classic exposed brick, but somehow it all works together fabulously. The vibrant violet on the walls truly anchors everything and provides cohesiveness while also adding a punch of color.
4. Lovely and simple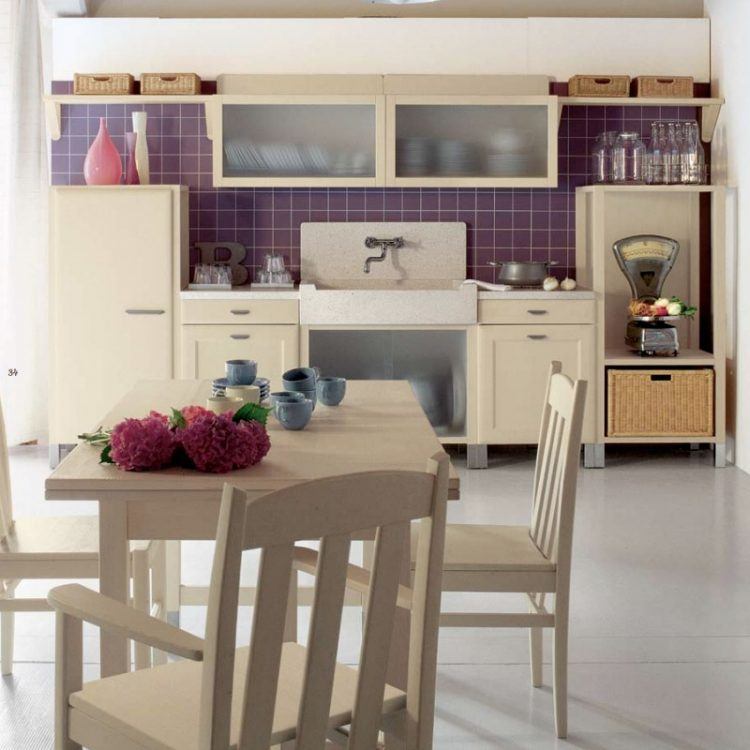 If you prefer a kitchen with simple and clean details, but you also want to add some color, purple will provide that and more. In this kitchen design deep orchid tiles cover one wall, add much of the color that's in the space, and instantly brightens and updates the cabinets and fixtures in the room. Painting the wall purple would have had a similar effect, but the tile contains white grout that further complements the other elements in the space.
5. A bold hue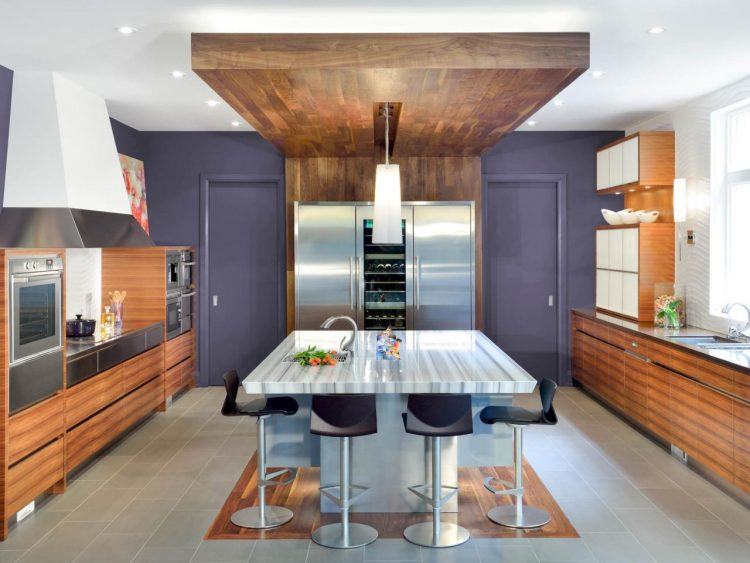 The purple walls in this kitchen provide a colorful background for a prominent wooden architectural feature, interesting flooring, and a grand marble island. One might think the style of the design would pair better with a really vibrant color, such as chartreuse, aqua, or orange, but the dusty shade of purple gives it a more intimate feel. The paint color is rich and stands out, but is also neutral enough to let the other features of the space shine.
6. Glossy and glam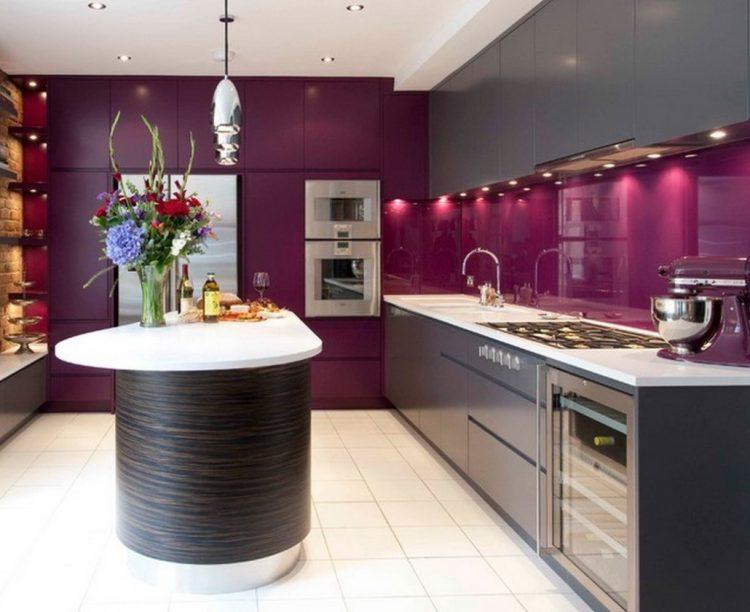 The shade of the purple that covers this kitchen is best described as deep violet or boysenberry, and it makes such a bold and dramatic statement. A high gloss backsplash looks smashing paired with the gray cabinets, metallic silver pendant lights hanging over the island, and the style of the island itself. Few decorations are needed in a room with so many gorgeous elements, but a tall flower arrangement and a high end mixer in a complementary shade do the design justice.
7. Rustic touches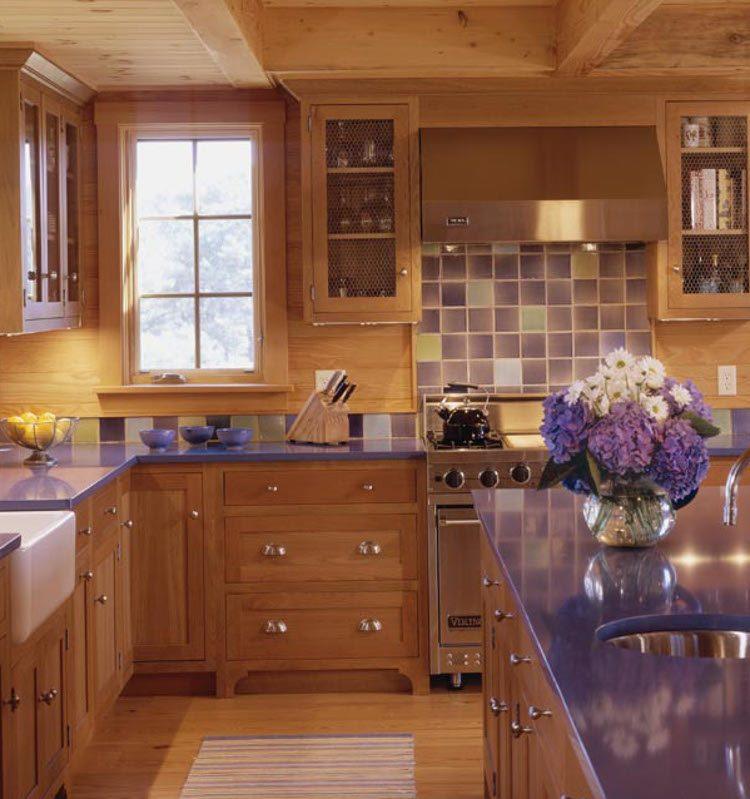 Purple isn't just a color that's suitable for trendy, contemporary, and modern kitchens, it can also be just the thing to perk up a rustic space. Tile in shades of hydrangea purple cover the backsplash of this kitchen, and it's also on the counter tops. The integration of stainless steel appliances, fixtures, and door pulls updates the design and takes it from traditional to transitional. If you like rustic and traditional kitchens, consider a light shade of purple such as lavender, lilac, heather, or periwinkle.
8. A farmhouse vibe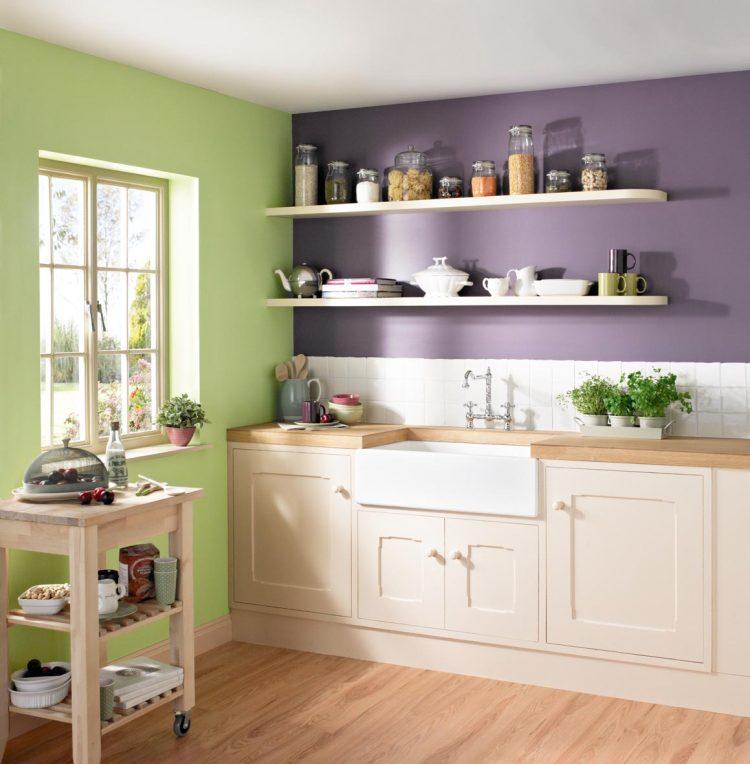 Farmhouse style, which takes vintage and rustic elements and mixes them with updated decor, is highly popular right now. This kitchen with purple walls has lots of color, but it also has a farmhouse feel due to the style of cabinets, sink, wooden cart, and open shelving. To add even more interest to the design, an accent wall was painted a wonderful shade of soft lime. The combo of purple and green can look incredible in a kitchen, and as you'll see below, it's a versatile pairing the suits a wide range of decor styles.
9. Vibrant colors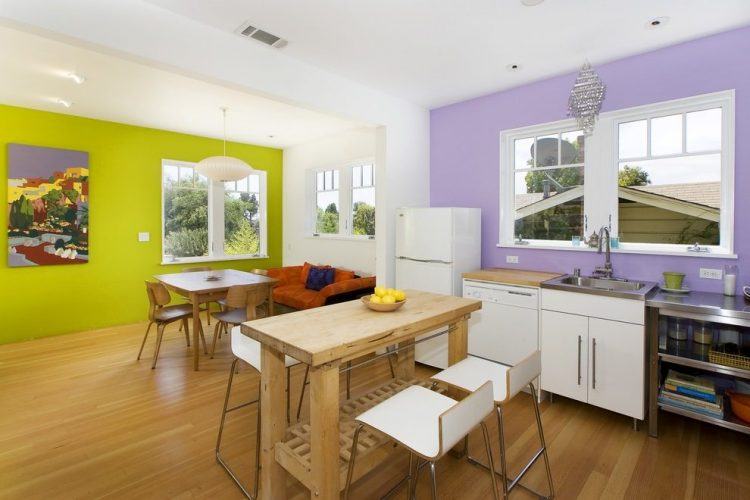 While the former kitchen had a different feel and more subdued hues of purple and green, this one is decidedly contemporary and has brighter shades of lavender and peridot. The adjacent dining area contains mid-century style seating and a rust orange settee that draw out the colors in a large art print on the wall. White ceilings, trim, and accents add cohesiveness and allow this design to look effortless.
10. Cozy and casual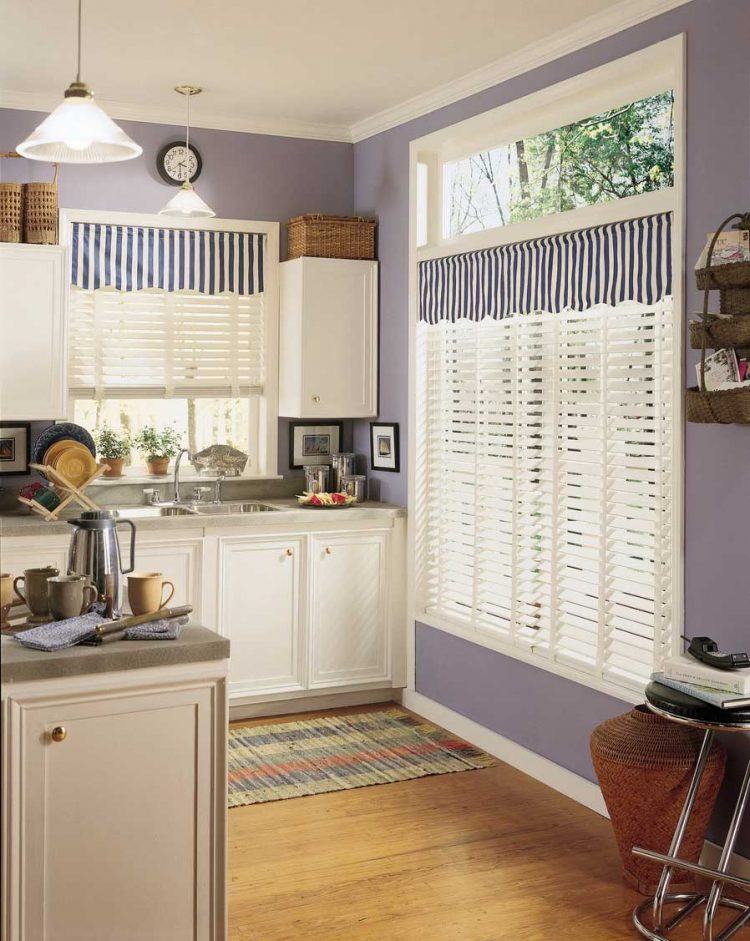 Though purple is typically considered to be a cool color, the subdued shade of iris on these walls helps to create a warm, cozy, and comfortable feel. The transitional kitchen contains several beautiful brown baskets, and the style of cabinets makes the smaller space look larger. A few classic light fixtures and striped valances that feature deep plum and white add stylish finishing touches.