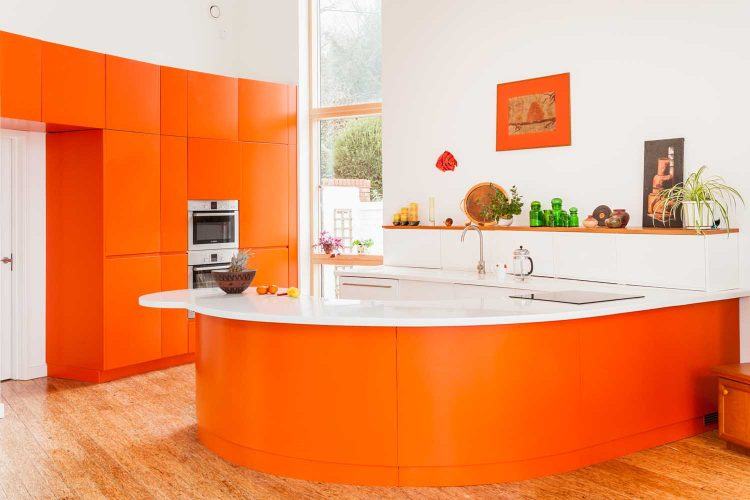 All colors evoke a feeling or emotional response, and it just so happens that orange is associated with feelings of happiness, comfort, and a stimulated appetite. These characteristics plus its visual appeal make orange a wonderful choice for decorating a kitchen. Rather than purchasing orange cabinets, counters, appliances, or furniture, you can simply paint the walls your preferred shade and make a huge improvement in the room's appearance. Here are ten beautiful kitchens with orange walls that will give you plenty of design inspiration.
1. A lively mix of colors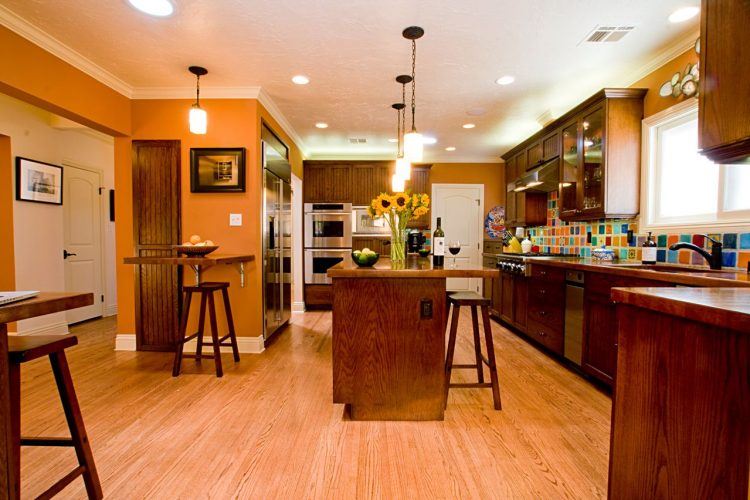 The upbeat look of this kitchen is highlighted by a mix of colorful tiles set along one wall. The rest of the walls sport a rich orange huge. Stainless steel appliances and warm wood furnishings and cabinets look great in the design, as do contemporary pendant lights above the island. A simple and attractive vase of sunflowers provides a lovely finishing touch. You can do the same with faux flowers, just add actual water or floral gel in the vase to make the arrangement look realistic.
2. Modern marbling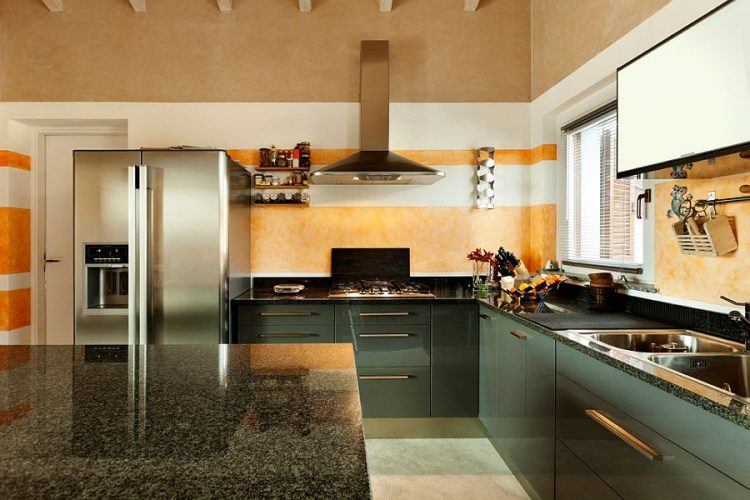 The walls in this kitchen are orange, but they also feature broad white stripes and a marbled finish. It provides visual interest in a space that otherwise has very straight lines, a minimalist look, and little else that stands out. Opting to paint the upper third of the wall a neutral tan also adds warmth to the room — painting it bright white would have created a stark look.
3. Small kitchen, tons of style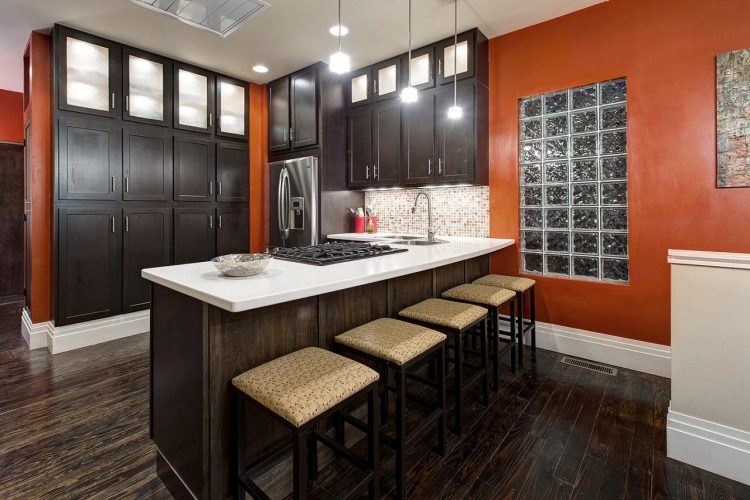 The shade of alloy orange on this wall is deep, rich, and looks incredible paired with espresso colored stools and cabinets. Accents of stainless steel are seen throughout the room, and the collection of glass panels near the seating area is another visually interesting accent. The backsplash near the sink is comprised of multicolored tiles including orange, white, and cream shades, and the white counter top brightens the design. Although this is a modestly sized kitchen, it's very stylish and has an upscale flair.
4. Beautiful burnt orange
While burnt orange is usually seen in traditional, country style, or rustic kitchens, here it's paired with contemporary furnishings, appliances, and cabinets to create a fashionable look. A feature wall is covered in burnt orange paint, and it makes a stunning backdrop for a trio of gorgeous black and white striped pendant lights. Black bar stools, counters, and accents not only provide contrast but add an element of sleekness. In addition to burnt orange, other rich shades that you may want to consider for your contemporary or transitional kitchen are pumpkin, Spanish orange, persimmon, and vermilion.
5. Trendy and contemporary chevron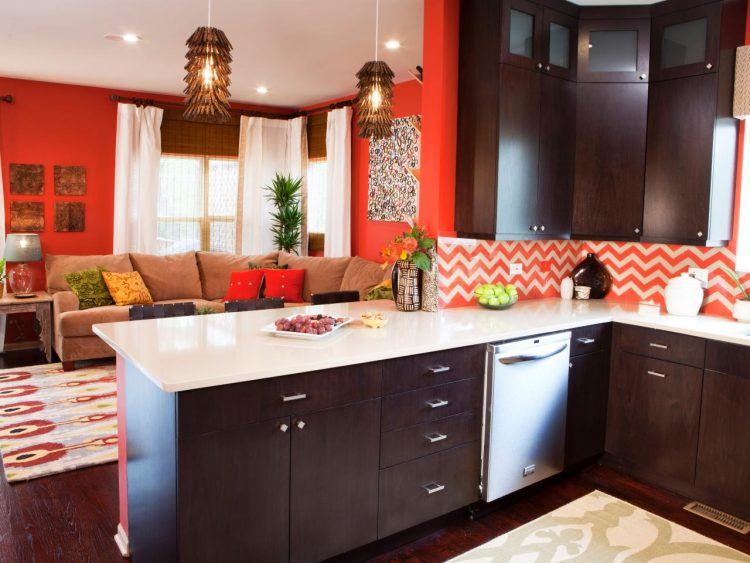 Chevron decor has been huge in recent years, and this kitchen shows why. It looks attractive and stylish, and it makes a major impact in this small kitchen. The open concept home has no walls separating the kitchen, living, and dining areas, so a deep and bold shade of orange adorns most of the walls. In the kitchen, chevron is painted along the backsplash in orange and white. Unique lighting and dark wood cabinets fit in well, as does the choice of window treatments and neutral area rug in the kitchen.
6. A vintage vibe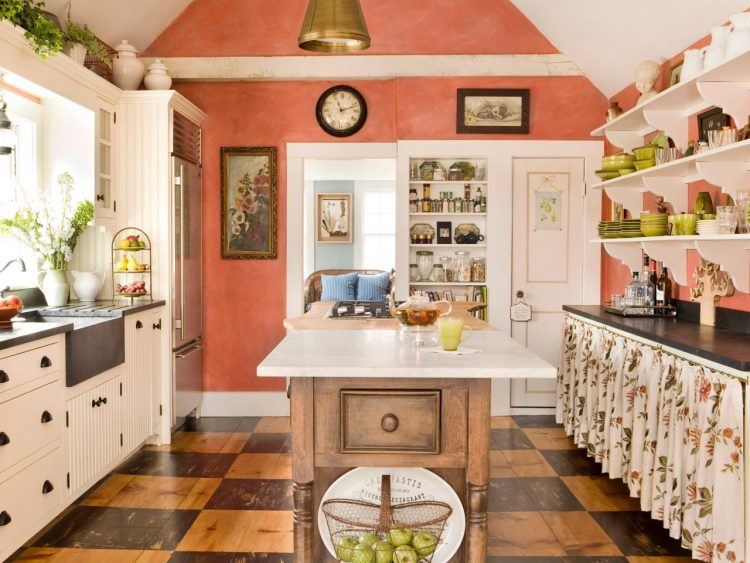 Let's say you want a kitchen that features orange, but you're not into loud colors and prefer a rustic, farmhouse, or traditional style. This cozy kitchen provides a possible design solution. The walls are an orange-coral hue, and it's the perfect complement to the style of the space. Vintage art prints, traditional fabrics, and gilded elements come together beautifully. The flooring features a weathered checkerboard pattern painted onto knotted wood, and the open shelving displays a pretty collection of apple green dishware.
7. Bright and fresh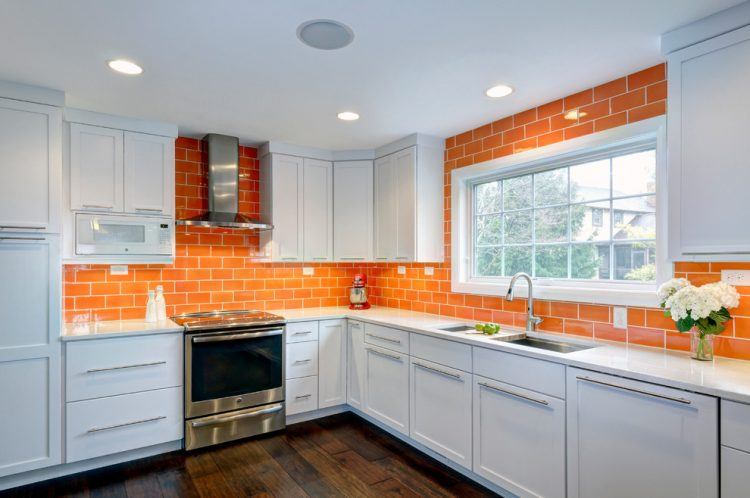 Here's a wonderful example of how dramatic orange can be. The walls in this kitchen feature tile in a gorgeous shade, and the rest of the room has contemporary cabinetry and stainless steel appliances. Recessed lights overhead and a bright white ceiling and trim make the room look quite spacious. The tile, however, is the star of the design and brings a huge dose of liveliness to the kitchen.
8. A minimalist masterpiece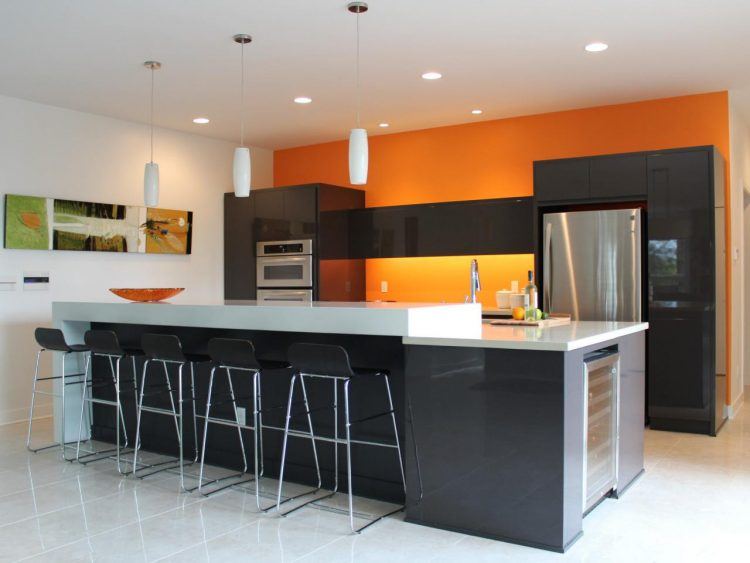 Minimalist design is great because it encourages an uncluttered look and can make for a very efficient kitchen, but it often lacks warmth and visual interest. This fabulous design solves both problems with a coat of bright orange paint on one wall. An art print, orange glass bowl on the counter, and white pendant lights are the only other decor in the space. The finished look is sleek and attractive.
9. High gloss style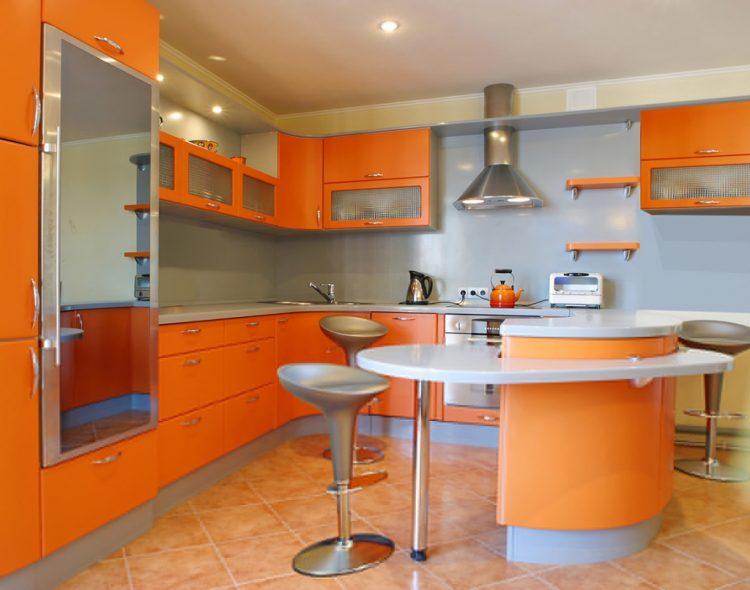 Kitchens with very clean lines tend to look cold if they don't have much color in them, which is why adding orange to this kitchen was a great idea. The juicy shade covers the walls, but not with paint. Instead, the cabinets, shelving, and some of the furniture share the same orange hue. White and metallic silver provide a bold contrast and make the aesthetic of the space very modern and almost futuristic.
10. A gorgeous classic kitchen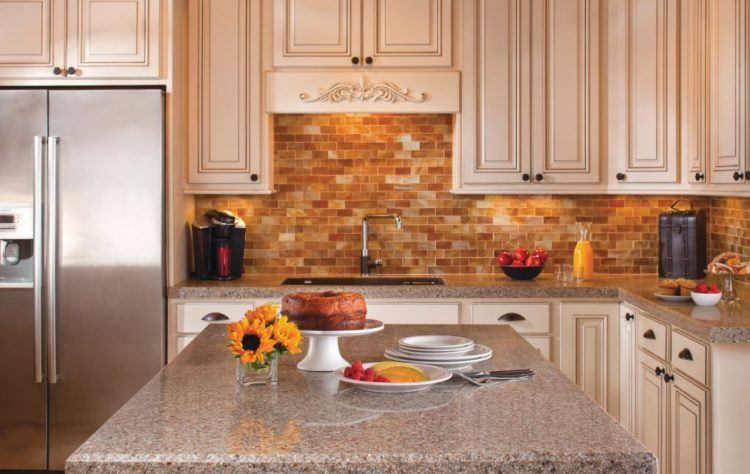 The appliances, cabinetry, and fixtures in this kitchen look great all by themselves, but adding tile to the wall in shades of orange takes the design to another level and creates a space that any gourmet would love. The look of the kitchen is refined and stylish, but still quite inviting. A simple vase of flowers on the island provides a nice bit of decor, and not much else is needed. If you opt to cover a wall of your kitchen in orange tile, you'll see that it makes enough of a statement to stand on its own.