If you want a kitchen that's colorful, refreshing, and jazzed up, green is a great color to consider. It's so versatile and because there's an endless number of different shades available you can easily change the look and mood of an area just by painting the walls. Whether your kitchen is modern, contemporary, traditional, rustic, or somewhere in between, adding green to its color palette can take the design to a new level. Here are ten beautiful kitchens that feature green walls.
1. Bright and happy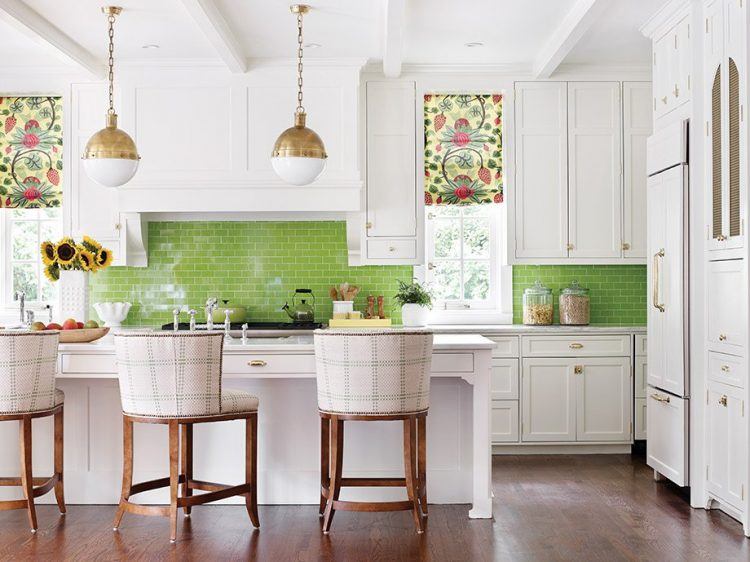 The custom Roman shades in this open and spacious kitchen give the room an upbeat vibe, and so does the bright green tiled wall and backsplash. The colors in the window treatments pair well with the green tile, and because each is so bold little else is needed in the way of decoration. A few classy jars, metallic light fixtures, and a tall vase of sunflowers are the perfect touches. If you want to use a vivid shade of green in your kitchen, painting the cabinetry and ceiling bright white will provide a nice contrast and make it feel larger, which is the effect seen in this space.
2. The perfect shade of pear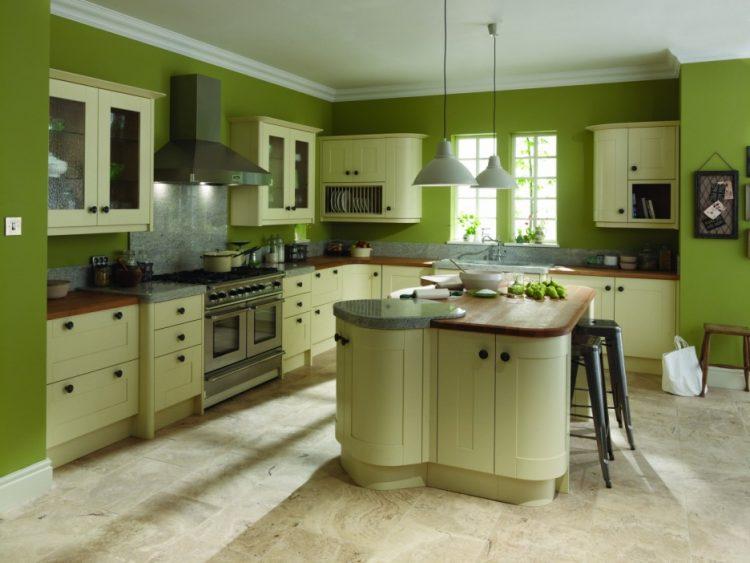 The green hue that dominates this contemporary kitchen calls to mind a ripe pear, and it looks flawless as the backdrop for stainless steel appliances, marble tile flooring, and ivory cabinets. If you opt to paint most of the walls in your kitchen a bold shade of green, it's a good idea to keep the ceiling bright white. Alternatively you can choose a different neutral or muted shade, but matching that color to the trim and accents around your kitchen will look more cohesive.
3. A classy gourmet kitchen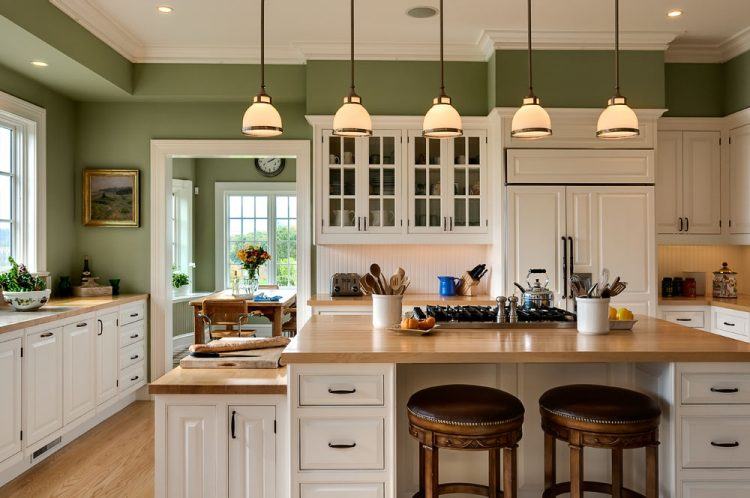 This lovely kitchen is elegant, upscale, and it gets a spark of color from the deep shade of green paint on the walls. You don't have to opt for a super bright paint if you want a green kitchen, and softer tones such as the one in this design can look absolutely gorgeous. The classic decor is attractive, warm, and welcoming. A facade for the fridge that blends in with the room's cabinets was a brilliant idea.
4. A fashionable hue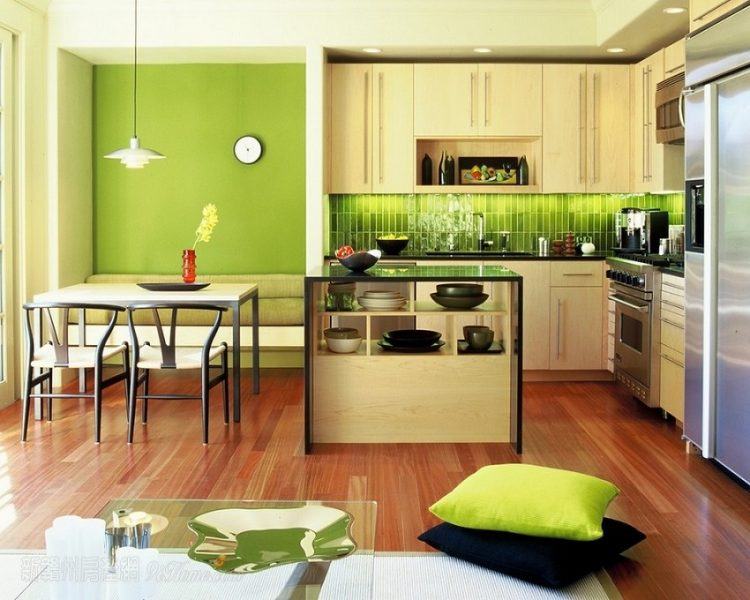 What should you do when you can't choose between a fabulous shade of green paint and glimmering green tile? Use a mix of both in your kitchen. This is a kitchen with green walls, but it also has a tile backsplash that pulls out other green hues that are scattered throughout the space. Appliances and furnishings in dark gray and light tan are the ideal pairings — neutral complements typically work best in spaces filled with vibrant color.
5. Industrial chic
If you have an industrial style kitchen such as this one, or a space with beautiful architectural details, go with a softer or neutral shade of green. Pale sage works well in this open concept space that's a combo dining area and kitchen, and because the color isn't bold it allows the room's gorgeous features and exposed brick to shine. Other colors that would look nice in such a design include light mint, lime sorbet, soft celery, and muted pear.
6. Rustic charm
Green is so flexible that it even looks nice in kitchens with rustic elements like this one. The verdant green tile is a good match for the warm wood flooring and butcher block on the counters. A farmhouse style sink, canisters with a vintage flair, and the style of shelving look wonderful together. Because there aren't many other colors used throughout the space, the green wall adds much needed visual interest.
7. Fun pops of color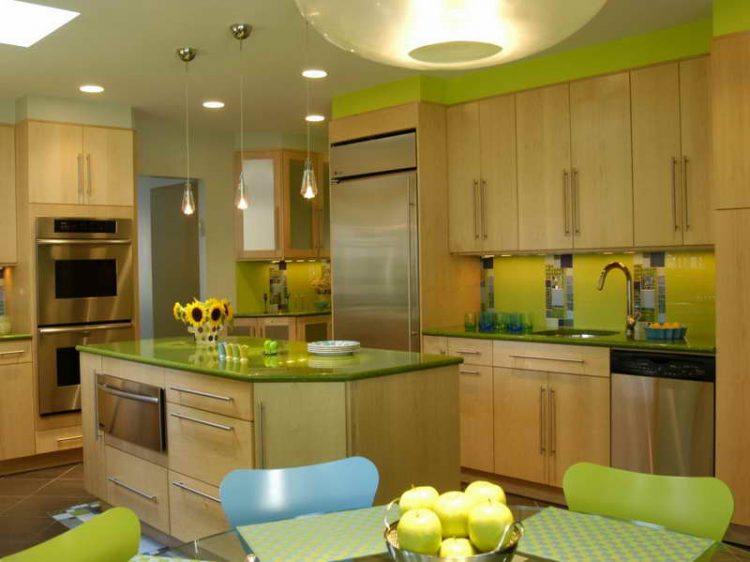 You can choose a subdued color to compliment bright green walls in your kitchen, or you can be daring and choose a shade that packs just as much punch. Here, a shocking lime joins with bright aqua, and the look is full of energy and liveliness. Green dominates the space and is seen on the walls, counter tops, and backsplash, while blue chairs, accents, and dishware are added in just the right amounts. Neutral cabinets and appliances with clean lines allow the colors to shine and don't distract from the decor.
8. Sheer elegance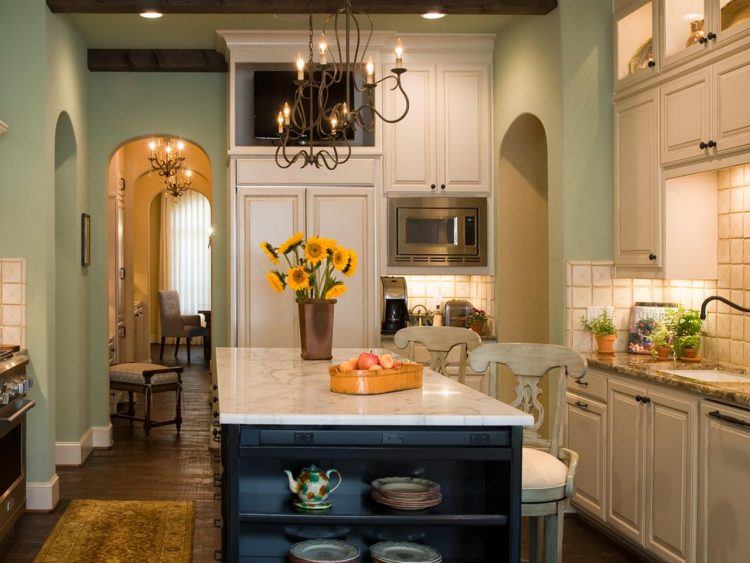 This transitional kitchen is heavy on the traditional elements, but it also has a contemporary flair due to the shade of soft mint covering the walls. The overall look of the design is understated, elegant, and very stylish. A gold runner pairs well with the mint green, as does a white marble island, white and cream tile, and soft white cabinetry. The interesting light fixtures in the kitchen flaunt the same design as the ones seen in the dining room, which adds cohesion between the two spaces.
9. Lovely lime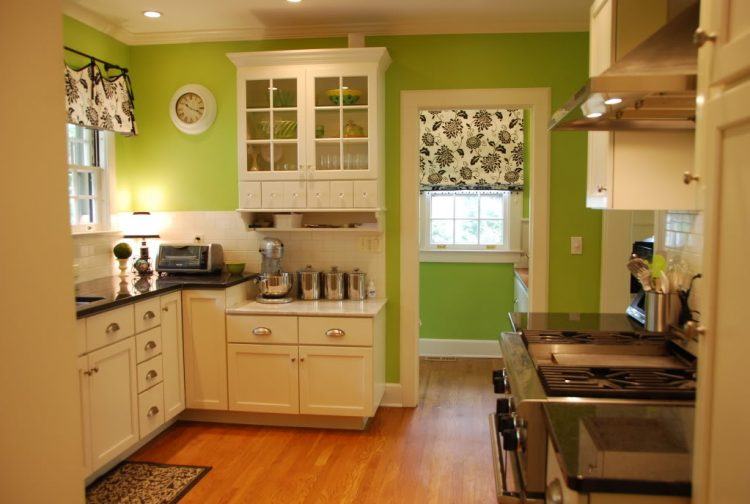 White is often the complementary color used in kitchens with green walls, but adding black to the mix adds a lot of visual interest. Even just a small amount of black featured in the window treatments and counters of this design is enough to stand out and create a beautiful look. This kitchen is modestly sized, but it proves that any size space can look smashing with a coat of green paint.
10. Stylish traditional elements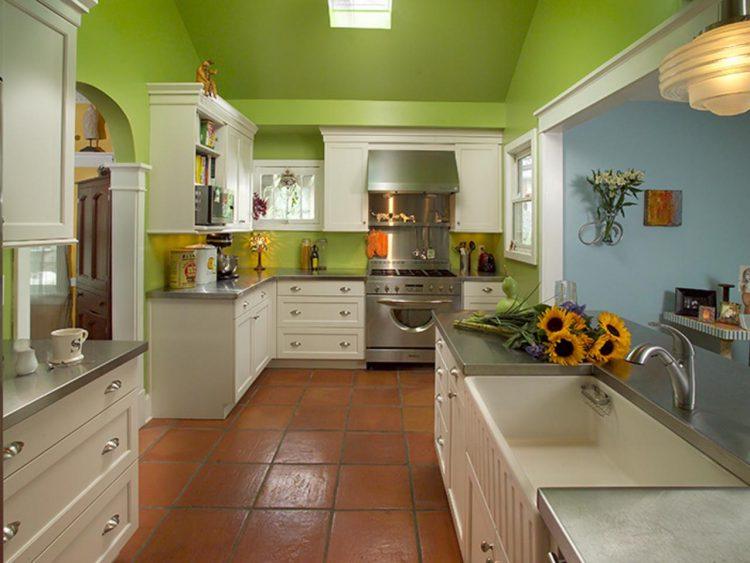 Many of the features and fixtures in this kitchen with green walls have a traditional appeal, but the fantastic shade of paint is what gives it a fresh and updated look. The bright green on the walls looks good against bright white cabinets and trim, and the shade is also a great compliment to the blue walls in the adjacent room. Because the ceiling in this kitchen is high, painting it a matching green instead of white doesn't affect its spacious feel.