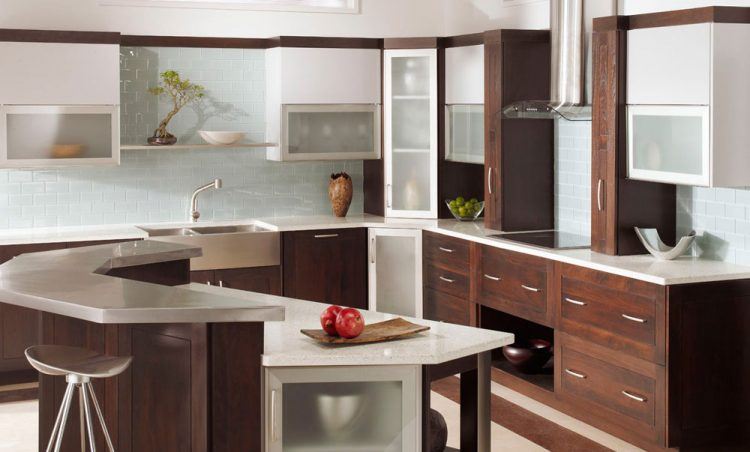 Glass cabinets are the perfect compromise between open style kitchen shelving and solid cabinets. They allow your dishware to be protected behind a door while still being shown off and placed on display. Whether you choose frosted, textured, or transparent glass cabinets, they'll add a wonderful element of style to your kitchen's design.  Aesthetically you also don't get much better than glass.  It adds a luxury element you just can't get with other cabinets.
Here are ten great kitchens with glass cabinets.
1. Frosted cabinets and subway tile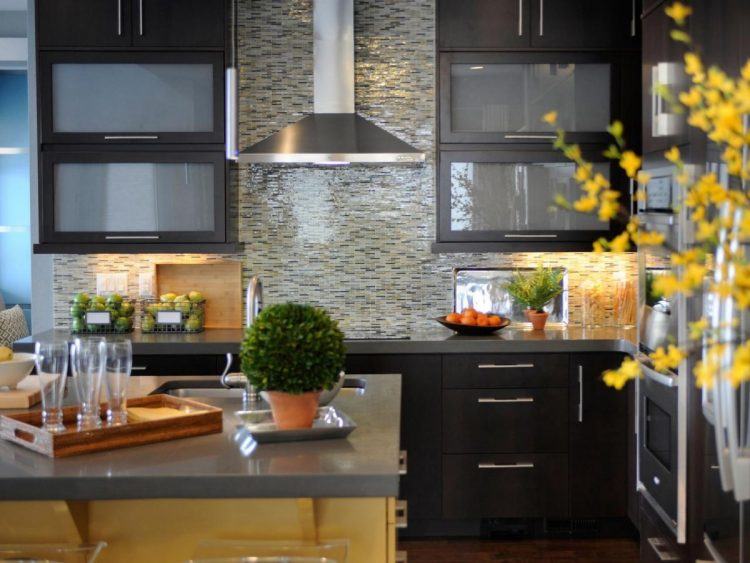 The combination of sleek black frosted cabinets and intricately laid subway tile in this contemporary kitchen looks incredible. Though subway tile can be expensive, especially if you use it to cover a large area, this adhesive DIY option cuts the cost of having gorgeous tile while providing all of the style that makes it highly sought after. Stainless steel elements throughout the space pair well with the black and neutral color scheme, and in a kitchen such as this, few decorations are needed to complete the look.
2. Rustic charm
It's common for rustic, vintage, and farmhouse style kitchens to have open shelving, but if you want frosted glass cabinets instead try ones with a texture. In this design textured glass complements the other materials in the room, which include knotted wood and a patterned backsplash that adds color and character to the space. Though this kitchen area is small, it's efficiently laid out and everything in it either adds function or beauty.
3. Dark wood and sleek steel
Cabinets with a dark wood tone, smooth nearly transparent glass, and stainless steel trim give this contemporary kitchen a high end look. The open concept gourmet kitchen is decked out with premium appliances and the cabinets fit in well with their appearance. A white backsplash with a distinctive texture provides visual interest and the ideal contrast with the other smooth surfaces in the space.
4. A mix of cabinet styles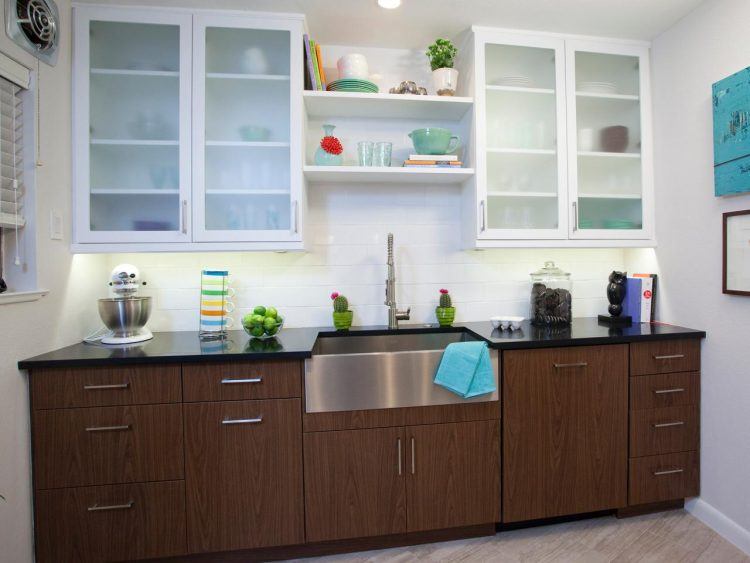 Even in a modestly sized kitchen, you can have a mix of cabinet styles. This vibrant and cheerful space features double frosted glass cabinets on either side of a set of open shelves. This is a great setup to use if you have items that you want to put out in the open for easy access, such as cookbooks, potted plants, or small bits of decor, but you'd prefer to have your dishes behinds doors to keep them away from dust. The kitchen looks more spacious than it actually is thanks to a coat of bright white paint on the walls and cabinets. Dishes and key pieces of decor in bright colors, fun art prints, and a duo of petite decorative cacti add great finishing touches.
5. A touch of earthiness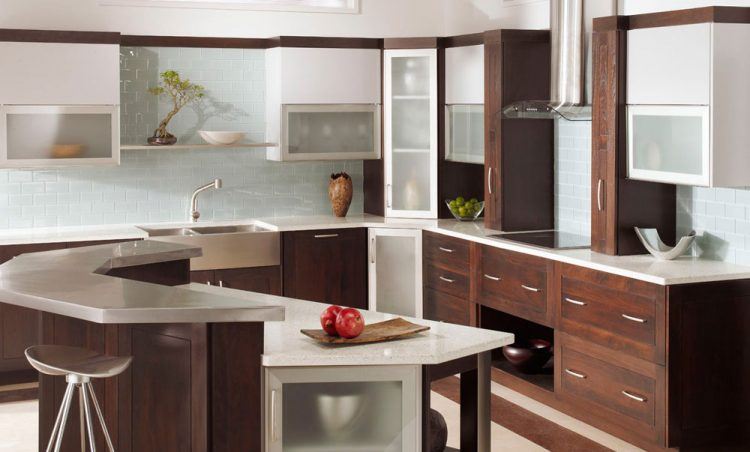 The style of frosted glass cabinets that you choose can easily change the look and feel of your kitchen. With transparent glass the space would look more modern, but with frosted glass that's slightly opaque the kitchen takes on an earthy contemporary vibe. This is heightened by the use of gorgeously textured wood cabinetry, artisan pieces that are as functional as they are appealing, and organic decor. A backsplash made of white subway tile adds a subtle complement that makes the room feel uplifted.
6. Luxury and upscale details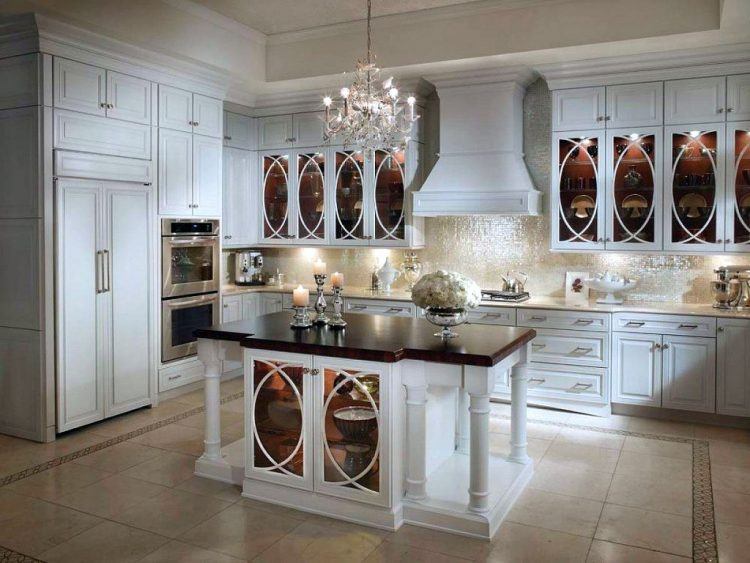 What makes this beautiful kitchen so upscale looking are three key elements: a fabulous chandelier hanging over the island, shimmering iridescent tile on the wall, and the finely crafted detailing that's seen on the transparent glass cabinets. This is the route to take if you want glass cabinets but think they look a bit too plain. Silver accents in the kitchen make it feel even more chic and sophisticated, while lights integrated into the cabinets show off the gorgeous items inside.
7. A high tech kitchen
Kitchens with tons of tech looks great with glass cabinets of all styles, although smooth transparent and frosted ones tend to look the most outstanding. In this kitchen that flaunts high end appliances and smart technology, some of the cabinets have solid doors while a select few have transparent ones. Two cabinets flanking a touch screen display are clear and reveal their contents, while the rest of the kitchen is rather nondescript. The space is modern and minimalist all at once and would be excellent for anyone who prefers kitchens with very clean lines and no clutter.
8. Making a style statement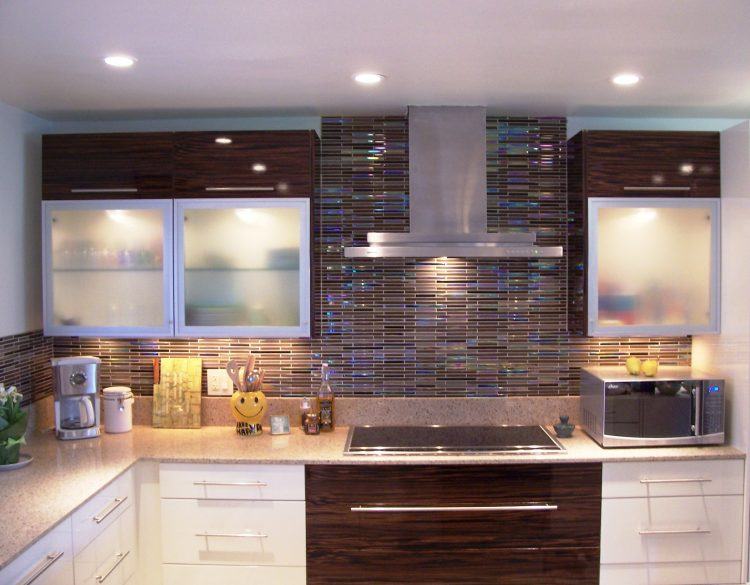 The wall mounted frosted glass cabinets in this kitchen look great, but the real star is the backsplash comprised of vibrant, glistening tile. The modern mosaic adds a huge dose of style in this space and really perks it up. Bright white walls and small amounts of beautiful rich wood make the space look trendy and stylish. If you want a similar look, frosted glass cabinets with a smooth texture are the way to go — you want to choose an option that will complement your tile rather than compete with it.
9. A bold change of pace
It's not uncommon for kitchens with glass cabinets to feature boldly colored tile on the walls, but in this space it's the lower cabinets that add color and visual interest to the design. There is a tile backslash, but it contains a mix of cool neutral hues. Rich red glossy cabinets near the oven look gorgeous contrasted with the stainless steel covered glass cabinets above.
10. Farmhouse chic at its finest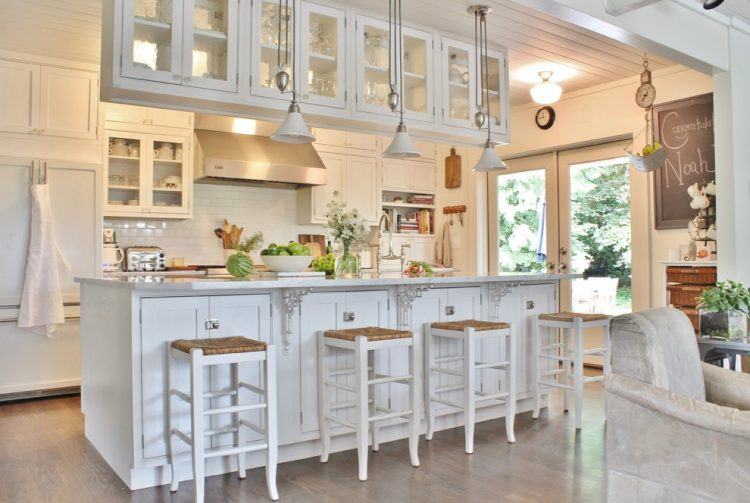 Farmhouse style doesn't always have to be about worn finishes and vintage wares, although that can look incredible in its own right. However, this kitchen takes the route of being casual while also exuding elegance and refinement. The clear glass cabinets in this space hang high above a kitchen island and have a subtle texture. Elsewhere in the space is another glass cabinet with a smooth feel that houses a collection of soft white dishware.