Years ago, kitchen cabinets were simply meant to hold dishes, pots, and pans. People were not concerned with how stylish they were or what color was trendy. They came in a few basic colors and limited designs. In today's time that idea has faded away. Those individuals looking to remodel or redesign their kitchen are very concerned with how updated they are and are in the market for the very best quality and style that their money can buy.
A few trends are popular right now and reflect the need to be a focal point of the kitchen. Most home designs these days focus on an open concept floor plan which puts kitchen cabinetry in the spotlight. For this reason, it is important to figure out what style and color of cabinets will best fit the rest of your home. You want to be sure that the entire house has a cohesive feel. If the rest of an open concept home is classic and the kitchen is contemporary, it will clash badly in most instances.
Costly mistakes can be avoided by doing some pre-planning and sticking to the overall theme. Sometimes people change their minds and take a different direction in the style department, and that can lead to mistakes that can't be readily fixed.
Here are five trending kitchen cabinets right now:
Contemporary Dark Espresso Cabinets
One of the hottest trends in cabinetry right now is the dark espresso color combined with a sleek modern style. The intricately carved cabinets are not as fashionable as they were a few years ago. The trend right now to blend functionality with simplicity. The cabinetry will have multiple functions and plenty of storage and extra features conveniently tucked inside the cabinets. The most popular hardware for this style of cabinet is very simple and usually either a chrome, brushed nickel, or stainless steel. The ornate style of hardware is not being seen in updated kitchens right now. The dark cabinets give an almost industrial feel which is what many people are going for. This would be a good style for those individuals that are looking to have dark hardwood floors or a neutral clay tile for contrast.
Shaker Cabinets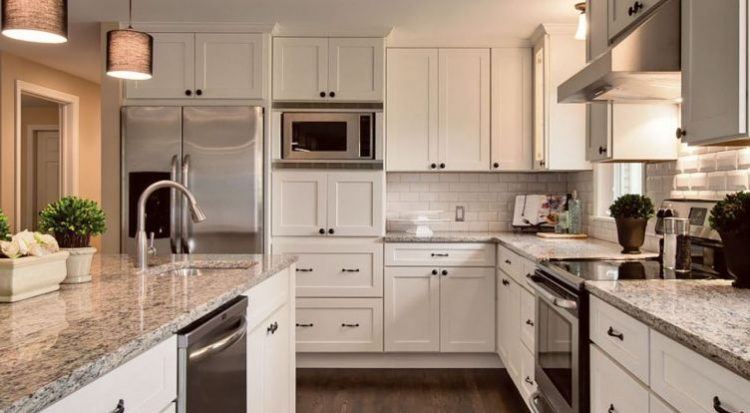 Shaker cabinets are quite popular right now. Behind the contemporary and industrial feel comes the white shaker cabinet with simple hardware. For those individuals that are not wanting to jump on the ultra modern look then this will do a great job of complimenting your existing style without looking outdated.If you don't like the white look then going with a natural wood finish is also stylish and will look clean and simple. The great thing about Shaker cabinets is that they fit with most styles of kitchens and can last through an update with a simple color change. This is the safe way to go if you are unsure of the exact style that you are going for or if you think you may change your mind in a few years. Cabinets can be expensive to going with Shaker cabinets will ensure that you get a great deal of use from them.
Cherry Wood Cabinets
Cherry wood cabinets are classic and elegant. They have been around for a long time because they create an element of style that no other cabinetry can pull off. The rich tone of the wood gives a more formal air to the kitchen. This is a great match with a rich cherry hardwood floor. Cherrywood cabinets need certain elements to be successful in the kitchen. They are best matched with stainless steel appliances and marble or granite countertops. Because cherry wood adds formality, it demands that the rest of the kitchen follow suit. A kitchen remodel using cherry wood can be quite the endeavor but if done correctly can be spectacular.
Bamboo Cabinets
If you are looking to go super modern then using bamboo cabinetry might be for you. The unique look of bamboo can elevate the look of your kitchen dramatically. This look is quite eye-catching and makes a very big impact visually. If you are unsure of the look that you are going for then, this may not be the way to go. If however you are creating a sleek modern look with natural finishes and steel appliances then this would be the perfect selection to draw attention to the kitchen. This would be an excellent selection for an open floor plan in a contemporary house. Once thing is certain, your cabinets will not blend into the background because they will be the centerpiece. Bamboo is quite sturdy and will last for many years without looking worn or faded which makes it a good investment if you like the style.
Flat Panel Cabinets
This kitchen trend is really versatile because it can have a variety of uses. Its simplistic design can serve the purpose of looking simplistic in a natural toned kitchen or it can be ultra modern. This style of cabinetry works for many that may want a touch of modern without going full force. The flat front is sleek and subtle. Even though this cabinet does not make a bold statement, it does have an impact because it is unique and can fit into a wider variety of themes and styles better than most of the other option available on the market. This would be a safe buy for someone that didn't want to overpower the rest of the kitchen but still keep interest and style the focus.
These are some of the most popular styles found in kitchen cabinetry right now. Any of these choices will look fantastic if the rest of the area fits well into the design plan. If you are having trouble figuring out what will look best and will suit your personal needs best you might want to consult a professional before investing a great deal of money in a big project. This will help to eliminate other less desirable options. Simplify the task before you get started. Have a clear design plan laid out and stick to it.