The type of lighting within your home can drastically change its appearance and mood, and in no area is this more true than the dining room. Whether you want your dining space to appear fun and festive, intimate and upscale, or welcoming and inviting, simply changing your light fixture can do the trick. Hanging lights are especially effective and are both functional and excellent pieces of decor. Here are ten beautiful dining room designs that feature hanging lights.
An upscale, tropical flair
Dining rooms with tropical themes are often a bit kitschy, which can look good when done well. However, this dining area has a refined look while also sporting a tropical theme. A dramatic light fixture hanging over the table mimics water droplets falling from a waterfall, and it looks gorgeous in the space. Wooden furniture and planks on the ceiling, strategically placed greenery, and close proximity to a vast outdoor area that itself looks like a tropical resort help pull this incredible design together.
Chic contemporary style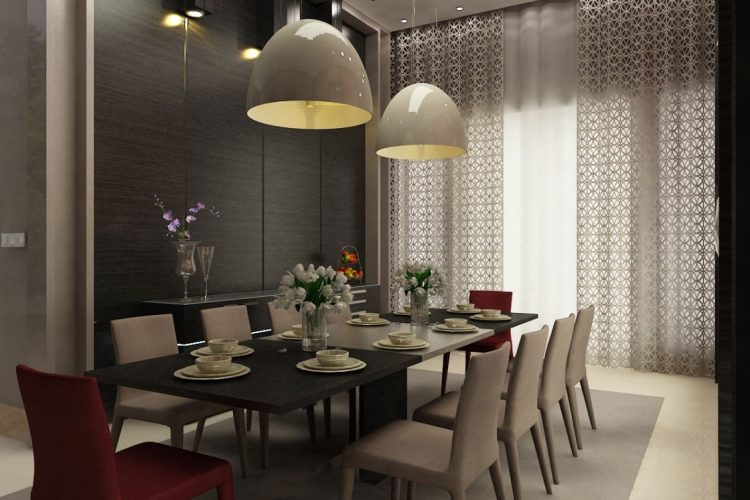 Here's an example of a dining room with an intimate, almost sultry feel. A feature wall paneled in dark gray combines with neutral tones throughout the space. Two chairs in a rich red hue provide visual interest, as does a pair of dome shaped hanging lights over the table. The lights themselves are cream colored, but their size and shape are what make them stand out. Opting for these glossy acrylic fixtures makes the design look even more contemporary.
Gracefully arching
Dining rooms with very clean lines and minimal decor can greatly benefit from the addition of a decorative light fixture. Here, a curved hanging light looks beautiful suspended over a dining table, and it adds textural and visual interest to the space. Because it's lightly colored and has such a stand-out design, the light is a focal point in the room and provides great contrast to the dark furniture around the table. If you prefer to keep decorations to a minimum in your dining room but want to perk it up, go for a light fixture that either has an interesting shape or a bold color.
Trendy and eclectic
Dining rooms with plenty to look at demand lights that are either subdued enough to fade into the background or bold enough to go along with the rest of the decor. In this dining room a trio of large, gleaming copper pendant lights serve as decoration and functional overhead lighting. The tone of the lights perfectly complements the wood flooring and shade of yellow seen on the dining chairs. Gray walls make a contrasting backdrop that adds even more style and character to the space.
A modern marvel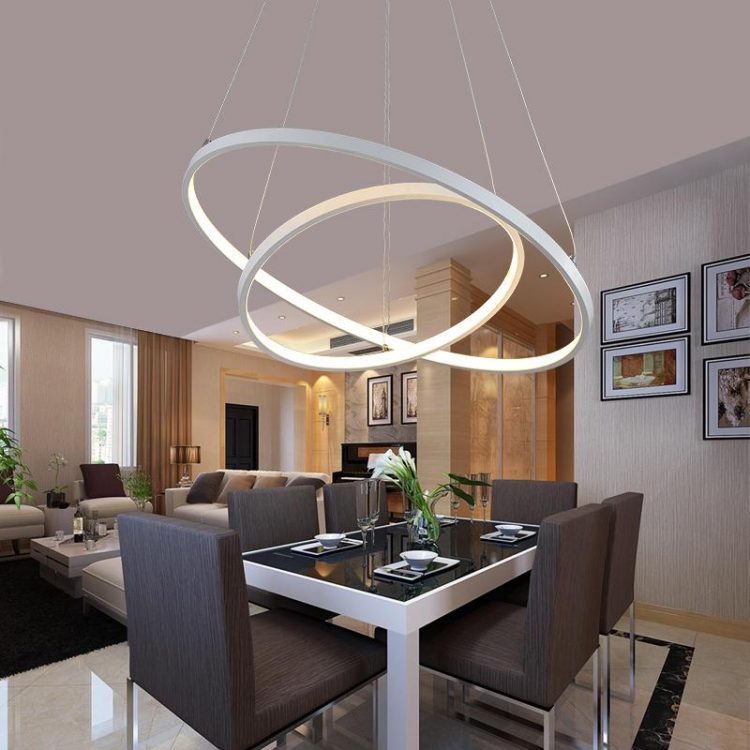 Conversation pieces in dining rooms often consist of unique statues, pieces of artwork, or furniture. This dining area is an exception to the norm, as it makes use of a geometric hanging light over the table as art. The light is comprised of two large interlocking loops that the eye can't help but be drawn to. The other decorative pieces in the room have a very modern and refined appeal and work well with with light fixture. If you want a big impact in your dining room, look for a light that's not only scaled to make an impression but also shaped to catch attention.
Sleek and laid back
The great thing about modern dining rooms is they're so flexible and able to reflect a wide range of moods. In this dining area the vibe is relaxed and casual, but still quite stylish thanks to three matte black pendant lights. The lights match the tone of several elements in the space, including a large art print, vintage pieces, and the dining table. Placing chairs with light colored fabric around the table was a smart move, as the contrast makes the design much more appealing. White, minimalist window treatments make a beautiful finishing touch.
Luxury and glamour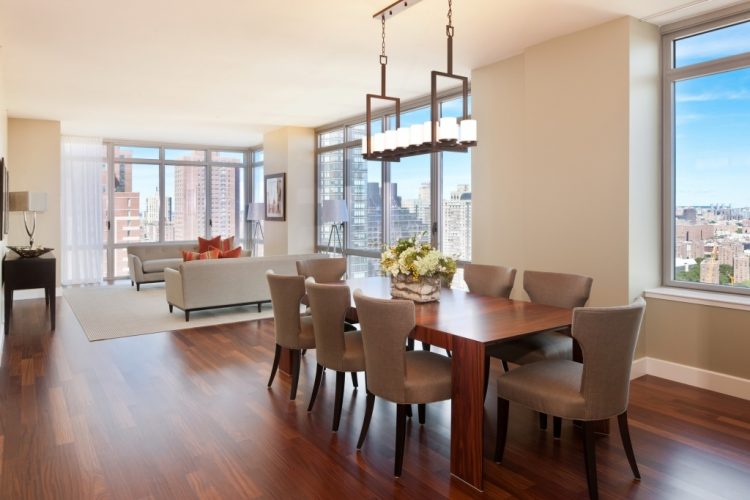 This dining room exudes an upscale aesthetic, largely due to the chandelier hanging above the table. It's not your standard round chandelier, but a rectangular one that's literally dripping with glistening crystals. It's a gorgeous piece in a room filled with other glam furniture and accessories, including white framed chairs with fabulous plum fabric and lovely floral arrangements. Slate gray walls help the light stand out and make an even bigger style statement in the room.
The new rustic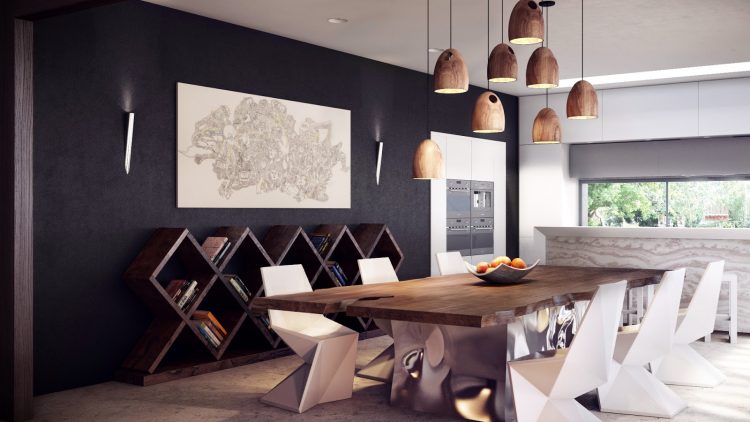 Rustic dining rooms certainly aren't limited to those filled with vintage and traditional pieces, as this dining space proves. An assortment of wooden pendant lights with a contemporary look hang prominently over a dining table that itself flaunts an avant-garde profile. A deep black accent wall, geometric wood furniture, and modern art prints define the look of the space and give a new meaning to rustic decor.
A truly organic light
This wonderful dining area is integrated into a kitchen space, but what defines it is a light fixture made out of branches intertwined with bulb lights. It's an incredible custom piece that can be replicated in just about any home — if you're into DIY projects and like organic elements, you'll definitely get inspiration from this light fixture. Because the walls are covered with dark tile, the hanging light and key pieces of green decor are more pronounced
A bit of blue
This trendy and eclectic dining room has tons of style, and the look is anchored by a pair or hanging blue lights. They bring out hues seen in the pillows and wallpaper and add a nice pop of color to the room. The inside of each is lined in silver metal, which coordinates with other silver accents throughout the space. As a result of using these lights, the dining area has a cheerful vibe with a vintage twist.