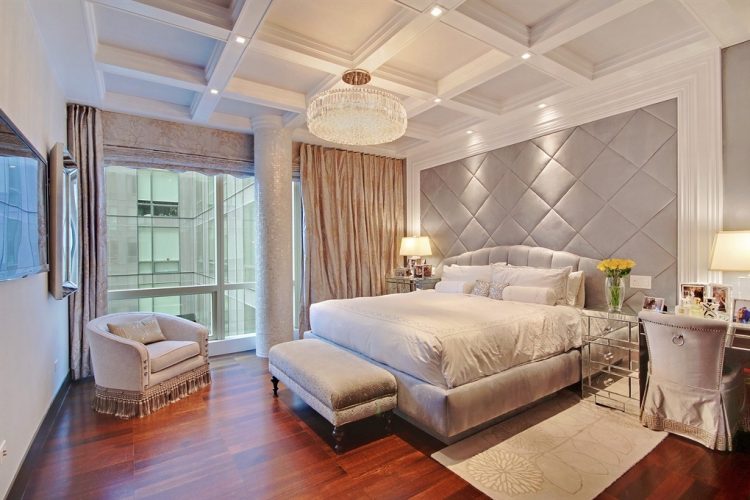 Bedroom decor trends definitely come and go, but there's one thing that will always be timeless: the crystal chandelier. It's never gone out of style, but people often place chandeliers into a very narrow category and think it's not a versatile decorative element. The truth: bedrooms with chandeliers don't have to be traditional, feminine, or insanely grand.
You can use this one piece of decor to add a special touch to kids' rooms, bedrooms for couples, rooms where you want a laid back look, and even men's bedrooms. These days there are virtually no limits for the chandelier, and the range of styles available are seemingly endless.
Here are ten beautiful bedrooms that will change the way you think about crystal chandeliers.
A geometric twist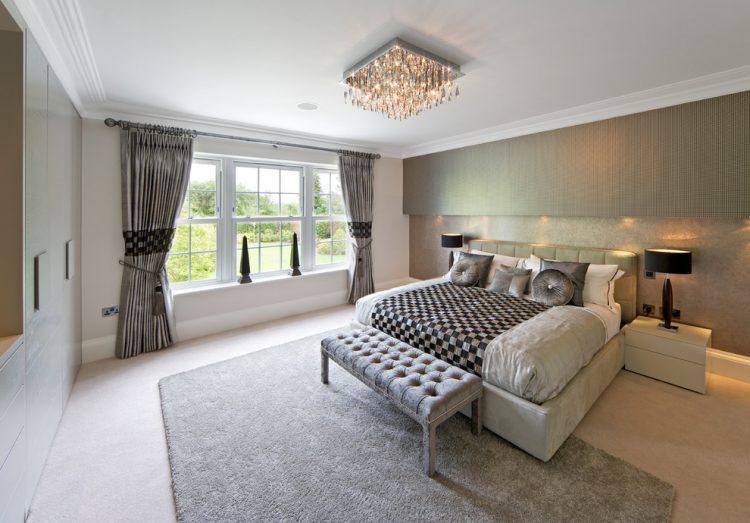 This is a prime example of how bedrooms with chandeliers can have a masculine look. Here, a very stylish checkerboard motif inspires the chandelier hanging above the bed, the room's window treatments, and its bedding. To keep the bedroom's lines clean, a pair of black lamps and a simple headboard help bring the look together. The monochrome color palette was the perfect choice to highlight the chandelier and geometric theme in the room.
Lovely in pink
Placing a crystal chandelier into a girl's bedroom is a unique way to add a dash of femininity. Here, a chandelier embellished with pink is the focal point in a room that includes a number of lovely elements. The crystal chandelier in this bedroom isn't too large for the space and has a shape that's different enough to make it appropriate for a tween or teen.
Upscale and avant-garde
This bedroom has a definite upscale vibe — check out the lighting underneath the bed. Not only are the headboard, bedding, and panels behind the bed gorgeous, the chandelier is quite intriguing. If you thought that bedrooms with chandeliers can't be modern and trendy, this one will prove you wrong. The chandelier truly looks like a piece of art rather than a light fixture.
Beautiful black crystal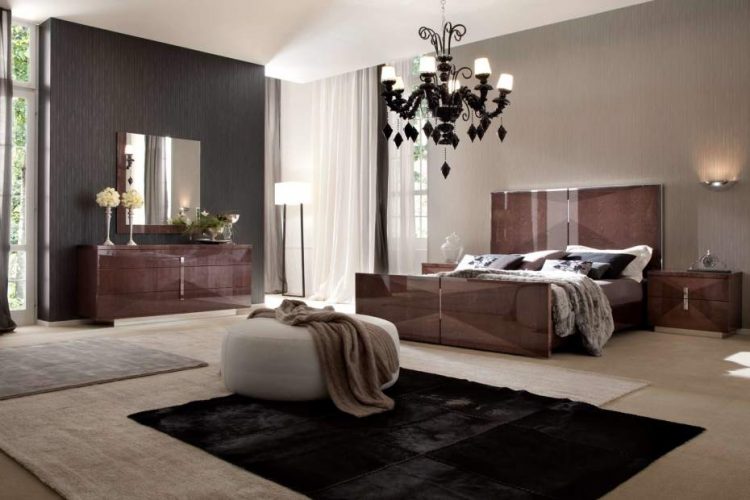 The chandelier in this room has a traditional aesthetic, but it features a black color scheme. It's the ideal piece to place into this modern space, which otherwise has clean lines and a neutral color palette. Adding a few black pieces of decor throughout the room adds cohesiveness, while the choice of fabrics keeps it from feeling too formal.
Understated elegance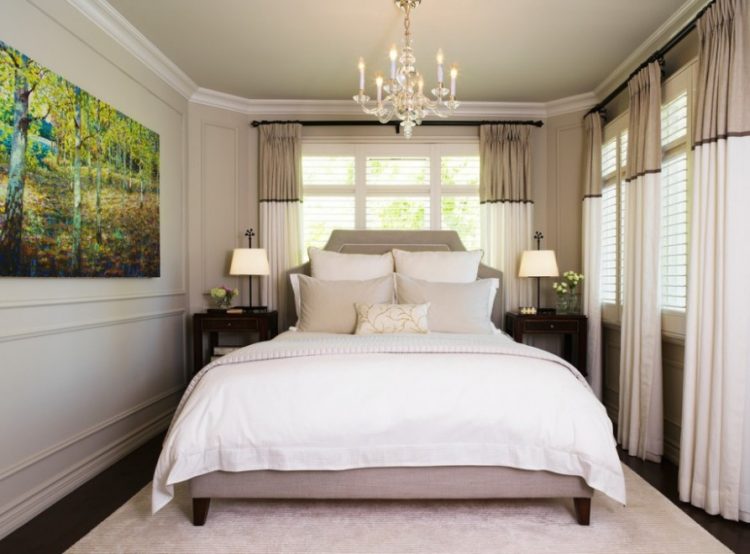 Bedrooms with chandeliers don't usually have an easy going appeal, but this one definitely fits the bill. The room isn't huge, but here is an example of how quality matters more than quantity. A small crystal chandelier, nature themed art print, and crisp neutral bedding beautifully come together to create a calming, elegant look. This space would be perfect for a couple or anyone who appreciates a relaxing atmosphere in the bedroom.
An abundance of opulence
This space has a lavish look, all capped off with a grand crystal chandelier. The interesting thing, however, is that this room wasn't designed for an adult or teen, but for a pair of young siblings. The neutral color scheme and insertion of well-aged vintage pieces makes the space suitable for boys, but it would also be well loved by girls as well. Not only does this bedroom look fantastic, the furniture was smartly placed to maximize space.
A regal flair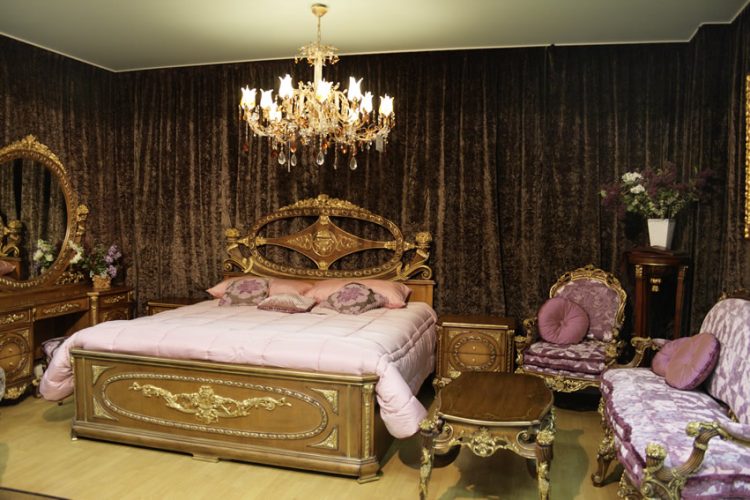 Here is a space that represents what most people think about when it comes to bedrooms with chandeliers: loads of sumptuous fabrics, gilded pieces, heavy furniture, and stately floral arrangements. The room does depart from the traditional with its color scheme of chocolate, lavender, and gold, which helps keep the space from feeling outdated. All of the decor in the room is anchored by the walls covered in chocolate toned fabric panels.
Stylish and gender neutral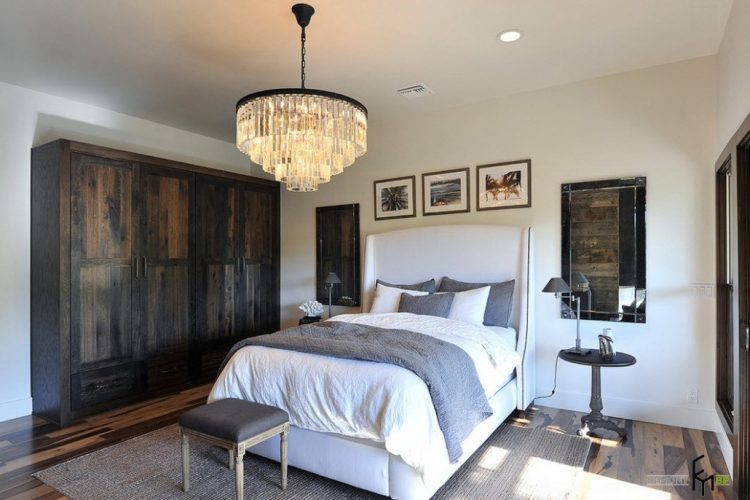 This room isn't just gender neutral, it actually has a masculine edge to it with no feminine aesthetic at all. The crystal chandelier is modern and provides much needed light in the area. Dark stained wood furniture, rustic elements, simple bedding, and graphic art prints make this space one that just about any guy wouldn't mind coming home to.
Whimsical fun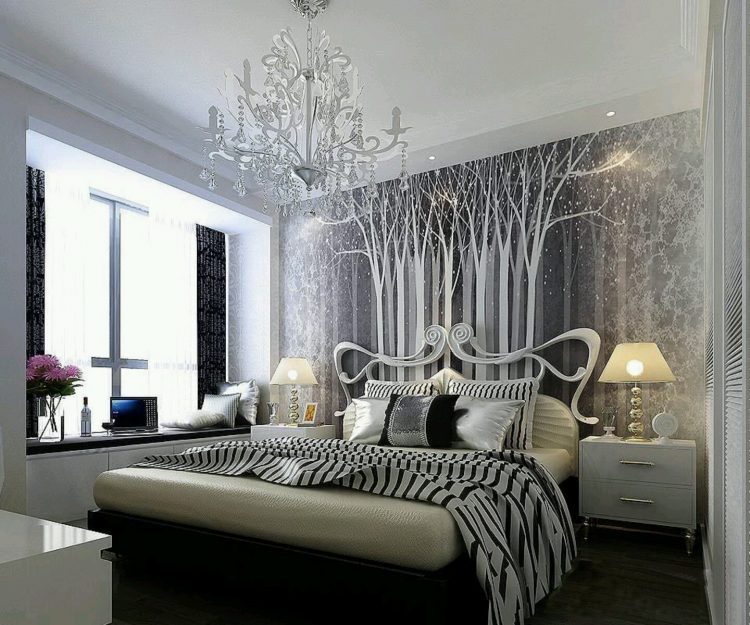 If you're going to have a chandelier, you can always opt to make it a fun highlight of the space. This bedroom's focal point is an accent wall that has a wonderful monochrome painted mural of a stylized forest. To complement the art, a chandelier that matches the style of the mural hangs above the bed. A few glittering accents, two lovely lamps, and fashionable bedding create a space that's lighthearted with a bit glam.
Because of the bold graphics on the wall and bedding, the window treatments take a backseat and serve to help add cohesiveness. The same goes with the nightstands and bed — with so much else going on visually, it would be overwhelming to have furniture that stands out.
Something truly unique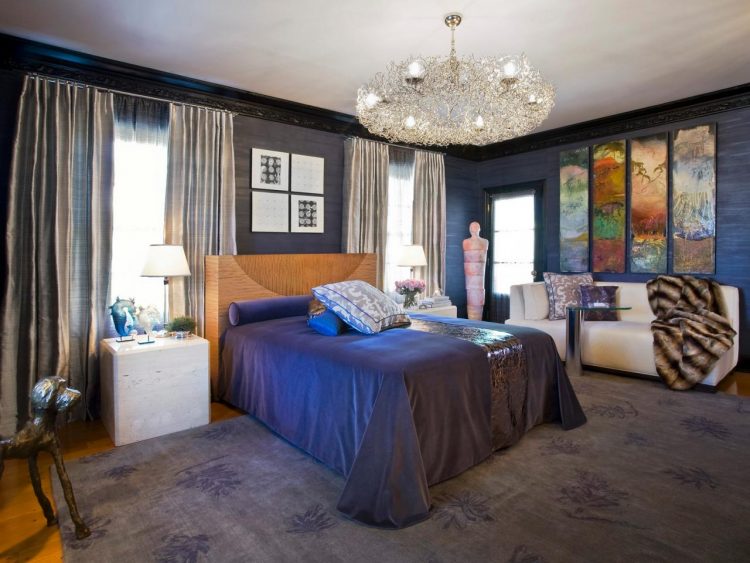 This room is eccentric in all the right ways, and the crystal chandelier is definitely a piece of art that also serves as a light fixture. It combines intricate tangles of metal and bright spheres of light, all revolving around each other in a spherical web. Elsewhere in the colorful bedroom are a number of statues that add even more visual interest to the space.
Four painted panels hanging above a sofa anchors the room's seating area, and it's embellished with a plush throw and two large pillows. The bed is, surprisingly, the most tame element in the room. There's no huge pile of pillows, just a few strewn about on top of a simple bedspread. The clean lines of the wooden headboard work well here and keep the bedroom from looking cluttered or too busy.