If your kitchen is running low on storage space, a baker's rack could be exactly what you need. Although baker's racks were initially designed as a place for bakers to store hot food items and allow them to cool, they can serve other purposes. For example, a baker's rack can be used simply as a way to put items on display or as a place for you to store kitchen accessories while still having easy access to them. On top of that, a baker's rack can simply just be used to as a stylish accessory to complete your kitchen design. Since baker's racks are available in a wide variety of styles and designs, you'll definitely be able to find something that fits the look you're going for. Here are 10 beautiful baker's racks for your kitchen.
Designed to store many of your kitchen essentials, this baker's rack comes with enough space to store five bottles of wine.
Boasting a design that is simple yet attractive, this baker's rack has a caramel finish that meshes perfectly with its wrought iron scrollwork.
This beautiful wire storage rack can blend in quietly to your existing storage design – making it the perfect item to give you extra storage space without being a distraction.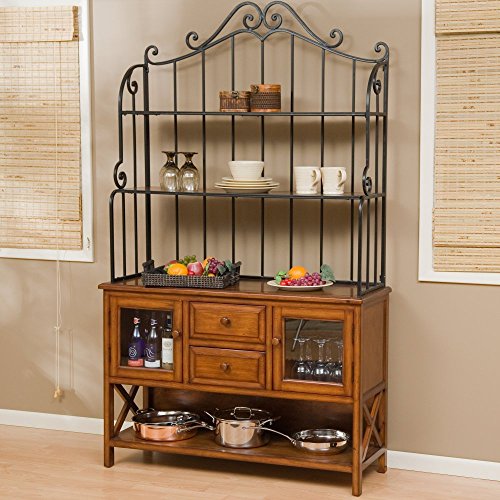 Perfect for your dining room or kitchen, this baker's rack has a spacious design that includes drawers, cabinets, and a long shelf.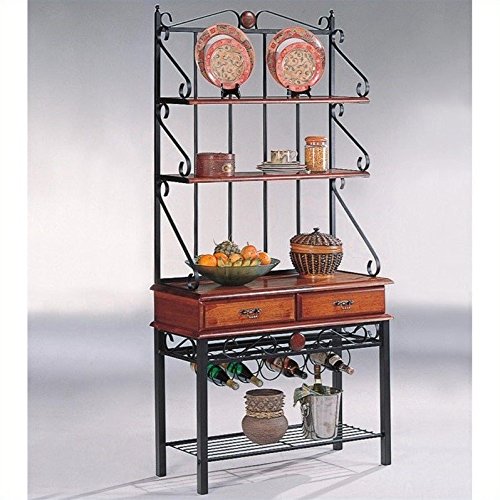 Whether you want to use this baker's rack to cool your pies, or simply use it to store your favorite kitchen items, this beautiful wood and metal item will get the job done.
An elegant design makes this baker's rack stylish and appealing. If you've got a large kitchen, this could be an excellent item for you.
If you're looking for a baker's rack that is more focused on practicality than style, this simple baker's rack will get the job done.
Sometimes, baker's racks can take up a lot of space. If you don't have much room to spare, a smaller baker's rack like this could be a nice fit for your space.
This metal baker's rack has a sturdy and stylish design that is sleek and simple. If you've got items you want to put on display, the large open shelves will make it easy.
Boasting an "aged bronze finish" this baker's rack has a design that combines the best of both contemporary and traditional style.
Lead  (Photo by Justin Sullivan/Getty Images)