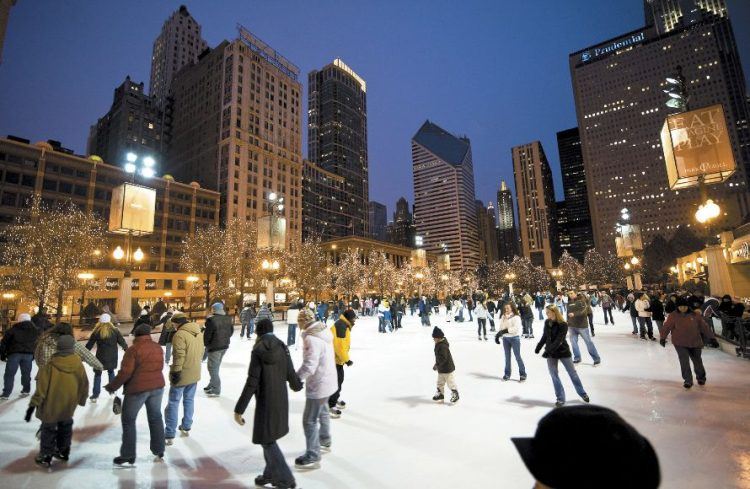 As popularized by Frank Sinatra in 1964, Chicago is praised by Frank in the great song "My Kinda Town". With the Cubs winning the 2016 World Series after a 108-year intermission, it's a great historical time to visit Chicago. The only thing that could have made the World Series better was if The Cubs had beat the Cleveland Indians at Wrigley Field instead of Progressive Park in Cleveland. Of course, Chicago isn't all about baseball and the world famous Wrigley Field, there are many things to do in Chicago in the winter.
Yes, the temperatures are cold. Beginning in October the temperature declines and if you are going to do any outdoor activities make sure to bundle up. The term "Windy City" is a misnomer. According to Robert Cass in an article for Chicago Reader, he said, "If you had always assumed that Chicago earned its nickname as the Windy City from the chilly gusts coming off Lake Michigan, you would be wrong. The city is windy, according to most local legends, because of the hot air bellowing from politicians."
There is a lot to love about Chicago in the winter. Here is a list compiled by some of the locals of their favorite known and lesser-known spots to visit.
McCormick Tribune Plaza & Ice Rink in Millennium Park
Millennium Park opened in 2004 and is located in the Loop Community area of Chicago. It has a wonderful ice rink surrounded by trees that are all lit up with twinkle lights. So very romantic! Best of all the skating is free. If you don't have ice skates they can be rented for $10. The Cloud Gate Sculpture with its unique mushroom cap shape hovers on one side of the rink and has a silver highly reflective surface that mirrors the skaters and the Chicago skyline.
ZooLights at Lincoln Park
Beginning in November through January from 4:30-9pm Lincoln Park Zoo Lights up with thousands of bright and colorful light displays. If you are an animal lover this is a great opportunity to take loved ones or friends out to the zoo and enjoy a wide variety of animals surrounded by rainbow lights all twinkling with joy. The photo opportunities are endless. During the winter months, there are special events such as a Holiday Market, Brewlights by Louis Glunz Beer and much more. Each event has special pricing so contact the zoo for pricing and information.
The Chicago Bulls at United Center
For sports fans winter is the season of the Bulls. Basketball is in high gear beginning in November. You can head over to the United Center, catch a game, cheer on The Chicago Bulls and get a glimpse of their mascot Benny the Bull.
Dinner at the Hard Rock Cafe
If food and music are more your speed, then a stop at the famous Hard Rock Cafe in Chicago is a must do! Chicago is home to the Chicago Blues sound integrated into music in the 1950's. Chicago was home to such Blues greats as Muddy Waters, Howlin Wolf, Buddy Guy, T-Bone Walker, Bo Diddly and more. Who can forget the Blues Brother portrayed by John Belushi and Dan Aykroyd? Set in Chicago, it is a hilarious movie. To quote Elwood, "There's 106 miles to Chicago, we've got a full tank of gas, half a pack of cigarettes, it's dark out, and we're wearing sunglasses."
Macy's on State Street
Holiday shopping can be such a stressful time. Take some of the stress out of the shopping experience and visit Macy's on State Street. The have whimsical and very pretty window displays. The Walnut Room hosts Macy's Great Tree, all lit up and sparkling. The ceilings are made by Tiffany and have a gorgeous array of over 1.6 million pieces of hand-fired glass that were installed in 1907 by Louis Comfort Tiffany.
As you can see there are a great many fun and enchanting things to do in Chicago on a winter's day or eve. This short list is only a small stone skipping across the surface of Lake Michigan of the many wonderful things to do in Chicago, Illinois.