There are many ways to add design to a room or home – a few cans of paint, some crown-molding, or trendy decor. For world-class designers and architects, there's more than just simple home improvement to creating a posh space that's also comfortable to live or dine in. Within the sweat and effort of blueprints, firms find the ability to create drama and give functionality to their clients through wall installments and treatments.
This list counts down some of the most stunning wall designs from around the world.
Monochromatic Tile in Austin, Texas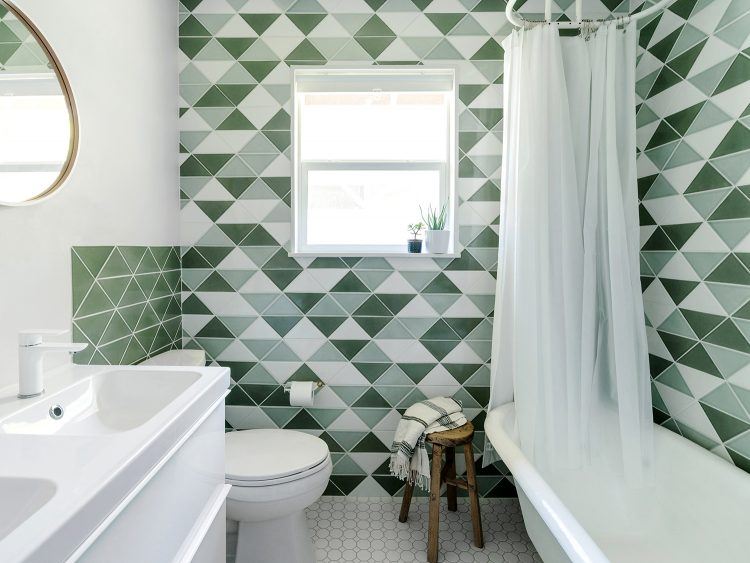 Local photographer, architect, and interior designer, Chase Daniel, is known for his work around the lively, colorful city of Austin. His vision for a dramatic and polished tile sequence in a client's bathroom showcases the talent he is known for. Cool green, triangular tiles of varying hues line the wall from floor to ceiling, taking a crisp, white bathroom to a next-level trendiness. The monochromatic scheme is soothing yet captivating, giving the bathroom both an emotional and aesthetic appeal. Daniel accents the forest and mint greens with matte gold fixtures and details, giving the wall treatment a sense of added warmth and stylishness. View more photos of the tiled-bathroom and the residence it calls home here.
(Chase Daniel Photography & Design, USA).
Geometric, Eye-Catching Accent Wall

With more than one smart wall treatment occurring in this cozy bedroom, you'll look twice at this city apartment's design. An earthy color scheme sets the stage for great design, promising rustic textures, such as woods and iron. The rich and subtly cheerful color of mustard adds definition to the bed's headboard which is constructed from wooden slats, cut into angular rectangles and expertly assembled to form a wall center piece. The wall the bed rests against is a chocolate-painted accent wall. The effect makes for an eye-catching geometric and mutli-dimensional experience for the viewer. To the left of the bed, an entire wall of smartly-designed crank-windows reveal a cityscape at twilight. For more of this room and many others, visit SEQUIA's gallery.
(SEQUOIA Designs, Russia).
Rustic, Dramatic Bathroom in the Arizona Desert
Angelica Henry is a well-known interior designer based in Arizona, where she finds every-day inspiration from her surroundings. Her color and material choices are natural and rustic, signifying influence from the nature of the Grand Canyon State. This bathroom wows with floor-to-ceiling, colorful shale tile; it's primitive texture is contrasted by its edgy, geometrical cut. Thick wooden beams frame the His and Her's sinks adding drama and insinuating the luxurious height of the room. A contemporary circular mirror reveals a large, built-in aquarium on the counter facing wall. The bright, blue iridescence of the aquarium and the copper bathtub that rests below it add a novel feel to the room. See other amazing wall designs and installations on Henry's website.
(Angelica Henry Design, USA).
Bookish Box-Seat Overlooking the Atlantic
Ever imagined the perfect getaway spot? A place of escape and relaxation from the hectic routine of life? This home in Cape Cod may have it, and it was created by constructing built-in bookshelves, window seats, and framing an ocean view. Architects, Albert, Righter, and Tittman (otherwise known as ART) could have simply built four-solid walls, with a view windows, but instead they chose a design to really magnify the magic of a Cape Cod lifestyle. This humble corner is transformed into an oasis with intelligent functionality as well as stunning wall design. The built-in shelving holds all the treasures of a good book while the window-seats rests atop, inviting anyone to curl up and enjoy. ART Architects won an award from Cape Cod Magazine for their brilliant composition; explore more of it here.
(Albert, Righter & Tittman Architecture, USA).
Funky and Functional in Washington, D.C.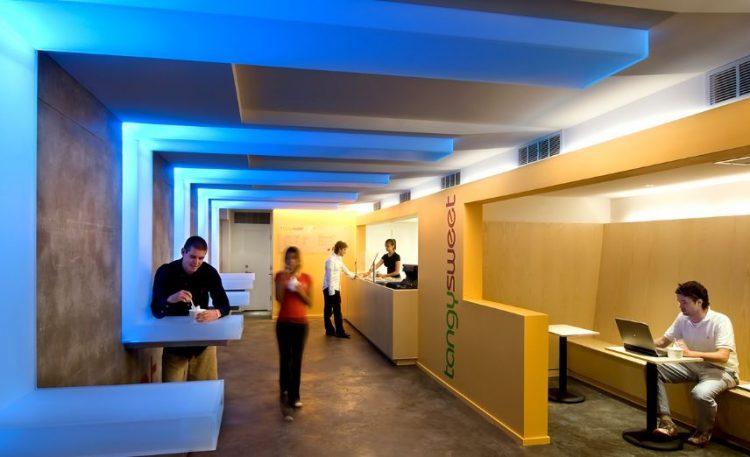 Tangy Sweet, a yogurt shop in the young, hip district of Dupont Circle in Washington, D.C. has a fun, youthful atmosphere thanks to KUBE Architecture. The firm wanted to create a meeting point for functionality and swanky aesthetic and found it in the LED light wall installments. The elongated forms of light reach from the building's ceiling, to it's cool concrete walls, and seemingly float above the floor. The wall installments act as standing areas for guests to rest their hands and sweet treats on, intriguing passersby to come inside, and sweet-toothed-patrons to stay awhile. View more of Tangy Sweet's design and its color-changing lights through KUBE's online gallery.
(KUBE Architecture, USA).
Light and Shape & Life and Death in Kyoto, Japan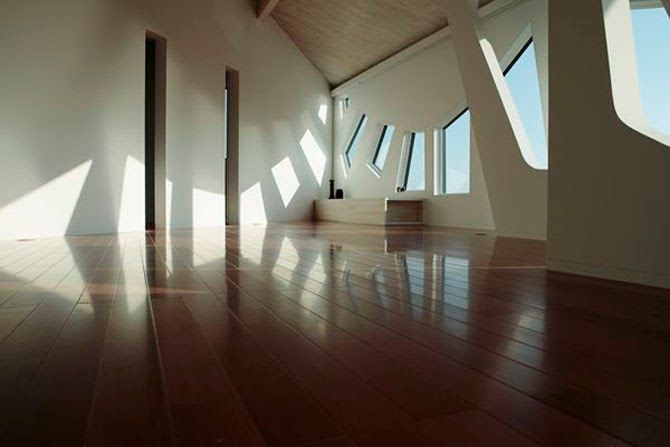 Eastern architectural company was presented with an odd yet honorable request by one of their clients – "Make me a house that I'll be happy to grow old and die in". By this, he meant the obvious, make it comfortable, but he also specifically desired to see the sun rise each morning (a beautiful, new beginning each day) and not the sunset (an ending, or analogy of death). The elderly man also desired a view of the nearby ocean in every position he would assume: standing, sitting, laying down, ect. Eastern accepted these tasks, and successfully completed a home that faces the west with a truly unique wall design seen from miles away. On the home's west-facing wall are a set of peculiar windows, rhythmically climbing and descending over the length of its surface, odd shapes. The flow of the windows mimic the movement of a wave, but each individual glass-covered outlet offers a different viewpoint of the Pacific Ocean. Different images show the beauty of the shapes and light of each day's sunrise create together within the sleek, modern home.
(Eastern Design, Japan).
Brick, Stone, and Wood in Fine-Dining Restaurant
The back-lighting is the essential key to this wall's dramatic appearance. The texture of the brick and its thick grout are highlighted by the wall's light treatment, demanding to be noticed and admired. Yet somehow, the hard materials of stone and brick, wood and iron, do not give the design an overwhelmingly cold exterior, but a handsome one. Frosted glass windows at either end of the long, built-in wooden bar let in a natural, white light which softens the edginess of the wall treatment. High-gloss stained slats of wood suspend above the wall – a fluctuating art installment of viewing interest – and gorgeous, mosaic tile floors add to Insight, LLC's accomplished arrangement. More beautiful, modern projects by this firm found here.
(Insight, LLC, Russia).
Cozy Yet Modern Residence in Ontario
In a quaint neighborhood in Toronto, Canada, a contemporary spectacle sits on a manicured lawn. It's front living room exhibits an exquisite wall feature accommodating both purpose and appeal. Storage space is hidden behind sleek, crisp white panels, above them a professional light strip highlights the crown of the wood ceiling, and below them a fireplace and embedded sound system give promise for entertainment. Clean, charcoal slate covers the floor, adding to the wall design's suave composure. Another wall features equally brilliant design with cupboard installments and a series of interactive (easily open or close, depending on weather) windows. See other fantastic wall design from Altius Architecture, Inc at their online gallery.
(Altius Architecture, Inc., Canada).
Living Wall Breathes Life into Restaurant
Living walls are a growing trend within the world of interior design, and for obvious reasons – they add color and texture, and act as a conversation piece. It's the trifecta! Italian designer, Matteo Thun knew all of the positive attributes of a living wall before drawing up a design plan for a restaurant in Ascona, Italy. The space called for an integrity to nature; to bring patrons to a place of food, drink, and conversation that honored the natural beauty of the outdoors. The wall treatment covers the entire accent wall with deep greens, bright greens, and pale greens, all of varying textures and visual interest. Other projects, both residential and commercial, can be viewed here.
(Matteo Thun & Partners, Italy).
Exposed Stone in Luxury Bathroom
This absolutely stunning bathroom is based on the motif of stone – its ability to be transformative, from rough and craggy to smooth and cool, stone takes on many forms. Husband and wife duo tackled the room with the goal of creating a totally unique and luxurious space. They executed this task successfully by installing varying wall treatments, showcasing the nature of stone as well as transforming the ordinary bathroom into a bright, spa-like getaway. Working on a mainly grayscale color scheme (white pebbles at the foot of the tub; gray beaded wall panels; touches of black iron), the room seems cavernous and exotic. Large, curving pillars of multi-tonal rock stand, poised, at perpendicular corners, acting more as an intriguing wall installment than an actual frame. The space is enchanting and employs incredible wall aesthetics. Get lost in more photos of this dazzling bathroom here.
(Philippe and Catherine Shutov, Russia).