Swim noodles are not just for playing in the pool anymore. DIY projects, arts and crafts, kids toys, and much more can be created using these long, colorful, cylindrical shaped pieces of foam. Swim noodles are unique in that they float on top of the water, can be cut down in size, come in a variety of colors, and are made of soft, cushioned foam. An excellent advantage to using swim noodles in your projects is they are highly durable and inexpensive.
In today's society, everyone is looking to save a buck with DIY projects they found online, heard about from a friend, or came up with using their own imagination. Swim noodles are the latest craze in DIY projects. From floating contraptions that can be used while in the pool to fun Star Wars-like sabers to play with outside, obstacle courses for hours of outdoor fun to fun and wacky outdoor décor, swim noodles can be used in a vast array of home projects.
Best of all, these are projects you can do alone, as a family, or with the kids.
Swim Noodle Lightsaber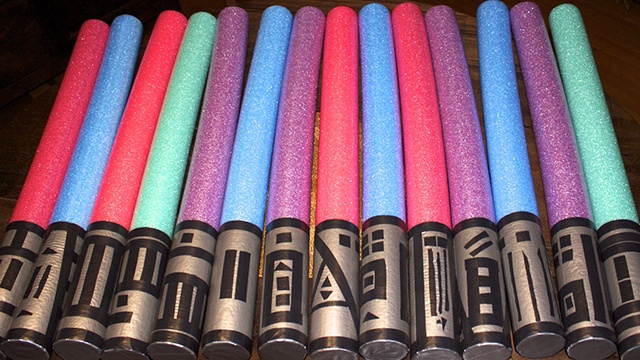 With the latest Star Wars movie coming out not too long ago, as well as a lifelong love of everything Star Wars, light sabers are a popular toy with kids today. However, buying toys can get expensive, especially when little children change their mind and like a different game, movie, or character every week. Not to mention you can't take many of them in the swimming pool or they will be ruined.
All you need to create a swim noodle light saber is a swim noodle, a sharp knife, and some tape. Cut your swim noodle to the desired length, cover the end with silver duct tape to create a handle, and place a few small strips of electrical tape over the duct tape for added decoration. Your kids, and maybe even grow ups, can enjoy hours of fun enacting battles both in the pool and out. And you can rest easy knowing they are playing with a safer, softer toy.
Swim Noodle Obstacle Courses
The kids are out of school for the summer, now what do you do? You want to keep them outside and active, but after a week or so, they are bored and whining to go inside and play those dreaded video games. How do you keep them engaged in an outdoor activity without spending hundreds or thousands of dollars? Build a swim noodle obstacle course! Even for parents that are not very crafty or good with tools can make this simple but fun outdoor activity set. The only materials you need are about 40 swim noodles, 3 rolls of duct tape, some yard stakes (less than 20), and soccer balls.
Create a tunnel crawling course by pushing a yard stake into the ground, placing a swim noodle over it (through the hole in the center of the swim noodle), ending the swim noodle to form a semi-circle, then pushing another yard stake into the ground and placing the other end of the swim noodle over it. Make several of these and voila! Your tunnel crawl course is complete.
An obstacle course is composed of several obstacles, so next you will create a ball toss obstacle. Create six swim noodle rings by bending the swim noodle into a circle and taping the two ends together. Push a yard stake into the ground and place a swim noodle over it. Tape a swim ring towards the top of the side of the upright pool noodle, then another underneath it. Tape two more swim noodles to the other two so you have two rows of two rings, then create a third row with two more. Place another yard stake push a swim noodle over it, then tape the last row of swim noodle rings to the upright swim noodle. If it is windy out, you may need to push sticks or poles through the upright swim noodles to help them stand up straight.
Agility Course
An obstacle course is not complete without an agility course. Create 10 swim noodle rings and lay the on the ground, two in a row. Place a swim noodle at each end. The goal here is to hop, jump, or bounce from one ring to the next without moving them.
Ring Toss
The last obstacle to overcome is the ring toss. This one is the easiest for you to put together. Place a yard stake in the ground and cover it with a swim noodle (if it's windy you may need to place a stick or pole in it to stabilize the swim noodle). Create several swim noodle rings and your kids can toss the rings, trying to get them on the pole.
Soccer
This is where the soccer ball comes in to play. Place several yard stakes in the ground in different places, and place swim noodles over them. You can cut the swim noodles in half for this project. Now, have your kids dribble the soccer ball in and around the swim noodle soccer obstacle course.
Floating Cooler
On a hot day, you just don't want to get out of the pool, walk across the deck or yard, and trek water or grass all over the kitchen floor to get a drink. You can place a cooler in the yard, but you still have to get out of the pool for that. The amazing swim noodle solution? A floating cooler for the pool! All you need for this refreshing project is one or two swim noodles, a rope, and a plastic tub.
Cut your swim noodle into four pieces (you may need to cut into a second one depending on the size of your tub). Run the puece of rope through all four pieces and position them around the outside of your tub. Tie the rope and place in the water. The bottom of the tub will stay under water and the top will float so water doesn't get in it. Fill with some ice and the refreshing beverage of your choice.
Ball Pits
Little ones love ball pits. But, ball pits can be expensive and replacing the balls even more so. You can take your child to an amusement place for kids, but you can't do that everyday, and its difficult to know if they are clean and sanitary. The perfect swim noodle solution is to create your own swim noodle ball pit! All you need is a cheap, small blow up pool and a few swim noodles. Using a sharp knife, cut your swim noodles into about 2-inch pieces. Blow up your pool, throw the swim noodle pieces in and there you go. Your little one will have their very own ball pit in your back yard. You can even move this activity into the house on rainy days or during the winter.
Palm Trees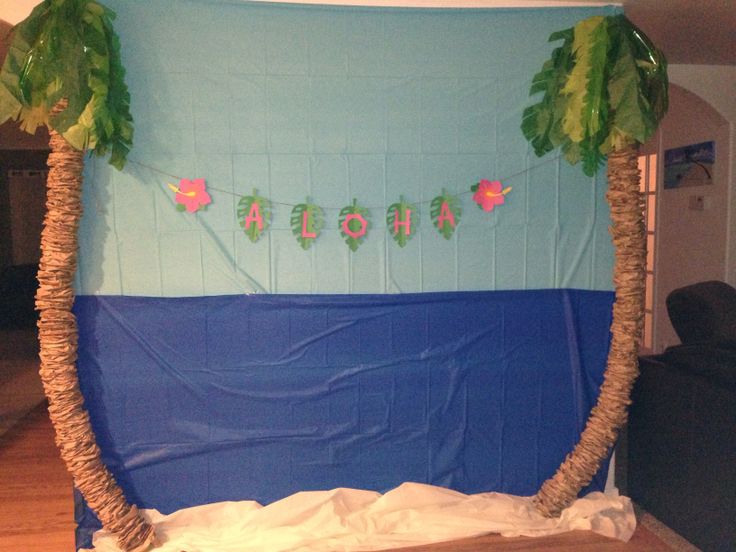 In need of some funky looking palm trees for the school play? Don't scour every store and the internet looking for the perfect palm trees, make swim noodle palm trees yourself! Tape two swim noodles together, end to end to create the perfect length. You can cut these to size if you need to. Cover the swim noodles with paper bags, spray paint them brown, add some green tissue paper leaves and your palm tree is complete!
Wreath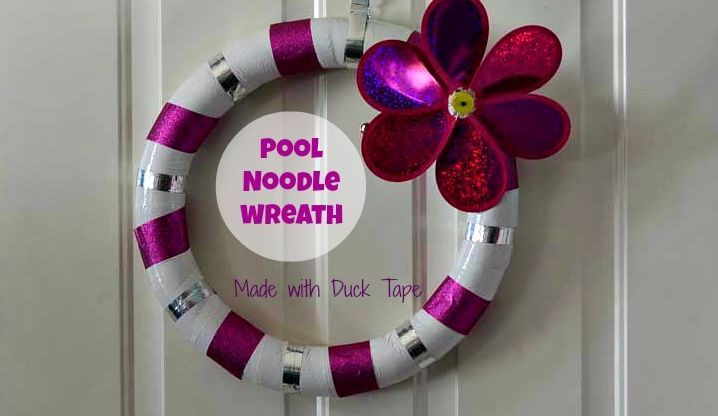 Crafty women are always looking for a way to create a unique, amazing wreath for the front door that stands out. You can easily create an amazing swim noodle wreath that all your guests and neighbors will love. Create a swim noodle ring by bending a swim noodle into a circle and taping it together. Wrap ribbon, fabric, or any other material you prefer to use, around the entire swim noodle. Place a few small artificial flowers or decorations onto the wreath with glue and your wreath is complete. No one will even know your wreath is made out of a swim noodle.