A reading chair is designed to be a comfy, cozy chair that you can sit in, move around in, and lose yourself in a good book.  It's a place where you can curl up with a warm, soft blanket on a cold winter's day with a cup of hot cocoa and a good book.  While they sound easy enough, a good reading chair is hard to find.  There isn't only one specific type of chair that is deemed a reading chair, therefore you're going to get tons of variety.
In fact, almost any type of chair can be made into a reading chair. Recliners, club chairs, rocking chairs, barrel chairs, accent chairs, swivel chairs, lounge chairs, even office chairs can ultimately  become your favorite reading chair.  Since everyone has different tastes and comfort zones, everyone's chair type will be their own.  However, we decided to narrow down the types to ones we felt were most comfy.
Here are 10 reading chair styles we thought were particularly interesting:
Atlasphere Remake
This chair reminds me of the of peaceful, cozy version of the Atlasphere from the American Gladiators television show. I know, that doesn't sound comfortable. This wooden, rounded spherical chair is stuffed with soft, plush, cozy cushions and pillows.  As far a room to put it in, your bedroom or office would probably be the best fit.
Traditional with Aqua
Personally, I prefer a reading chair I can lean back or curl up in a ball in. However, I understand others have different needs and likes. Maybe it's the color that caught my eye with this chair. I can picture this reading chair in the corner of a living room with teal and white long, flowing sheer curtains. Maybe a dark espresso or even black small round side table with a reading lamp on it. This large wing back chair in teal has arm rests, a high back, and would make an awesome focal point in any room.
Built into the bookcase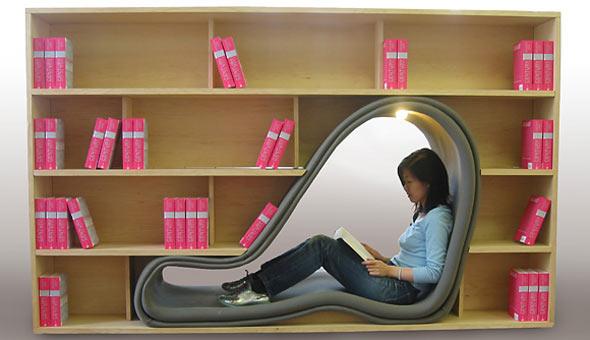 Can you imagine walking into your office, library or bedroom in your house and seeing a chair built right into your bookcase? Picture it, an entire wall lined with shelves full of books. Can you see it? Now, in the center, picture a person shaped bubble to sit in, relax, and read your favorite book. The best part is, there is even a small reading lamp built in above your head.
Reading room hanging chair
This reading chair's shape kind of reminds me of an oversized Hershey's kiss. It is suspended from the ceiling and looks to be only a few inches off the floor.  A teardrop shape, this basket weave chair hangs from the ceiling and you can stuff it full of plush, cushioned pillows and maybe a throw blanket.  The issue is going to be finding the right room to put it in.
The body bed chair
This unique reading chair is perfect for those that like to read in bed but don't want to spend the entire day in bed or mess up an already made bed. Soft and plush like a bed, supporting you in all the right places to help you hold your relaxing position, this chair is amazing. The only worry I would have is it may be so comfortable that I would fall asleep while reading my book.
Neutral Recliner
This one reminds me of a comfortable version of a dental chair, but without the dentist and all that stainless steel. It almost looks like you are sitting on air. This chair is lets you lay back and recline your legs out, tuck them under, or bend one knee. It offers comfort, a relaxing position, as well as support for your back.
Round Reading Chairs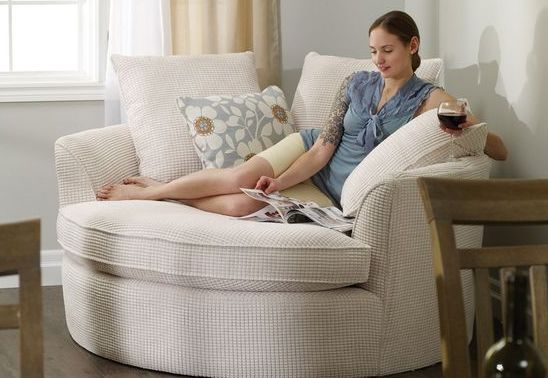 Round chairs are awesome, period.  They fit perfectly in corners, they are oversized, roomy, and so comfortable if you get the right one. This reading chair is round and has lots of cushioned softness. The soft, light colored pattern with compliment any living room or bedroom décor. You can sit up, lounge back, put your feet up or curl in a ball while you read. A nice soft, plush throw blanket, a good book, and a glass of wine on a cool fall night would be the ultimate bliss.
The Bubble Chair
The bubble adds a modern twist to the reading chair. Love the sound of rain hitting the roof? Would you love to read outside in the rain or even as snow is gently falling to the ground, without the fear of getting wet? Or maybe you have allergies or don't want to get bit by mosquitoes and other bugs, but you love reading outside. This reading chair is a modern design that is re-inventing the way we read.
Hammock Style
The hammock has long been a favorite of many to relax and enjoy the peace and quiet on a hot summer's day. How many times have you fallen asleep in the hammock outside while reading a book?  This hammock is an updated version of the older rope ones and is a stand alone that doesn't need to be tied to trees.
Window Chair
This is not a reading chair in the technical sense of the word. It is more of a window reading nook. You would lay some plush cushions, pillows, or blankets down, prop some pillows up against the wall, and lean back. Natural lighting is the best form of reading light. Throw some pretty, dark, heavy curtains up in front of the nook and this can be your little secret hideaway where you can escape the craziness of your everyday life and get lost in your favorite book. Or, cuddle with your loved one while you read a book or magazine together.