Microwave ovens used to be seen as novel kitchen accessories, but these days they're practically a necessity. When it comes to quickly preparing meals, heating up water, and making popcorn it's hard to beat microwaves. Sure, you could use an oven or stove to accomplish the same tasks, but why forgo the convenience? Having a good quality microwave on hand will pay for itself over time and make you glad to have made the investment. Here are five top rated microwaves that cost less than $200.
Farberware Classic 1000W Microwave – $99.99
Farberware makes several microwaves, all with their own advantages. One of the most popular is the Classic 1000W Microwave, which combines great styling with excellent functions and an affordable price. You can either get it in a bold red color with black accents or stainless steel with black — both color combinations will look fabulous in just about any kitchen.
The model has 1,000 watts of power and ten power levels so you can adjust the temperature and heat level from 10% all the way up to 100%. It also has express cooing options for convenience, and a mechanism where you can add 30 more seconds to the cooking time just with one press of a button. Defrosting is possible by weight or time with this microwave, and it has memory functions to store your most used custom settings. Along with its sturdy glass turntable and keypad lock, there's not much else once could ask for with this Farberware model.
Daewoo Retro Microwave in Mint Green – $109.99
Microwaves weren't always sleek boxes, they use to have very distinctive profiles. If you have a vintage style kitchen, prefer Smeg appliances, or you simply love the old school look, Daewoo's Retro Microwave is well worth getting. The main draw to this model is its looks, which are trendy, stylish, and made for putting on display. This isn't the microwave that you shove into a corner, it's like a piece of kitchen decor in and of itself.
Aside from its mint green color, gorgeous styling, and stainless steel accents, this Daewoo model actually works well. It has a Concave Reflex System and two way defrost mechanism, so finding the proper temperature to thaw your meats and other foods won't be a problem. The standby function is a neat addition, as is the four setting auto cook menu. This allows you to simply press a button and the microwave will do it's thing, meaning you don't have to worry about setting the right temperature or length of time to get a good result. The microwave has a maximum power level of 700 watts and comes with a glass turntable.
Panasonic Countertop Microwave with Inverter Technology – $119.99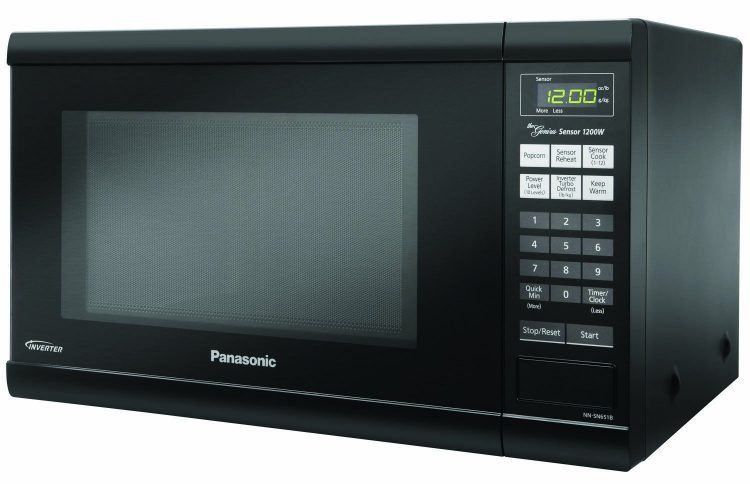 Fans of all black microwaves who also want one that performs well should consider the Panasonic NN-SN651BAZ. It features inverter technology, which not only defrosts food in a significantly shorter amount of time than other models but also ensures even cooking. If you've ever tried to reheat a dish such as chicken in the microwave and found that it dried out, then you'll understand how nice a feature this is — with inverter technology, dried out food isn't as big a worry.
This Panasonic model also has 1,200 watts of power, one-touch sensor cooking, a delay start feature that enables you to precisely time the cooking, and a keep warm feature. The latter is a genius and handy setting that keeps food warm inside of the microwave without cooking it any further. It's sort of like having a buffet warmer inside of the microwave, and would be excellent for keeping food at just the right temperature until it's time to eat. The turntable included with the microwave is 13.5 inches in diameter and made of high quality glass. It's also safe to put in the dishwasher for cleaning, making it even more convenient.
LG TrueCook Plus Microwave – $149
LG makes excellent microwaves that are high tech and dependable. One of the most highly rated from the brand is the LG LCRT2010ST, which features TrueCook Plus technology. This particular feature does all of the time and temperature calculations for you to ensure that food is perfectly cooked each and every time. If you're someone who's not an adept cook or you hate spending time in the kitchen, this is the microwave to get.
It also has sensor technology that automatically adjusts cooking times according to the humidity level inside of the microwave. Being round on the inside without any hard edges not only allows for a greater variety of foods to be put into it, but it makes the LG LCRT2010ST much easier to clean that other models. Another standout feature is the child lockout setting, which any parent will find invaluable.
The turntable that comes with this microwave is 16 inches in diameter, which is generous and sized to fit just about any type of food that you can imagine. Aside from it's great performance, this LG model looks nice and has a stainless steel and black color palette.
Cuisinart Stainless Steel Microwave – $152.99
This Cuisinart model not only looks wonderful sitting out on the counter, it's feature packed and built to last many years. The stainless steel microwave oven takes up just one cubic foot of space and has 1,000 watts of power. This model also has a touchpad and LCD display with a total of ten different power levels, which ensures everything you put inside it will be cooked to the right temperature. It also has 25 pre-programmed settings including eight that have predetermined serving size options.
Two defrost functions are especially convenient and make this microwave a true multi-tasker. The 12 inch turntable that comes with the Cuisinart CMW-100 is large enough to handle just about any size plate or dish and it's made of highly durable glass. Another accessory included with this microwave is its recipe booklet, which contains instructions on how to make a surprising number of meals and desserts.