When your dryer breaks down for good, you need to purchase a new one quickly. Without a dryer, doing your laundry can be difficult. If it is nice outside, you can dry your clothes on a clothesline, however, it can be very time-consuming and your clothes won't be soft when they are dry. If it is cold outside or raining, you would need to hang your clothes up around the house. This can be messy and inconvenient. The sooner you buy a new dryer, the better. If you are in the market for a new dryer and you are looking to buy a high-end model that costs over $500, there are a few excellent models to choose from.
Speed Queen ADE3SRGS 27 Inch Electric Dryer
This dryer has 7.0 cubic feet of space inside. It has a steel drum and was made for residential use. This dryer in a front loader. One of its best features is the sensor dry mode. If you have a full dryer, the dryer use the maximum temperature. If you have just a few things, the dryer will use the lowest temperature. This is a great energy saver. If you don't want to use this setting, you can use the timed drying mode or the permanent press cycle.
If you need your door on the opposite side to make switching your laundry from the washer to the dryer, it is very simple to remove the door and install it on the other side. This dryer is very quiet, it is actually quieter than most brands on the market today. One thing that this model doesn't have is an end of cycle signal. Some customers appreciate this, while some people miss it. The lint trap on this model isn't like most, where it pulls up from the top. It is right inside at the bottom, and it is easy to clean.
GE GTD65EBSJWS 27 Inch Energy Star Electric Dryer
This is a great dryer with lots of room. It is 7.4 cubic feet inside, which is larger than most of the standard dryers on the market. It has an aluminized alloy drum, for longer use. This model has 4 dry cycles and 4 heat selections. This makes it possible to dry your clothes and save energy. It also has a wrinkle care cycle so that you can avoid ironing after your clothes are dry. Also, the auto dry options help to save energy.
This model has an end of cycle alert, so that you know when it is time to switch your laundry. The sound is not too loud, which many people don't like. It is also not too soft so that you can easily hear the signal when it is time. This dryer only comes in white, therefore, if you have a black or stainless steel washing machine, this dryer won't match.
Frigidaire FARE1011MW Affinity Electric Dryer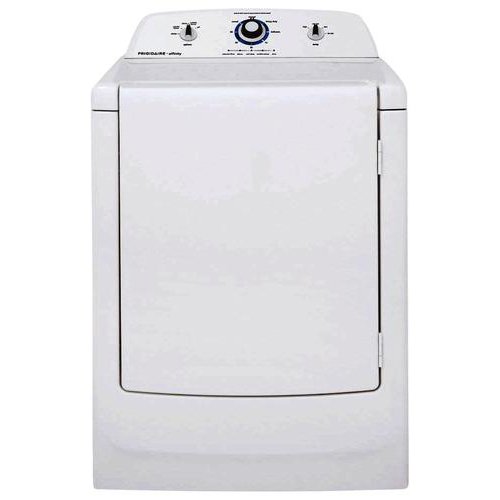 This front loading dryer is one of the best on the market. Just the brand name, Frigidaire, tells you that this is a high-quality dryer. It has 7.0 cubic feet of space for drying, which can fit very large loads. This dryer makes doing laundry very convenient, as it has TimeWise technology. This means that you can set it up so that the washer and dryer have the same cycle times. If you want to prevent wrinkles by tumble drying without heat, you can use the One-Touch Wrinkle Release setting.
This model also has an Express-Select control knob, which makes choosing setting very simple. If you are looking for one of the best dryers on the market today and have the money to spend, you should consider purchasing this model.
Electrolux EIMGD55IIW Front Load Dryer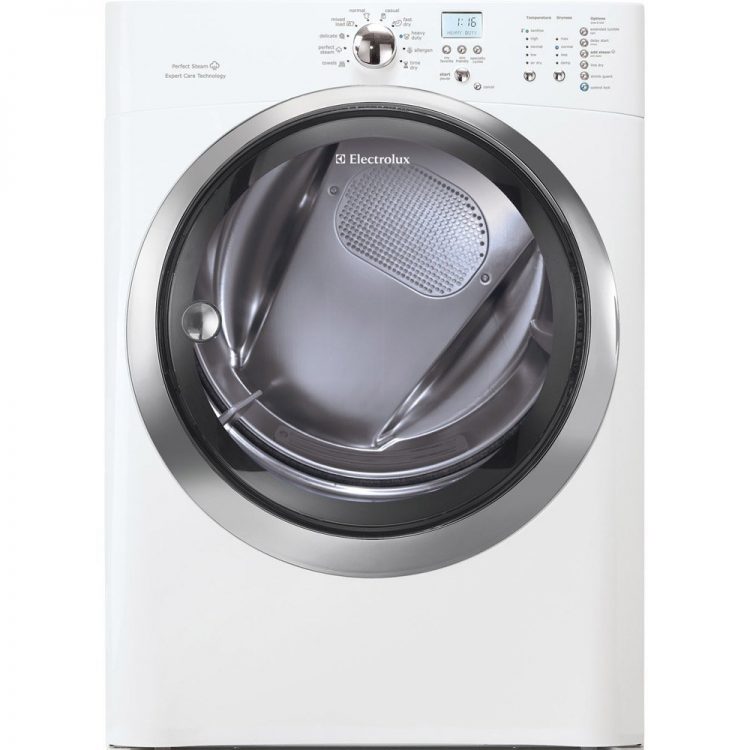 This front loading dryer has 8 cubic feet of space inside, making it possible to dry large loads of laundry when necessary. It has 11 drying cycles and 7 specialty cycles, making it possible to dry even the most delicate items. If you want to steam dry your clothes to prevent shrinking this model allow you to do it. It has a moisture sensor, so that it will know if your clothes are dry or if they are still wet. If the sensor says that the clothes are still wet, the dryer will continue drying until they are done.
This can be a huge time saver is you have put the clothes in the dryer before going out. One of the best features of this model is the "press to open" door. If your arms are full of clothes and you cannot open the door, you can simply press the button with your elbow and the door will automatically open. One of the biggest selling points of this model is that it can dry a load of laundry in just 14 minutes. With this model, drying your clothes has never been more convenient.
This dryer has 7.4 cubic feet of space, making it possible to dry large loads. It has 10 drying cycles, which make it possible to dry just about anything. It has an anti-bacterial setting, making it possible to sanitize items that are not supposed to be dried. It also has a steam setting, which will dry your clothes without causing them to wrinkle. If you don't like the alert when the dryer's cycle has finished, you can turn it off.
If you do like the sound, the alert, and the sound when you press the buttons, you won't hear a loud buzz. The technology creates a musical tone which is more soothing than intrusive. This model allows you to download your cycle so that the system saves your most current dryer options. It also has a speed dry cycle, allowing to dry your clothes in very little time. Its graphite steel appearance makes it a top seller for people who don't have a dedicated laundry room.
Final Thoughts
Gone are the days where you had to wait an hour or more for your clothes to dry. With the current technology in dryers, you can dry a full load in under 30 minutes. With some models, it will be in under 15 minutes. If you are in the market for a new dryer, you should be willing to spend. With the current technology out there today you can dry your clothes safely and easily. In some cases, you will no longer need to hang your delicates to dry if you purchased a model with a steam clean feature.