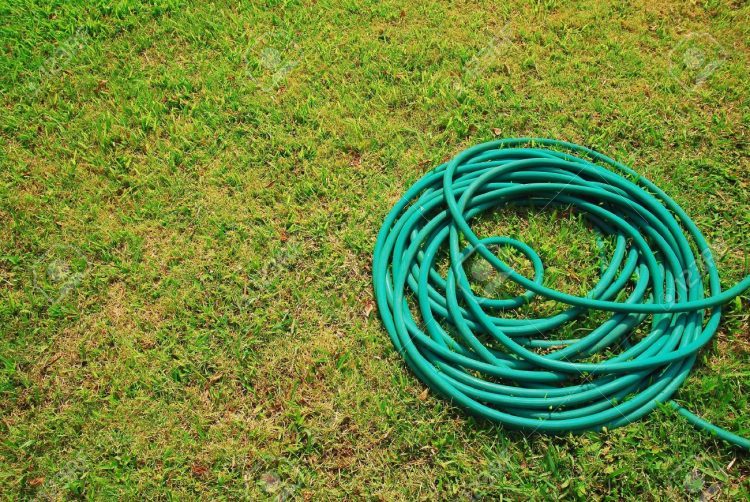 When it's time to roll out the hoses for spring watering, you want to know that you can depend on them to be in good condition and ready to use. There is little more frustrating that finding that your hoses didn't fare well over the previous year. The solutio is to purchase high quality hoses in the beginning. This will reduce the need for replacement and save you time, frustration and money in the long run. We've selected five hoses that you'll only need to buy once for your consideration.
150′ Expanding Hose Titan Expandable Garden Hose Solid Brass Connectors Double Layer Latex Core Extra Strength Fabric 3/4 USA Standard Expandable Flexible Water Hose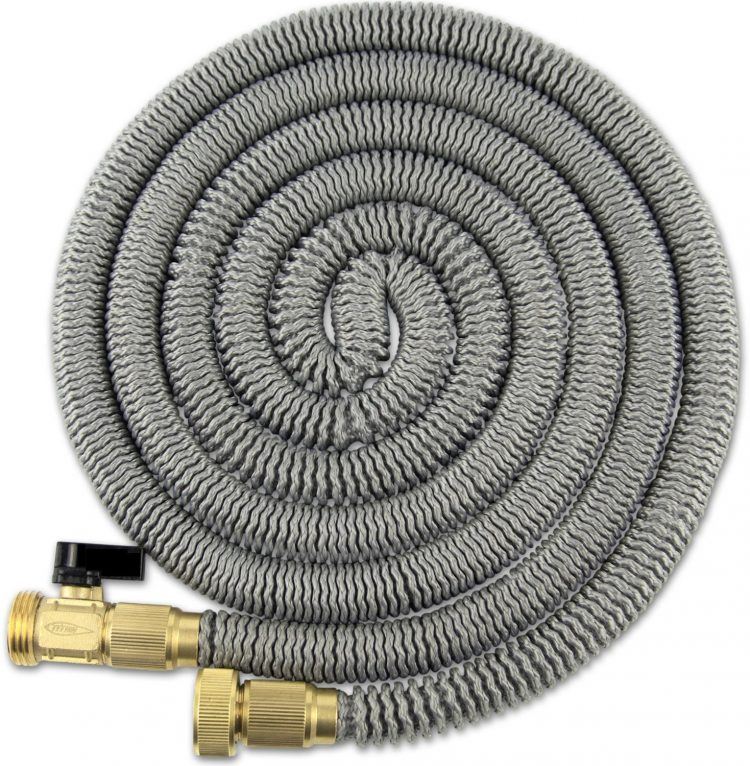 The 2016 Snake edition offers high performance with durability and 150 feet of hose length. Lightweight and flexible for ease of use and strenth to hold up under continual heavy use. Heavy duty brass fittings and couplings are easy to attach and detach. Highly resistant to kinking and tangling for ease of use.
People who purchased and used this product give it an overall rating of 4.8 out of a possible 5 stars. The most useful features highlighted include fast rollout with no kinking, easy inflation and deflation with additional length to reduce the number of hoses needed for watering larger areas. It is light in weight and when not in use, coils itself back for additional convenience.
Craftsman Premium Rubber Garden Hose, 50FT. x 5/8. inch
This hose is made with premium rubber materials which are highly resistant to kinking and twisting. Easy to unwind for use and easy to coil for minimal storage space requirements. Very light weight and easy to manage for needs of up to 50 feet. May be expanded with the addition of extra hose lengths.
This hose is given a rating of 4.5 out of a possible 5 stars which is well above average. It gets high marks for being ultra durable and easy to use. No kinking and easy to uncoil with dependability and resistance to wear. Highly recommended by people who have purchased and used as a quality and reliable 50 ft. hose.
Best Expandable garden water hose 50 ft lightweight & heavy duty 100% leak free by Treeco with Premium Metal Nozzle and reel Flexible collapsible with USA Standard
Leak and burst proof fifty foot hose with a collapsible design for easy storage. Takes up only a small space to store. Made with premium latex inner tubing for ultimate flexibility. The nozzle is made of zinc alloy which is highly resistant tust and corrosion for extended life. Built for durability and longevity. Superior durable plastic connectors for precise regulation of water flow and leak proofing. The attached metal sprayer is crafted of high quality metal with an 8 way spray design. This allows for eight water settings and increased water efficiency. Ultra lightweight and highly resistant to tangles, kinks and twists.
Users give this hose an overall rating of 4.5 out of a possible 5 stars. The hose collapses easily when not in use and is very light and easy to handle. It is durable, dependable and holds up under heavy use. The sprayer with multiple stream settings is also a great additional feature that comes in handy for various watering and cleaning needs. Overall, a great product that comes highly recommended.
TruTec 75 Foot, Double Layer Latex Core, Solid Brass Fitting Nylon Fabric, Spray Nozzle Stainless Steel Holder, Expanding Garden Hose – Green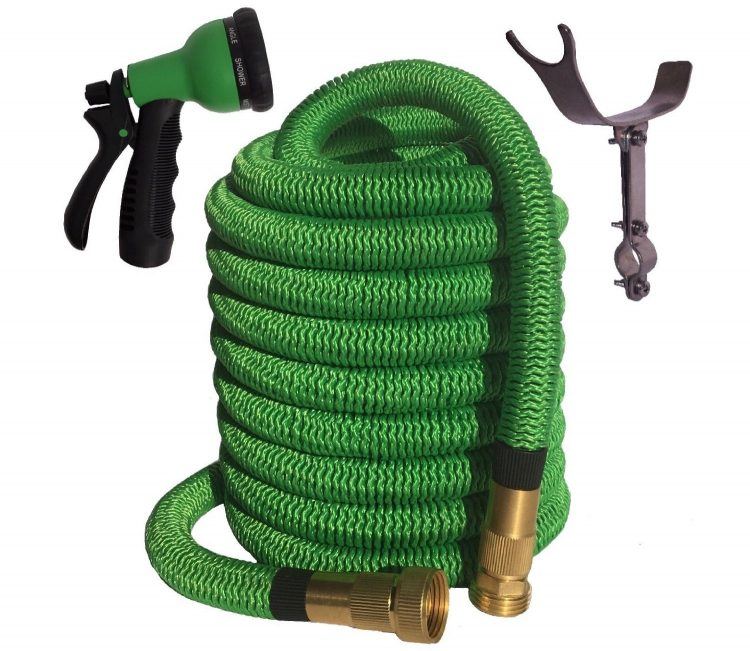 Seventy five feet of expandable durable and lightweight hose. Crafter with double layer latex at the core for a high degree of resistance to bursting or splitting. Hose holder is made of stainless steed with solid construction and longevity. The holder is designed to cradle the spray nozzle for additional user convenience. This hose is designed for accommodating all spigot angles for added versatility. Premium quality fittings made of solid brass with corrosion resistant materials guarantee that this hose will never rust or leak.
Users give this remarkable hose a 4.9 out of a possible 5 stars because of its high quality and reliability. It holds up amazingly under constant and heavy use. You can depend on it being ready to go when you are. Light weight and easy to manage. It delivers continuous high quality service with no kinking or twisting. The fittings don't leak or drip when connected properly and it's easy to connect this hose to spigots which are in tight or unusual places. Highly recommended as one of the top hoses on the market today.
100′ Expanding Hose Titan Expandable Garden Hose Solid Brass Connectors Double Layer Latex Core Extra Strength Fabric 3/4 USA Standard Expandable Hose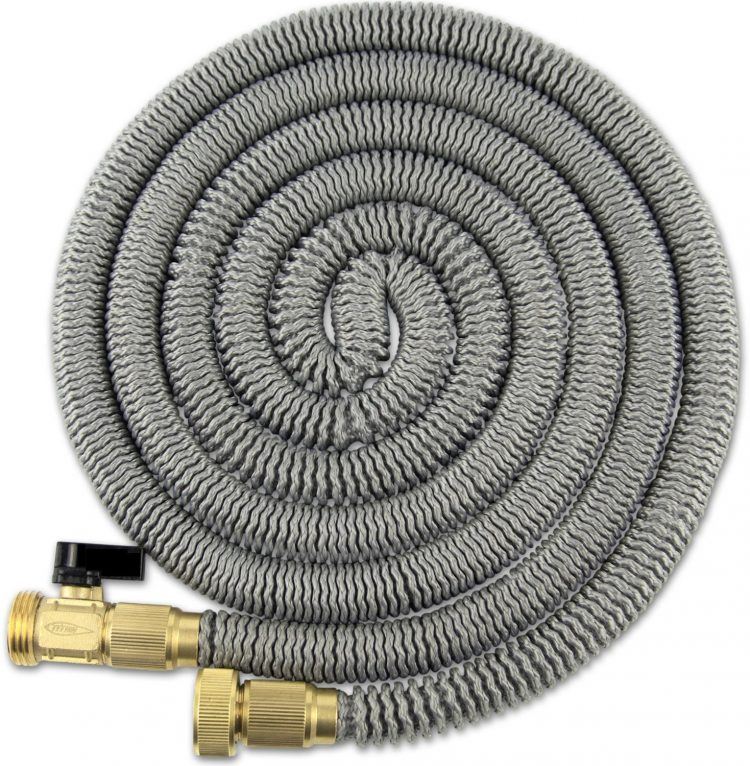 Titan's one hundred foot hose designed for the ultimate in performance and user convenience. Ideal for everyday use with super light weight ease of use. Highly resistant to tangling, twisting or kinking. Designed for longevity because of the cast brass couplings which are easy to attach and take off. Leak resistant and crush proof with a high degree ov water efficiency.
People who purchased and used this hose give it an overall rating of 4.6 out of a possible five stars. It is easily one of the best hoses on the market today. It is very easy to use because ofits light weight construction and the anti kinking design that prevents twisting and turning. The dependability level is very high because it is very well made from high quality materials. Highly recommended from satisfied customers.
Conclusion
These are the top five hoses that will give you the best in performance and reliability. Each is constructed with top quality materials which give them super long life and resistance to leaking and corrosion. Purchasing the best possible quality in hoses is a wise investment if you value products that will hold up well over time and heavy use.