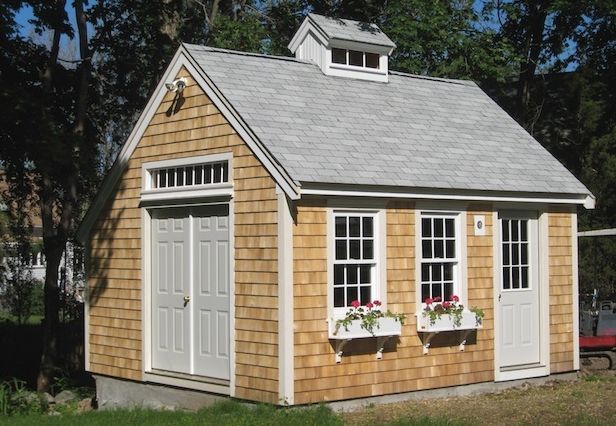 Outdoor storage sheds are extremely helpful. Some things aren't safe to store in your garage. Others you're simply better off having them in the place you use them instead of lugging everything into the backyard each and every time. For example, if you have a townhouse it might be helpful to have a lawnmower out back instead of dragging the one in the garage all the way around the block each and every time you need to mow the yard.
It's tough to find an excellent outdoor storage solution that looks good and holds up to the elements. To make that process a bit easier, we've identified the top five brands for outdoor storage sheds. We've included the name, website, and some information about each. Don't search high and low on the internet for outdoor storage sheds. We're here to help you find the best one for you without the pain of scouring the web.
Whether you're looking for something that looks nice, functions well, or both you'll find a solution that meets your needs from the companies below.
1. Rubbermaid
The Rubbermaid brand has been around a long time, nearly 80 years. This brand can be found just about everywhere in your home. Their original products were simple and straightforward storage solutions. Now they've expanded into more markets bringing their high-quality design skills and introducing some of the best products out there. They produce "Roughneck" sheds, vertical sheds, "Big Max" sheds, horizontal sheds, and deck storage boxes.
Each of the five product series has its advantages and disadvantages. The deck storage boxes are the smallest. "Roughneck" sheds look like traditional sheds as does the "Big Max" line. The vertical and horizontal sheds are self-explanatory. You can find out more information by visiting their website.
2. Keter
Keter specializes in all sorts of resin-based furniture and storage solutions. They've won multiple awards internationally for their design and quality. With more than 25 years of experience, they're a reputable company that produces great products. Keter offers both sheds and outdoor storage boxes. Their sheds are organized primarily by dimensions in feet with a few exceptions. They have the Fusion, High Store, Oakland, and Store-It-Out series. Check out their website for additional details on each product line. If you're looking for a particular size, you're likely to find it available from Keter.
3. Suncast
Like Keter, Suncast specializes in storage solutions. They have a wide variety of different product types and size options available including both sheds and deck boxes. Their sheds include horizontal, vertical, and hybrid options as well as classic storage sheds. They also offer five different sizes of deck boxes from cubes to extra large boxes.
Unique to Suncast, there's a set of images on the left option bar that makes choosing your storage solution significantly easier. You can choose what you want to store and where you want to store it. Whether you're storing outdoor furniture or yard equipment, Suncast's website will recommend a storage solution that will best meet your needs. If you're not sure what you want, this is a great place to start.
4. Homestyles
Homestyle's expertise is not outdoor shelving and storage, but they have four beautiful pieces that you might be interested in if they fit your needs. They have a one door storage cabinet, a two-door storage cabinet, a potting shelf, and a deck box in Shorea wood. Naturally resistant to water and durable, this wood is a beautiful choice of material. If you aren't into the look of plastic this company's products are an excellent find.
Looking around the web Homestyles' outdoor storage solutions receive good ratings. Homestyle is consistently rated at higher than four stars. You'll need to carefully measure the space you have to ensure the product will fit since they don't have a lot of different size options. If you have space for one of their four products, and it meets your storage needs, definitely go for it.
5. Lifetime
Lifetime's storage shed solutions are more or less all the same design in different widths and depths. They offer individual sheds between seven foot wide and fifteen foot wide. They also provide an "extension kit" which can connect multiple sheds together forming an even longer shed than the fifteen-foot option. They also offer a variety of different horizontal storage boxes.
Established in 1986, Lifetime consistently works to provide high-quality products to consumers at reasonable costs. They got their start with an adjustable basketball hoop which could be raised and lowered with a broom handle. Now they focus mostly on durable materials including furniture as well as storage solutions.
Suggestions:
Would you like to see the products in person before purchasing? While these websites do sell direct, they also are available at many different retailers. Call or check the website to confirm availability before going to look but most of your large home improvement stores have these sheds and boxes available. At a minimum, they should be able to show you a piece of the product. Ideally, they'll have a couple of units on display. When you call the store, they'll be able to tell you whether or not the brand you want is available for demonstration.
The helpful thing about going with a high-quality and trusted brand is you know whatever you choose will look and perform as expected. If you can't find a demonstration of the shed or storage box, you want it would still be worthwhile to order it online. Depending on the site shipping may be inexpensive or completely free with a minimum order amount. Buying a storage shed, or even a deck box, is likely to exceed whatever minimum purchase amount is required if the company does offer free or reduced shipping for large orders.
Whatever you're storing, these five companies have you covered. Take a look at the links provided and you'll find functional storage solutions as well as beautiful wooden pieces of furniture that will still stand against the elements and protect whatever you need to store. Don't forget to measure the location you want your storage solution at least once. Maybe measure twice just in case. Good luck!