Renters across the U.S. are increasingly diverse. Leasing an apartment or home, once considered a rite of passage for young adults, is now becoming popular among all generations. Many renters choose the no-mortgage lifestyle in favor of mobility and freedom, while others — across age groups and income levels — struggle to save for the 20 percent recommended down payment.
It should come as no surprise that the majority of renters (56 percent) are millennials, but a sizable 28 percent fall within Generation X (ages 35 to 49), while baby boomers (ages 50 to 64) comprise 12 percent of the renter demographic. Consider the following reasons why renting is more common now than in the past 50 years.
Flexibility
Long-term renters, or those who lease for more than a year, are mostly satisfied with their current housing situations, according to the Zillow Group Report on Consumer Housing Trends. Sixty-one percent of renters have a 12-month lease, while just 14 percent opt for a month-to-month agreement. And, 9 percent sign leases longer than one year. As expressed by numerous millennial lessees, the freedom to move wherever career objectives and personal desires point is undoubtedly attractive. Renting provides more flexibility to move quickly or impulsively — breaking a lease may incur a financial penalty, but is still feasible — while listing and selling a mortgaged home on a whim is more complicated.
Beyond the mobility aspect, tenants in hot rental markets like Seattle find that renting allows them to live in prime locations without a hefty buying budget. In fact, most renters prioritize budget, location, safety and pet-friendliness over square footage, outdoor space, garage parking or views. Many renters (48 percent) make single-family leases their first pick, particularly within Southeastern and Midwestern real estate markets. Still, 53 percent of renters in the Midwest gravitate toward small- to medium-sized apartments. On the costly West and East Coasts, renters opt for smaller apartment buildings, shared homes or subsidized properties. In the Southwest, renters prefer large communities with shared amenities.
Future Aspirations
While many renters are content with their apartments, others are simply moving toward homeownership at a leisurely pace. Forty percent of long-term renters hope to purchase a home upon their next move. Although monthly mortgage costs for median-priced homes are often less expensive than median rent prices, renters can avoid large upfront costs like down payments as well as ongoing costs like home maintenance and additional utilities. Plus, long-term leasing provides ample time to search the local market, determine must-haves and capitalize on up-and-coming neighborhoods. Nearly six out of 10 renters consider buying and renting concurrently. More millennial and Generation X renters contemplate buying over renting, at 63 percent and 59 percent, respectively.
Even so, 14 percent of renters nationally can already afford to buy a median-priced home in their respective market based on income level and credit score. The highest proportion of eligible home buyers live in California, with San Jose, San Francisco, San Diego and Los Angeles topping the list. Seattle comes in fifth among cities with the largest percentage of financially-ready renters, with New York, Boston, Washington, D.C., Portland and Denver rounding out the top-10 list.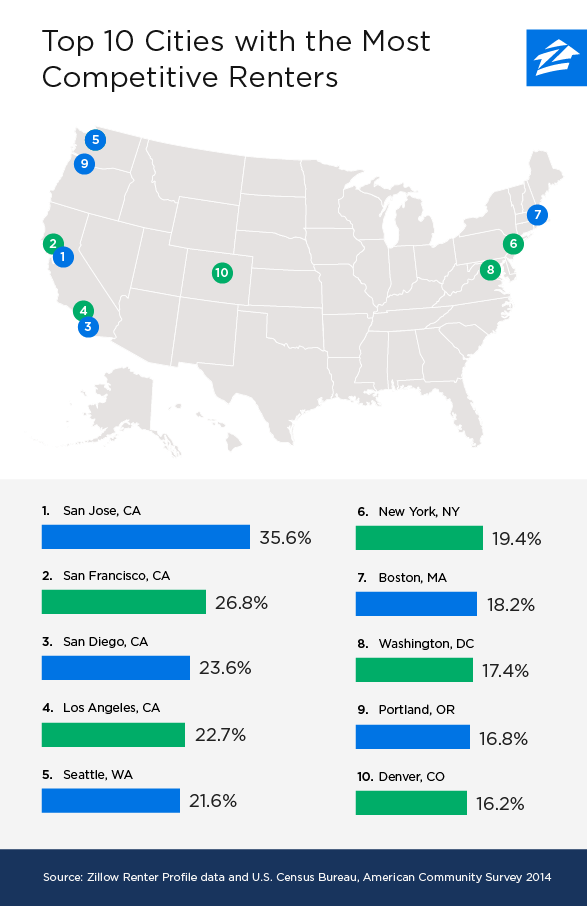 Lack of Affordability
Many would-be buyers are renting reluctantly. Households suffering from diminished credit, student loan debt, medical bills and the lingering financial effects of the Great Recession delay homeownership due to cost — not preference. On average, renters make $37,500 per year, with the majority earning less than $50,000 annually. Meanwhile, home buyers make a median of $87,500 per year, illustrating a large income gap between those who buy and those who lease. When they do decide to buy, 82 percent of current leaseholders co-shop for homes with significant others or roommates. Most renters under the age of 24 (88 percent) search for homes with the intention of splitting the costs, likely for the sake of income limitations.
Although renting might seem like the easier lifestyle option, finding the perfect place is tricky. The average renter spends 10.4 weeks searching for a new home, with individuals earning less than $25,000 annually devoting an average of 12 weeks to their search. Renters with higher incomes ($75,000 and over) find a desired rental in under 10 weeks. Buyers, on the other hand, spend an average of 17 weeks searching.
Like buyers, renters turn to online resources and real estate professionals to facilitate an apartment hunt. Four out of five use web tools, while 62 percent contact landlords and property managers directly. Fifty-nine percent of renters use referrals from friends, relatives or neighbors.
More often, renters see property managers and leasing agents as their primary resource, and the average renter contacts 4.7 property managers. Given a normally tight timeline, the majority of renters expect to hear back within one day. When they don't hear back, 45 percent will contact the rental professional again via phone call.
Whether you're thinking about renting, buying or considering both on your next move, expect your home search to take at least a couple of months; to improve your chances of finding a place quickly, consider shopping for units outside of the regionally trending style.