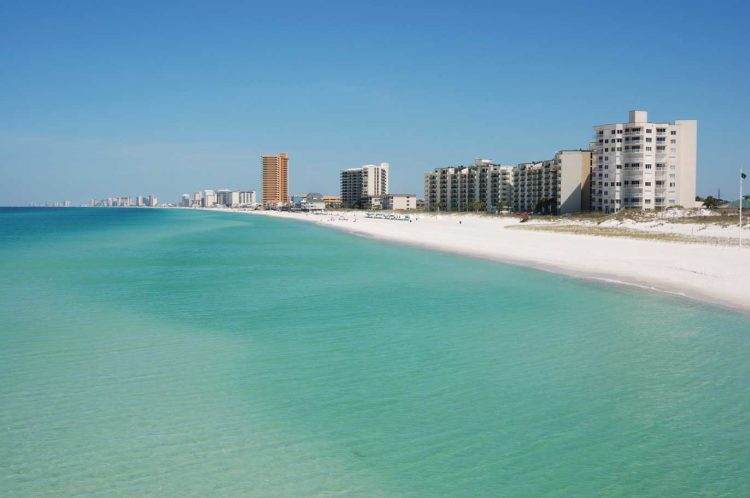 Besides being the biggest Florida city between the cities of Pensacola and Tallahassee, and located on U.S. Route 98, Panama City is also Bay County's county seat. Just like most of Florida, Panama City has beautiful warm tropical weather year-round and the average annual temperature there is a balmy 68.75 degrees with 61.06 inches of average rainfall.
If you don't have a car, that's no problem in Panama City. For local transit, the Baytown Trolley services offer transportation Mondays thru Saturdays from 6:00 a.m. to 7:00 p.m. In addition, Panama City has a Greyhound bus station.
With two military bases in the area, the federal government is, of course, the single largest local employer. The Bay County area is also home to several other major industrial employers, like Trane, Gulf Power, and Rock-Tenn. And, as far as real estate goes, Panama City was named by CNN Business 2.0 magazine as the best city in the country for investing in real estate in 2006.
There's plenty to do and see in Panama City, whether you choose to make it your home or you're just visiting. From fine restaurants to beaches and maritime museums to gorgeous lush parks, Panama City has it all. But, there are probably quite a few things about Panama City that you may have never heard about.
Here are 10 things you need to know about this exciting Florida city:
1. Floriopolis
When the area was first developed, Panama City was called Floriopolis and then later changed to Park Resort, and then Harrison. The major downtown thoroughfare is still referred to as Harrison. Then, along came a big developer by the name of George Mortimer West, whose goal it was to spur the development of real estate in the area. Since the Panama Canal was under construction at the time and was also a very popular subject, he decided to change the name to Panama City, according to "A History of Panama City" at the public library.
At that time, Panama City happened to also be the one developed port on the U.S. mainland that was closest to the Panama Canal's Caribbean entrance. In addition, if you were to draw a straight line that went from Chicago to the capital of Panama, it would intersect Panama City. Much has changed since then, but the name has stuck ever since.
2. New Year's Eve
New Year's Eve has brought as many as 40,000 people to Panama City in recent years. It has actually become a major hot spot for the occasion. Locals started the tradition in 2008 where a gigantic 800 pound lighted beach ball is lowered for the New Year's countdown. It's kind of like Time Square in New York only with a gorgeous beach view and much better weather. The other major difference between New York City and Panama City is that the latter has two countdowns instead of just one.
The first is at 8:00 p.m. and is for families with kids who can't stay up until midnight. It includes music, fireworks, and the ten thousand beach ball drop. The traditional midnight festivities include more fireworks and music, as well as the dropping of the giant lighted ball. And, it all happens in Pier Park, where there's plenty to do while you're waiting for midnight, like excellent restaurants, music on-stage, bars, arcades, and shops.
3. Navy Diving School
Bet you didn't know that the U.S. Navy has its dive school at Panama City Beach. In fact, a number of the major modern diving advances were pioneered there. So, since the Navy throws away a lot of old underwater exploration equipment, a retired divers' group decided to use that unwanted stuff to start the Man in the Sea Museum. The museum features all kinds of nautical items like SeaLab1 and the very first underwater habitat in the world.
It's an excellent place to take your kids since it provides a really hands-on learning experience. The museum has an actual research sub that kids can crawl into. It also features an aquarium where there's a diving helmet that they can put their heads in and take a good look around. And, it's a fun place for adults to visit, too, and even divers love it. So, on your next visit to Panama City, round up the kids and adults and pay a visit to the Man in the Sea Museum. After all, you're never too old to learn something new, especially when it comes to the sea.
4. June and July rule the year
So, what's the best time of year to visit Panama City? Well, that depends on who you ask. Popularity-wise, you might think that it would be Spring. Right? But actually, the two most popular months in Panama City are June and July. School's out, so it's the perfect time for tourists to pile into their car with their floaties, ice chests and bathing suits for spending a family vacation at the beach. But, if you were to ask any local about the best time for visiting, they would most definitely say that Fall is at the top of their list.
Why? The air's not too hot and the water is still plenty comfortable and warm. And, most of all, the crowds of summer are all gone. It's also cheaper because it's considered to be off-season and the prices get lowered in anticipation of winter coming on. So, if yu don't have school-age kids to tie you down to having to vacation only during the summer months, try visiting Panama City in the Fall for a quieter and slightly cooler beach experience.
5. Celebrity Residents
A number of truly notable people have been or are now residents of Panama City. They include O.J. Simpson's ex-girlfriend, Paula Barbieri. You may remember her from some highly publicized domestic violence issues with O.J. a few years ago. Others include musicians like Clint Daniels, who is a country music artist, rapper Young Jeezy, and Dan Peek, a member of the popular rock band America. And, quite a few sports greats have lived in Panama City, including football player Donnie Craft, Chicago Cubs pitcher Jaye Chapman, New York Yankees pitcher David Herndon, and a notable member of the baseball Hall of Fame, Bill Mazeroski.
Political figures who have also lived in Panama City include St. Petersburg's former mayor, Herman Goldner, Texas politician Nathan Macias, and Robert E. "Bob" Barton, a former member of the Louisiana House of Representatives. In addition, Robert Lee McKenzie, who was a real estate developer, entrepreneur, and Panama City's first mayor, once lived there and was also involved in Bob Jones University's early history as a really significant figure.
6. Star Trek trivia
Most people don't know that a well-known Star Trek character was from Panama City. OK, so he's fictional, but it's still notable. Right? His name is Charles "Trip" Tucker III. Of course, he's the third because he's the third generation of the Tucker family to be named Charles. He was a character on the Star Trek: Enterprise television series and, just as Trip is a third generation Tucker, this particular installment of Star Treck was the last generation of the series.
So, according to the show, Trip had been born and raised in Panama City. He also had a sister, but she and seven million other earthlings were murdered by the Xindi in 2153. Bet the Tuckers wish they'd never left the safety and sanity of Panama City and gone into space. Anyway, for all you Trekkies out there, this little tidbit of fictional Panama City history is probably quite interesting. Not a Trekkie? Well then, probably not so much.
7. Pier Park
Pier Park is the perfect place for taking a much-needed break from the sun and the sand. It offers some of the very best in entertainment, fine dining, and great shopping, making it a sensational destination in itself. And, when you're done there, you can head over to Gulf World Marine Park, which is right down the street. At Gulf World Marine Park, you'll have the opportunity of personally getting to know some of the members of Florida's amazing sea life.
You can spend the day making friends with tropical birds, dolphins, sea lions, and all kinds of reptiles, as well as their trainers. Interacting with all of them is truly an experience that you and your family will definitely not want to miss. You can even swim with the dolphins while you're there. So, make sure that you put this action-packed destination on your list of must-see places when you visit Panama City. It's also quite educational if you have kids, so not only will it keep them busy for the day, but they'll learn something to boot. it's a win-win no matter how you look at it.
8. Fine Dining
With the sheer number of excellent dining options available in Panama City, you just might find it difficult to decide where to eat. No matter the time of the day or whether you're looking for breakfast, lunch, dinner or just a snack, there are almost too many options to make a choice. One of the favorites of locals and visitors alike is the Back Porch Seafood and Oyster House. Kids especially love it because they serve kids' meals on a frisbee, which they get to take home with them. And hey, who doesn't love playing frisbee? And, if seafood isn't your dish, then maybe barbecue is.
So, for pulled pork Southern style, juicy steaks, sushi, Mexican food, or even Caribbean jerk cuisine, you'll find it all in Panama City. From sushi to Northern Italian, it's all served in Panama City and always with happy smiles as a side dish. And BTW, you can get some of the best surf and turf to be found anywhere in Panama City, too. Other local faves include Bayou Bill's Crabhouse, Bayou on the Beach Cafe and Oyster Bar, Barefoot Hideaway and Grill, Backyard Burgers, and Angelo's Steak Pit.
9. Night Life
Panama City may not be as well know for its night life as Las Vegas or New York City, but there's definitely no shortage of great places to go at night. The Granite Cafe and Star Bar is one that tops the list of both locals and returning visitors. Anyone who's ever been there finds that the martini bar in historic St. Andrews is at the top of their list of places to return to for unique cocktails, rare beers, and fine wines. And, their appetizers, snacks, and wide range of entrees are to die for, so be sure to check it out.
If you're a lover of sports bars, be sure to give the Time Out Sports Grill a try. They have no less than 19 big screen televisions, as well as the very best burgers anywhere around to go with your ice cold beer. So, stop in to watch some sports and be sure to try the crab cake sandwich. Make sure you don't miss the Spinnaker Beach Club, too. It's massive in size and as hot as can be for fun, food, surf, and boogying on the dance floor. It's right on the beach and features a variety of live bands out on the massive deck under the stars.
10. Shopping
If what you really love to do more than anything is shop until you drop, then Panama City probably has just what you want at one of the many amazing shops there. From big outlet stores to trendy boutiques and everything in-between, you're sure to find it in Panama City. For starters, the Antique Cottage is the perfect place to peruse some fine antiques and collectibles. It really is a quaint cottage filled with English antiques that are truly authentic plus plenty of vintage items and trinkets that are one-of-a-kind. And, Carillon Beach in Panama City is a great place to stroll the open-air mall while only feet away from the beautiful white beach.
Everybody loves shopping there and the boutique shops, as well as Market Street, are both the first choice in shopping destinations for locals and visitors to release their inner shop-a-holic. If world-famous surf shops are your thing, then you'll just love the Salty Dog Surf Shop. It carries a ton of beachy things like sunglasses and brand name surf wear. They also offer a complete line of souveniers and gifts for surf enthusiasts.