Nearly half a million people get to call Myrtle Beach, South Carolina home — and they sure are lucky. Located right on the coast in the sunny subtropical climate of America's southeastern region, Myrtle Beach is a favorite vacation spot for families, newlyweds, singles, and even college students. The area attracts over 14 million tourists each year, and for good reason: the beaches are gorgeous, the attractions are plentiful, and for more than half the year, the weather is nearly perfect for outdoor adventure. Throw in the fact that it's easy and mostly affordable to get there, and you've got an ideal spot for a quick getaway, a week long vacation, and everything in between.
What's more, there's never any shortage of great things to do in Myrtle Beach. Whether you're an adrenaline junkie, a beach bum, or the sporty type, there's always something enjoyable waiting for you in this gorgeous vacation destination. Here are ten fun things to do in Myrtle Beach.
Myrtle Beach State Park
The beach is the main attraction in Myrtle Beach, and the most pristine stretch of sand and surf is located in the state park. Free of commercialism and commerce, Myrtle Beach State Park is a gorgeous 312 acres containing hiking trails through the forest, playgrounds, campgrounds, a beach with a fishing pier, and a nature education center. The park is open year round, and admission is $5 for adults, less for children and seniors.
http://www.myrtlebeachstatepark.net/
Family Kingdom Amusement Park
Amusement parks have long been a favorite pastime in seaside towns, and Family Kingdom carries on this wonderful tradition in Myrtle Beach. Since 1966, this Park has been providing all sorts of family fun. What makes it so special is that it's truly a daytime trip; there are 35 rides, and it's not too big, so you don't need to set aside two or more days to truly get to all the attractions contained within. By the way, those attractions include everything from classics like bumper cars and a tilt-a-whirl to the park's own Swamp Fox Rollercoaster to kiddie rides galore. The best part is that you only pay if you ride. Each ride is individually priced, or if you want to ride them all, wristbands are available.
http://www.familykingdomfun.com/
Ripley's Attractions
The folks at Ripley's Believe It or Not have an astonishing five separate attractions in Myrtle Beach. Their Believe It or Not Odditorium, the Ripley's Aquarium, a 5D Moving Theater (not movie theater — moving theater), the Haunted Adventure, and the Marvelous Mirror Maze are all open for unforgettable times. The aquarium is the big draw, as it's a world class aquatic home to stingrays, sharks, jellyfish, and more sea creatures. A pass to all five places costs $49.99 for adults and $34.99 for kids; you can also purchase combination tickets for two, three, or four attractions, or just visit one.
http://www.ripleys.com/myrtlebeach/
Broadway at the Beach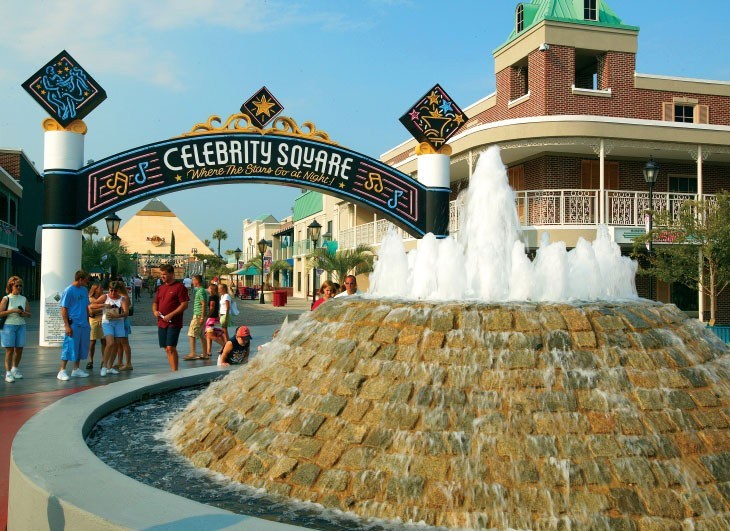 Shore towns are known for having great spots to just stroll and meander when you're not looking for anything in particular — an outdoor shopping mall with myriad activities — and Broadway at the Beach is Myrtle Beach's version of that concept. Contrary to the name, Broadway at the Beach isn't located on the beach (it's about a mile and a half inland), but it's still a fun and free place to walk around for a few hours. There are shops, places to eat, concerts, and a regular fireworks schedule, all infused with loads of local flavor.
http://www.broadwayatthebeach.com/
Sky Wheel
Where else but Myrtle Beach can you ride the tallest ferris wheel east of the Mississippi? The incredible Sky Wheel has been spinning guests up to a height of 187 feet since 2011, and it offers a view of the region that you just can't get anywhere else. Rides, or "flights," last about ten minutes, and you'll see everything from the comfort of a temperature controlled gondola. Tickets cost $14 for adults and $9 for children 3-14; kids under 2 are free.
http://myrtlebeachskywheel.com/
Myrtle Beach Pelicans
If you love baseball and you're in the area during baseball season, be sure to check out a Myrtle Beach Pelicans game at TicketReturn.com Field. The team is a Chicago Cubs Class A-Advanced affiliate, and it's a great opportunity to see some rising stars before they make it to the big time. Plus, minor league ball is a lot more affordable and a lot more family friendly than its MLB counterparts, making a game a great time for the whole family. Single game tickets range between $11 and $13 per person, and local promotions are often available to bring the price down even more.
http://www.milb.com/index.jsp?sid=t521
Myrtle Beach Speedway
Car racing fans, take note! The Myrtle Beach Speedway has weekly races that are fun for the whole family. Or if you'd rather get behind the wheel and drive around for yourself, you can get in on one of the Speedway's NASCAR Racing Experiences. Prices for these thoroughly immersive events run from just $20 per person for a pace car ride to a whopping $599.99 for two timed eight minute driving sessions with a pit stop between them. The Speedway also hosts live concerts on a regular basis, and general admission lawn tickets are usually reasonable.
http://www.myrtlebeachspeedway.com/
Radical Ropes
Billing itself as Myrtle Beach's Natural High, Radical Ropes Adventure Park is a swing through South Carolina's wonderful wooded area near the ocean. Up on the park's zip lines, you'll get your adrenaline fix while catching amazing views of the Atlantic and the surrounding region. There are courses for participants of all ages, so bring the whole family, strap on your safety gear (included with your ticket price), and get going. Tickets range from $19 to $49, depending on the type and length of the course or courses you want to do.
Myrtle Waves Water Park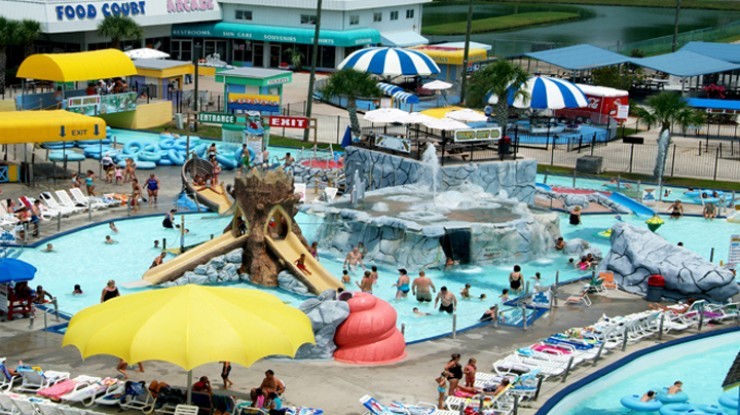 When the South Carolina heat won't quit, one of the most refreshing places in Myrtle Beach is Myrtle Waves Water Park. There's a lazy river, several raft rides, water slides galore, a wave pool, and two sprayground areas for little ones. Tickets run $26.99 for the full park and $20.99 for just the children's areas, and best of all, each ticket is good for two consecutive days.
The Carolina Opry
When the sun goes down and you're looking for some live nighttime entertainment, The Carolina Opry is just the spot. It's Myrtle Beach's premiere venue for live music, and while the emphasis is on country and western, you'll find performers in all genres up on the stage. Check the website for upcoming events and ticket prices — there's bound to be some names you recognize, and you're not likely to find them performing in any other venue as magnificent as this one.