The Hawaiian island of Maui is known for it rich beauty and peaceful tranquility. Rugged coastline is broken up by smooth beaches and bays. Lush rainforests and high mountains with cascading waterfalls are the epitome of island beauty. If you choose to take a vacation to this pleasant island, why not do so in grand style? Spending money on a trip to Maui is easy and exciting. Maui is filled with exotic site seeing opportunities, ocean activities such as whale or turtle watching, sports fishing, yachting and sailing. The island has beautiful luxurious resorts where you can golf, dine, shop and relax by the pool or on the beach. Maui is an island meant to be toured and this can be done by a private plane, helicopter, or by car.
Following are 10 things to do in Maui on an unlimited budget.
1. Montage Kapalua Bay
Montage is located on the former site of The Kapalua Bay Hotel. Located on 24 acres, the beautiful resort overlooks the Pacific Ocean. The Montage is an all suite resort with 50 residential suites and 6 grand suites and multiple on-site amenities. In 2016, Montage won awards for the Best Destination Wedding Resort as Kapone of the world's best hotels.
The elegantly appointed suites include a 1, 2 or 3 bedroom garden or ocean view and premier garden and ocean view suites including a 4 bedroom ocean view grand residence. Each private suite has a unique luxury island style. On site dining includes Cane and Canoe, Sunset Patio and Hana Hou Bar. There is also a market and, of course, en suite kitchens. Kapalua's Cliff House was built in 1940 for the manager of the Honolua Plantation. The Montage renovated the site and it is available for private and romantic dining.
The Spa at Montage is a must for rejuvenation during your vacation. The spa combines the beautiful scenery of the western Maui mountains and pristine ocean waters with locally inspired and personalized therapeutic spa treatments. Several luxurious spa treatments are available.
$5,050 1 night stay at the 4 bedroom premier ocean view penthouse
$640 120 minute Spa Couples Package
$200 dinner for 2 at Cane and Canoe Restaurant
http://www.fivestaralliance.com/luxury-hotels/maui-hi/montage-kapalua-bay
http://www.montagehotels.com
2. Viator Exclusive, Private Helicopter Tour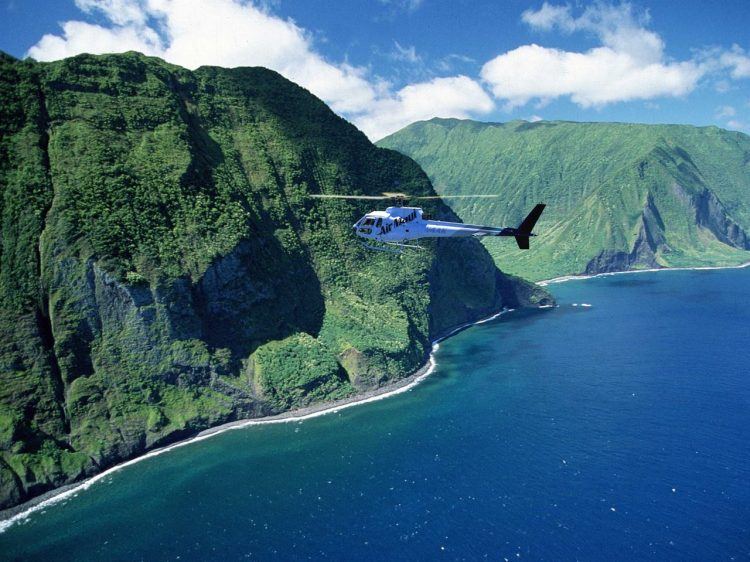 Maui is an island filled with lush rainforests and a rugged coast. Why not get a bird's eye view of this lovely island? There are many helicopter tour companies, but a private, luxury tour makes the experience even better. Viator Exclusive offers a 90 minute tour where you will see waterfalls and rainforests. The company offers a mountaintop landing for a private chef prepared meal.
On this tour, you depart from Kahului Heliport in the late afternoon to enjoy the magnificent landscape as the day turns into evening. Panoramic and unobstructed views can be enjoyed as the pilot narrates and beautiful music plays. The private sunset dinner on a mountaintop offers delicious chef prepared island fare including Filet Minion sandwiches, crab cakes, asparagus wrapped in prosciutto, fresh fruit, desserts, and Perrier.
http://viator.com/tours/Maui/Viator-Exclusive-Private-Maui-Helicoptor-Tour
3. Jayhawk Yacht & Fishing Charters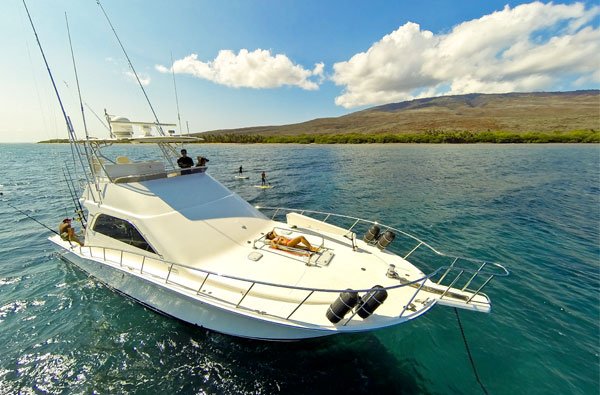 If you enjoy sport fishing, Jayhawk Yacht & Fishing Charters offers a 10 hour private charter for $7000 plus a 5% fuel surcharge. The yacht departs from Lahaina Harbor. You are able to bring any food you would like on board. Captain Steve Schulz has over 20 years of experience.
The Jayhawk uses top of the line sports fishing gear. This includes Shimano rods and reels and a Murray Brothers fighting chair. Chart plotters, fish finders and GPS all have the latest technology. To maximize fishing time, Jayhawk recommends an 8 to 10 hour trip. There are also private snorkel and scuba diving trips available. The Jayhawk carries an air compressor on board for tank refills and fresh, hot water to rinse off. Jayhawk's excellent service and knowledge of the waters assures you will find the best places to fish or dive.
http://www.mauisportfishingcharters.com/jayhawk.htm
4. Wailea Resort Golf Course
The Grand Wailea is a Waldorf Astoria resort and one of the finest in Maui. The Wailea golf courses are some of best in the world. The Gold Course is the most challenging of the 3 eighteen hole courses located at the resort. The course is designed by Robert Trent Jones II and has rugged topography. Each hole offers from 4 to 6 tee areas so golfers at any level can enjoy the course. The eighteen hole course is a par 72. Golf course amenities include a lounge and snack bar, driving range and club rentals.
Why not stay at the Wailea resort and enjoy 1 or all 3 of the golf courses? In addition to luxury rooms and suites, the hotel offers a spa, dining, shopping, pools and beach access, and children and teen activities. Dine poolside or at Humuhumunukunukuapu 'A, Bistro Molokini, the Grand Dining Room, Café Kula, or enjoy drinks at Botero Lounge, the pool's Grotto Bar, or enjoy private sunset dining in a cabana or in your room or suite. The Shops at Wailea offer many high end shops including Gucci, Prada, Bottega Veneta and Louis Vuitton.
$6,000 for a 3 day stay including dining, shopping and golf
http://gohawaii.com/maui/experience/golf/wailea-resort-gold-course
http://grandwailea.com
5. Ritz-Carlton, Kapalua
Kapalua is a beautiful part of Maui. Kapalua means "arms embracing the sea", and that is what it appears to be as the tropical land and beaches wrap around Kapalua Bay. The Ritz-Carlton offers luxury and elegance in this paradise setting. The resort incorporates the natural surroundings and brings the beauty of Hawaii indoors. When staying in Maui, why not stay in luxury?
The Ritz-Carlton offers guest rooms or larger guest residences. Fine dining can be found within the resort at The Banyan Tree, Kai Sushi and The Terrace. For cocktails and lighter fare, there is the Aloha Lounge, The Burger Shack or The Pool Bar & Café. Aina Gourmet is a market that offers salads, wraps and pastries. You can even enjoy private dining in a poolside cabana or on the beach lawn. An on-site garden assures meals are made with local and organic vegetables and herbs. There is also a luxury spa and fitness room located at the resort.
$7,325 a night for the Royal Pacific Retreat
http://www.ritzcarlton.com/en/hotels/kapalua-maui
6. Island Hop
While in Maui, why not enjoy the peace and beauty of Lana'i and Moloka'i in style? You can take the ferry but why not a private boat or plane for the short trip? Moloka'i is known as the "Valley Isle" and is part of Maui County. In the 1800s, the island was colonized with people who had leprosy, but today its high cliffs and natural beauty attract golfers and private retreats.
Lana'i is called the "pineapple island" because of its agricultural history. Lana'i has become a luxurious and private resort island in recent years. The island has a long coral reef perfect for snorkeling, and spinner dolphins play along the shores. In the winter, the North Pacific Humpback whales can see as they migrate south.
$5,000 to charter a plane and stay at the Four Seasons Resort, Lanai in The Lodge at Koele
7. Hana Tours
When staying on the island of Maui, Hana is an area that must be seen. Located at the eastern end of the island, Hana is one of the most isolated regions in all of Hawaii. A 52 mile scenic highway winds along the shores of Maui to the region of Hana. Hana was settled by Polynesians and later cultivated as a sugar plantation. When the sugar plantation closed, the Ka-'uiki Hotel drew in visitors to the lush, exotic and isolated region.
To get to Hana, you can drive but why not take a private limo. Temptations Tours offers luxury limo service to the town. Six to eight guests travel in soft European leather seats with large windows to enjoy the spectacular views. Enjoy the scenic beauty on the winding road leading to Hana.
Today, the Hotel Travaasa draws exclusive visitors to the area. Staying in the hotel is like staying in a private oases. Relaxed and tranquil, cottages and private retreats with luxurious amenities and little disturbance from the outside world create an atmosphere of serenity. On site is fine dining and a spa. The spa has been noted as the number 1 resort spa in Hawaii by Conde Nast.
$5,000 for limo tour, 3 night resort stay, spa treatments and dining
http://www.temptationtours.com
8. Private Yacht
Enjoy the island views and the pristine ocean of Maui and surrounding islands by chartering a yacht. You may also be able to spot whales as you coast and dock on the Pacific Ocean. Hawaii Sailing Adventures is just one of the luxury yacht charterers available in Maui.
While enjoying the luxury accommodations of a sophisticated yacht, you can entertain, relax and enjoy the sites and water. On a yacht, you can enjoy water skiing, snorkeling, swimming or fishing. You can sunbathe on deck, enjoy drinks and fine dining and entertain friends aboard a luxury yacht. Traveling the islands by yacht allows you to sleep and bathe in luxury.
http://www.hawaiisailingadventres.com
9. Westin Maui Resort and Spa
The Westin Resort and Spa is located on the Ka'anapali Beach. Views of Lana'i and Moloka'i can be seen from the resort. Service is first rate, dining, entertainment and shopping are located on site. The Westin is located just minutes from several major Maui sites.
Guest rooms and suites have panoramic views of the mountains or the ocean. Comfortable, contemporary design offer a peaceful, spacious setting in your vacation home. Only the finest amenities are available in each guest room. The Heavenly Spa is situated to have the finest ocean views. There are 6 treatment rooms and 2 couples' suites. A sauna, steam room and whirlpools are available. A full service salon and outdoor massage cabana complete this peaceful haven.
Dining options on site include a Wailea Polynesian Luau, Relish Burger Bistro or Oceanside restaurant, Sea Dogs, a café, DINE, and bars and cocktail lounges. The Shops at Westin offer retail therapy. There are also several activities which the staff at Westin Maui is happy to make arrangements.
Suites start at $966 a night so enjoy a suite, spa and dining for 5 days for $6,000
10. Rent a luxury home or villa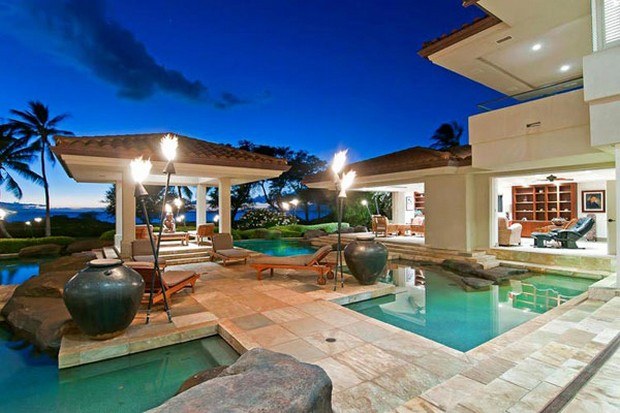 Thousand Waves is a beautiful villa that can be rented in Ka'anapali. The 11,000 square foot villa is manicured like an oasis with views of the Ocean and islands. Its Indonesian design features courtyards with lotus ponds, trees and flowers. A swimming pool winds around the home and leads to a Chinese pavilion. An elevated Jacuzzi and a wide lawn are perfect for entertaining and relaxing.
The villa brings the outdoors inside with smooth tiling and warm wood. Amenities include a gourmet kitchen, billiards room and media room. There are 8 bedrooms on 2 floors. Each room is individually designed with access to the garden on the ground floor and access to a lanai on the second floor.