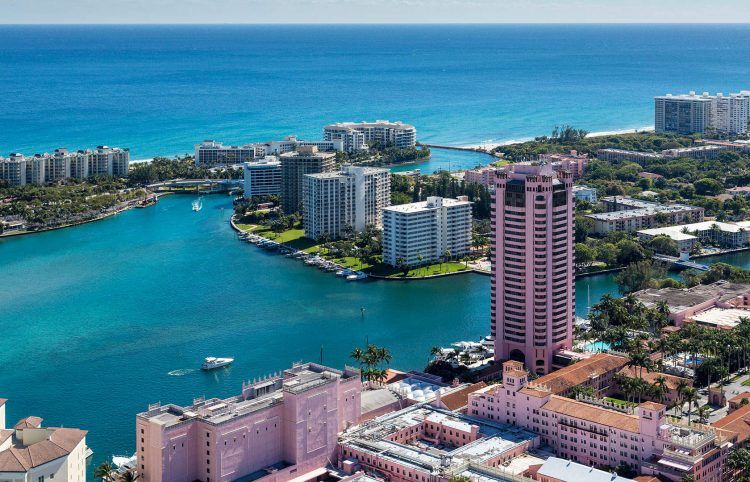 Ever since famed developer and architect Addison Mizner got his hands on property in Boca Raton in the 1920s, it's been a super posh destination filled with beautiful Spanish architecture, a wealth of high end boutiques, upscale entertainment, and seemingly endless chances to take outdoor excursions. The city also boasts some of the country's top rated restaurants and resorts. If money's not an option and you plan to visit, you'l have a truly unforgettable time and experience things you won't find anywhere else. Here are ten things you can do in Boca Raton with an unlimited budget.
1. Choose to travel in style
Those with money in the city have chauffeurs, but the few who are truly flush with cash travel by jet. The cost to do so runs over $10,000 per day, but you'll literally be flying high. Aside from hopping on a jet at a moments notice to whiz around the area, the aerial view of the city is fantastic and you can enjoy it while relaxing in total luxury and sipping champagne.
Cost: You'll spend over $10,000 per day for private jet charters in Boca Raton.
Link: http://www.bocaresort.com/about/private-jets-yachts.html
2. Charter a boat and go diving
The waters near Boca Raton are ripe for diving, and the area has a number of beautiful and interesting native species. If you want an exclusive experience, charter a deluxe boat with an experienced crew to take you out for a day of exploring the sea. They'll bring the gear, and you can even get lessons and gourmet dining added on to make your trip even more memorable.
Cost: Each eight hour private charter diving trip, including gear and food, costs over $6,000 for a group.
Link: https://www.dixiediver.com/shopcontent.asp?type=ladygodiver
3. Take an underwater photography class
Taking pictures on land is nothing like attempting to do so underwater, which is why many luxury travelers to Boca Raton hire underwater photographers for their excursions. However, you can take it a step further and learn how to take great underwater photos from the pros. In addition to having a blast in the water, you'll gain a skill that will serve you well on your future vacations.
Cost: An underwater photography class costs just over $5,000 for a multi-day package.
Link: https://www.force-e.com/scuba-diving-certifications/underwater-photography/
4. Explore the water on a snorkeling cruise
Being so close to the sparkling sea makes Boca Raton an excellent destination for outdoor lovers, and one activity that many locals and visitors enjoy is snorkeling. You'll need to charter a boat to go out and hit the water, but to take your experience to another level make it a party. Gather up your closest friends, reserve a boat with Palm Breeze Charters, and get ready to have a wonderful time. The colorful and diverse marine life in the area are a magnificent sight, and your charter will include all the equipment that you and your guests need.
Cost: A snorkeling cruise for a group, complete with food and drinks, costs over $5,500.
Link: http://www.airandsea.com
5. Have the ultimate upscale dining experience
Lobster Bar Sea Grille is one of the top restaurants in Boca Raton, and dining there doesn't come cheap. The menu on its own is expensive, but private dining will set you back thousands. However, considering the lavish private dining areas and exquisite menu, it may be well worth it if you're a gourmand. In addition to top shelf liquor and fine wine, you'll enjoy your choice of appetizers, entrees, small plates, and desserts ranging from tropical ceviche and chilled oysters to Faroe Islands salmon and prime New York strip steak.
Cost: You'll spend over $8,000 for a private dining experience at Lobster Bar Sea Grille.
Link: https://buckheadrestaurants.com/lobster-bar-sea-grille
6. See the Everglades up close
Everglades National Park isn't far from Boca Raton, and if you want to take a day trip there you'll have the most fun on an air boat. After enjoying private transportation to the park and meeting your guide, you'll climb on and set off to see all of the wonders of the area. Alligator sightings are all but guaranteed, so be sure to have your camera ready.
Cost: A night or day trip to the Everglades from Boca Raton, with a private guide, costs over $6,000.
Link: http://www.bocaresort.com/play/explore/excursions.html
7. Stay at the city's most expensive resort
The Tower Presidential Suite is beyond opulent. This high rise penthouse features three bedrooms, two stories, towering ceilings, top of the line multimedia entertainment, a full luxurious kitchen and bar, formal dining room, and a grand piano in the living area to cap it off. You'll have all the privacy you want on the 26th floor where the suite is located, and of course a concierge and room service will be at your call 24/7.
Cost: The nightly rate for Boca Raton Resort & Club's Tower Presidential Suite starts at $7,500.
Link: http://www.bocaresort.com/stay/tower.html
8. Kick back on a luxurious yacht
One of the most upscale things you can do in Boca Raton is charter a luxury yacht and simply go cruising. This isn't the type of cruise that's shared with other guests that you don't know, but your own private adventure aboard a superb vessel packed with plush quarters, plenty of water toys, a private chef, and your own crew. If you charter your yacht through Boca Raton Resort & Club, you'll get to enjoy the 48 foot Sedan Bridge Sea Ray.
Cost: A private yacht cruise for a day, including personalized dining and gear, costs over $7,000.
Link: http://www.bocaresort.com/play/explore/excursions.html
9. Learn from a golf pro
Boca Raton is flush with golf courses and excellent players, and you'll be tempted to up your game while you're in town. One of the most highly acclaimed golf schools in the area is Pelz Golf, which is run by expert Dave Pelz. You'll receive the benefit of his analytical approach to golf and see significant improvement. In addition to three-day classes, two, one, and five day golf packages are available.
Cost: A three day session for two with Pelz Golf will cost over $5,000.
Link: http://www.pelzgolf.com/golfschools/aboutlocation.aspx?location=31
10. Depart for an incredible cruise
There are a number of traditional cruises that depart from Boca Raton, but this one from Silversea integrates local flair and is truly unique to the city. If you want to leave land for a short luxury cruise, you'll find everything you need to feel rejuvenated and pampered on this tour. In addition to 24 hour room service, plush suites, and butler service, there are fun activities onboard, live music shows, and gourmet open seat dining every day.
Cost: An all-inclusive Silversea cruise with butler service from Boca Raton starts at over $6,000 per person.
Link: http://bocaratontravelcruises.silversea.wvgcruise.com/