Although it doesn't always get the recognition it deserves, New Haven Connecticut is one of the oldest cities in the country. But while some may know New Haven for its historical contributions, others know it better for its pizza. In fact, New Haven even has its very own style of pizza that has gained nationwide popularity. Despite often being overshadowed by New York and it's world-famous pizza, New Haven also knows a thing or two about baking a good pie, and there are countless pizza shops throughout the city that claim to serve the best slices. While 'the best' is certainly subjective when it comes to food, there are some restaurants that have built an undeniable reputation, and they've even brought in diners from all around the world. Here are the top 5 pizza spots in New Haven Connecticut.
In recent years, Tomato & Company has quickly risen through the ranks as one of the most popular pizza places in New Haven. The establishment prides itself on providing its customers with an 'interactive' experience, and there are plenty of toppings and choices for those who like to get a little creative with their pizzas. Another perk about this trendy little place is that the prices definitely won't break the bank. If you're looking for an inexpensive but tasty pizza place in New Haven, and want to try one of the newer places, you should definitely add Tomato & Company to your list.
image via yelp.com
Founded in 1996, Bar certainly isn't as old as some of the other well-known pizza places in New Haven, but it has made a name for itself over the last 20 years. With its cool and unique pizza offerings (including a mashed potato pizza), Bar has become a hot spot for the younger crowd. Plus, Bar also becomes a pretty happenin' club once the sun goes down, so if pizza and partying are your thing, you should definitely put this place on your life.
image via www.thepauperedchef.com
Modern Apizza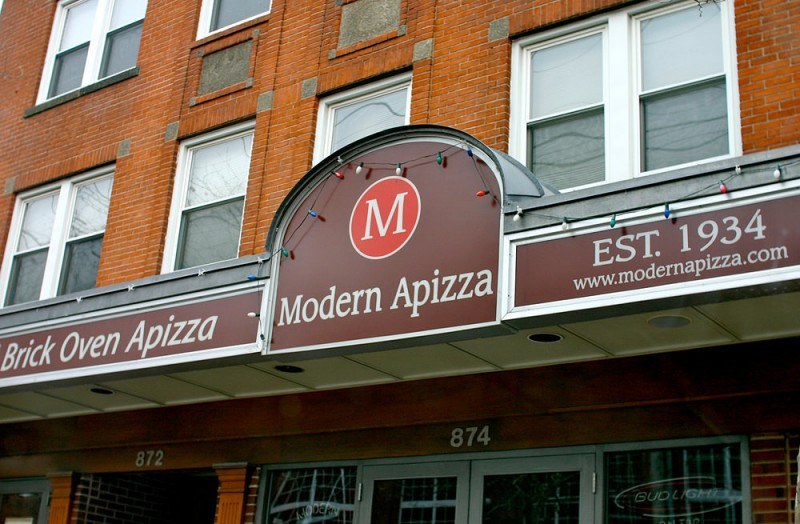 At just slightly over 80-years-old, Modern Apizza is one of the most well-known pizza places in New Haven and all of Connecticut. Serving New Haven's classic thin-crust style pizza, Modern has become known for serving some of the best pizza around, and some of its specialties include Clams Casino and the Italian Bomb. Although there are a couple more well-known pizza restaurants in the city, Modern Apizza is a local favorite.
image via eater.com
You can't talk about pizza in New Haven Connecticut without mentioning Sally's. Founded in 1938, this restaurant has become a staple in the city, and people are willing to wait in line for hours just to get a slice of this classic New Haven pie. Although Sally's may not be a fancy place with lots of room, that hasn't stopped the crowds from coming. Sally's takes great pride in providing its customers with fresh made to order pizzas, and while the prices might be a little more than you're used to paying for pizza, it's definitely worth it.
image via knowledgegreen.com
Frank Pepe Pizzeria Napoletana
Frank Pepe's Pizza is easily the most famous pizza restaurant in New Haven, and it's even credited with creating the now well-known New Haven style pizza. Pepe's is also credited with making clam pizza popular, and the white clam pizza has become a staple for Pepe's lovers. Former president, Ronald Regan, was even a fan of Pepe's. The restaurant draws in countless people every year, and even expanded out of New Haven including one restaurant in New York. Visiting New Haven Connecticut isn't complete without stopping by Pepe's
image via http://www.pepespizzeria.com
lead (Photo by Christopher Capozziello/Getty Images)