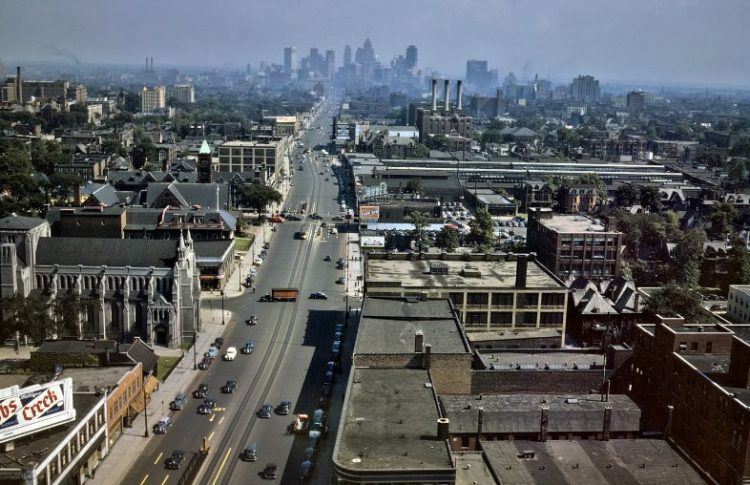 The United States has plenty of dangerous places, and Detroit is a city that is recently often mentioned due to its current financial difficulties. It's also had more than its fair share of damage from riots. Civil rights and equality issues have raged on for many years in the city.  Add unemployment and rising poverty and you're bound to end up with some hazardous areas here and there.
Another issue plaguing Detroit is vacant housing. As homes sit unoccupied, it drives property values down to miserably depressed levels. People left the city as jobs left in large numbers. What used to be a booming auto industry has now been significantly reduced as plants have moved out or completely shut down. Entire car makes have ceased to exist and put a staggering number of people out of work.
To better understand the impact, take a look at this list of the top ten most dangerous neighborhoods in Detroit:
1. Detroit MI, W Chicago & Livernois Ave, 48204
Designated city number one on Michigan Radio's top six most dangerous neighborhoods in Michigan this neighborhood has exactly the problems you would expect. It has a median real estate value of $39,372 due to a significant volume of vacant apartments and homes. Like a lot of other areas in Detroit, it has an 81.6% rate of children enrolled in school being economically disadvantaged.
An astonishing 83% of homes are worth $62,000 or less making it nearly impossible for existing residents to move into another area. To make matters more difficult for residents 8% commute more than one hour one way to work. That's higher than 95% of U.S. neighborhoods. Based only on the numbers it's clear residents here can't afford a commute like that.
2. Detroit MI, Mack Ave & Helen St 48207
Designated number two by Michigan Radio, this is another struggling neighborhood. The median real estate price is $26,318. Think about that for a second. If you take all of the property values in the entire neighborhood and sort them from lowest to highest, the middle number only comes up to mid $20,000s. Some people pay significantly more for their great gas mileage commuter car.
The housing vacancy rate is a staggering 47.1%. Half the residents ride the bus to work, more than almost all other cities in the United States. Sales and service workers make up 34.8% of jobs, more than almost any other neighborhood in the country. Based on these numbers, residents are working hard but likely at minimum wage. The percent of residents commuting more than an hour each way is 9.1%, even higher than W Chicago and Livernois Ave.
3. Detroit MI, Gratiot Ave / Rosemary 48213
The median house value in this area is $54,925. While still on the low end it's a significant improvement over many other neighborhoods in the list. Part of what raises that value higher than the others is 2% of the homes in the area have a value of between $619,001 and $928,000. The vacancy rate is 43% despite having some valuable homes in the area. This data probably means the homes near the vacant homes are worth almost nothing while the higher value homes are isolated either in a gated community or geographically.
Like neighborhoods around it, this one seems to be struggling. The difference in numbers appears to be primarily due to a higher income pocket that happens to co-exist near the lower income section of this neighborhood.
4. Detroit MI, Wyoming Ave & Orangelawn St, Detroit, MI 48204
City number seven in the Huffington Post's most dangerous U.S. neighborhoods list it has a median real estate value of $34,142, less expensive than 99.7% of all U.S. neighborhoods. It's by far the worst off area in Detroit with a 40% residential vacancy rate and 81.6% of its children enrolled in the school system designated as economically disadvantaged.
The combination of low income and vacant homes produces a rough living situation for both adults and children alike. More than 70% of the homes in this area are worth less than $62,000, making it tough for any of the residents to relocate.
5. Detroit MI, W Warren AVE & Mckinley St 48208
Designated as city number ten in the top 25 most dangerous neighborhoods in the United States, this area has had its share of problems. To give an idea of general financial difficulty, 81.6% of enrolled students are economically disadvantaged compared to 46.8% in the entire state. The median home value is $59,864 with 55% of properties falling into the $0 to $62,000 range. There is no significant section of properties worth more than $247,000.
Vacant apartments and homes are one of the biggest drags on the area with 45.1% of residences vacant. This number is higher than 98% of the rest of the United States. Vacant houses along with low income and economic difficulties tend to combine into a dangerous and challenging situation for residents.
6. Detroit MI, Trumbull St & Lincoln St 48208
Designated as city number sixteen in the top 25 most dangerous neighborhoods in the United States it shares similar problems to the first. The zip codes are even the same due to the two area's proximity to one another. The median housing price is even lower here at $44,458 which is lower than 99% of the United States.
Identical to the first, 81.6% of enrolled students are economically disadvantaged. The vacancy rate is 26.2% which is still higher than 91.8% of all U.S. neighborhoods. All of these difficulties combine to create a situation similar to W Warren AVE & Mckinley St. There are too many vacant houses, and most residents make low or no income creating a dangerous environment.
7. Detroit, MI, Gunston St / E Mcnichols Rd 48205
An improvement over previous neighborhoods, this one still has an income that's lower than 94.1% of U.S. neighborhoods. The median real estate price is $60,013. The vacancy rate in this community is 18.1%. Again, it's an improvement but still higher than 81.7% of all U.S. neighborhoods. While this community is doing better than many others, it's still under significant strain which is contributing to the high rate of violent crime.
8. Detroit, MI (Fenkell St / Stout St) 48223
Median real estate price is $40,278 and 46.9% of the houses are vacant. The jobs in this area focus on sales and service like the previous neighborhoods listed. A significant amount of people carpool or bike to work in this community. Considering the lower income of sales and service jobs in Detroit it's no wonder. More than 23% of neighborhood residents own no car at all. That's more than 95.5% of U.S. neighborhoods. This community is struggling, but still doing better than the others putting it on the list but leaving it significantly further down.
9. Detroit, MI (John R St / W 8 Mile Rd) 48203
This neighborhood wasn't in any of the other website rankings I found but isn't a great place to hang out. The vacancy rate here is 59.7%. To put it in perspective, on average that means for every occupied home there is one vacant one on either side. Many residents carpool and the ones who own a car use it to commute to work.
Three percent of homes in this neighborhood are considered to be worth $247,001 to $371,000 making it entirely possible the high vacancy rate and low property values is due to thick pockets of vacant homes in some places and reasonably occupied sections in others. This neighborhood is likely significantly safer than the others as long as you avoid the parts plagued by vacancy.
10. Detroit, MI (Joy Rd / Grandville Ave) 48228
Another community not listed in other rankings, this area, is also struggling. The vacancy rate is 36.7%. That's not good, but it's much better than the others. An interesting note, 23.5% of households are run by single mothers, more than 98% of other U.S. neighborhoods. The vacancy rate is keeping real estate values depressed here as well. The median value is $28,823.
The biggest bump to this neighborhood's status is the 8% of homes worth over $1,237,001. There are likely significant pockets of vacancy where I would highly recommend against hanging out. Otherwise, this neighborhood is probably significantly safer than all the others.
Detroit has a vacancy problem and an employment crisis. Stated quite simply, many of the high paying jobs disappeared or moved out. Some people followed the jobs elsewhere, and others instead found work locally. Unfortunately, the scope of the problem is so large it's unlikely to be resolved anytime soon. There's certainly no magic bullet for the problem. Many parts of Detroit, MI are perfectly safe. Just avoid the places with vacant homes and no decent paying jobs.
References
https://www.neighborhoodscout.com/
http://www.huffingtonpost.com
http://michiganradio.org/post/6-most-dangerous-neighborhoods-michigan
http://detroit.cbslocal.com/