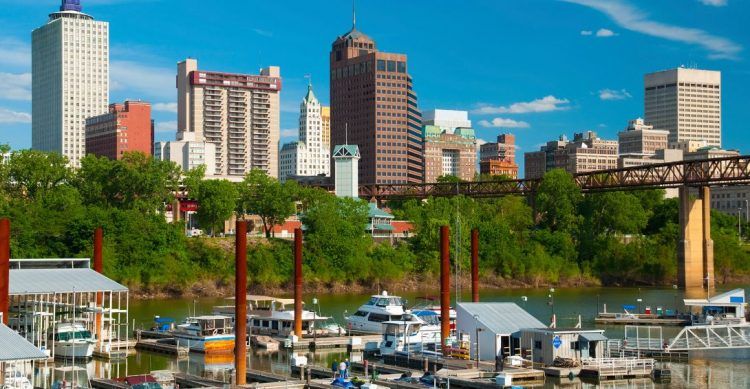 Tennessee is doing well economically. There has been an influx of working age people in the state. The unemployment is relatively low, and the state has an affordable cost of living. Many large companies are headquartered or have offices or plants in Tennessee. In fact, even China is starting factories in Tennessee. Millennials and young families are flocking to Tennessee cities to work and live.  So we decided to look further into it and see where most people are flocking to.
Here are the 10 best places to work in Tennessee:
1. Bartlett
Bartlett, Tennessee is located just northeast of Memphis and is part of the Memphis Metropolitan area. Memphis is a key transportation and shipping center along the Mississippi River and Tennessee's major highways. The Memphis Airport is the second largest cargo hub in the world. Memphis is home to FedEx, AutoZone, Mueller and other major companies.
Bartlett has a population of about 55,000. The population has steadily grown with an increase in the millennial population, the main workforce. Bartlett has a median income of $76,000. The average price for a home is just $174,000. There are almost 2 police officers for every 2000 residents. Unemployment is just 5.4%. Major industries in Bartlett include manufacturing, real estate, transportation, public administration, health care, education and food services.
2. Hendersonville
Hendersonvile is a town located 18 miles northeast of downtown Nashville. It has a population of over 54,000 and is located on Indian Lake. As part of the Nashville Metropolitan Area, Hendersonville draws workers in Nashville to reside in this quaint suburb.
As the capital of Tennessee, Nashville is home to many Fortune 500 companies as well as major government, healthcare and education employers. Several major real estate companies are headquartered in Nashville. As the home of country music, several major recording labels and music production companies are located in Nashville.
Hendersonvilles's population has steadily grown and attracts people who work in Nashville and young families. The city was named one of the top ten for families to live in the United States. Rhoads Cars is headquartered in Hendersonville and Indian Lake Village is home to many businesses, shops and a recreation center. The median household income is $62,400. The average home costs $200,000.
3. Smyrna
Smyrna, Tennessee has a population of about 43,000 and was named by US News & World Report as one of the best US cities to retire. Located in central Tennessee, the city is home to Nissan Automotive Manufacturing, Asurion communications, Vi-Jon personal care products, Stonecrest Medical Center, Taylor Farms produce and Square D electronics.
As a smaller town with major businesses, Smyrna is a great place to live. The median household income is $44,400. The average cost for a home in this safe community is $200,000.
4. LaVergne
LaVergne is a part of the Nashville Metropolitan area and a great place to live and work in Tennessee. The population is about 34,000. The median household income is $51,400. Lake Forest Estates in LaVergne is the largest subdivision of homes in Tennessee.
Aside from its proximity to Nashville, LaVergne has employment opportunities that have attracted younger people to the area. Top employers in LaVergne include Ingram Book Company, Bridgestone/Firestone, Inc., Venture Express, Schneider Electric and Cardinal Health. Hong Kong recently made the defunct Whirlpool plant their major North American manufacturing headquarters for Sinomax, bringing job opportunities to the area. One of two of major US printing plants for publishing, Lightening Source has its headquarters in LaVergne.
5. Lebanon
Located in central Tennessee, Lebanon is just 25 miles east of Nashville. The population of Lebanon is about 28,600. The city is known as the "Cedar City", due to its Cedar trees. Cumberland University is in Lebanon. The median family income is $45,000.
Lebanon is home to several major businesses. Cracker Barrel's corporate headquarters are in Lebanon. Dan Evans founded the company there in 1969. Lochinvar Corporation and PFG Customized/Kenneth O. Lester Company are located in Lebanon. Chinese Tile Company Wonderful Group is building a manufacturing plant in Lebanon.
6. Franklin
Franklin is also located in the Nashville Metropolitan Area just 21 miles south of the city. The population has increased greatly over the last few decades and is currently around 69,000. The median household income is $75,800.
Franklin is a major healthcare center. HealthSpring, Clarcor, Community Health Systems, Healthways, Home Instead Senior Care, MedSolutions, Inc., and Renal Advantage, Inc. Other business employers include Magazines.com, Provident Music Group, World Christian Broadcasting, and Atmos Energy. Nissan's North American headquarters is in Franklin. Rapidly growing, new businesses are moving into Franklin including Ovation, Berry Farms, and the Chinese manufacturer Triangle Tire Company.
7. Collierville
Part of Memphis' Metropolitan area, Collierville has a population of about 44,000. There is a lot of property to build on in Collierville. Many large homes have been built in Collierville. The median cost for a home in the city is $177,000. The median household income is $106,500. The city has been voted in the top 10 places to re-locate by Re-locate America. This town mixes corporations with small town charm.
Job growth in Collierville between 2000 and 2006 was over 12%. Pepsi and Carrier are major employers in the city. Other corporations include FedEx, Parker Automotive, and Shilling Farms. Corporations continue to move to this bustling town. A 50,000 square foot "Class A" office complex was recently completed for mixed use. Businesses are revitalizing the historic Town Square.
8. Kingsport
Kingsport is located in northeastern Tennessee near the Virginia border. Between 2009 and 2011, the working age population grew in Kingsport over 7%. Currently the population is around 48,000. The median household income is $40,000, and housing is affordable with an average cost of a single family home is $134,000.
Kingsport has many job opportunities. Eastman Chemical Company, Wellmont Health System and Mountain States Health Alliance are major employers. Kingsport Academic Village offers opportunities for residents to continue education in work related fields. Classes and certification for manufacturing, mechanics, applied technology and healthcare are available through 6 different colleges with campuses in Kingsport.
9. Murfreesboro
Murfreesboro is just 30 miles southeast of Nashville. The city has seen over 8.5% growth in its working population in recent years. The population is around 120,900. Money Magazine has ranked the city the 84th to live in out of 745 cities with populations over 50,000. The median household income in Murfreesboro is $49,450. The median cost of a single family house is $199,900.
Middle Tennessee State University, National Healthcare Corporation and State Farm are all major employers in Murfreesboro. The University offers continuing education and professional and technological training programs for residents. Other employers in Murfreesboro include Nissan, the Rutherford county government, Ingram Content Group, Asurion, Amazon, and Alvin C York Veterans' Administration Medical Center.
10. Clarksville
Clarksville is a large city in northern Tennessee bordering Kentucky. The city has a growing population and it is currently about 146,800. The median household income is $48,600. The median cost for a single family home is $140,200.
An industrial hub, the city of Clarksville is home to Convergys Corp, Trane, Agero, Inc, American Standard, Bridgestone Metalpha, SPX Corp, Vulcan Corp, and Hankook Tires. Gateway Medical Center is also a major employer. Austin Peay State University offers continuing education programs for residents and even offers evening childcare for students with young children.
Sources
http://www.nerdwallet.com/blog/mortgage/home-search
http://www.livability.com/tennessee/best-place-to-live
http://www.murfreesbprptn.gov/index.aspx?NII
http://www.city-data.com/city/Kingsport-Tennessee
http://www.zippia.com/advice/best-place-to-live