A child's bedroom does more than just hold a bed—it's a sanctuary where your kid will play, tell stories, and create messes. As parents, it's our job to make this space functional, fun, and appealing. Whether your kid is just now moving from a crib to their own bedroom or the theme of their room needs an update, Furniture.com has something for every little one. With colors, styles, and themes to suit their different interests, the pieces you'll find here will help make your child's space creative and personal. On Furniture.com, they offer a huge selection of colorful and exciting themes for every essential piece of kids furniture you need.
If you know what your child likes but aren't entirely sure what would work in their bedroom, browse Furniture.com's popular and trendy kid themes, including furniture related to Star Wars, sports teams, and Disney movies. Be inspired by the many designs and styles they offer and the variety of essential pieces you can choose from. With affordable prices, long-lasting materials, and charming themes, both you and your child will be satisfied with what you find.
Star Wars
With the recent hype over the release of Star Wars: The Force Awakens, children's furniture often features Star Wars characters. This charismatic theme brings to life the wild thrills of Luke and Han Solo in your kid's bedroom. Your child will love crawling into a bed that looks just like the Millennium Falcon, which also features a built-in bookshelf and electronic USB ports. Additionally, kids can keep their homework and books on their very own TIE fighter desk. The desk resembles the powerful spacecraft flown in the series. So when your little one uses this desk, they'll feel as if they've just blasted off into space. With a durable, steel gray finish, no Storm Trooper or difficult homework assignment stands a chance. Furniture.com also carries other Star Wars themed bedding, rugs, nightstands, and more. Your child will sleep soundly in their Star Wars room knowing the Jedi are there to protect them.
As an added plus, the selections provided by Furniture.com are safe, practical, and affordable. You can easily find every piece of furniture you need to fill your kid's room in stylish, fun, and functional Star Wars furniture.
Sports & Teams
Show your child's ultimate team spirit with products from Furniture.com's sport and sport team furniture. Your kid's whole room can be decked out in bedroom pieces that display their favorite team or sport. From bedspreads that flaunt team colors and logos to comfortable chairs for lounging on game day, our themed furniture will have your child cheering. Team-decorated items can be easily matched to standard furniture, as they mainly contain two primary colors.
Pieces like race car beds and baseball themed tables are available for the athlete in the family. Knock your kid's room out of the park when you decorate it with baseball and other sport furniture. Furniture.com also offers pieces that feature skateboarders and camouflage camping designs. Select beds even come with attachable and safe basketball hoops. Both young and old kids alike will enjoy these themes, as no child outgrows their favorite team or sport. Moreover, Furniture.com's sports bedding is made of luxurious, plush fabrics, and tables are constructed with durable woods and metals that ensure proper safety for your child. The affordable bedding, tables, chairs, and more on Furniture.com can't be beat. Fans of sport teams everywhere will undoubtedly be fans of these items, too.
Princess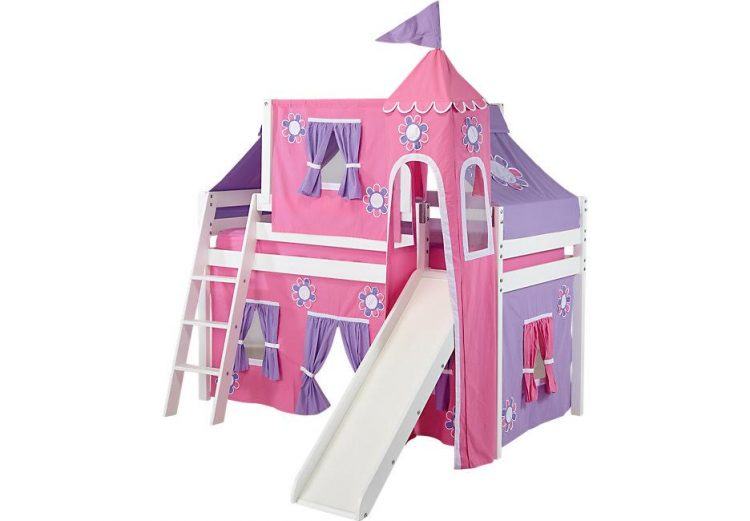 Bedroom or castle? Transform your little princess's room into the palace of their dreams with collections from Furniture.com's princess themed bedroom furniture. Your child can sleep in luxury as they fantasize about fighting dragons and being crowned royalty. Options range from plush, quilted comforters in lilac purple and floral prints to throw pillows embellished with crowns and princesses. When decorating your little one's room, don't forget to check out the upholstered armchairs fit for a queen or king with lavish trim, crystal beading, or elegant artwork. Princess lovers will absolutely fall for the pink and purple tent loft beds. These beds conceal the bottom play area with the tent-like drapes, while the lofted top bunk has room for a mattress. Select sets also include a slide and a tower, where kids can really act like they're staying in a castle. Every feature is safe, and the furniture is constructed from sturdy hardwoods. Loft and bunk beds are equipped with secure ladders for easy movement in and out of beds, as well.