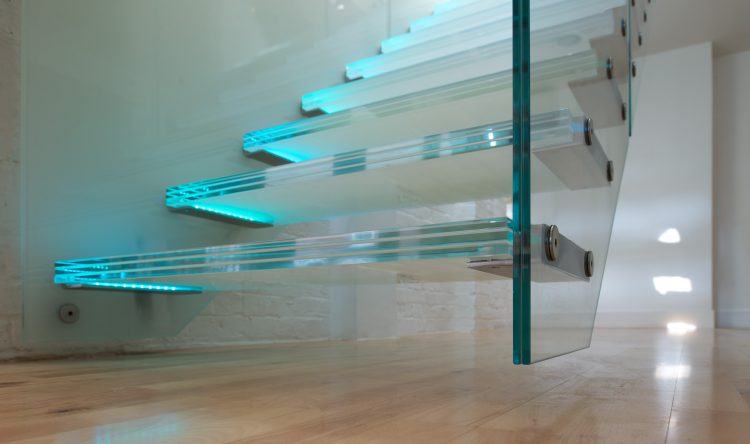 If you live in a two-story or higher home, stairs are a necessity you cannot avoid. When remodeling and redecorating, your stairway often times can get overlooked. However, remodeling your old, boring staircase with a new, bold, modern staircase design can truly bring your home together and add a touch of elegance, sophistication, and charm. Not all staircases are created equal and there are so many staircase designs to choose from, it can be difficult to decide which one matches not only your home and decor but also your unique personality.
Your staircase is the centerpiece of your home; the heart of your home. Your staircase design sets the tone of your home. Your staircase connects you to the rest of your home, from the top to the bottom. It is an integral part of your home and deserves to put its best self forward for you, your family, and your guests to enjoy.
Here are 10 glass staircase designs you'll like:
1. Glass Staircase Designs
The top staircase design trend for 2016 is the glass staircase design. Glass panels are versatile. They come in so many different shapes, sizes, and colors. The possibilities truly are endless with this design. Glass is transparent and will make the room it is in, as well as your entire home, appear larger. While most glass staircase designs are made with clear, uncolored glass, I would suggest adding a touch of color or some etched glass panels and accents to make your staircase truly unique and add a touch of your own personality.
Glass staircase designs can be used on a normal staircase, an L-shaped staircase, and makes an excellent addition to a spiral staircase. Beautiful, intricate glass panels will attract your guests' eyes to the sheer beauty of the staircase design, as well as add a kiss of sophistication.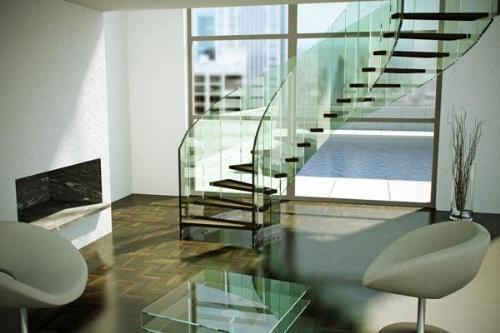 2. Fusion Staircase Design
The fusion staircase is one of the latest staircase design trends that is becoming increasingly popular. This design is achieved by combining two or more materials (timber, metal, and ABS plastic) to create one design. Another way this staircase design is ingenious are the spindle brackets used to hold everything together. This modern, innovative design takes less time to install and simple enough to be completed by the average DIYer.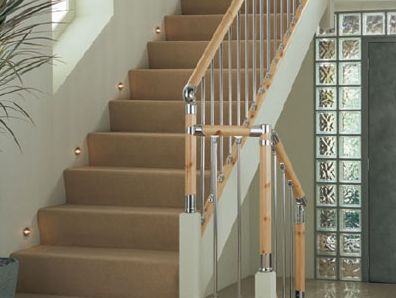 3. Bespoke Staircase Design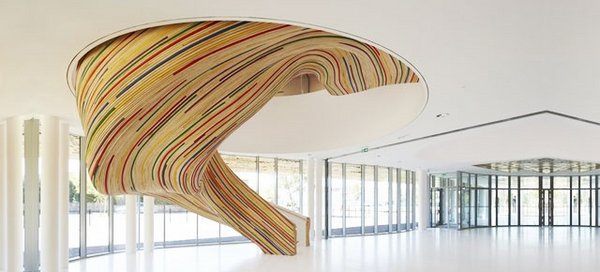 While bespoke staircase designs can be a little pricey, this is the only way to truly express yourself, your personality, and your home. A bespoke staircase design is a unique design that you and your carpenter come up with. The sky is the limit with this design. There are no rules, no set materials to use, nop set design. Use your imagination and put a little piece of yourself in the center of your home.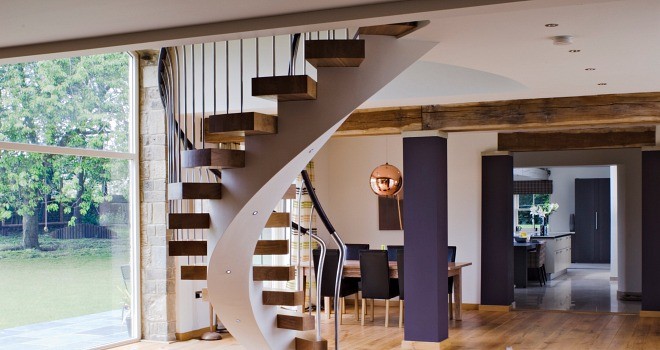 4. Beach Getaway Stair Design
As you step into your beach vacation rental, you are greeted with a coastal feeling staircase. This impressive vision starts your beach vacation on the right foot, making you feel more relaxed as your stress and worries are melted away. Wouldn't it be nice you could achieve this same feeling in your home? Well, now you can with a beach getaway staircase design. You can get creative with this design and incorporate wire or rope into your railing design. Use coastal-type wood that remind you of the beach. White and browns or even deep blues will take you right back to your dream beach vacation.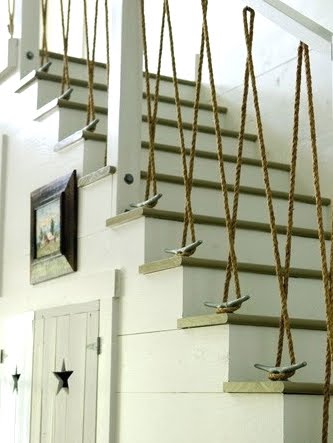 5. Bookcase Stair Design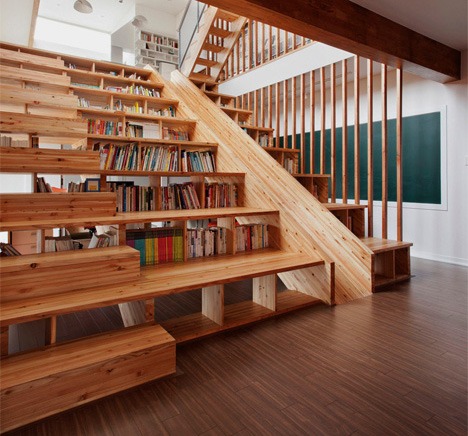 This staircase design was created with the book lover in mind. If you are like me, have so many books, you are running out of space to put them. An excellent space-saving solution? Build the ultimate bookcase into your stairs. This will also make you seem more intellectual to your guests and can be used as a conversation starter. There are many different types of bookcase staircase designs to choose from. You can have bookshelves build right in underneath your stairs or have the bookcase built right into the side. They can be composed of shelves or small cubicles. It is completely up to you. Keep in mind you are not limited to storing books in these shelves. You can add home decor, trophies and awards, small indoor plants, and much more to these unique stairs.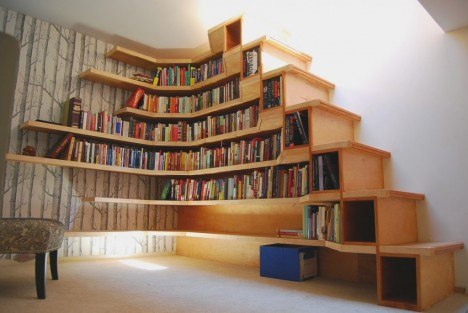 6. The Floating Staircase Design
Floating staircase designs add a modern, contemporary feel to your home. They are perfect for the minimalist that doesn't want a big, bulky staircase in their home. If you have a smaller home, these stairs are an excellent way to free up some space as well as make your home appear as though it is larger. This amazing staircase actually looks like planks or shelves floating in the air.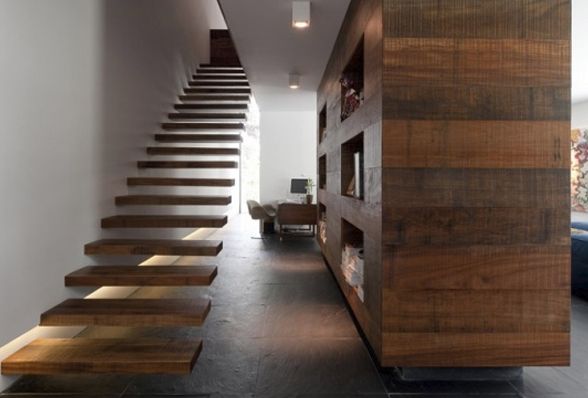 7. Ribbon Staircase Design
The ribbon staircase is a modern staircase design. With twists and turns and strange angles, this is not your typical old-fashioned staircase. Much like a ribbon dangling in the air, this staircase design has a nice flow, just not exactly what we have come to expect from a staircase. This staircase design is a head turner, catches everyone's attention, and will pleasantly astonish all of your guests.
8. The Spiral Staircase Design
The spiral staircase design is a trend that will never go out of style. Spiral staircases are sleek, graceful, eye-catching, and almost fairy-tale like. Having a spiral staircase in the center of your exquisite home will add a touch of charm and romance to your home. Depending on the design you choose, the spiral staircase can also add a feeling of fun and playfulness.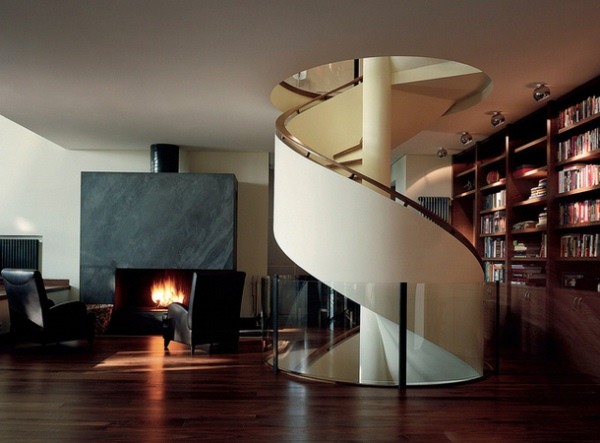 9. Lighted Staircase Designs
Whether you are looking to add a bit of yourself to your staircase, you want a unique staircase no one else has or you are looking for a safety feature so no one falls down the stairs while walking up in the dark, the lighted staircase design is amazingly beautiful and creative. You can build small lights into the overlapped lip of your stars, build lighting into the stairs themselves or add colored lights. This adds a true expression of your yourself in your home.
10. The Riser-less Staircase Design
Eliminating the riser of the staircase opens up the area and make the room not only appear larger but actually adds open space to the room. This is a perfect option for an open concept house as well as smaller homes with not a lot of space. Almost any kind of stair can be used to make a riser-less staircase design.