Considering that the new crop of real estate buyers are Millennials, it's no surprise that technology is one of the most desired qualities in a new home.   The majority of the innovations in today's market revolve around gadgets that automate home electronic systems as well as other facets of the house.  The gadgets allow us to do things like control lights, security, temperature and even blinds with the touch of a button from virtually any smartphone and from far distances, sometimes in other countries.  Imagine being able to turn on your alarm remotely from your hotel on vacation in case you forgot to do it when you left.
And don't forget about other areas of the home as well.  For example, there's some crazy innovations out there when it comes to things like sinks, toilets, refrigerators, you name it. Today we'll be focusing on one room: the bathroom.  Here's a look at some of the latest and great smart bathroom technologies that will blow you away.
1. High tech toilets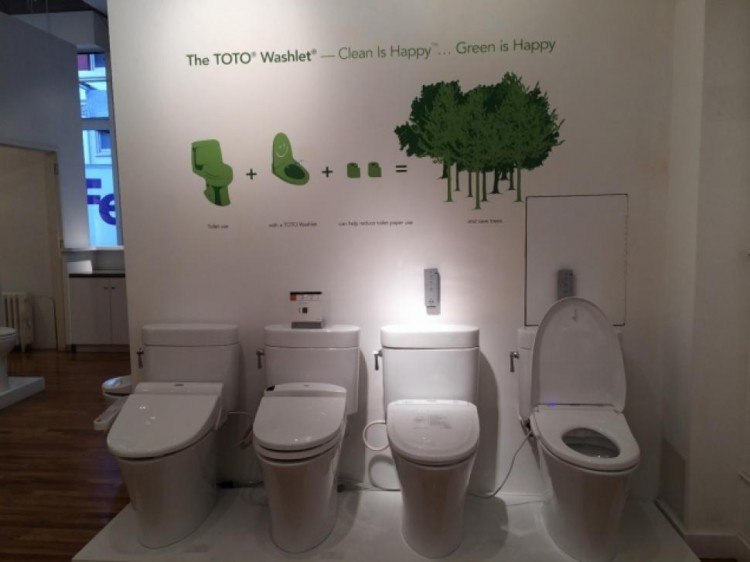 The days of using toilet paper and wasting a considerable amount of water might soon be coming to an end.   There are now toilets that don't need the use of hands or even water. A new generation of toilets may one day even make toilet paper – and the need to put one's hands anywhere near the unspeakable – seem like chamber pots and outhouses: outdated and somewhat messy throwbacks reserved for camping trips.  Not only are we revolutionizing the way we "go" we're also making it way more comfortable.
Home depot has an entire line of Toilet seat warmers and LED lights.   Gone are the days of walking around in the dark to go to the bathroom! And what about when it comes to cleaning?  The toilet industry has that covered as well.
Self-cleaning toilets for home use are far less expensive than the public variety — those sleek booths on the streets of New York and London cost anywhere from $100,000 to upwards of $500,000 apiece — but they're still out of reach for most homeowners.  One day we suspect prices will eventually dip so that everyone has them.
And another interesting technology to be on the look out for are motion sensors that open and close lids.  These are just a few of the perks of the new age of bathrooms and they seem like a lot of fun.  It'll be just a matter of time before you use your smartphone to open the toilet seat.
2. The latest in sinks technology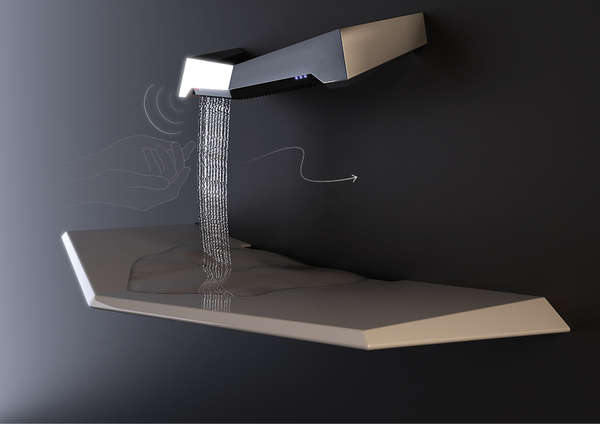 When it comes to going green and preserving water, one of the latest, and newest techs is digital faucets. According to website Freshome these faucets have the following features
Reduced tap flow and digital temperature-control settings, conserving money and water.
Touchless technology.
Infrared tap technology that "reads" the user and turns off when it senses that hands are not under the faucet.
Programmable features, such as a timed shower setting or a teeth-brushing option that runs for an allotted time frame.
3. Cooled Cabinetry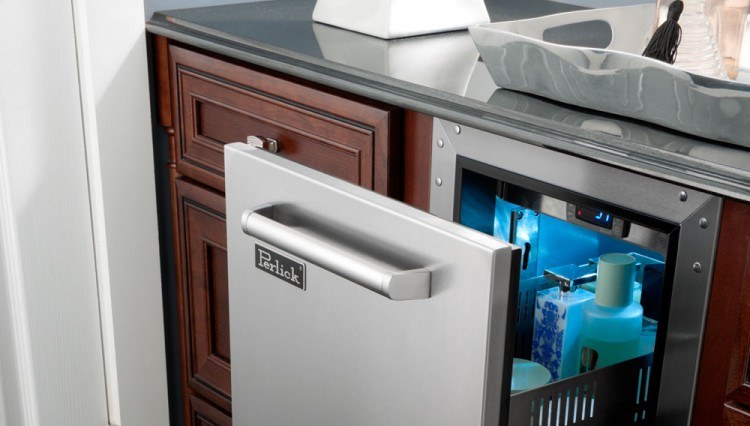 Bathroom cabinets are now refrigerated so they can keep medicines cool as well as store drinks.   Imagine going into your bathroom to not only find your facial scrub but you can also grab a Yoohoo in the morning.  That's right I said Yoohoo
4. Fitbit WI-FI Scale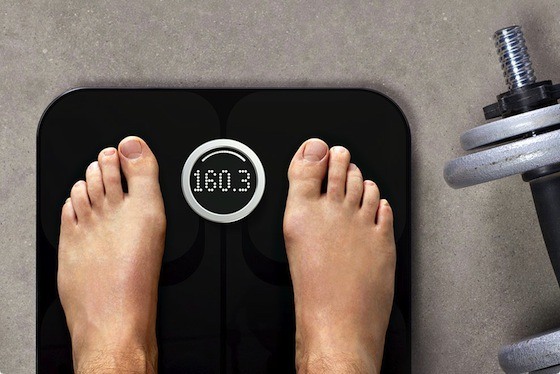 This is one of those that go under the category of "Do I really need this?"  There's nothing wrong with taking your fitness and weight seriously but something tells me that you don't need to incorporate fitbit technology into your scale.  Still though, the Fitbit Aria WiFi Smart Scale uses advanced technology to track weight, lean mass, body fat percentage, and much much more.
5. Bathtub Technology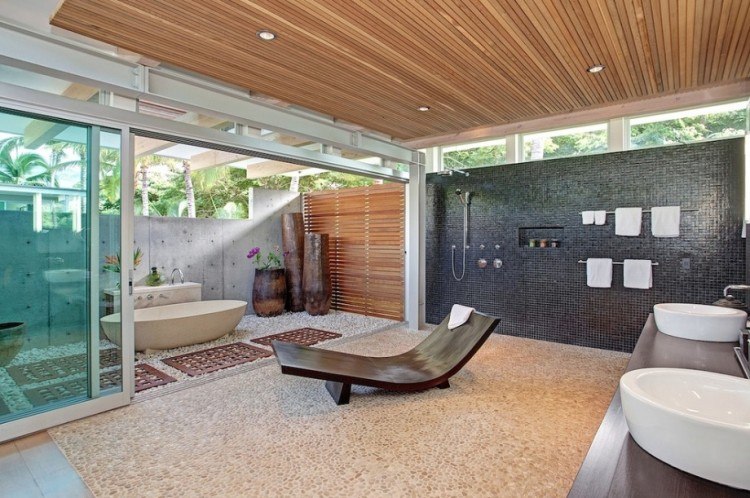 Today, the stand alone tub has been gaining in popularity.  If you think you're seeing a bunch of tubs in hotels that look like they're in the middle of the room, you're not alone.  This is becoming the new standard. There are a number of styles when it comes to stand alones and here are some you should be looking out for:  Japanese style soaking tubs, modern tub faucets with pipes that come up from the floor and pour into the tub, air baths,  mood enhancing lighting or Chromotherapy, and finally new materials for tubs as well as shapes.
6. Shower Technology
Showers have become so sophisticated that they new come with LCD panels that electronically allow you to control temperature, water flow, steam, music and chromotherapy.  Did you know they also make blue tooth shower heads?  No, I'm not joking. The Moxie Showerhead with Bluetooth enabled wireless speaker system allows you to listen to up to 7 hours of music, news or podcasts while showering. Instead of cranking your radio up so you can hear it over the water, you can now listen through your H2O.
7.  Warming Drawers
AKA towel warmers.  How awesome is it when you get out of the shower to a warm, fresh towel?  There's no better feeling.
8. Water Proof Televisions
And what would a show be without a waterproof television?  Radios are old news!  The current trend is to carry your iPads in the shower but people often drop these items.  And just in case you needed another reason to take more time in the shower, you've got one now with the TV>
9. The Programmable Water Pebble
Water Pebble takes the guesswork out of water conservation by tracking your shower and training you to use less water.  There are built in sensors that tell you when to stop the shower so that you don't waste water.  Finally, a technology in the bathroom for the environment too!
10. Simplehuman Sensor Mirror
According to Simple Human, the Sensor Mirror uses a light system to stimulate natural sunlight so that users can see their full color variation. The mirror automatically lights up when users' face approaches it, and because this cordless mirror packs a long-lasting LED that can reportedly last up to 100 years, battery life should not be a problem.  Plus, no more going to the bathroom in the dark.  Just walk a little and poof!
What technology are you excited to use in the bathroom?  What technologies do you already use?  Tell us what your experience has been like!