Spending a night hanging out at the bar is a common pastime for a lot of people. But while people all over the world are flocking to bars and pulling up stools next to strangers, those who are lucky enough to have bars in the comfort of their homes can just head down the hall or down the stairs. With that being said, most people take great pride in their home bars, and try to make them shine as much as possible. As the saying goes 'go big, or go home' and there's no better place to go big than well, your own home.  With bars like these, there's no doubt that your house will become the new hangout spot for all of your friends and family. Here are 20 bar and stool designs for the luxury home owner.
image via homcy.com
Sometimes mixing the best of both worlds is the perfect way to achieve the look you want. This bar features the classic look with the stools providing a nice pop of color. With a set up like this, you can feel like you're actually 'at' the bar while still being able to enjoy the comforts of your own home.
image via houzz.com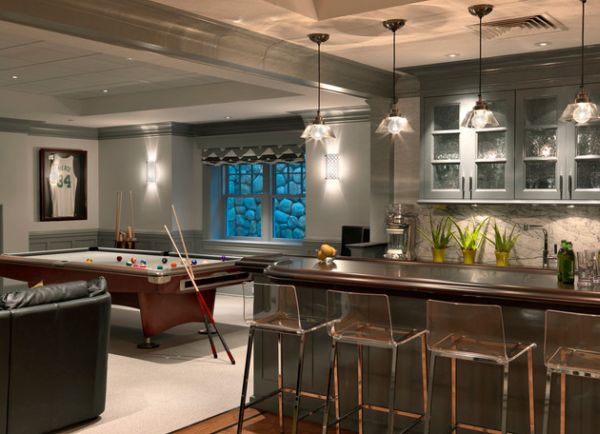 Homes with a modern look usually like to keep that theme running throughout the entirety of the house. These sleep wooden bar blends in well with the rest of the room, and these unique clear stools adds a nice touch.
image via decoist.com
Colorful bars probably aren't something you see very often. Most people are used to seeing the standard wood, but this design proves that home bars can be very versatile and stylish. With a colorful place, and stools with red leather cushions, this bar is making a statement of its own.
image via www.pharaohmfg.com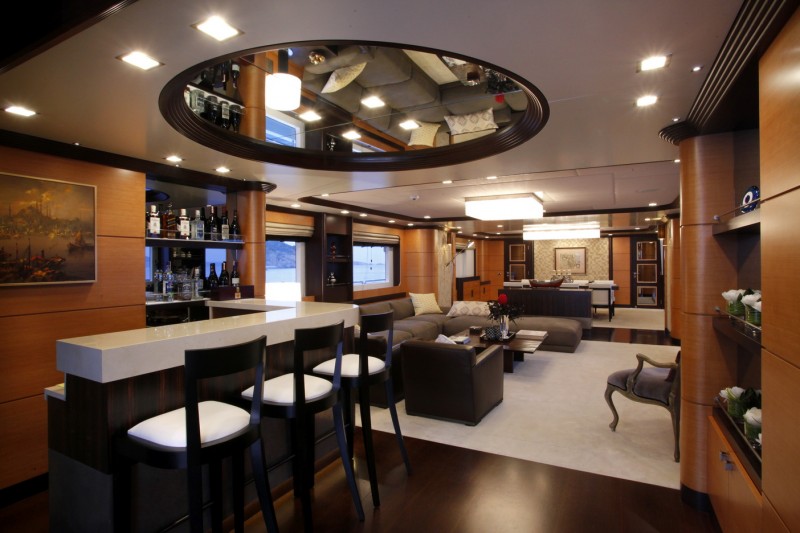 When most people hear simple, they think of plain and boring. However, while this bar features a very simply design it's still appealing and sleek. The opaque marble counter top blends blend in nicely with the high back wooden stools.
image via www.charterworld.com
Opting for high back bar stools with more of a cushion is a great alternative to the typical stool. If people are going to be spending a lot of time sitting at the bar, it' important that they're comfortable.
image via dellacooks.com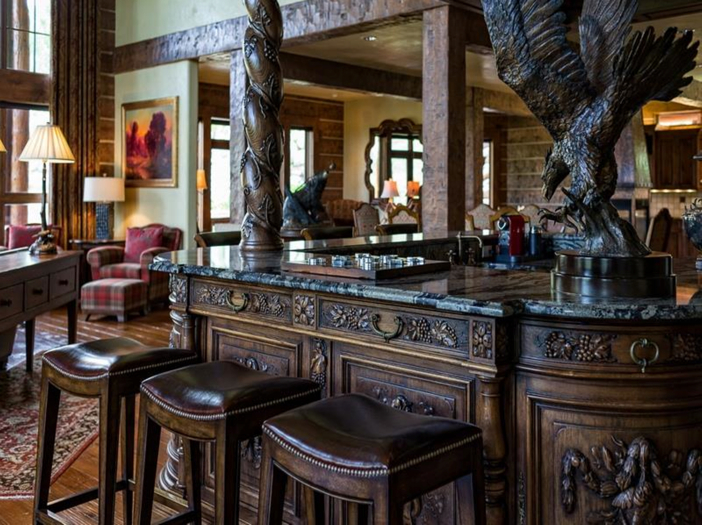 This bar features a very classic look that is extremely detailed and high end. Almost like a work of art, the beautiful carvings in the base will definitely draw a lot of attention from guests. Even the stools are luxurious and sturdy, and while there lacking a back, they do have a decent amount of cushion.
image via www.exoticexcess.com
Comfort is key, and these stools make sure they hit every aspect of it. Taking things a little further from the basic high back design, these stools are also equipped with arms rests. With chairs like this, it's easy to see how a person could sit at the bar all night.
image via countryside-studio.com
One of the great things about having a bar in your house is that you can make the setting as intimate as you'd like. Designed for two, this bar boasts a futuristic design that you probably won't see very often. With an illuminated base, and cubed high back chairs, this bar is perfect for two friends who are looking to catch up over a drink.
image via www.vanaka.org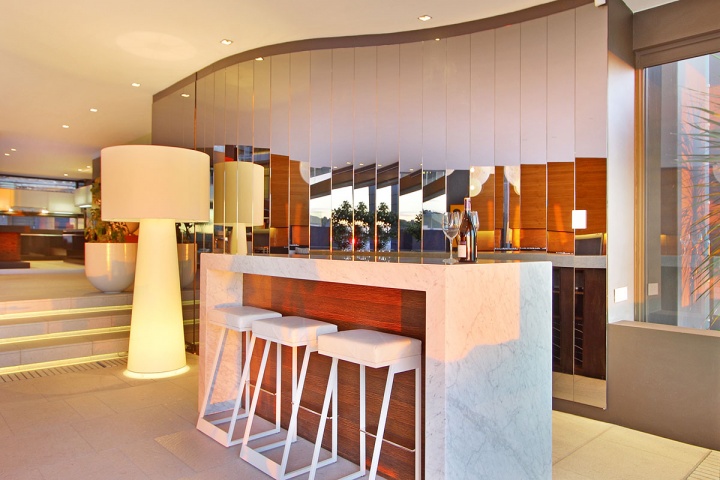 This simple design is perfect for people who like to keep things low-key, and are not interested in having a lot of extra add-ons. The marble counter top is a great contrast to the wooden base, and the stools fit perfectly under the bar.
image via www.home-designing.com
When you want something very stylish, sometimes you have to make a compromise with comfort. While these stools, which are nothing more than rectangular wooden blocks, may not be very comfortable – they do look great with this half floating bar design.
image via coachbigb.com
For people who are looking to have a lot of guests at once, the length of the bar is very important. Although some people prefer to go with a more intimate setting with just a few chairs, others want to be able to fit as many people as possible, and thing long bar can sit six people.
image via www.styleofdesign.com
This three toned bar is very unique in its design, and seems to be both smooth and rippled. Since home bars are pretty common, it's always cool to have something about yours that sets it apart from the rest. Everything about this bar screams creativity and uniqueness and the plush purple stools add a nice touch and a nice dose of color.
image via www.room-designing.com
When it comes to amazing bar and stool combinations, this is definitely one of the best. Most people tend to shy away from using colors because they fear that it'll take away from the luxury of a space. However, this bar is proof that when done right, bright colors can look great in classy spaces.
image via ambranews.com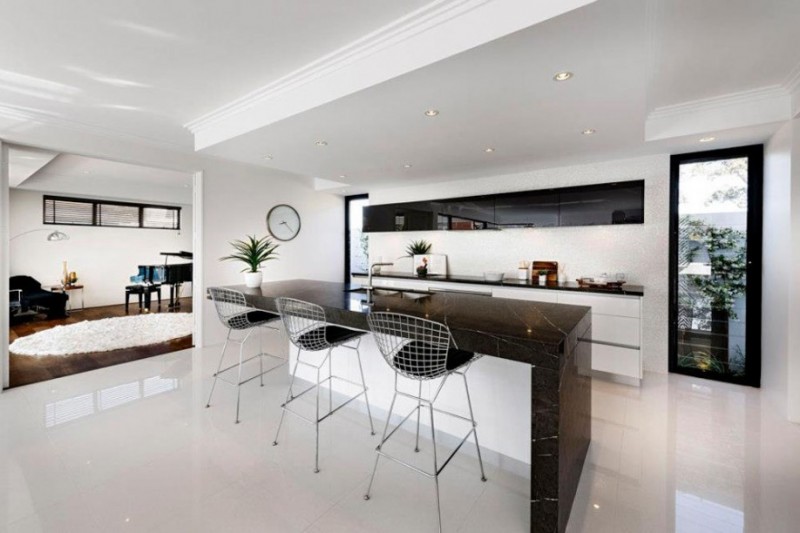 Marble home bars are very popular because they're attractive, sturdy, and easy to clean. This black and white bar makes great use of the marble material, and the wire back stools helping maintain the simple and smooth design.
image via myzestyliving.com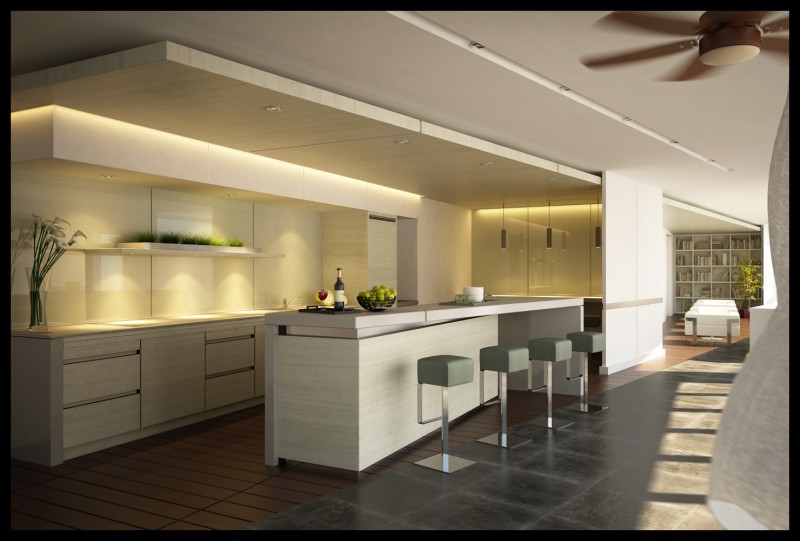 Shapes are very important when figuring the layout of any room. Grouping similar shapes is always a good idea, and this design does it from start to finish. With a rectangular bar ands square stools, this design provides a very clean and sharp appearance that makes the room flow together nicely.
image via www.ducrx.com
Just because this design is very old school, it doesn't have to be boring and unoriginal. The modern looking wooden stools add the perfect touch to bring this bar into modern times while maintaining its classical look.
image via slodive.com
It goes without saying that lights are very important to any living space. But despite its importance, most people don't go out of their way to come up with creative ways to use lights. This design; however, is incredibly creative, and the lighted base easily sets this bar apart from the rest.
image via mistones.com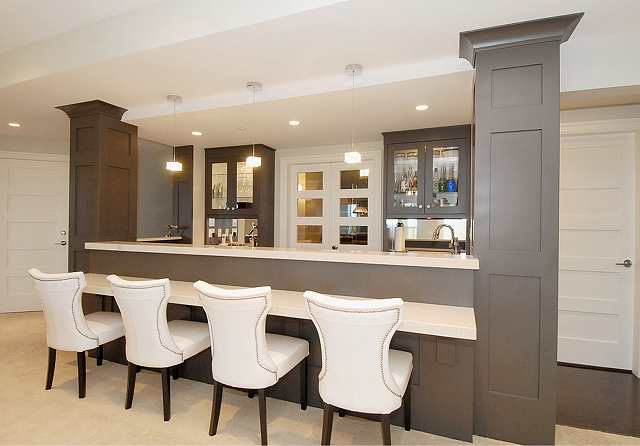 Most bars are high, and for a lot of people who adds a little bit of discomfort. Having your legs dangling from a stool all night can get annoying pretty quickly, but the good news is, when you have a bar in your house – you call the shots. This bar features a much lower design that allows standard size chairs to be used.
image via www.mehve.net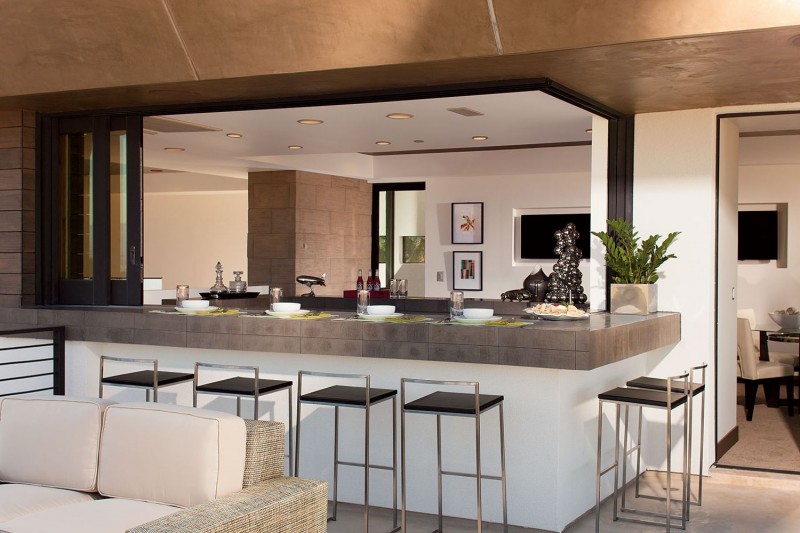 With a sliding window, this bar can be opened and closed which can come in handy for gatherings. The stools also embody a minimalist design that makes them attractive and modern.
image via www.advenaes.org
This is another bar that makes interesting use of lighting. The use of blue lights on and behind the bar give this design a very cool look that highlights the brick base and the plush velvet stools.
image via www.interior-architecture.net