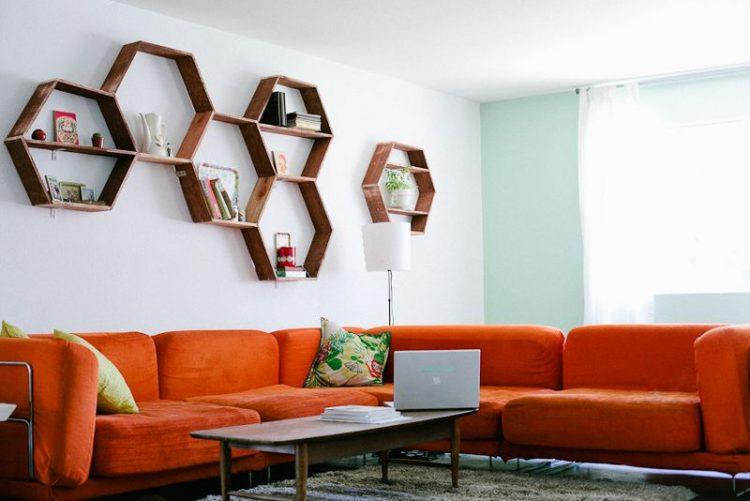 Floating shelves are a homemaker's choice for a tidy and simple look of the room. They enhance a room's beauty and define the walls.
They can be used in various ways. One can make it a corner to display the memories or show off the achievements and glories by placing photographs or gift pieces on it. Or, one can give an ancient cultural look to the room by collecting archaic pieces and decorating using them. The best use for a student can be to use it as a bookshelf. Whatever be the use, a floating shelf is like an add-on to the room because it serves the purpose without much effort and cost! Place a few floating shelves in your living room and put on some stylish pieces to give the place a fabulous appeal.
A great way to save floor space!– Don't have enough area for fancy showpieces? Relax, floating shelves would work for you. Apart from the many benefits listed above, the floating shelves are much required by a person who  does not have enough floor space. It is an easy space to reach out to the daily utility things while occupying a minimal area. If you are a person who loves to decorate walls and give them a finished look, then floating shelves should be on your shopping list. They can be installed very easily. These are suitable for a kitchen or washroom where one would not like to stack wooden cupboards and cut short space.
Now that you've read how much you might need the floating shelves, you should definitely have a  look at this list of 7 best floating shelves types.
These are the 7 most popular types of floating shelves.
Square floating shelf.
Corner floating shelf.
U floating shelf.
Glass floating shelf.
Honeycomb floating shelf.
Triangle floating shelf.
Zigzag corner floating shelf
Below given are the 7  most loved floating shelves in the above-mentioned types.
Melannco Set of 3 Square Wood Shelves, Espresso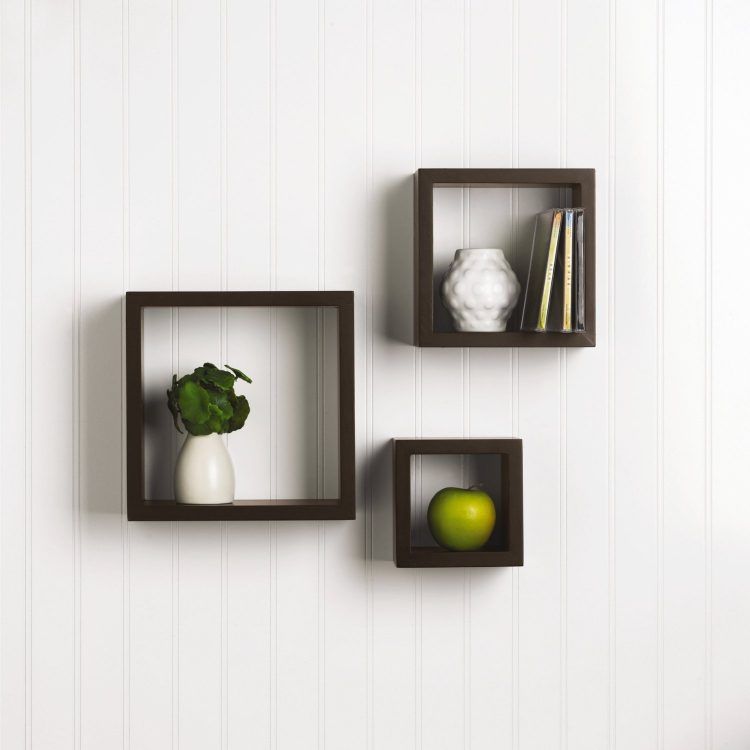 This three-piece set comes in a square shape with dimensions 9×9, 7×7 and 5×5, respectively. The set of shelves can give your room a graphic look as all the three pieces are of different sizes. The shipment package would consist of the hanging material, an easy template, and instructions. Use the smallest to keep lighter items (like small candles, table clock, etc ). You can use the larger one to keep flower pots or wall hangings. If you are a woman, this can work as your jewelry corner. The shelves are made of MDF wood and come in a deep brown espresso color. The shelves are 3.5 inches deep and quite strong.
Corner Wall Shelf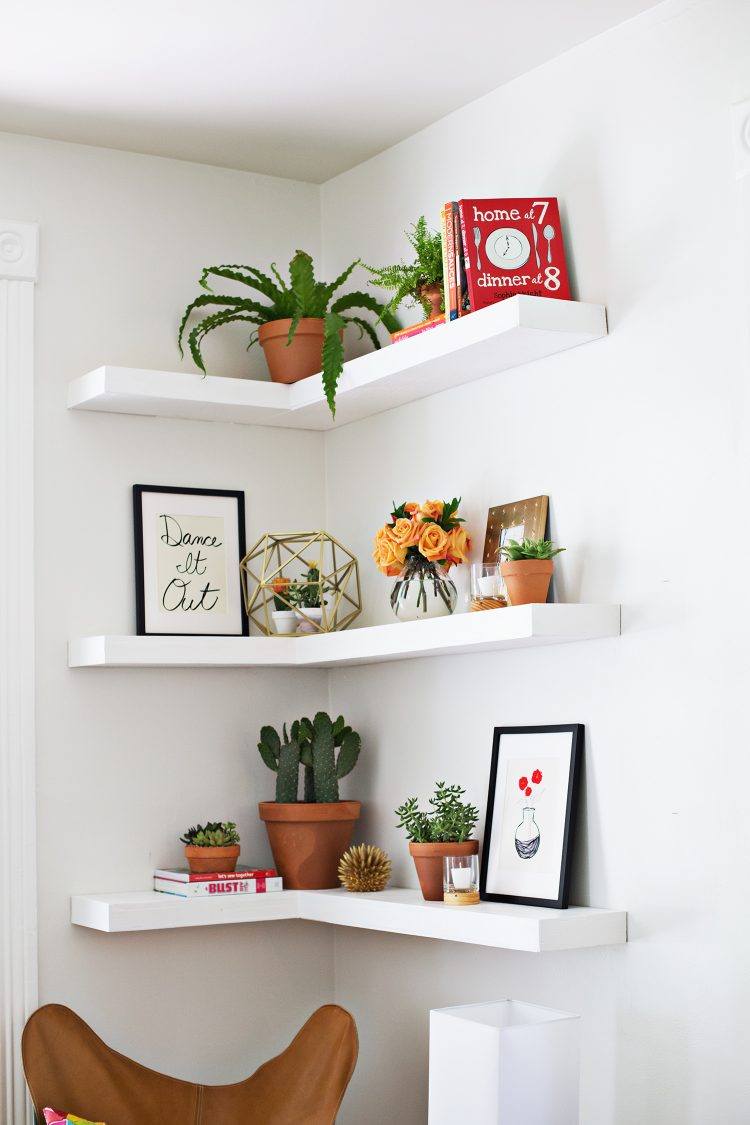 This set of shelves falls under the category of the corner wall shelves. These shelves are fixed at the joint of two adjacent walls which are at right angle to each other. MDF and Laminate provide it durability and strength.  The white color gives a contemporary touch to the shelves while adding to the beauty of your room decor. The shelves are good to accommodate compact items like small vases, photo frames, flower pots, etc. The total expense in building this floating shelf  would be around 100 USD . The USP of this corner shelf is that they silently increase the appeal of your walls. With hardware items included, the shelves are easy to install.
Danya B. Black Laminate Floating U Shelves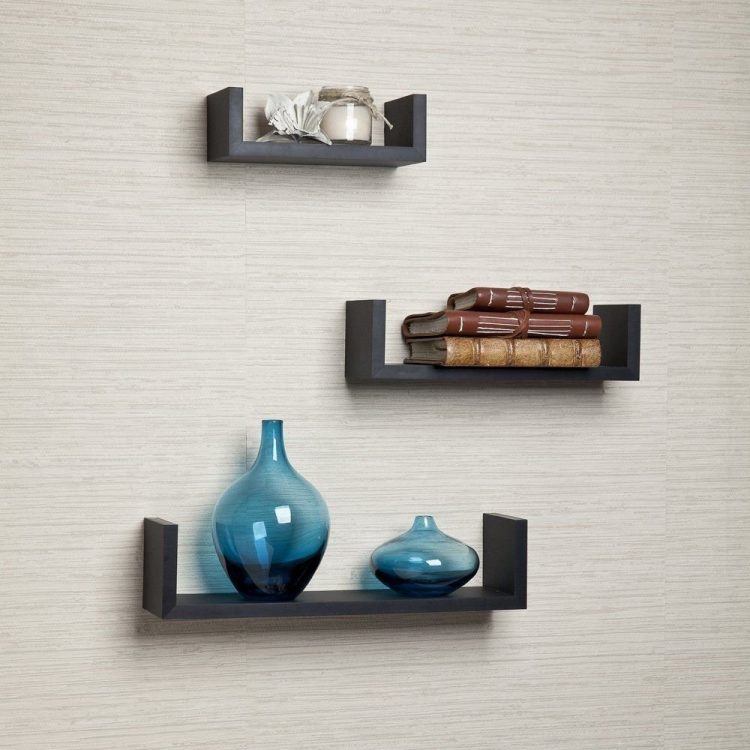 This finished black set of three floating shelves is a delight to your love for black. Each shelf is like a semi-rectangular cup which can contain your merchandise. The connectors used to attach the shelves to the wall are not visible which is why it gives a clean and subtle look. The picturesque designs have variable dimensions with the largest one being 17 x 4 x 4″, medium 13 x 4 x 3.5″ and the smallest 9 x 4 x 3″. You can either mount them one below the other or else, use different arrays as you like. The hardware and user manual comes with the shipment. Made of MDF & laminate, the black wood looks elegant and smart. This cheap floating shelf is a perfect fit for your living room.
Glass floating shelf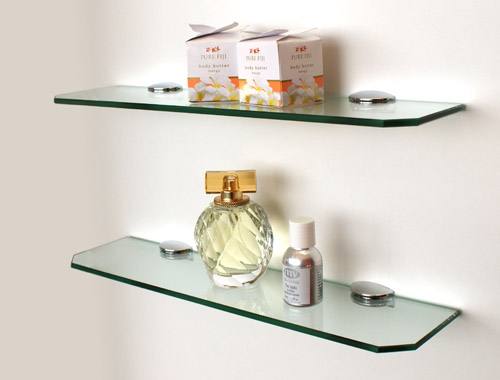 If you are looking for a super deal with one complementary shelf, then this one will appeal to you. This product comes with two glass shelves and the both are symmetrical. The shelves come in a rectangular shape with dimensions 400 x 100 x 6mm which is good enough to hold any material up to 5 kg each. The chrome finish makes the shelves look spotless. These shelves would be the best for washrooms where you don't have to worry about any damage from water or kitchens so that you can easily remove the oil and food stains. The product includes brackets to project the shelves on the wall with  screws and plugs inclusive.
Honeycomb floating shelves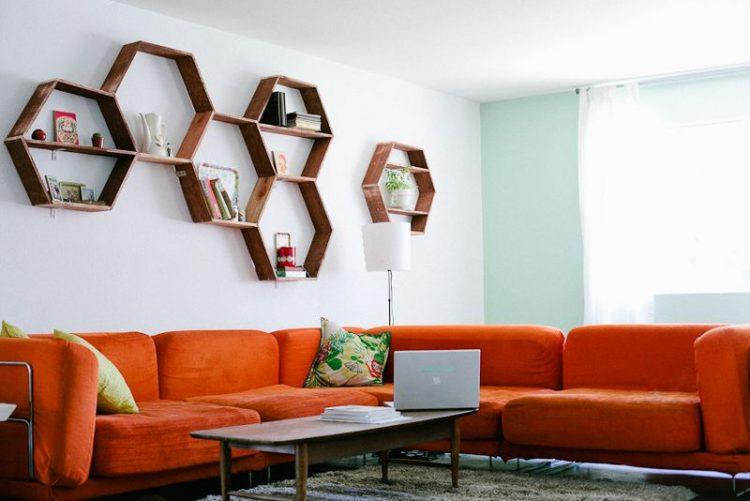 Image source: http://www.abeautifulmess.com/2012/06/diy-honeycomb-shelves.html
These honeycomb-shaped shelves look cute and offer a unique look. The product comes in a set of three finished shelves which can be arranged in different arrays to create various arrangements. The dimensions are  12″ point to point, 3 1/2″ depth, and 3/4″ thickness. You can line them up or place them edge to edge. The internal part of the shelves is white in color, giving it a plain classy look. Unlike other traditional floating shelves, this one is very uncommon and disruptive. Though you can keep daily utility items on the shelves, it is highly recommended to place this shelf in your living room to jazz up the looks.
16″ Triangle Shelve
The USP of this set of three floating shelves is that it is handmade and customized carefully. The shelves come in a triangular shape with a height of 16 inches and depth of 6 inches. One shelf has a diagonal partitioning and the other one has horizontal separation. The third one is not partitioned. These wooden pieces can beautify your living room or drawing room even with no item stacked in them as they provide a rich authentic look.  When it comes to 2016, triangle floating shelves have great demand because of its looks and space saving capability
Danya B. Large Corner Wall Mount Shelf – Walnut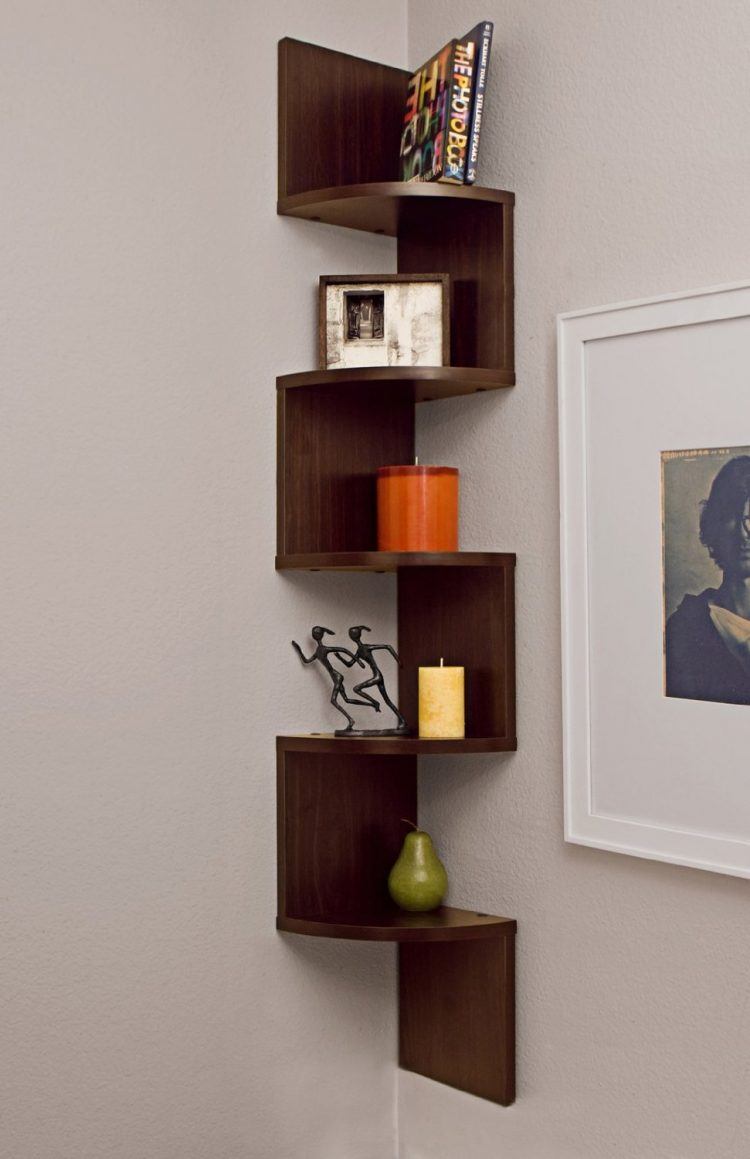 This walnut colored shelf is the fashion-forward pick if you don't want to settle for less. Unlike the traditional plain design for floating shelves, this one is like a staircase with 5 shelves which can be mounted at the juncture of two walls. The deep walnut color is sure to match any wall color and decor theme. With hardware included, this item is ready to give your room a different look. A perfect place to portray a story through pictures! Made of MDF & laminate and dimensions 48.5 x 7.8 x 7.8 inches, the floating shelf is strong and sure to stay with you for years.
The bottom line
Floating shelves are the ultimate decor hacks. One can use them as centerpieces or for storage.  While purchasing a floating shelf for your room, look for an appealing one that doesn't compromise on quality. Remember, a good shopper is the one who buys things that are durable. Do check the material, size and the number of shelves provided. Also, you should make the choice as per the place where you want to fit on the shelf. The choice would be obviously different for a washroom, kitchen or a living room. Check out the finishing, storage space, and color as well and make a right choice. Choose the best-floating shelf befitting your needs and give your house a breeze of change!