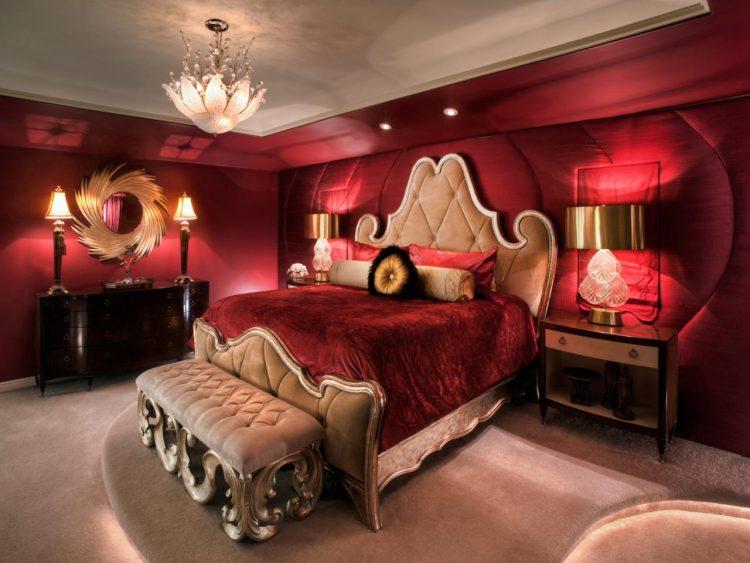 Many people are intimidated by the thought of decorating a room with red, but it truly is a versatile and fun color to use. It's beautiful in dining and living areas and can be stunning outdoors, but where red truly shines is in the bedroom. Being a color that evokes passion and vibrant emotions, it's wonderfully suited for this particular room. If you're looking for decorating ideas, here are ten well designed red bedrooms.
1. Traditional and grand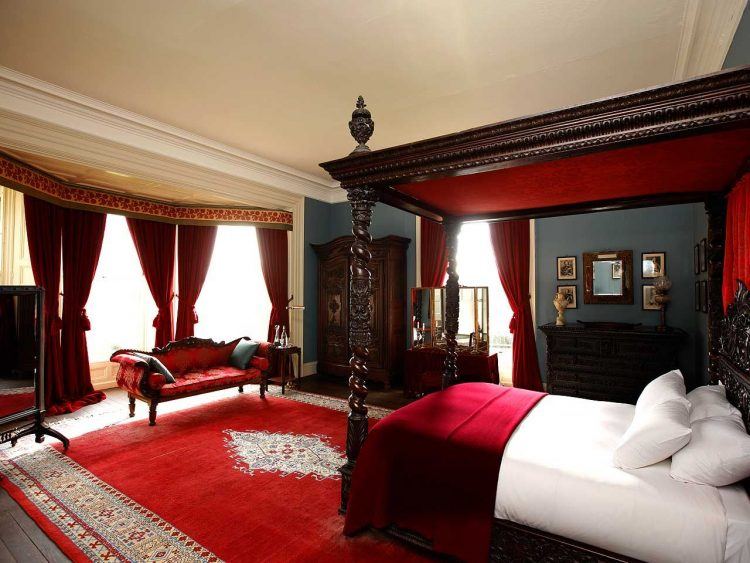 Red lends itself well to spaces that feature classic decor, such as this bedroom. In addition to drapes that flow from the ceiling and a large area rug, red is seen in the traditionally styled bed and bedding. To provide balance, the walls were left a creamy white and an accent wall is painted a shade of slate blue. A few refined accessories complete the look and make this space opulent and stately.
2. Southwestern flair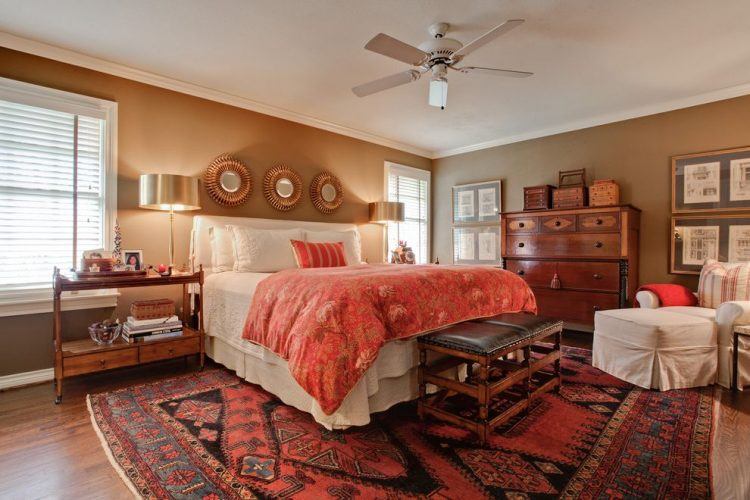 You don't have to use bright red in your decor or have red wall paint, and you can still end up with an amazing bedroom. Here, a transitional space is accented by a large rug with a Southwestern motif. The colors in the bedding, throw pillows, and furniture tie into those found in the rug, and the wood tones in the space warm things up even more. A few vintage prints and glam golden accessories liven up the space and give this room character and style.
3. Bright and bold wallpaper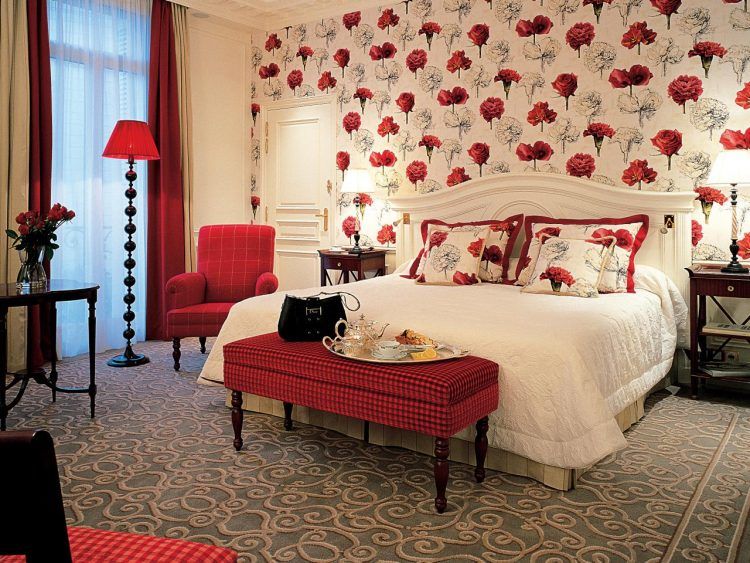 This red bedroom brings the drama with eye popping wall paper that features red flowers. Pillows on the bed have the same pattern, and a red ottoman, curtains, floor lamp, and seating add more touches of color. To balance out the vibrant shade, the bedding is primarily white and the walls and ceiling throughout the rest of the room are as well. Having a neutral carpet with an interesting pattern breaks up the space so things don't look too matchy-matchy.
4. Red bohemian bedding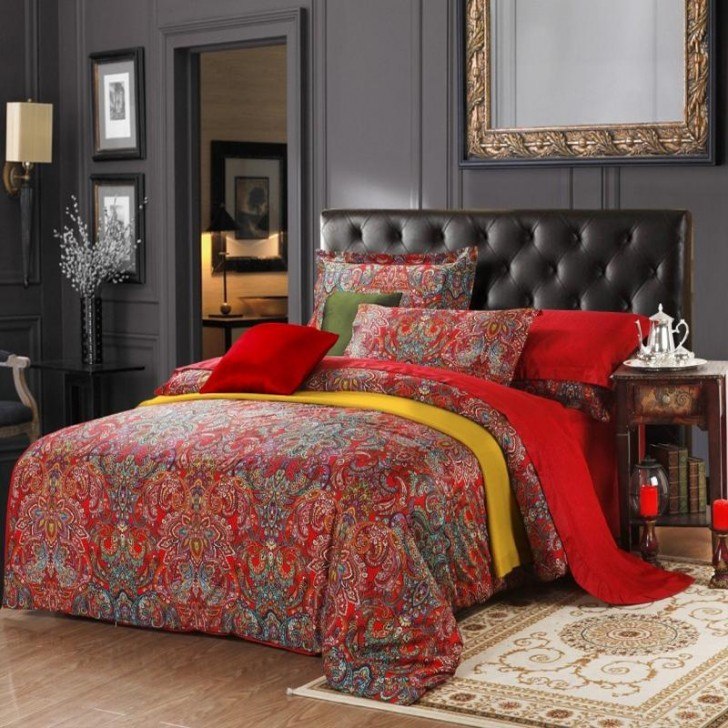 If you're thinking you'd like a red bedroom but aren't completely sure, use this design idea as an example to test out the color and see if it works for you. This bedroom has an intriguing and sultry vibe, but that's largely due to the dark gray walls and black leather headboard. Red bedding, pillows, and a few accessories in a bohemian print add visual interest and loads of color that what's otherwise a neutral area. Adding red to your room with bedding is not only inexpensive, it's an easy way to change the color and style of your space in a snap.
5. Rich burgundy bedroom
Many associate burgundy decor with traditional rooms, and that's largely because it looks so fabulous in spaces with that particular style. This red bedroom is plush, lavish, and decked out with heavy accents of burgundy and more vibrant shades. The lines of the furniture, window treatments, gilded gold decor, and generous runner provide an Old World, elegant feel. Though just about every element in the room is classically designed, it doesn't look at all outdated.
6. Trendy contemporary style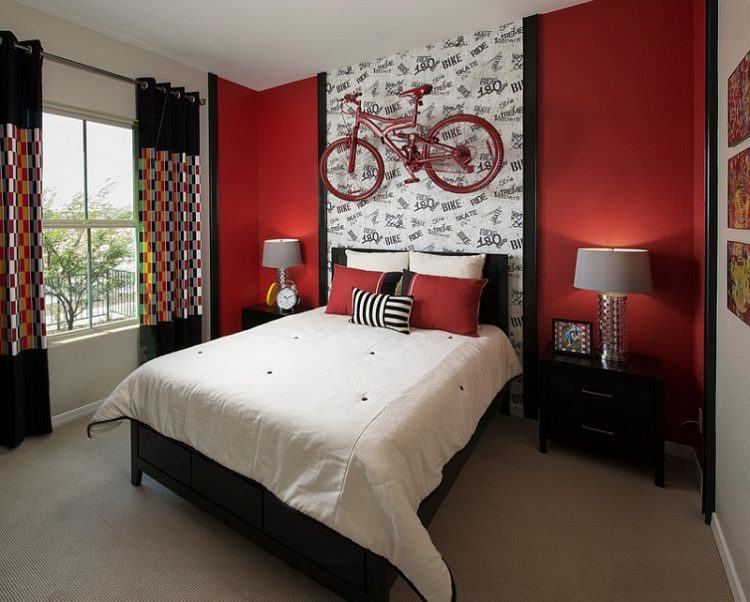 A red bedroom can easily become a contemporary masterpiece, just add your own unique touches. In this space, the highlight is a bicycle that was spray painted red and propped up above the bed — it's an off-beat headboard that has huge style payoff. A white, black, and gray graphic print panel behind the bed, two corners painted in red, and black, and checkerboard curtains add cool style to the room. Because there are so many patterns and textures incorporated into the design, it was a smart move to keep the bedding and most of the walls solid white.
7. Drama and romance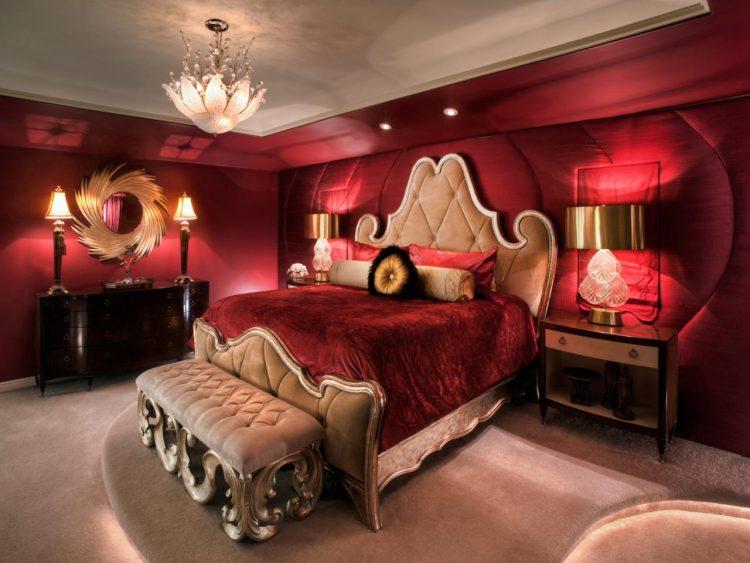 For those who think the perfect red bedroom should be full of gorgeous fabrics and have a sensuous feel, look no further than this outstanding design. The walls are painted a beautiful shade of red, and the wall behind the bed is paneled with fabric in the same shade. A padded champagne headboard and foot board make a fabulous neutral complement to the red bedding. Interesting accessories including gold and crystal lamps, a golden mirror, and a fantastic light fixture take this room over the top in a magnificent way.
8. Vibrant red accents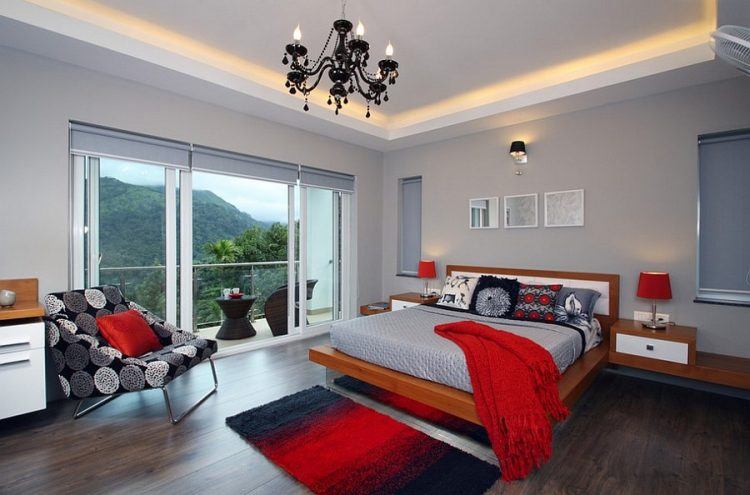 If your design preferences lean towards contemporary or modern styles, this bedroom is a prime example of how to add red to a space without painting your walls. Although the walls, ceiling, seating, and furniture in the room are other colors, red still dominates because the other shades in the design are cool and neutral. Try pairing accessories and bedding in a bright or rich hue such as cherry, tomato, rosewood, wine, or Venetian red with cooler shades like slate, gray, pale blue, cream, or black for great visual contrast.
9. Elegant and luxurious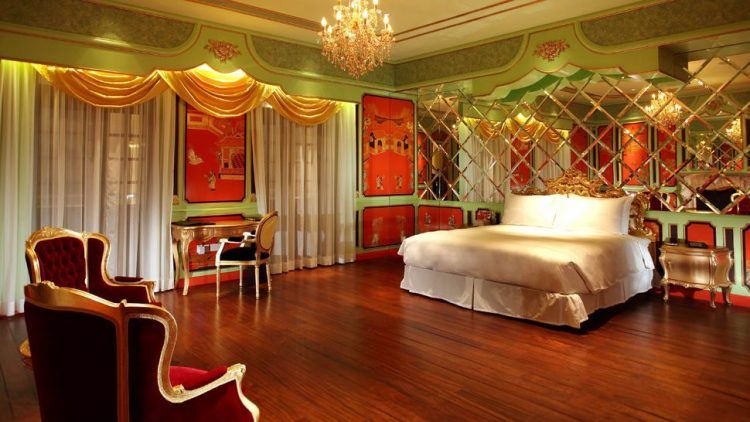 Few would think to pair warm shades of red with light chartreuse green, but it really does work in this space. The bedroom's aesthetic is elegant and made all the more lavish with the edition of antique style seating, an opulent gold headboard, dramatic chandelier, and a wall of diamond shaped mirrors. The walls of the room are painted green, and red panels are integrated throughout. Wood floors keep things warmed up and are a beautiful alternative to marble tile.
10. A relaxing retreat
Want a red bedroom, but afraid it would be too stimulating? Pair your chosen shade of red with walls painted a more calming color. In this room, rich red curtains and bedding are set against a tranquil shade of aquamarine. The unexpected pairing looks gorgeous, and with a couple of simple prints and a great rug the entire room's style is effortlessly pulled together.