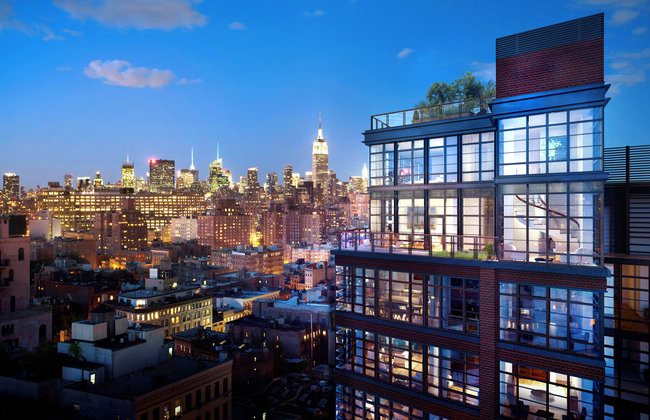 Power in NYC real estate means money – acquiring, spending, and creating it – particularly now, as the market closes in to a tremulous sunset after many bright, vibrant years. Our list of the top 10 power players in NYC real estate was created with this criterion in mind. The list consists of those who animate the trends and the deals. They're the money providers and the deciders. They control the world of real estate the rest of us reside in; or cover, whichever the case.
1. Jamie Drake, 59 – Founder, Drake Design Associates
Famous for completing a restoration of Gracie Mansion for Mayor Bloomberg back in 2002 and decorating Madonna's LA home, Jamie Drake is a talented interior designer with an impeccable taste for exuberant interiors. He has been in the business for almost forty years and his firm now handles numerous residential projects, including homes at the ninety-story behemoth One57, de Meuron's chic Tribeca building 56 Leonard, and a complete floor of apartments at Herzog.
2. Bjarke Ingels, 41 – Founder, Bjarke Ingles Group
The Danish bloke has been known for creating bold, remorseless designs that almost strain gullibility, including the striking Denmark Pavilion that was launched in Shanghai at EXPO 2010. After moving to New York in 2012, he began putting his mark on Gotham through a West 57th Street residential building called W57 that looks like a big pyramid, the center of which is occupied by a cutout courtyard. Ingels also took over the designing of the second tower of the World Trade Center from Norman Foster, with a plan for a 7-tiered building.
3. Robert A. M. Stern, 77 – Founder & Senior Partner, Robert A.M. Stern Architects
Through his company, which bares his name, Stern changed the design of NYC real estate in 2000 when he shifted his focus from individual houses to bigger, multifamily commissions. He designed the Chatham, located at 181 E. 65th street (which is also his home), featuring brick-and-limestone Georgian facade that significantly heightened the cost of staying on the UES. Of course, his most iconic work by far is 15 Central Park West, but he has other projects under his name, including the future 30 Park Place Four Seasons Private Residences Downtown, 20 East End Avenue, and 520 Park Avenue.
4. Michael Shvo, 42 – CEO and President, SHVO
Born in Israel, Shvo opened his firm under the same name in 2004, and is known for his real estate acumen and bold personality. Some of the most notable properties he has developed include the Financial District-based Armani Casa-outfitted 20 Pine residences, Utah-based ultra-luxe Amangiri resort, and Bryant Park Tower. He retired in 2008 to pursue his love for art, but made his way back in 2013 by pouring out $23.5 million to purchase the Getty Oil gas station located in West Chelsea. An expert marketer and showman, Shvo later transformed the space into a public art installation by adding sculptural Lalanne sheep. As of this writing, Shvo owns $3.5 billion in terms of development, including a private island resort in the Bahamas, the residential tower based in 100 Varick, the skyscraper located at 125 Greenwich Street, and the Crown building he recently acquired.
5. Ziel Feldman, 57 – Chairman and Founder, HFZ Capital Group
Before Feldman and his associates started acquiring distressed assets during the market downturn (such as One Madison), HFZ was virtually unknown. Today, he has invested in some bold real estate risks, dancing to the tune of $7.5billion in transactions. His secret, he says, is diversification. The company's approach of creating several types of products at a wide range of price points in mostly emerging or unexpected locations, in addition to its collaboration with reputable architects, has gone a long way towards establishing HFZ in an enviable position.
6. Aby Rosen, 56 – Principal and Co-founder, RFR Holding
The German-born businessman is the owner of the iconic Seagram Building and Lever House. People know him as a trustee of the New Museum, chairman of the New York State Council, and a collector of contemporary art. The fact that he has stakes in New York's Paramount hotels and Gramercy Park also makes him a power player in hospitality. In the meantime, his prowess in residential real estate spreads out through 50 metropolitan-area properties across 2,200 units, including the upcoming ultra-luxe spot at 100 East 53 street, de Meuron & Herzog-designed 40 Bond St. and One Jackson Square.
7. Jonathan Miller, 55 – CEO and President, Miller Samuel Inc.
After 29 years in the industry, Miller's company is NYC's best real estate appraisal consultancy, if not in the entire country. With their main task being to determine the actual worth of real estate, Jonathan and his team can literally alter the price bar on districts and developments. Apart from evaluating expensive condos and homes, he develops comprehensive "state of the market" reports involving NYC, Aspen, LA, and South Florida for Douglas Eliman. Although he is certainly a force to be reckoned with in the real estate industry, Miller considers himself a steward of accountability and transparency in a world frequently overwhelmed with broker babble and half-truths.
8. Roman Abramovich, 49 – Developer/Investor
The twelfth richest man in Russia estimated to be worth $9.3billion, Roman Abramovich started his reign over exclusive Lowndes Square in London about ten years ago, acquiring 9 flats for around $230 million. Now, he has set his eyes on Manhattan with the same ambitions for luxury real estate. It was recently reported that he set out to East 75th Street and purchased 3 adjacent townhouses with the aim of transforming them into one maga-mansion at a price tag of between $55 million & $70 million.
9. Thomas Juul-hansen, 46 – Interior designer/Architect
Educated in Harvard, Dane moved to the States in 1988 and was briefly a member of Richard Meier & Partners before breaking out on his own in 2003. He rapidly extended his portfolio to include large scale residential buildings, private houses, and restaurants. He was fully responsible for the interior decoration of One57, which definitely put his company on the map. It has a subtle design that oozes a discreet vibe of high customization, simplicity, and tranquility.
10. Andre Kikoski, 49 – Founder of Andre Kikoski Architect
Kikoski, who was once employed by I.M. Pei & Partners (now Pei Cobb Freed), established himself with Suba, a pioneer restaurant in the Lower East Side thanks to his creative cantilevered dining platform embodied by a moat of water. Today, his innovative designs have been displayed at the Guggenheim Museum, Wyckoff Exchange in Bushwick, and several Saks 5th Avenue department stores across the country.