Rarely do certain things appear perfectly at the same time in life, like a perfect sunset or a perfect pool setting. But just like everything else in life, we have to make adjustments. And when it comes to matters concerning pool chairs, there are designers who have mastered their craft to a level that's beyond this world.  Some feel the human body should be suspended in the air, while others like a more grounded design.  And some like to use technology to make things as easy as possible on us lazy humans.
Here are 10 pool chairs that will blow you away:
1. Delano Dream Chair
The Delano Dream Chair really lives up to its name. Manufactured by RST, this adjustable pool chair comes with a bronze-coated metallic body and beige-colored fabric over the top. It has a contoured shape to match your body's ergonomics, ensuring that your shoulders, back, and legs are perfectly supported. A sturdy, adjustable umbrella is incorporated into the frame, which you can move according to the direction of the sun. This way you can simply slide back and start daydreaming besides your pool, or even engage in an interesting read. The dream chair goes for about $397, if you can find it.
2. The Motorized Lounge Chair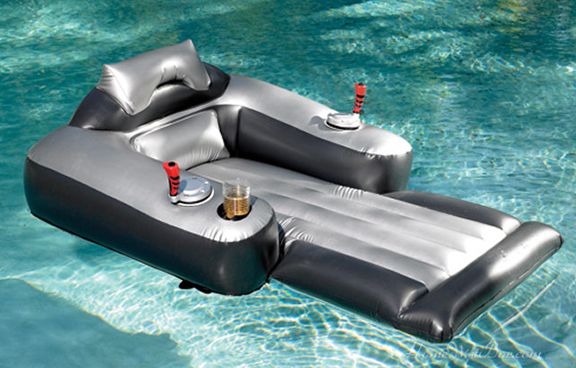 Why float, when you can literally drive? For $125, the Motorized Lounge chair allows you to not only float, but also maneuver across your swimming pool. It uses two motors and comes with hand controls. The integrated cup holder and over-sized armrests give you the comfort of royalty as you lounge in your own swimming pool float empire, while the convenient twin motors and hand controls propel you powerfully in any direction you desire! This way, you can actually cruise around the swimming pool without working up a sweat, getting waterlogged, or even paddling.
3. Kwila Sun Lounger
At a staggering $1,795, this luxury sun lounger is the ideal accessory for unwinding during the summers. Made by Lujo, the pool chair features sleek and trendy ergonomic curves with padded fast-dry cushion for the ultimate comfort. The rocking motion of the sun lounger provides a calming experience, but you can also use the complimentary stoppers to lock it into the most convenient position, whether upright or laid back.
When it comes to durability and quality, this product does not disappoint. The wooden sun loungers, which are hand crafted in New Zealand, utilize gorgeous Kwila hardwood, UV resistant stitching, stainless fittings, fast-dry outdoor foam, and Sunbrella marine fabric. Every part of it is designed to endure the worst from the elements of weather while maintaining their beautiful appearance for years to come. With the promise of long hours of intimate relaxation and a full five-year warranty, this truly is money well-spent.
4. Rocking Double Sun Lounger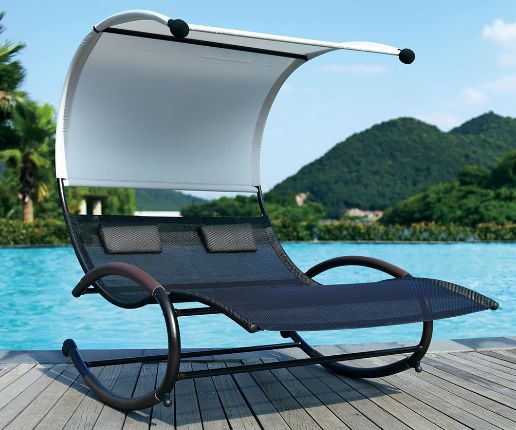 This cool pool chair will leave you feeling like you are floating on air. The rocking motion allows you to enjoy a relaxing moment at the pool side with your special someone! With cushioned headrests and elegant inbuilt shade, there is really no better way to watch as the sun disappears. The chair features a modern design with neutral colors and smooth curves that can enhance any poolside area. The frame is made with sturdy steel, while the body is a textilene fabric that requires little-to-no maintenance. The current models in the market are priced at about $200.
5. Cool Pool Chair (From Shark AsSeenOnTV)
This beautiful pool chair goes for around $100 and includes a flotation package that transforms the chaise into a "zero gravity" free floating experience, a custom fixed umbrella to provide shade, and a carry bag to keep your swimming accessories. The Cool Pool Chair also comes with a comfort headrest that is perfect for relaxing, resting, or reading.
6. Hanging Chaise Lounger Chair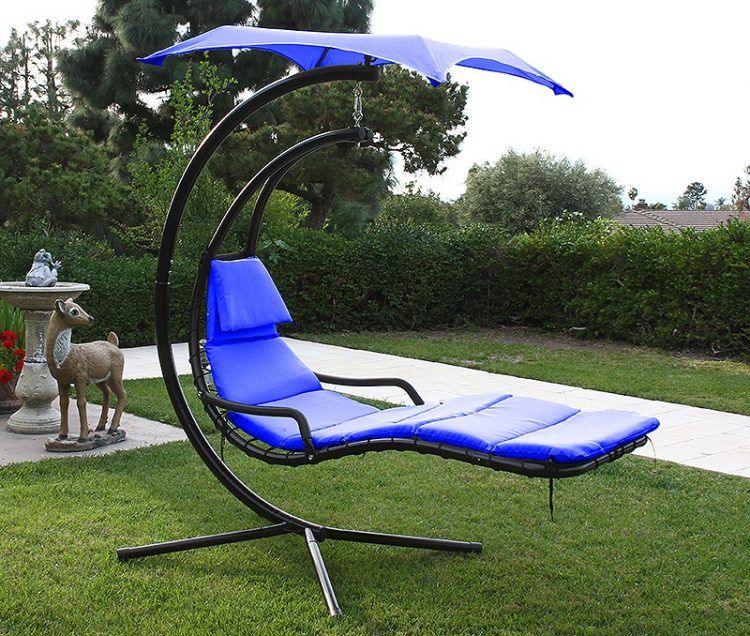 This orange dream hammock chaise lounge is brought to you by Best Choice Products. It is made with heavy duty powder-coated metal frame and comes with a cushion, umbrella, and pillow. The chair can support up to an astounding 265lbs. It features a modern design that can blend in with any backyard decor, and includes integrated 2-inch foam filled PVC polyester cushion and 46-inch canopy. What's more, there is a built-in pillow for additional comfort. The chair is great for sitting back and enjoying a breeze besides your swimming pool, all at $154.95.
7. Pettitt Chaise Lounge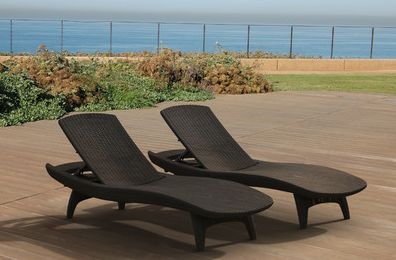 Complete your outdoor sanctuary in inviting fashion with this amazing pool chair, showcasing a dark tone and woven design. Designed by Brayden Studio, this lounger allows you to soak up the sun as you relax by your poolside, or enjoy an interesting book under a shady tree in style. The chair is made with pure high quality resin and comes with adjustable backs. The frame is rust resistant, mildew resistant, weather resistant, and water resistant. It is light and stackable for convenient storage, and has a textured rattan design. The price tag for the Pettitt Chaise Lounge is currently $233.99.
8. Adjustable Chaise Lounge
This adjustable chaise lounge is one of the best pool chairs that accentuates your body's comfort. Apart from the pool, you can use this chair at your patio, home, a lake house, at the beach, or any other coastal or tropical area. It is mostly made with top grade woven synthetic wicker and a metallic frame, which is sturdy and extremely long-lasting. It has an adjustable reclining backrest and can be easily opened up or folded down to accommodate your best sitting posture. The bonus is that the chair is strongly resistant to UV rays and harsh weather elements, allowing you to use it during any season.
9. Giant King Crab Sculptural Lounge Chair
Handcrafted by Design Toscano, this exotic approach to seating is the perfect way to make a grand statement at your poolside! Complete with 8 wide-set legs, claws, and pincher, this stunning crab sculpture offers ample space for deep-seated comfort. The piece is hand-painted and cast in fiberglass-supported resin. The display quality animal chair can easily transform any pool area into something truly breathtaking. The price tag is currently $899.99, but there are a limited number in the market.
10. Boraam 76686 Fresca Outdoor Lounge Chair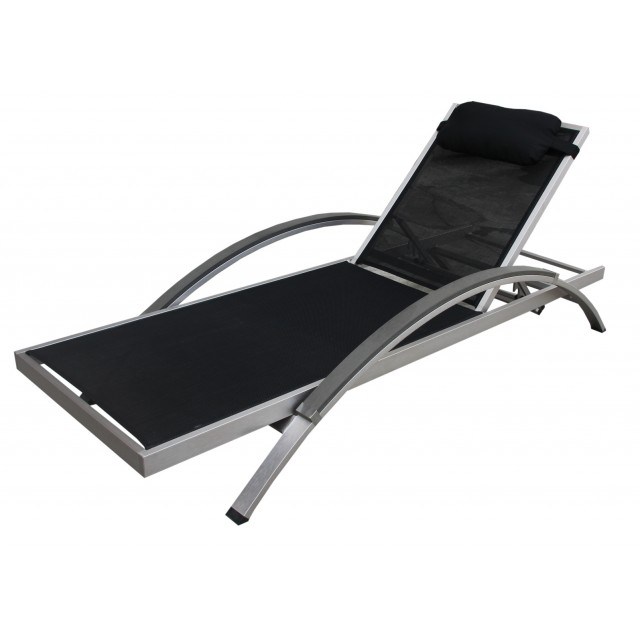 If you are looking to refresh your outdoor living space, this is the way to go. The Fresca Lounge Chair was constructed by Boraam and consists of a lightweight durable aluminum frame and arched arms. The back and seat area are made of a featherweight, breathable material known as textilene. The chair includes an attachable treated head cushion for comfortable lounging besides the swimming pool. It is resistant to both water and heat, low maintenance, and eco-friendly. The chair is also immune to corrosion, with a brushed aluminum frame and a beautiful gray stain finishing. Current market price: $800.