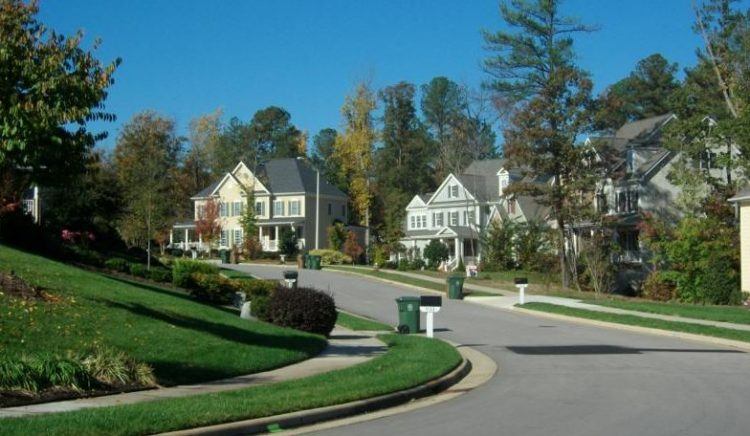 Cary Park is the neighborhood to watch in the Raleigh, NC area. It is quickly becoming one of the most desirable places in the area to live. From humble beginnings, this lovely community has evolved over the last few decades to become the thriving hot spot that it is today. It features most of the characteristics that upper middle class families look for when seeking to relocate or upgrade their living status. Here are the things that make Cary Park so unique.
History
Cary Park began as one of Raleigh's first large scale planned development areas. Prior to the building of multiple new units, it was a peaceful area with few homes. The plans began to unfold in 2000 and targeted a 28 acre lake surrounded by open farmland and the few new homes which were under construction. There was no resemblance to the magnificent and populated area that it has now become. Development continued to include condos, townhomes, apartments and single family homes. Streets were added to the area as more homes were built and the landscape began to transform. Since that time, the newly planted trees and shrubs have grown taller and filled in so now the neighborhood has a more established appearance in most areas but there are a few places which could use a little landscaping tlc.
Home prices
The current housing market is fairly health and there is a range of units available for purchase and some for rent. The median sale price of homes in the Cary Park area is $245,000. The average percentage of sale to list price is ninety eight to one which shows fairly clearly that homes in this area retain their value and potential buyers who are serious about living in this area end up paying close to the asking price. The average number of days on the market for Cary Park homes is twenty one which is remarkably low. From what we can tell by looking at the statistics, this is a very popular place to live and people are scooping up homes within approximately three weeks of their listing. The strength of the housing market is a good indicator that this neighborhood is on the rise and progressing nicely.
Schools
There are six public schools located within the Cary Park area.This is an added incentive for couples with children to move into the neighborhood that features easy access to schools with a low student teacher ratio when compared with schools in the nearby metro area. The schools have received an excellent rating and have a high degree of parental involvement. This is proof that Cary Park is a community filled with residents who favor family values over the night life and clubbing scene. You're more likely to find family related events sponsored by parent teacher associations with the schools. This is part of the high appeal that Cary Park has for drawing family minded residents who want a safe and close knit community for living and raising their children.
Business
The community of Cary Park is situated close to shopping venues including a new Harris Teeter featuring a Starbucks. Business is starting to take off with new additions moving into the area. Cary Park is continuing to expand and to add new businesses and amenities which is a sign of continued growth and evolution. We must bear in mind that it started as twenty eight acre strip of farmland near a lake. Insightful developers saw the potential of the area took a chance, rolled the dice and came out winners.
Amenities
The neighborhood is situated near the lake which offers a host of sidewalks and paved trails. Biking is popular in this area as well as walking the trails or enjoying the lake, club house, pools and playing fields which were recently added. This area is known for being one of the safest neighborhoods in the region and this is only one part of the attraction that is bringing new residents who want to enjoy a peaceful life in a quiet yet active community. There are a total of nine shopping venues in the neighborhood and it does include a grocery store so the staples are covered. For more intensive shopping opportunities, it's not a long drive to the metro area.
Ease of access
Cary Park is near I-540 and offers easy access to the airport or to Research Triangle. This also gives residents fast access to the larger metropolitan areas to enjoy the amenities found in the city such as entertainment, shopping malls, movie theatres, concert venues, sporting events and fine dining establishments. Cary Park is far enough away from the city to have small town characteristics but close enough to appreciate the full benefits of city living.
Award winning neighborhood
Cary Park is catching the attention of quite a few important people. Cary Magazine has recognized this community with a best neighborhood award and it has earned distinguished praise as a Western Wake Best Neighborhood Award Winner.
Final thoughts
Cary Park is definitely the neighborhood to watch in the Raleigh, NC area. It hasn't been in existence for very long. With a history that spans less than twenty years, it is a fairly new development but it is the speed at which this community has evolved that is the most impressive. Upon development, homes began selling very quickly and family minded residents began to populate the area. Expansion continued and at this point in time, the residents have formed a tight knit community that heavily involves total family events, great parent support for the schools and caring homeowners who keep their properties in good to excellent condition.
In just a short time Cary Park has spring up around a lake surrounded by farmland. We've seen nothing but upward progress since its inception. We believe that this amazing neighborhood will continue to grow and develop. This is why we believe that Cary Park could well be one of the most up and coming neighborhoods in the United States. We're looking forward to seeing where to goes in the next five years.