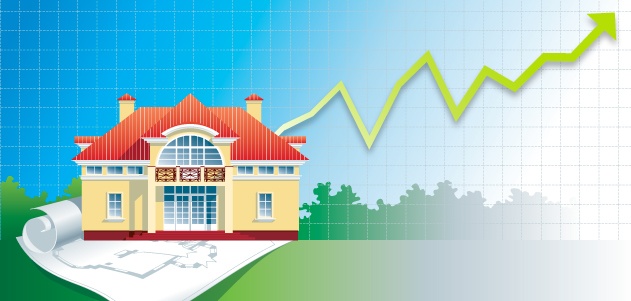 The national average for home prices in the United States has hit a 10-year high. While home prices have historically been one of the major variables that economists evaluate when determining the health of the economy, there are some concerns, at least by some, that the steady incline in home prices might mean that there is another housing bubble on the horizon. This exaggerated concern is primarily due to the major economic collapse in the last decade. The truth is that the national economy has made a steady move toward recovery over the last five years, and it does not seem to be slowing in the near future.
So, what do the high prices mean to the economy and consumers? The answer may not be as straight forward as many would like, but here goes.
The Cause for the Price Increase
When determining what high prices mean in the grand scope of things, it is important to understand the cause of the rise in prices. According to a recent article in Forbes, a substantial influence on housing prices is the lack of availability. The fact that there is simply a higher demand than there is a supply is driving the prices in the housing market upward. It seems that the most pressing question at the time is: where have all the houses gone? Not only are top economist endeavoring to discover the answer to this question, but would be home buyers are also asking the same question.
While the healthy demand is driving the prices upward, an ideal situation for sellers, the dilemma is if you sell, will you be able to find another home on the market. For sellers who are looking to build, this is not an issue; however, for sellers who are looking to downsize or upgrade without building, this could present a problem.
The truth is this hefty demand is not only driving housing prices, but it is sending rental prices through the roof as well. The national median average of housing cost is consistently rising, even in locations where prices have been historically low.
The fact that mortgage rates are near record lows, and buying a home makes more financial sense than renting one, more people are entering the housing market. The fact that wages are increasing and unemployment is the lowest it has been in a while is also driving the demand.
Normally, rising cost would actually drive availability, making more houses available, but the opposite is currently happening. According to economist, Ralph McLaughlin, a chief economist at Trulia, high demand and low inventory is a phenomenon that does not seem to have an immediate end. Trulia reveals that inventory fell again in May in the low to middle-tier category by 8.9 and 9.7 respectively. This is significant when considering the during the same time last year, the inventory only fell by one-half of one percent.
Look for Mortgage Rates to Continue to Fall
Following the United Kingdom's decision to leave the European Union, experts are predicting that mortgage rates will reach an all-time low. What has become known as Brexit actually served to push Treasury rates that traditionally function as benchmarks for mortgage rates to new lows. In 2012, the rates for a 30-year mortgage hit a low of 3.31 percent, and it is currently resting at 3.6 percent. These low rates are likely one of the catalysts driving the demand for homes.
New Construction Remains Low
One problem that is impacting supply is the fact that construction has not reached the threshold required to allow supply to meet demand. In May, new home ground breakings were at 1.1 million, which is considerable lower than the 1.5 minimum that it would take for supply to meet demand. Another problem with construction is that a large percentage of the homes that have been built in recent years have been luxury homes — leading to a shortage of low-tier starter homes.
Homeowners Are Not Selling
Residential stability is also an issue. Due to the fact that people simply are not moving as much as they have in the past, there are fewer existing homes on the market for purchase. Another reason that fewer people are moving is that while they will likely capitalize on the rising home values when they sell, they may not be able to afford the upgrade they are looking for. So, they are staying put for the time being.
This is a great time to sell your home, but the problem is that there may not be anything for you to buy. One economist has referred to this phenomenon as real estate gridlock.
Demand Remains Strong
Almost all housing experts are predicting that the rise in home values will continue, driven by an unrelenting demand. Until there is a rise in inventory strong enough to meet immediate needs for housing, demand will remain strong, despite growing prices. The combination of a strong labor market and low mortgage rates will also drive demand for the foreseeable future.
When considering the fact that buying remains a more attractive option than renting across the country, there is simply no opposing force to drive down prices. Currently, a family would only have to live in a home for 1.8 years before buying would be more advantageous than renting.
What This Means for the Consumer
If you are a buyer, be prepared to pay a premium price, and have your checkbook ready to write that check for earnest money. Houses are not staying on the market for long, with the average house selling in 42 days. There is less room for negotiations, meaning that buyers will likely have to pay the asking price.
As far as sellers are concerned, it will be important to make sure that before you sell you have secured your new home. Finding a home within your price range that you like is becoming an increasingly difficult endeavor.
While the coming election has created some hesitancy as far as market activity on both sides, experts don't believe that it is enough to lower the demands in any substantial way.