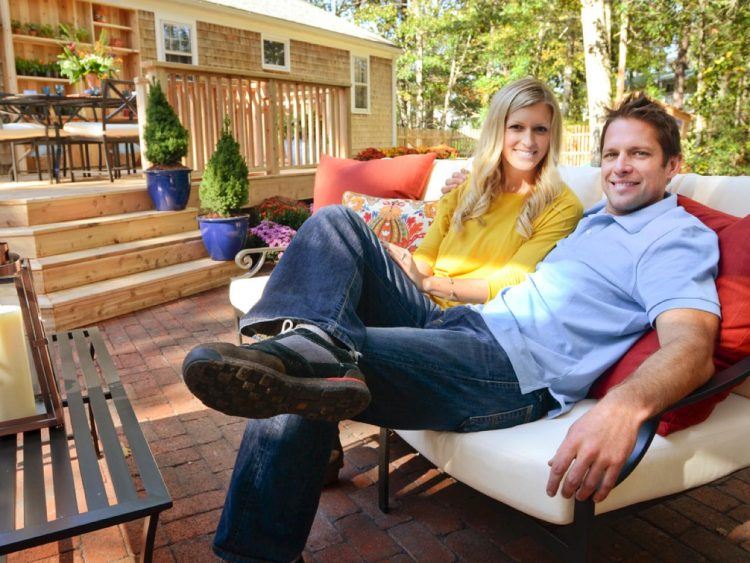 HGTV has so many programs and specials that it can be almost impossible to keep up with everything they show, which is why you may have missed the premiere episode of My New Old House. Hosted by Chris Lambton and his wife, Peyton, the show was aired as a special in late June in what was probably an attempt to gauge how receptive the public was to the show's premise. While HGTV has not yet said whether or not more episodes will follow, it is also a good idea to know everything you can about the show just in case it pops back up in the listings.
From what the show is about to where you have may have seen the hosts before, here are 10 things you didn't know about My New Old House.
1. The show is geared at helping residents renovate historic Cape Cod homes.
According to HGTV, the hosts, Chris (a landscaper with plenty of building skills), and Peyton, who has an eye for design, will help newcomers to the area create a new life. To do this, they will help them renovate their Cape Cod homes to a house with all the amenities and updates, while making sure to maintain the home's original charm.
2. The hosts of My New Old House both looked for love on reality TV.
Chris Lambton appeared on Season 6 of The Bachelorette and actually finished second in the fight for Ali Fedotowsky's love, while Peyton Wright appeared on Season 10 of The Bachelor. (Chris later turned down the opportunity to star in his own season of The Bachelor.) The two met through a mutual Bachelor friend in 2010 at a celebrity golf tournament. By 2012, Chris, a professional landscaper, and Peyton had married in South Carolina's Wild Dunes.
3. Peyton was not originally supposed to be on the show with Chris.
When Chris was asked by HGTV network president, Kathleen Finch, to interview at her Knoxville, TN office, he did so alone. However, Peyton tagged along on his test shot and actually asked if she could be a part of things. Apparently, the cameras loved her and she began to appear alongside him on various landscaping shows before appearing together on My New Old House. The two first appeared together in Going Yard.
4. My New Old House was filmed in MA for a specific reason.
HGTV decided to film My New Old House in Cape Cod, MA because the area is home to plenty of homes that date back to the Revolutionary War . Unfortunately, a good many of these homes are in such disrepair that they could no longer be lived in, such as the one purchased by the Furmans who appeared in the pilot episode. Not only were the floors slanted, but the siding was crumbling and the house had a weird layout thanks to numerous renovations over the year. With $50,000, Chris, along with Peyton's help, was able to make all the needed improvements and repairs while managing to remain compliant with the strict historic building codes.
5. In regards to their own home, the two try to practice what they preach.
Before the two got engaged, Chris purchased his parent's home in Cape Cod's Dennis. While his parents had owned the home for 14 years, the original home was built in the 1800s [2]. Unfortunately, when Chris started the renovation process, he realized there were so many structural problems that it would be impossible to repair them all. Inside, the home was torn down and they built a new one from scratch. Peyton was completely involved in the design process and her father, an architect, even helped.
6. When he is not shooting shows for HGTV, Chris still takes regular landscaping jobs through the family business.
While he is pretty busy with HGTV, Chris still manages to keep up with a few regular landscaping jobs that he gets through his family's landscaping business, E. Lambton Landscaping. Not only does Chris work for the business his father originally started, but his brother does as well.
7. If you enjoyed seeing the couple on My New Old House, there are several other shows you can catch Chris on.
Chris starred in Going Yard (2012) on HGTV. The show focused on his transformation of neglected backyards into amazing spaces. Water features, fire pits, patios, arbors, and tons of plants were often included in his landscape designs. He also hosted the HGTV special, Best Ever Treehouses and took over the hosting and landscaping duties for Matt Blashaw on Yard Crashers while Matt filmed Vacation House for Free. Peyton also appears in Yard Crashers.
8. The duo are big believers that every backyard should have two very important things.
They believe that no backyard is complete without a compost area and an edible garden. When it comes to a garden, it doesn't matter how large or small it is. For small spaces, simply turn to potted plants or a raised garden. Chris refers to it as being an "urban farmer."
9. According to Chris, HGTV shows make renovations and landscaping look easy.
In a 2015 interview with The Washingtonian, Chris admitted that his shows, especially Yard Crashers and My New Old House are organized chaos where "you have 25, 30 people dancing around each other, working on a multitude of projects all at once." He went on to say, "You start at 7 a.m., and that first night we go to 10 or 11. The next day, you're back at it at 6 a.m. working until 4 or 5.  It's insane." However, he admitted that you really don't see this on the show. Instead, everything looks easy.
10. Chris and Peyton are expecting a baby, which may or may not bode well for the show's future.
In early June, the couple announced exclusively to People magazine that they were expecting their first child in November. So far, they have not said whether the baby is a boy or a girl. Of course, this may affect their decision (or at the very least Peyton's decision) to do any more episodes of My New Old House. For now, we'll just have to wait and see.