Fear is one of the most common human emotions. No matter how brave or strong people may think they are, feeling fear is inevitable. However, while there's literally nothing more terrifying than being terrified, there's also something about fear that people find entertaining. All across the world, there are people who enjoy visiting scary and haunted places simply for the thrill of scaring themselves. With the fall season about to get into full swing, people's desire to seek scary fun will definitely be on the rise.  And while some people scare more than others, all haunted houses were not created equal. Some famous haunted houses have become so popular that they've come to attract countless people each year. Here are 20 of the most famous haunted houses in history.
 (Photo by John Lamparski/Getty Images for Robert and Cortney Novogratz)
Winchester House – San Jose, California
In 1884, widow, Sarah Winchester, began construction on her home. Convinced that the ghosts of people who had been killed by the rifles her husband manufactured, Sarah believed the only way to keep the ghosts away was to continue construction on her home. With that being said, the Winchester House was built over a period of more than three decades. Construction stopped when Sarah passed away in 1922, but visitors say they can still hear the noise.
image via https://twitter.com/DEPORTBEEBRRR
Monte Cristo Homestead- New South Wales, Australia
When it comes to famous haunted houses, this one is definitely scary. Dubbed the most haunted house in all of Australia, the Monte Cristo has an interesting history which includes two deaths. Both original owners, Christopher and Elizabeth Crawley died in the house. Although neither of their deaths was violent, it is believed that they still haunt their old family home today.
image via https://twitter.com/turtleDivas/
Hull House – Chicago, IL
Built by Charles Hull during the 1850s, the Hull House has become a very popular part of Chicago's haunted history. Eventually becoming a home for the poor and mentally unstable, the house is said to be haunted by Hull's wife, as well as a baby who was brought to the house and locked in the attic after being born with several deformities.
(Photo by John Lamparski/Getty Images for Robert and Cortney Novogratz)
The Hotel Chelsea – New York City
The Hotel Chelsea, also simply referred to as The Chelsea, is widely considered one of the most haunted places in New York City. Built in the 1800s, and once the tallest building in the entire city, the hotel has been the site of several deaths including that of Nancy Spungen. As a result, The Chelsea has a history of being home to many famous ghosts who just can't seem to leave the haunted hotel behind.
(Photo by D Dipasupil/Getty Images)
Dudley House – Dudleytown, CT
The state of Connecticut has become pretty well-known for being home to several haunted places, and the Dudley House is one of them. The home, which was built in the 1700s on land that once belonged to a local Native American tribe, is surrounded by a forest that is said to have swallowed many people. Dudleytown itself, which is now practically abandoned, is said to be haunted and anyone who is caught visiting the house will be arrested by local authorities.
(Photo by Ross Land/Getty Images)
Hallahan Funeral Home – Southington, CT
Built in 1916, this seemingly normal suburban Connecticut home functioned as a funeral home from the 1930s until the 1980s. In 1986 the home was purchased by a family, who quickly realized that something was off. After two years of dealing with bizarre supernatural occurrences, the family moved out after just two years – but not before their son was diagnosed with schizophrenia. The Hallahan Funeral Home was also the inspiration for the film, The Haunting in Connecticut.
(Photo by John Moore/Getty Images)
Stranahan House – Ft. Lauderdale, FL
Out of all of the famous haunted houses, Florida's Stranahan House has an extra special place in history: the Stanahan House is the oldest surviving structure in all of Broward County. In 1929, the home's owner, Frank Stranahan killed himself, and although he didn't die in the house, reports say that his ghost can still be seen wandering the home.
image via https://twitter.com/florida_guitar/
Villisca Ax Murder House – Villisca, IA
Anything involving an ax murder definitely belongs on a list of most famous haunted houses. The Villisca Ax Murder House definitely earns its place with the eight deaths that took place there in. In 1912, an entire family plus two family friends were murdered by a neighbor an according to legend, a man carrying an ax can still be seen today, and the screams of the dying family members can be heard.
 (Photo by Brendan Hoffman/Getty Images)
The Sallie House – Aitchison, KS
One of the most famous haunted houses in America, The Sallie House attracts countless visitors each year. All of whom are hoping to catch a glimpse of paranormal activity. According to the houses' history, a six-year-old girl named Sallie died in the house after a doctor attempted to surgically remove her appendix without fully sedating her. Over the years, Sallie's ghost is said to have haunted the house, and there have been reports of objects being thrown and noises being heard. Most famously, occupants were forced to move out of the house after being physically injured by what they believed to be Sallie's ghost.
image via https://twitter.com/Moquinnjr
The Myrtles Plantation – Saint Francisville – Louisiana
In the United States, most plantations have a history for being the location for lots of cruelty and violence, and this famous haunted house is no different. According to legend, several people have died in this home, including a slave who was lynched for allegedly poisoning members of the owners family.
image via https://twitter.com/LugaresGeniales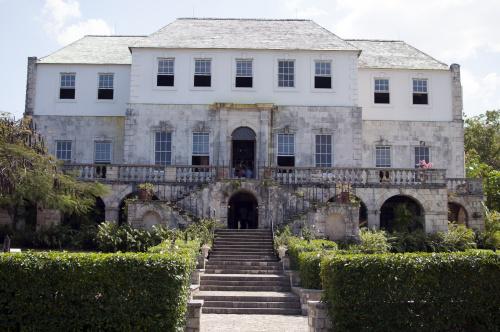 Rose Hall – Montego Bay, Jamaica
This former plantation house in Jamaica also has a very odd past. According to the properties story this haunted house is famous for once being occupied by a woman who practiced voodoo. Stories say that the woman used this voodoo to kill several of her husbands as well as several of her slaves. Today, it is believed that she along with those she killed haunt the house.
image via https://twitter.com/guide_trip
St. Augustine Lighthouse – St. Augustine, Florida
A lighthouse probably isn't one of the first things that come to mind when you think of famous haunted houses; however, the St. Augustine Lighthouse is said to be one of the most haunted places in the United States. Although the lighthouse is still in use today, many believe that it is haunted by several spirits including that of a little girl and a former lighthouse keeper.
image via https://twitter.com/Para_Mystery
Hannes Tiedemann House – Cleveland, Ohio
Built in 1865 by German immigrant Hannes Tiedemann, the house saw the death of five of Tiedemann's immediate family members within a four-year period. In an attempt to cheer his wife out of her grief, Tiedemann built secret passageways and other gothic decorations throughout the house. Sadly, Tiedemann's wife and niece eventually died in the home and he moved out. Since then, it is believed that the house is haunted by the spirits of those who died inside.
(Photo by Peter Macdiarmid/Getty Images)
Harlow House – Beverly Hills, California
To most people, Beverly Hills and famous haunted houses simply don't mix. After all, the city is best-known for being a glamorous home to the stars. However, the Harlow House is anything but glamorous. In 1932, Hollywood director, Paul Bern died in the house, and although his death was ruled a suicide, there was suspicion that he had been murdered. The home later belonged to Sharon Tate, who said she could see ghosts in the house. Tate met an unfortunate faith in 1969 when she was murdered by members of Charles Manson's 'family.'
(Photo by Kevork Djansezian/Getty Images)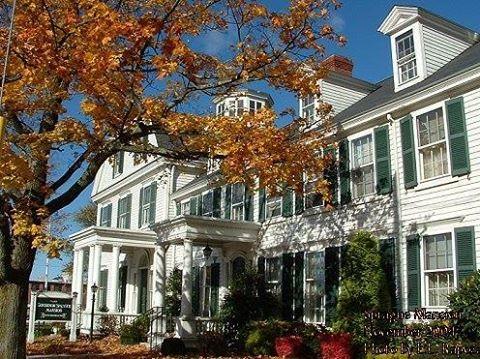 Sprague Mansion – Cranston, Rhode Island
Once belonging to the wealthiest family in the United States, this famous haunted house has been the site of more than its fair share of tragedy. One member of the Sprague family died in the home after choking on a bone, and another was found murdered near the house. It is rumored that members of the Sprague family still haunt the property today. Although the house was slated to be demolished nearly 50 years ago, it now stands as a popular haunted landmark.
image via https://twitter.com/Shannon_Motors/
Amityville Horror House – Amityville, New York
Without a doubt, the Amityville Horror house is one of the most famous haunted houses in the country. In 1974, the house became a crime scene when Ronald DeFeo Jr. shot his entire family to death in the home. Shortly after the murders, another family moved in and quickly reported that there were strange things going on in the house. The family moved out after just 28 days, and their story was transformed into a movie titled, The Amityville Horror.
(Photo by Paul Hawthorne/Getty Images)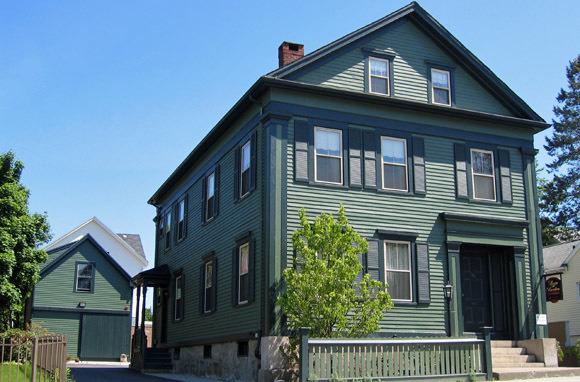 Lizzie Borden House – Fall River, Massachusetts
The story of Lizzie Borden is one of the most famous in American history. In 1892, Borden became a suspect in the murder of her father and stepmother. Although she was acquitted of the crime, Lizzie Borden history has not been so forgiving, and Borden is often remembered as being the killer. Although the home is now a functioning bed and breakfast, many believe that the spirits of Borden's father and stepmother are still wandering around the house.
image via https://twitter.com/ScareSpots/
LaLaurie Mansion – New Orleans, Louisiana 
The city of New Orleans is pretty well-known for being downright creepy. The city's history of voodoo and other forms of magic remain popular today. However, the history of the famous LaLaurie Mansion is definitely one of the creepiest. According to history, Madam Delphine LaLaurie tortured and killed many slaves on her property during the 1800s. When a fire broke out at the mansion, and helped arrived, they witnessed LaLaurie abusing her slaves. LaLaurie fled the scene never to be heard from again. A character based on this cruel woman was portrayed by Kathy Bates during American Horror Story: Coven.
(Photo by Skip Bolen/Getty Images for 20th Century Fox Home Entertainment)
Whaley House – San Diego, California
In 2005, Time Magazine, labeled the Whaley House "the most haunted house in America." This house is one of only two to be dubbed haunted by the United States Chamber of Commerce. Once belonging to the Whaley family, the house was built on what was once a gallows site. The home is said to be haunted by a man who was hung on the property, as well we members of the Whaley family.
images via https://twitter.com/teamdiebold777/
Topping the list of famous haunted houses is none other than the White House. While this presidential abode may not be on many people's radars, the house's history definitely lends itself to the possibility of ghost stories. As legend has it, Abigail Adams' ghost still roams the White House, and many have said they've been able to feel Abraham Lincoln's presence.
 (Photo by Mark Wilson/Getty Images)